Axios Latino
September 30, 2021
¡Muy buen jueves! Today we touch on the economic power of U.S. Latinos, the history of a treatment for brain disorders, and Lucha Libre collectibles.
Situational awareness: 📻Listen to Puerto Rico's Gov. Pedro Pierluisi discuss the island's vaccination strategy with "Axios Today."
Send us any feedback (quejas, sugerencias, chismes) by replying to this email. Sign up here if you aren't yet subscribed, and remember you can read the Spanish version here.
🏆 Congratulations to the latest MacArthur Foundation geniuses, with six Latinos among them. ¡Enhorabuena!
This newsletter — edited by Michele Salcedo — is 1,141 words, about a 4.5-minute read.
1 big thing: The U.S. Latino economic engine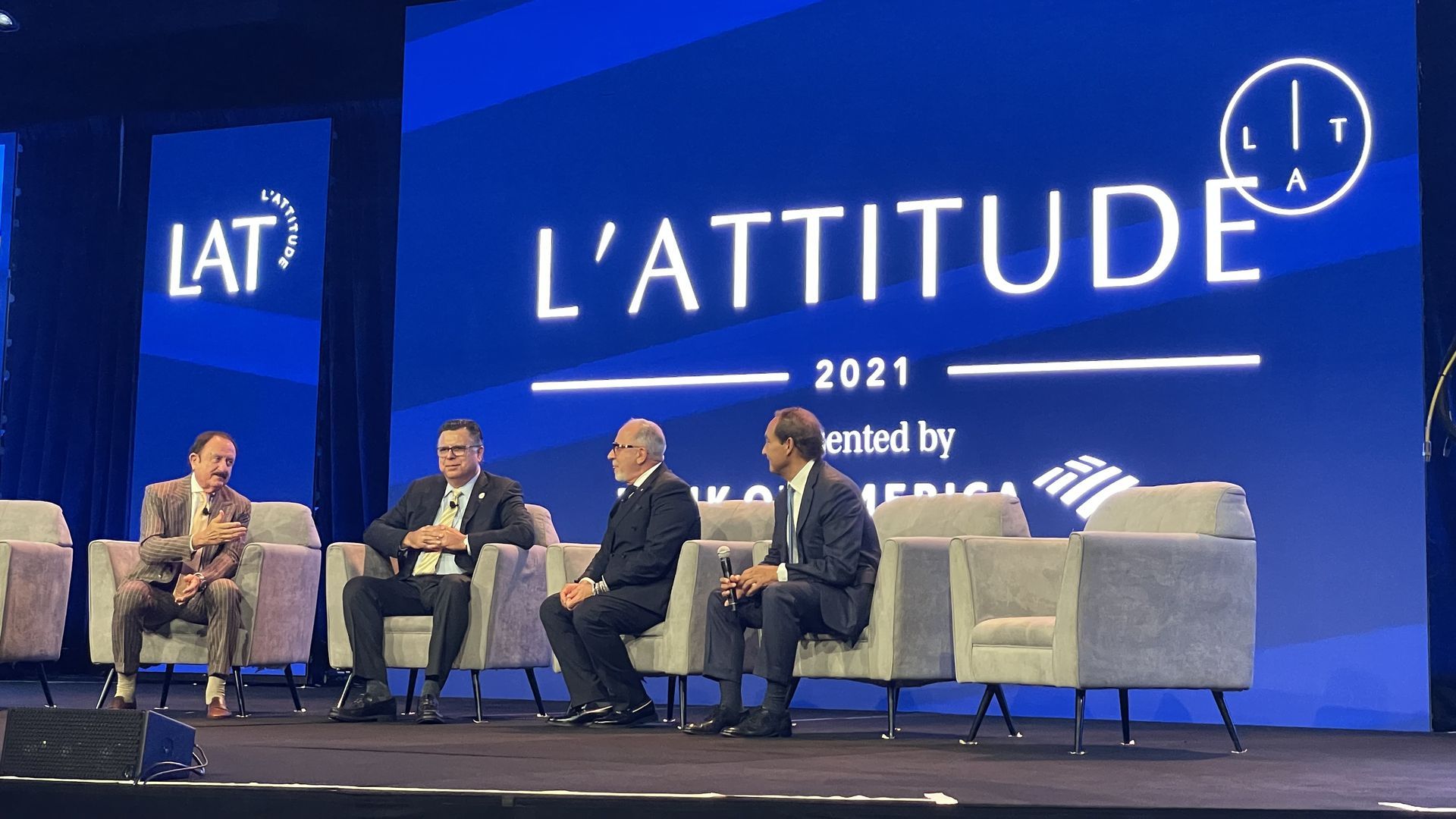 The total economic output of U.S. Latinos averaged 5.63% over the past two years, double the rate of the country's GDP.
Why it matters: The data compiled by the Latino Donor Collaborative underscores the weight Latinos have in the development of the U.S. economy and its path to bounce back from the pandemic's burden.
Their purchasing power — how much they can and do buy — has grown 70% over all Americans in the past three decades, according to the report.
By the numbers: The Latino GDP in 2019 was $2.7 trillion, a spike from $2.1 trillion in 2015 and $1.7 trillion in 2010.
The 2019 value is larger than the GDPs of Italy, Brazil, and Canada.
The economic growth of U.S. Latinos from 2010 to 2019 outpaced that of Germany, the United Kingdom, and Japan individually.
What they're saying: "Hispanics are becoming more important in terms of the United States' long-run economic outlook," said analysts from Wells Fargo.
Yes, but: The poverty rate for U.S. Hispanics increased 1.3% last year from a historic low of 15.7% in 2019.
That could dent their previously high rate of opening businesses.
Only a tiny percentage of venture capital investment goes to Latino startups, Sol Trujillo, businessman and chair of the corporate event L'ATTITUDE, told Axios Latino.
2. Heritage imprint: A dementia remedy from Colombia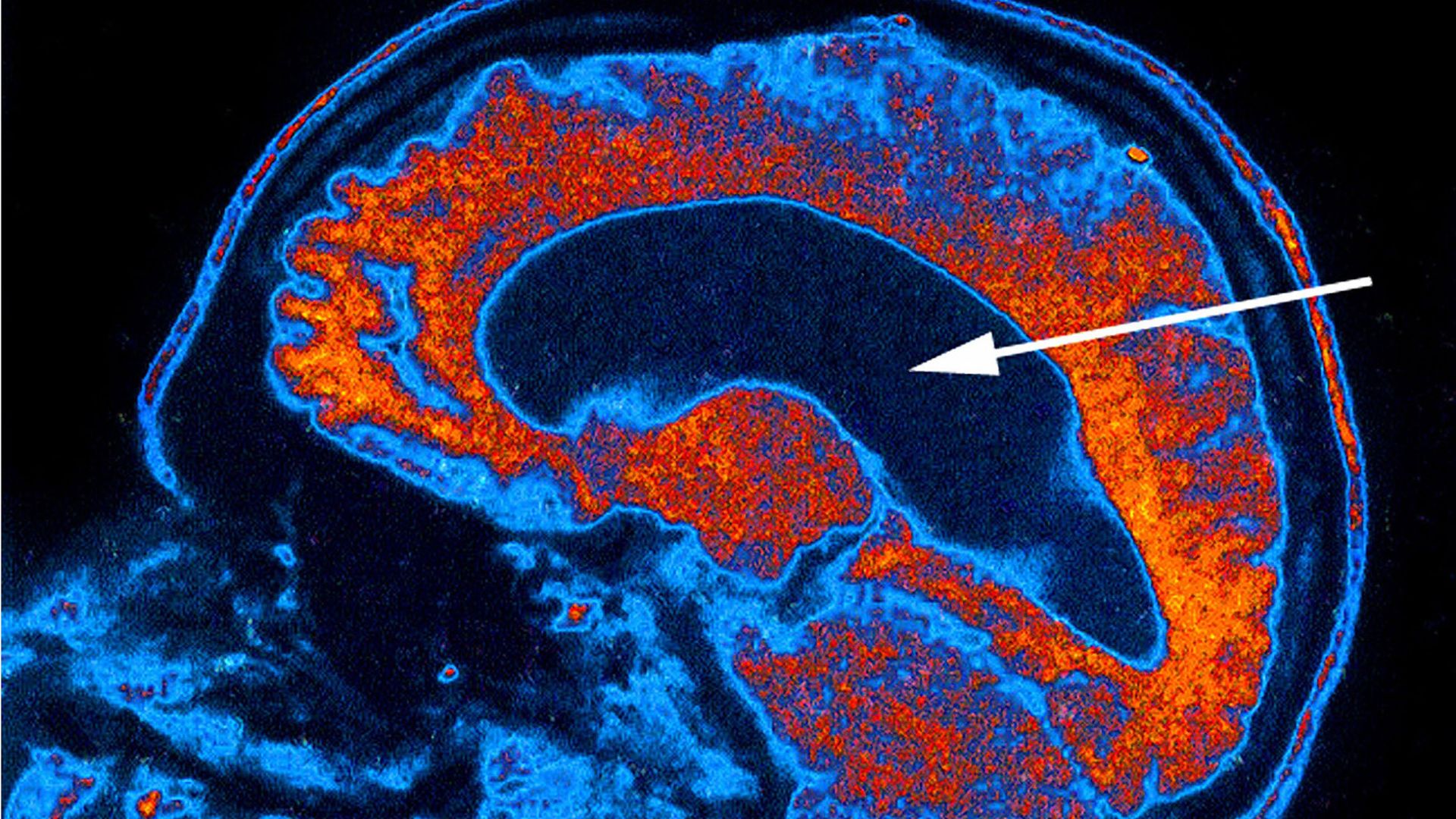 A Colombian neurosurgeon is credited with discovering how to reverse certain symptoms of a type of dementia that was considered untreatable, and better ways to drain excess fluid in the brain.
Why it matters: Solomón Hakim's work fundamentally changed the quality of life for millions of patients across the world, both the elderly who have a form of dementia and anyone whose brain needs relief from fluid pressure.
His discovery also led to the development of more efficient valves and shunts that drain fluid regardless of the body's position and that can be adjusted after surgical implantation without opening the patient back up.
He was a neurosurgeon and neuropathologist trained at the Universidad Nacional de Bogotá and Harvard.
Details: Hakim studied the brains of patients who died with neurodegenerative diseases to pinpoint why the cavities inside the brain, the ventricles, were enlarged, without apparent injury to the outermost area.
He found a condition he named normal pressure hydrocephalus.
It is a disorder caused by fluid buildup in the brain with symptoms similar to those of Alzheimer's and Parkinson's, including sudden difficulty walking, loss of bladder control and forgetfulness.
Go deeper for Hispanic Heritage Month:
Chilean R&D to vanquish viruses
Argentina's hand in crime-fighting
3. Businesses put employees at center of recovery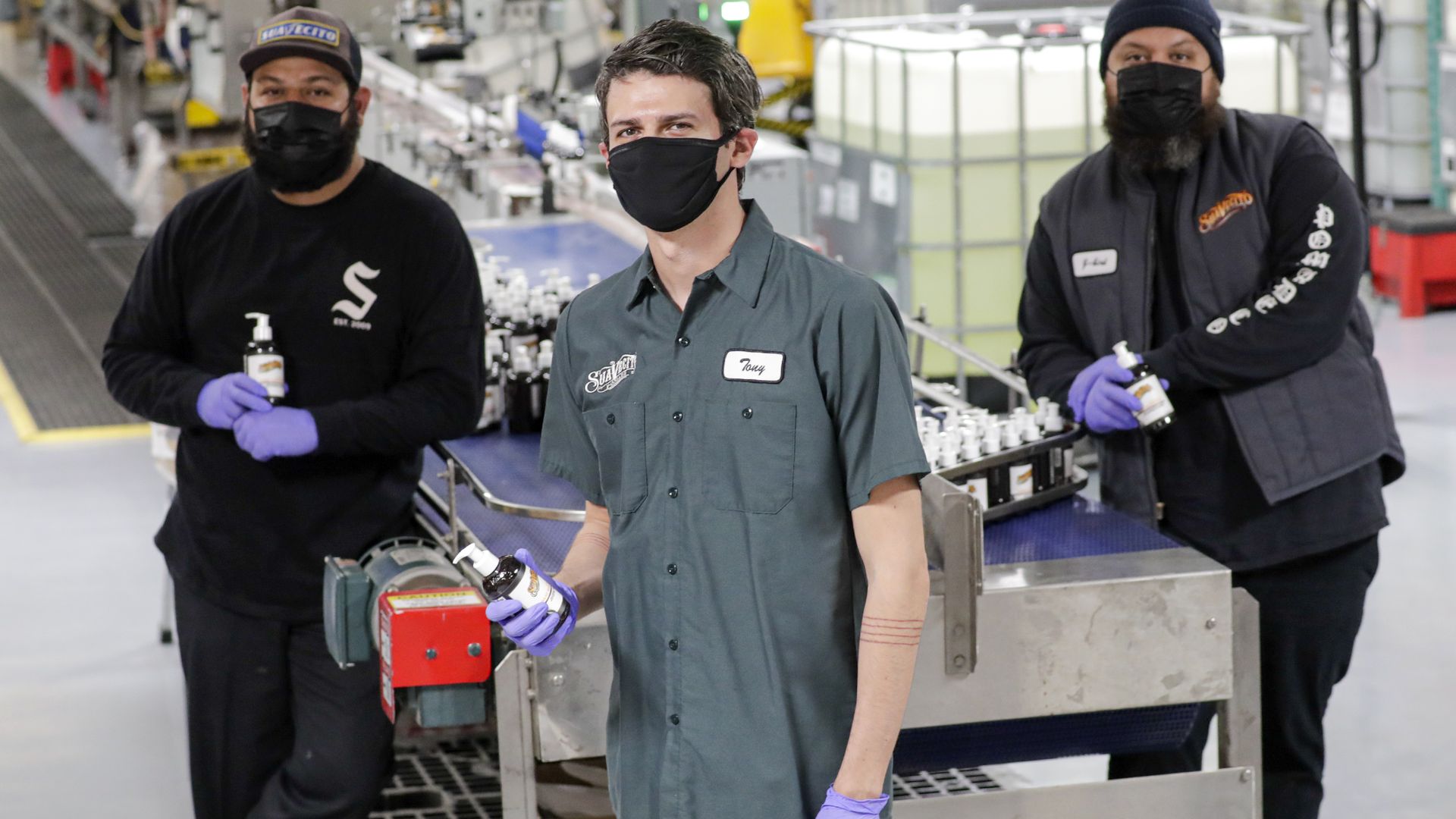 Various Hispanic and Latino entrepreneurs are focusing on the wellness of their employees as they try to weather the pandemic's economic challenges, according to a Bank of America poll.
Details: 61% of surveyed Latino small business owners said they cut their own pay to avoid having layoffs, per the data.
A majority of the owners also say they plan to make changes that are favorable to employees, such as allowing a more flexible schedule or establishing additional monetary incentives.
Fewer Hispanic businesses had access to the Paycheck Protection Program meant to keep people on payroll.
By the numbers: Over 66% of the growth in the U.S. labor force in the past decade came from Latino workers, making them a "critical" employee base for all industries, say analysts at Wells Fargo.
An increase in the labor participation of Latina women, especially, could even offset any contractions in the rate of U.S. economic growth in the coming years, according to the report.
4. Google and the Hispanic chamber invest in Latino businesses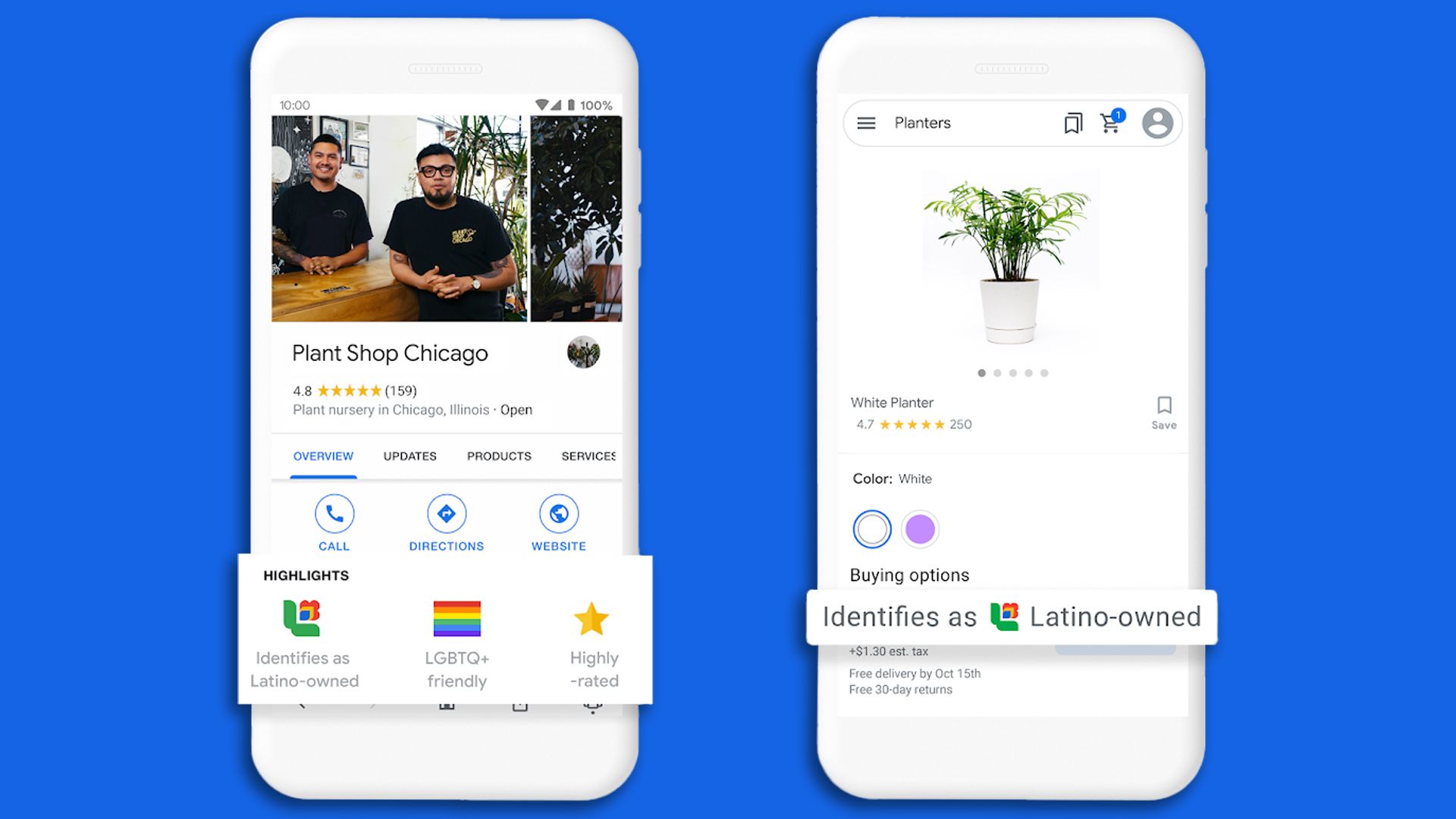 The U.S. Hispanic Chamber of Commerce, in alliance with Google, has launched an initiative to spotlight Latino-owned businesses and Latino entrepreneurs.
Why it matters: The tech company is set to invest an additional $5 million in those businesses, including training in e-commerce.
Latino shops who ask through Google Maps or who are identified through local Hispanic chambers and business associations will get a special signifier in Google Maps to enhance visibility from searches.
Google had previously launched badges for Black-owned, vet-owned and women-led stores.
Of note: The alliance comes after Google also unveiled a fund specifically for Latino start-ups, for up to $100,000 direct initial investment alongside pitch training, mentorships and ads.
The tech giant has similarly promised to donate ad space to nonprofits that boost economic equity for Latinos.
5. Stories we're watching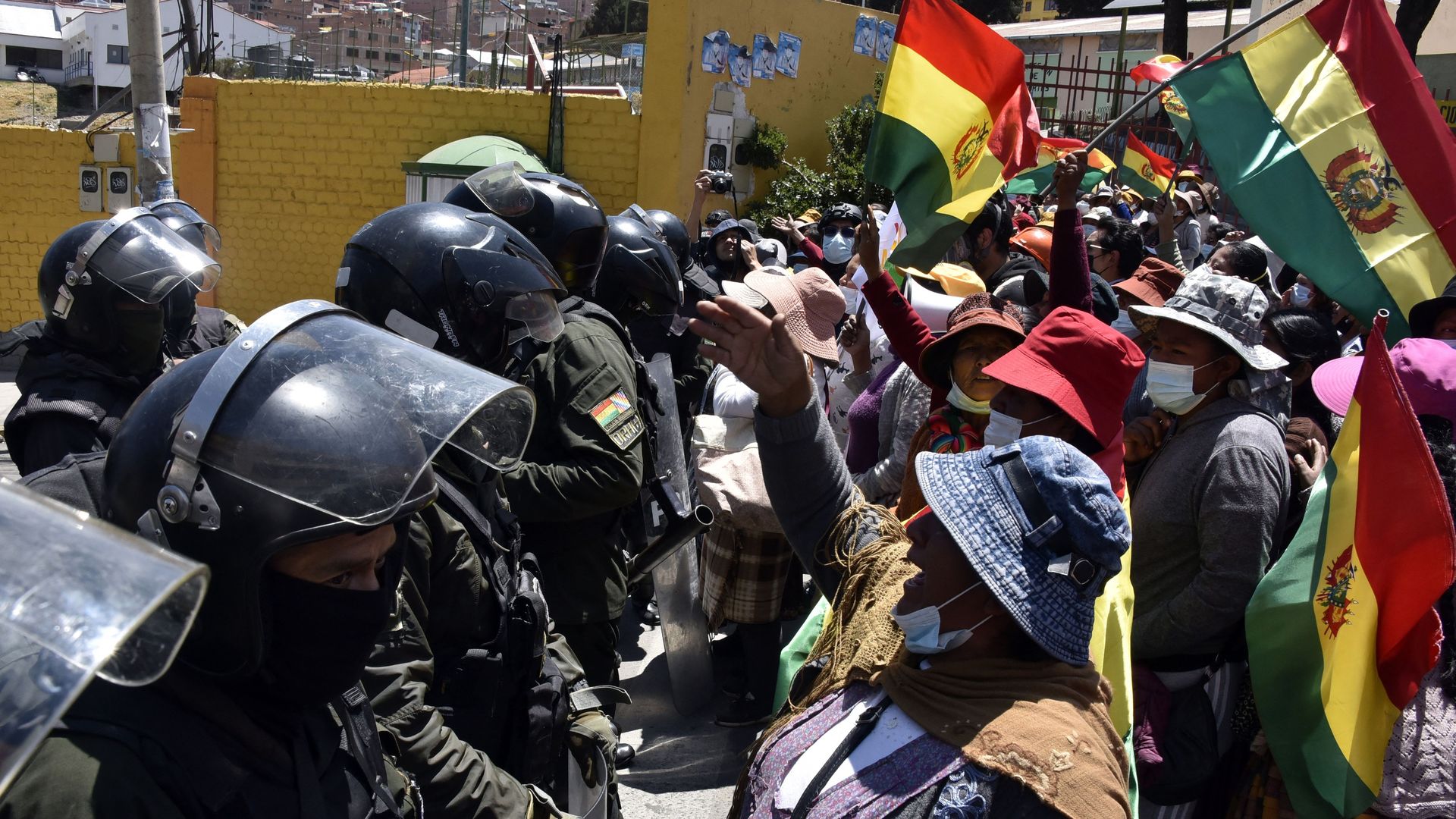 1. The main coca leaf market in Bolivia has become the site of violent clashes between pro- and anti-government growers in the past two weeks, as both battle over how the depot should be run.
Coca leaf is popular in the Andean country for its traditional uses in tea or to chew on to alleviate altitude sickness. But it is also the base ingredient for cocaine, and Bolivia is the third largest producer of that drug, per the UN.
2. A Colombian policeman has been charged and will face trial for the murder of a teenager who was walking home near protests in May. He's the first officer held accountable for violence in the marches and strikes that began in April.
At least 58 people died in the confrontations with security forces, which human rights groups say used excessive force.
3. Chile's Congress has moved toward decriminalizing abortions up until 14 weeks of gestation, with a vote in the lower house that will now move to Senate commissions.
The criminal charges in cases of abortion were partly lifted in 2017, but only for cases when the pregnancy resulted from sexual violence, when the fetus is unviable or when the woman's life is in danger.
6. 📒 1 smile to go: Trading stamps in the ring
The biggest stars of Lucha Libre are now immortalized as collectible stickers for aficionados to try and catch 'em all.
How it works: Stickers are handed out and can be traded at training gyms, Metro stations and clothing stores near the Arena México wrestling mecca. Both stickers and albums are free, given out by the government's Youth Institute.
The album takes a page from the wildly popular FIFA World Cup version, which had its first run in 1970 when the fútbol tournament was hosted by Mexico.
The first contender to fill an album by Oct. 10 will get an iPad and others will get free tickets for that night's bout at the arena.
Hasta el martes, have a safe one.