March 03, 2022
¡Muy buen día! Today we dive into girl racers, TikTok-style teaching and Venezuelan deportations.
🚨Last call for nominations! Send us one or two sentences about a badass woman who made your life better. Reply to this email and add a picture!
Puede leer la versión en español aquí.
This newsletter, edited by Astrid Galván, is 1,313 words, about a 5-minute read.
1 big thing: Education you can binge
A learning platform founded by two Latinos is starting to make waves with TikTok-style lessons for high schoolers in the U.S., Marina writes.
Emile Learning offers high production, short and engaging videos for subscribers, modeled after the content young people consume.
Details: There are around 40 classes available for AP college credit, as well as electives rarely offered in schools, such as financial literacy, Java coding, or music production.
The lessons come in 10-minute videos accompanied by digital study guides, graded assignments, test prep reviews and community forums to interact with teachers and peers.
The curriculum is free for students whose school districts have adopted the program.
Social media stars like TikToker and Harvard student Jordan Sanchez or science YouTuber Dave Farina lead the classes.
What they're saying: "Students are growing up as digital natives and in a multicultural reality, but it's almost impossible for schools to match that diversity and connectedness in faculty, administration or in a physical environment," co-founder Felix Ruano told Axios Latino.
"There are tons of students with untapped potential that won't otherwise have access to these curriculums, and a lot of those students are Latino, so with this we're saying: 'Let's meet them where they are in an engaging manner and there'll be a higher chance of better learning outcomes.'"
Over 70 school districts have signed up since the platform's wide launch in mid-2021, Ruano and co-founder Michael Vilardo said.
Users don't have to be in high school to enroll.
More than 50,000 learners of all ages are already enrolled, they said.
Vilardo and Ruano want to have around 80 accredited courses by the end of this year, and possibly expand to other countries, like Colombia and Mexico.
Be smart: While Latinos have made strides in educational attainment, they still lag behind their white non-Hispanic peers.
2. Costa Rica legalizes it
Costa Rica legalized medical marijuana yesterday after a two-year debate, becoming the eleventh Latin American nation to take that step.
Why it matters: The decision aims to bring investments to the small Central American country and to reduce the illegal market, which has been growing in the past few years.
Details: Costa Ricans interested in getting medical cannabis must get a permit by following guidelines authorities said would be available by May.
The Costa Rican bill also makes growing hemp legal for industrial use, like textiles.
There's also a possibility Costa Ricans may approve recreational marijuana use in the future, although a bill sitting in Congress since last spring hasn't gone anywhere.
Still, the top two candidates in an upcoming runoff for president say they support recreational marijuana.
Zoom out: Medical marijuana is legal in Argentina, Brazil, Chile, Colombia, Ecuador, México, Panama, Paraguay and Perú.
In 2013, Uruguay became the first country in the world to legalize recreational pot.
In México, the Supreme Court ruled last year prohibition was unconstitutional. A bill legalizing cannabis for recreational purposes has already been approved by the lower House (a Senate vote is pending).
Read more here
3. Protecting pregnant Latinas
New research shows improving Latinas' diets could help them avoid dangerous pregnancy complications, Marina writes.
Why it matters: The mortality rate for pregnant Hispanic women rose significantly in 2020, according to new CDC data.
Preeclampsia, in which a pregnant woman's blood pressure spikes to dangerous levels, is among the disorders that Latinas could avoid with a better diet.
Details: The new findings, presented today at the American Heart Association's annual conference, indicate Latinas might fare better if a healthier diet is promoted from early on.
Women in their third trimester who ate more fruits, non-starchy vegetables like broccoli and zucchini, and healthy oils were found to have a lower likelihood of preeclampsia.
The likelihood was 3.5 times higher for those who tended to consume more cheese, refined grains like white bread, or solid fats.
The intrigue: This study is among the first to look at maternal risks specifically for Latinas.
Researchers asked mostly low-income Latinas in Los Angeles what they'd had to eat and drink in 24-hour periods. Then they cross-checked that with blood pressure readings and a hypertension diagnosis.
4. Deported, then beaten
Venezuelan asylum seekers who have been deported from the U.S. say they face beatings and torture when returned to their homeland, Marina writes.
The big picture: A record 58,000 Venezuelans escaping extreme poverty, hunger and violence have been apprehended by the U.S. Border Patrol since October.
Over the past couple of years, hundreds of Venezuelans have been deported through third countries like the Dominican Republic.
The Trump administration began deporting Venezuelans through third countries because the U.S. doesn't have diplomatic ties with Venezuela, but President Biden, who criticized the practice, has continued it.
Driving the news: At least five deported Venezuelans who have recently made their way back to the U.S. reported they were tortured in their country, according to Noticias Telemundo Investiga.
One of them is Ricardo Villasmil, 23, whose first asylum application was thrown out after the interview to establish whether his fears were credible was, he said, too rushed.
He said government agents who detained him when he was returned to Caracas kicked him and attempted to suffocate him by putting a bag over his head.
Villasmil's pregnant wife was threatened at gunpoint, he said, after they were called "infiltrators looking to give information about the Maduro government to the United States."
That made both of them head to Florida in February, where Villasmil's asylum case was reopened.
The intelligence agency that Villasmil and others say held them after their deportations has been repeatedly accused of torture and extrajudicial killings.
5. Stories we're watching
1. Three Latin American nations were the most dangerous for human rights activists and defenders last year, a report shows.
Out of 358 killings worldwide, over 130 happened in Colombia. Another 42 were in Mexico and 27 in Brazil, according to the International Foundation for the Protection of Human Rights Defenders.
Guatemala, Honduras, Nicaragua and Peru were also among the 15 most dangerous countries.
2. Colombian President Iván Duque will meet President Biden next Thursday in their first official bilateral meeting.
Cooperation against climate change, and COVID-19's health and economic effects, are on the agenda, as well as regional measures to reduce migration.
Colombian candidates recently said Russian disinformation campaigns could be unleashed before the congressional elections on March 13 and the presidential elections in May.
6. 🏎️ 1 smile to go: Vroom-vroom girl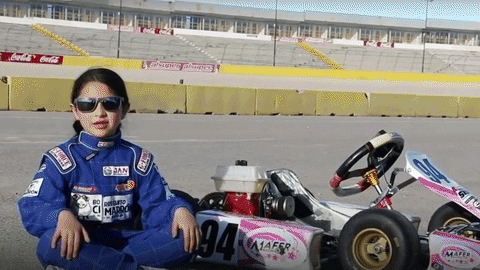 A 6-year-old Mexican is fulfilling her dreams at 38 mph, Marina writes.
Details: Marifer Fontes is a racer in Mexico's national Go-Karting championship, which started its season last weekend.
Last year she was named best rookie in the "baby" category of Fórmula Karts.
"It's what excites me, makes me happy, and it's fun," she tells Noticias Telemundo about racing.
Fontes, who trains after school, has high hopes for her future: being both a veterinarian and a Formula 1 racer.
The W Series, which held its first races in 2019 and is supported by Formula 1, is an all-women's competition that serves as a stepping stone.
The closing W Series event this year will be in Mexico's Autódromo Hermanos Rodríguez, the same venue that holds that country's Formula 1 Grand Prix.
🪅Pachanga Thursday: Voto Latino's new staff
Congrats to three new hires at Voto Latino, a grassroots organization focused on the political power of Latino voters.
Kenny Sandoval is the new vice president of campaigns and partnerships, managing partnerships and volunteer efforts, among other things.
Kristen Hernandez is the new vice president of communications.
Liz Lebrón will be the research manager for Latino Anti-Disinformation Lab, a joint venture between the organization and Media Matters.
Thanks for reading and don't forget to send us your amazing-woman nominations by Monday!