Axios Latino
March 25, 2021
¡Buenos días! ¿O tardes ya? Axios Latino focuses on the stories that affect the U.S. Latino and Latin American communities.
Today's newsletter (our first!) was written by Russell Contreras and Marina E. Franco, and edited by Justin Green. It is 1,230 words, about a 5-minute read.
Send us your feedback (chismes also welcome) by replying to this email. And if you are not already subscribed, sign up here.
1 big thing: Behind the border emergency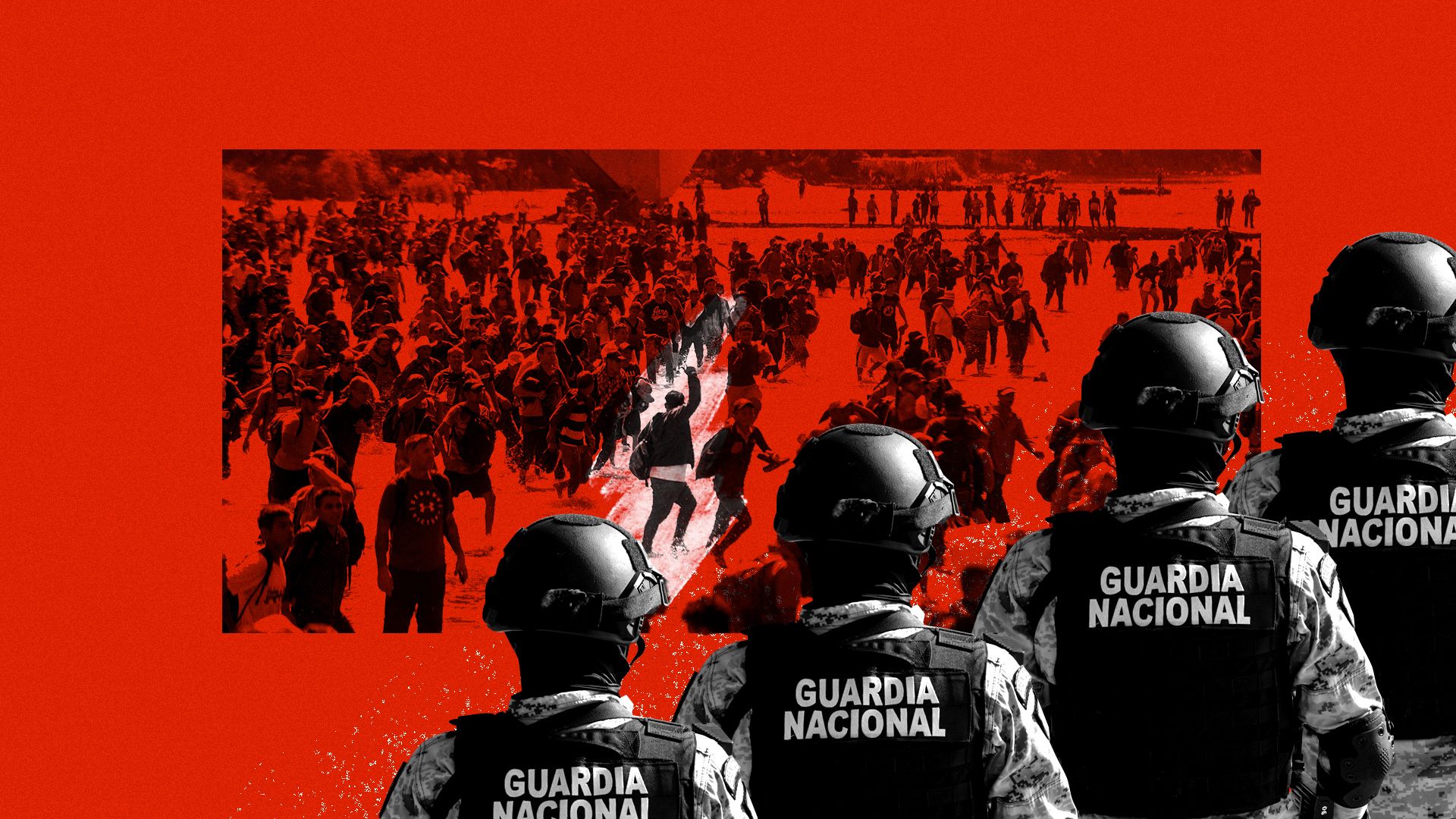 The incoming flow of immigrants, especially unaccompanied minors, at the U.S.-Mexico border has already been deemed a crisis by some, but the situation is not as bad yet as it was in the summer of 2019.
The big picture: There are about 10,000 unaccompanied children in varied government housing, and in the past weeks around 500 kids tried to cross the southwest U.S. border daily, many driven by a desire to meet up with relatives. The holding areas for minors and families are overrun, on both sides of the border.
On the Mexican side, authorities have been upping the number of raids and mobilizing the National Guard near crossing areas in its southern border with Guatemala and near La Bestia train stations to stop the flow of people.
The White House said yesterday Vice President Harris will spearhead the response to the border situation, which would include coordinating with Mexican and the Northern Triangle's governments for plans to try mitigating root causes of migration.
Between the lines: The upward trend in Central American people who are trying to access the U.S. stems from a string of disasters, or crises, that have aggravated the usual causes of emigration.
The pandemic worsened poverty, while levels of violence and corruption have not gone down with coronavirus lockdowns.
Two November hurricanes leveled entire towns and farms, worsened hunger and cut off access to services like health care.
What they're saying: "We are seeing new faces of immigrants this year: climate migrants that had to leave after the hurricanes left them homeless, jobless and harvestless," Rubén Figueroa, of the NGO Movimiento Migrante Mesoamericano, told Noticias Telemundo.
The bottom line: Senators like Republican Lindsey Graham have suggested the measures about to be voted on — even popular ones like giving Dreamers a possible path to citizenship — should become contingent on the White House "stopping" the influx of people.
2. The drug trafficker and the president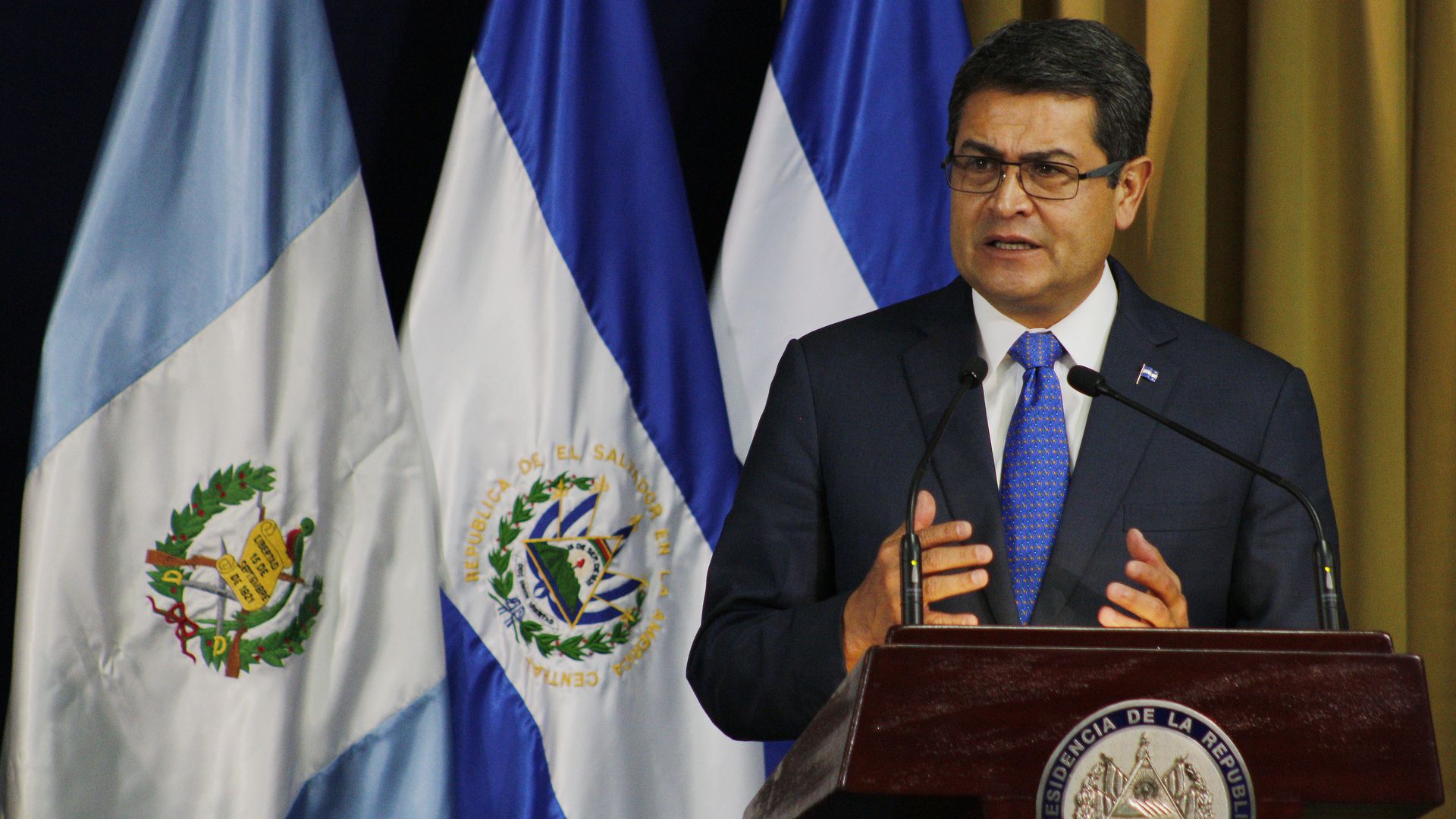 A man who stated under oath that the president of Honduras repeatedly received bribes from narcos and then offered them security was just convicted of drug trafficking in a New York court.
Why it matters: President Juan Orlando Hernández faces no charges but was named a "co-conspirator" by prosecutors in the case. His brother Tony Hernández will be sentenced next week after being found guilty in 2019 of drug trafficking.
The other side: The Honduran leader, who also faces fraud allegations from the last election and whose country has seen rising emigration, denies all accusations.
What they're saying: "Hernández thinks he can get out of the Department of Justice noose, so he's signaling every willingness to work with the new administration," a senior U.S. official told The Washington Post.
3. House race shows Latino pushback over immigration rise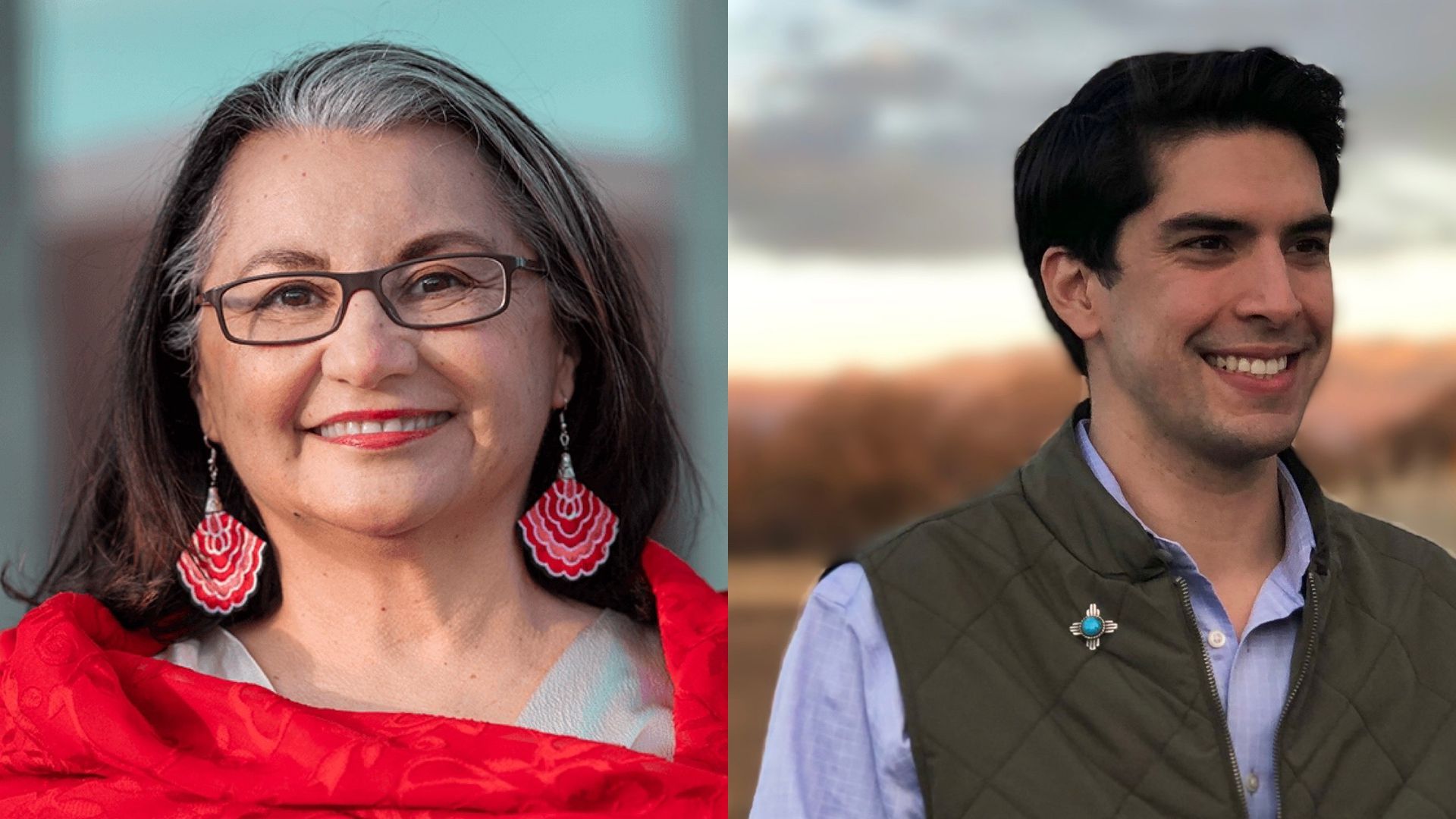 A special election to fill Interior Secretary Deb Haaland's former House seat is revealing growing frustration among Latino candidates about the Biden administration's handling of rising immigration at the southern border.
Why it matters: The dynamics in this race in a Democratic-leaning and heavily Hispanic central New Mexico district representing Albuquerque could be an early indicator of how Latino voters assess President Biden's performance in office.
Between the lines: An identical partisan divide around immigration is playing out nationally between Democrats and Republicans and across ethnic lines.
But Latino candidates offer unique insight about U.S.-born Hispanic voters who are sometimes targets of anti-immigrant sentiment, yet also split on how the federal government should revamp immigration policies.
4. A hidden epidemic, one year on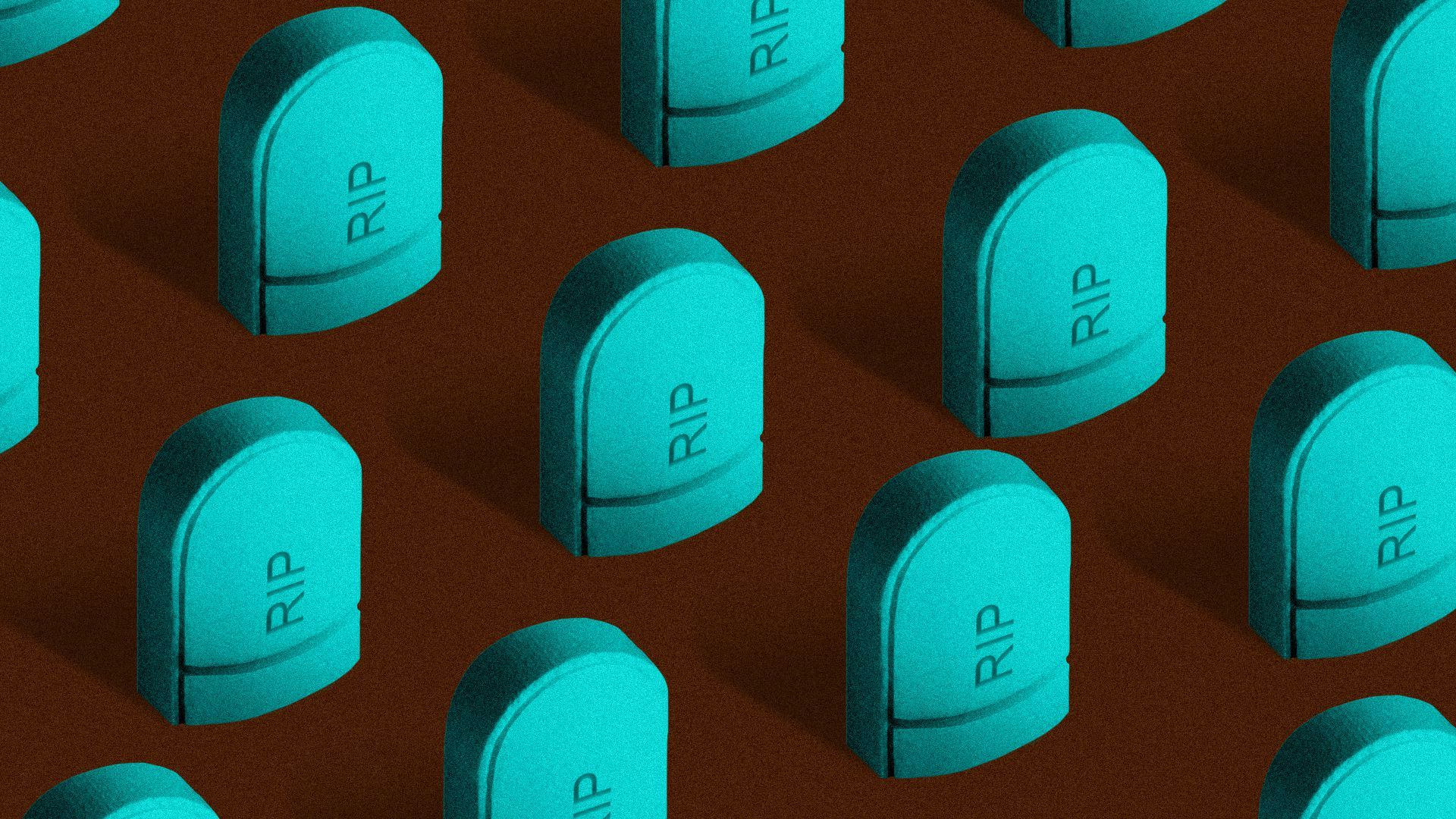 Opioid use has skyrocketed as the coronavirus pandemic rages on, and Hispanics have been among the most acutely affected by overdoses.
Why it matters: Very few places in the U.S. offer Spanish or bilingual detox services. Compounded with a stigma within the community about seeking help, overdose deaths for Latinos are rising faster than for other population groups.
Latino adults have also experienced more depression and suicidal thoughts during the pandemic, according to a CDC report, which experts think has increased relapses and drug use.
5. Ruling party backs candidate accused of rapes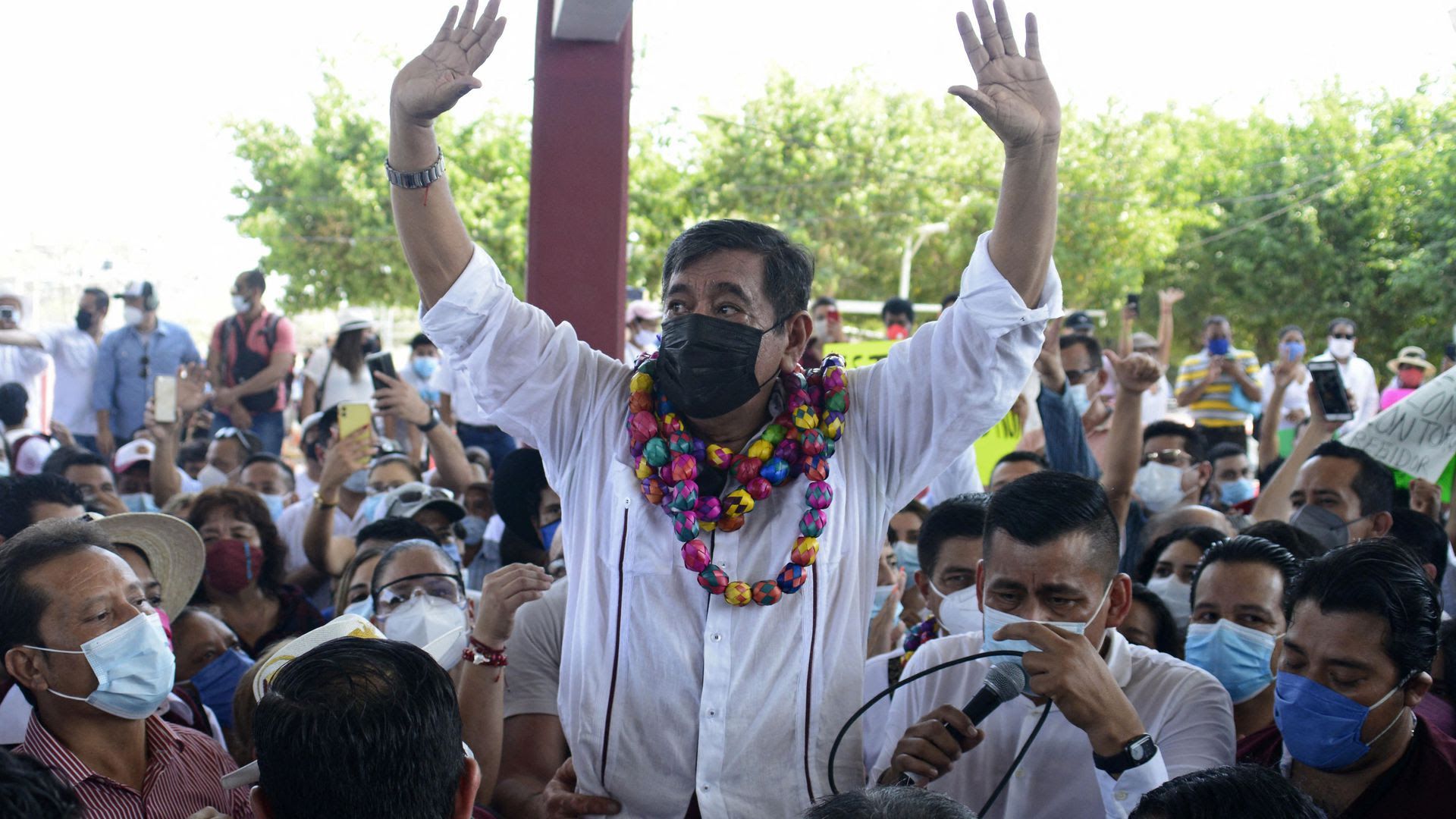 Despite two formal accusations of rape against him, and three other claims of sexual abuse, the Mexican ruling party is pushing forward the candidacy of Félix Salgado Macedonio for the governorship of southwestern Guerrero state.
The big picture: Mexico is one of the worst countries for women. Eleven are killed every day, 99.7% of reported sexual assaults go unpunished or are not investigated, and female protesters usually suffer abuses from authorities. Mexican women are the worst off in Latin America in terms of access to economic opportunities.
Activists claim that keeping Salgado on the ballot shows a political disinterest towards changing that reality.
What they're saying: President Andrés Manuel López Obrador, who heads a supposedly feminist government, recently said "ya chole" (enough already) when questioned about his party's choice of candidate. Women responded with a campaign: ya chole with gender violence.
The other side: A former mayor of resort town Acapulco, Salgado claims the accusations, which date from 1998 through 2016, are a "political lynching attempt." He still has support in Guerrero, and is forecast to win in June.
6. Disparities that put lives on the line
Hispanics are not getting vaccinated in proportion to their population size, even in states like California and Arizona.
The Biden administration just announced a $10 billion program to expand access to "underserved communities."
Why it matters: Latinos in the U.S. are three times more likely than white non-Hispanics to be hospitalized if they get COVID-19 and twice as likely to die, according to CDC data. That makes equalizing access to doses a pressing issue.
The vaccination rate for white people is more than two times higher than that of Latino people in 44 states that report immunization data by race or ethnicity, according to a study from the health nonprofit Kaiser Family Foundation.
The disproportionate effect is partly due to previous health inequalities, states the CDC. Other factors include distrust in health authorities and language barriers to getting an appointment.
In some cases undocumented people fear they'll be targeted by immigration authorities if they seek the injection, despite being eligible.
The big picture: The rest of the hemisphere is not faring well. Doses are scarce and, on average, the Latin American countries that do have ongoing immunization campaigns have only vaccinated about 82 out of every 1,000 citizens.
Chile's vaccination campaign is amongst the world's best, but its capital is going back into a full lockdown today because infection rates there have not gone down.
Mexico and Colombia saw scandals this week related, respectively, to fake vaccines that were given out to factory workers by a businessman and several cases of elderly people being injected with empty syringes.
The bottom line: Brazil currently has the highest daily death toll worldwide.
7. Brazil's gun spree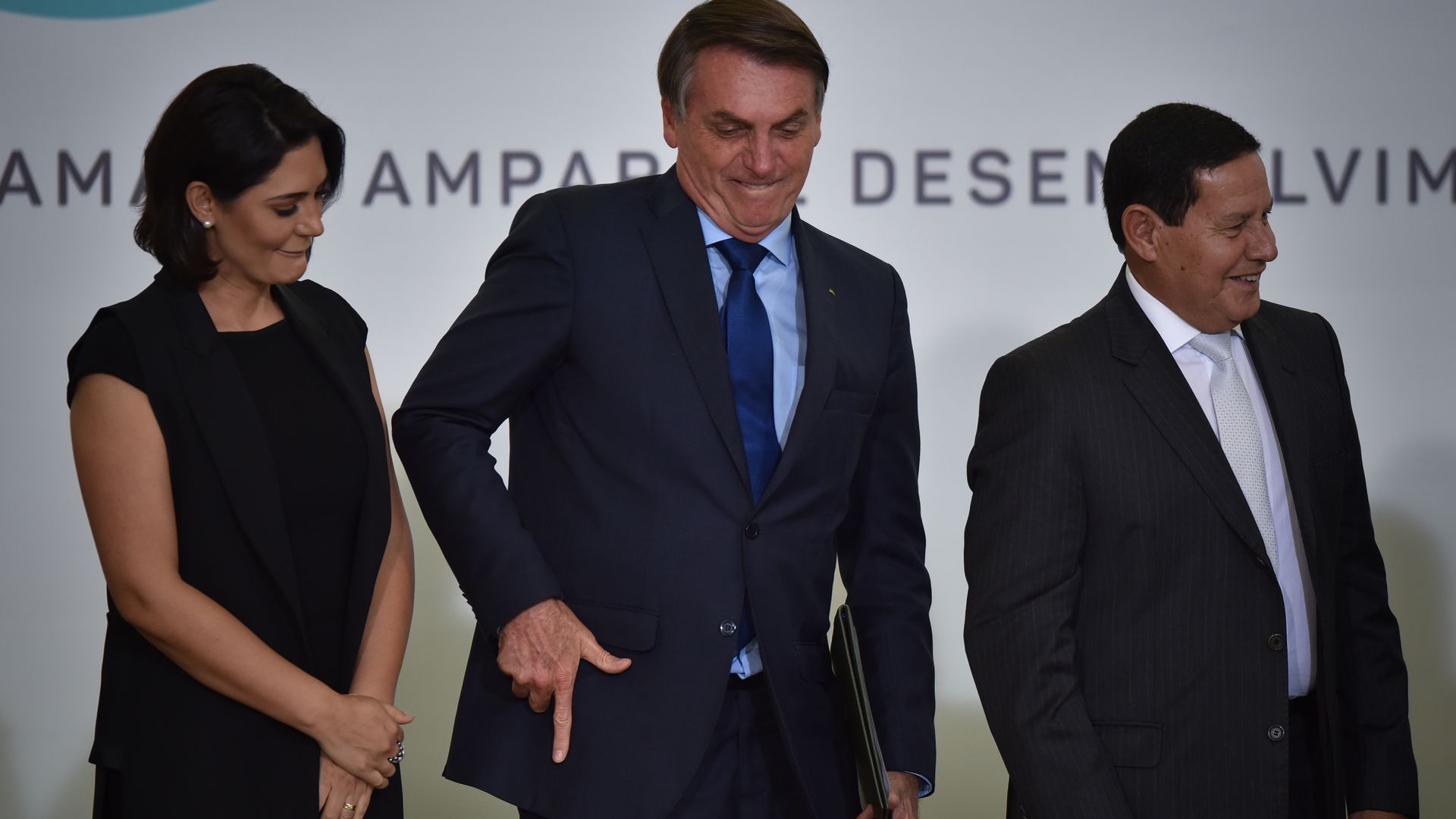 Every person in Brazil who wants to buy up to six arms and carry two, even Army regulation high-caliber ones, will soon be able to thanks to new decrees by President Jair Bolsonaro.
Why it matters: As the U.S. renews its debate on gun control, in the South American country the relaxation of gun laws under the captain-turned-president has already meant a 65% increase in firearms ownership.
That has not led to a decrease in the extremely high murder rate, which spiked last year after having dropped in 2019.
Experts say that paramilitaries and crime groups will have readier access to weapons after the executive actions, which loosen a 2003 law that limited most purchasing and carrying of weapons to law enforcement.
"The decrees make it almost impossible for police to track bullets or weapons. If this goes ahead, we will have weapon stockpiles, many of which will be bought by organized crime," former Defense Minister José Vicente da Silva told AP.
8. 1 smile to go: Masked wrestlers get others to mask up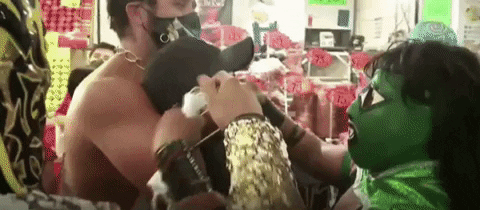 Luchadores know the importance of masking up (for them taking it off is actually a sign of defeat), so they decided to take that message from the ring to the streets.
A group of wrestlers have been visiting the Central de Abastos in Mexico City, one of the largest markets in the world and which was a contagion hub of COVID-19 early last year, to hand out face masks and hand sanitizer.
Those who resisted putting them on were also sprayed down with disinfectant. Don't mess with rudos… or with técnicos.
Hasta la próxima semana, have a safe one.