Axios Latino
Welcome! 👋🏽
Have you reached a major life milestone recently? Send us your feat and a photo by replying to this email and we might feature you in a future 🪅Pachanga Thursday.
Puede leer la versión en español aquí.
This newsletter edited by Astrid Galván is 1,265 words, a 5-minute read.
1 big thing: Abortion splits generations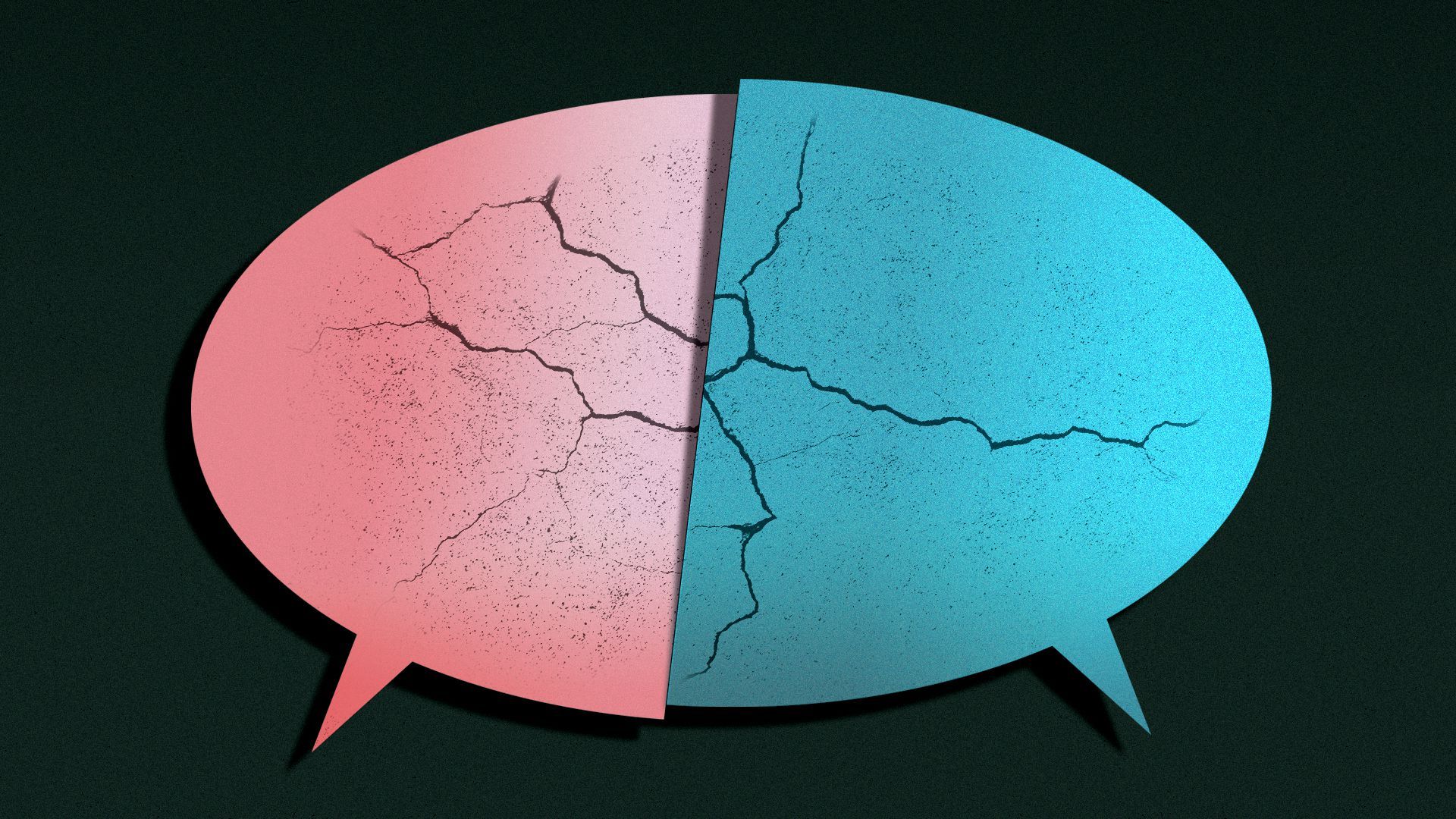 Half of U.S. Latinos say abortion should be legal, but one-fourth say it should be illegal at all times under any circumstance, according to a new Axios-Ipsos Latino Poll in partnership with Noticias Telemundo, Marina and Russell write.
The big picture: Support for abortion rights depended heavily on whether respondents were born in the U.S.: 41% of immigrants said abortion should be legal, jumping to 59% and 62% respectively with second- and third-generation Americans.
The national survey was conducted days before the Supreme Court ended Roe v. Wade.
Only 29% of Latinos who spoke only Spanish at home said abortion should be legal, compared to 63% of Latinos who spoke only English.
Why it matters: Last week's ruling, which could lead to half of the states banning abortion, is likely to have an outsized effect on women of color, exacerbating "the considerable health inequities that already exist," civil rights group UnidosUS said in a statement.
Individuals' views on abortion also may have some impact on the midterm elections. Democrats are pushing abortion as a major issue, and young Latinos are crucial to Democrats' fate.
Asked which major party they felt was good on abortion issues, 31% said the Democratic Party while 13% said the Republican Party.
By the numbers: 40% of Republican respondents, 24% of independents and 21% of Democrats said abortion should be illegal.
Support for access to contraception was overwhelming, with just 12% of overall respondents saying birth control should be illegal.
The intrigue: Ipsos pollster and senior vice president Chris Jackson said declining religiosity appears at least in part to explain the difference between immigrant and U.S. born Latinos on abortion views. "I think generation does also have a pretty strong correlation with religiosity," he said.
First-generation Americans are more likely both to identify as religious and to say they regularly attend services.
Abortion opponents celebrated the Supreme Court decision.
2. The next frontier in abortion rights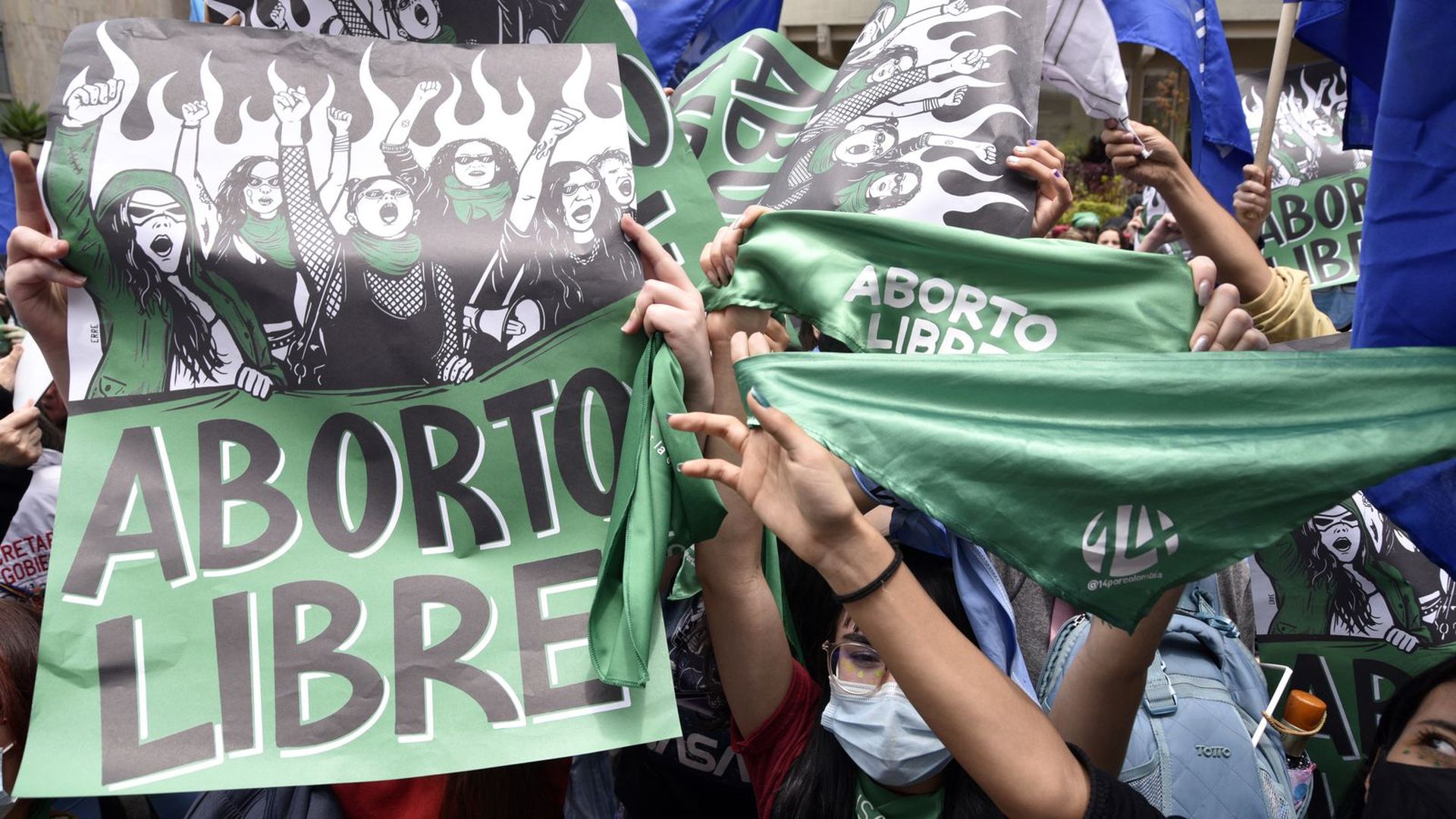 With Roe v. Wade overturned, abortion rights advocates are already bringing the next legal battle to the states as many move to ban abortion access, Axios health care reporter Oriana Gonzalez writes.
Driving the news: Advocates quickly filed lawsuits challenging "trigger" laws aimed at making nearly all abortions illegal in Utah and Louisiana.
Meanwhile, Latin American activists say they have a roadmap for how to fight bans. Several countries in the region have recently loosened their abortion restrictions.
What they're saying: Paula Avila-Guillen, of the nonprofit Women's Equality Center and a member of the Marea Verde (green wave) movement in Latin America, told NBC News that advocates should focus on how abortion is provided, including the ability to receive abortion pills by mail.
Activists should also push for legislation that would codify abortion rights, she told NBC.
But the battle for rights in Latin America, which has been decades in the making, continues, Avila-Guillen added.
Speaking to Axios, Avila-Guillen said: "My hope, and the biggest lesson we can take from those Latin American advances, is in the power of the Marea Verde: that demonstrating can make a difference."
The anti-abortion movement will work to ban abortion "in every state and in every legislature, including the Congress," Marjorie Dannenfelser, president of Susan B. Anthony Pro-Life America, told Axios last week.
3. Ecuador protesters reject government offer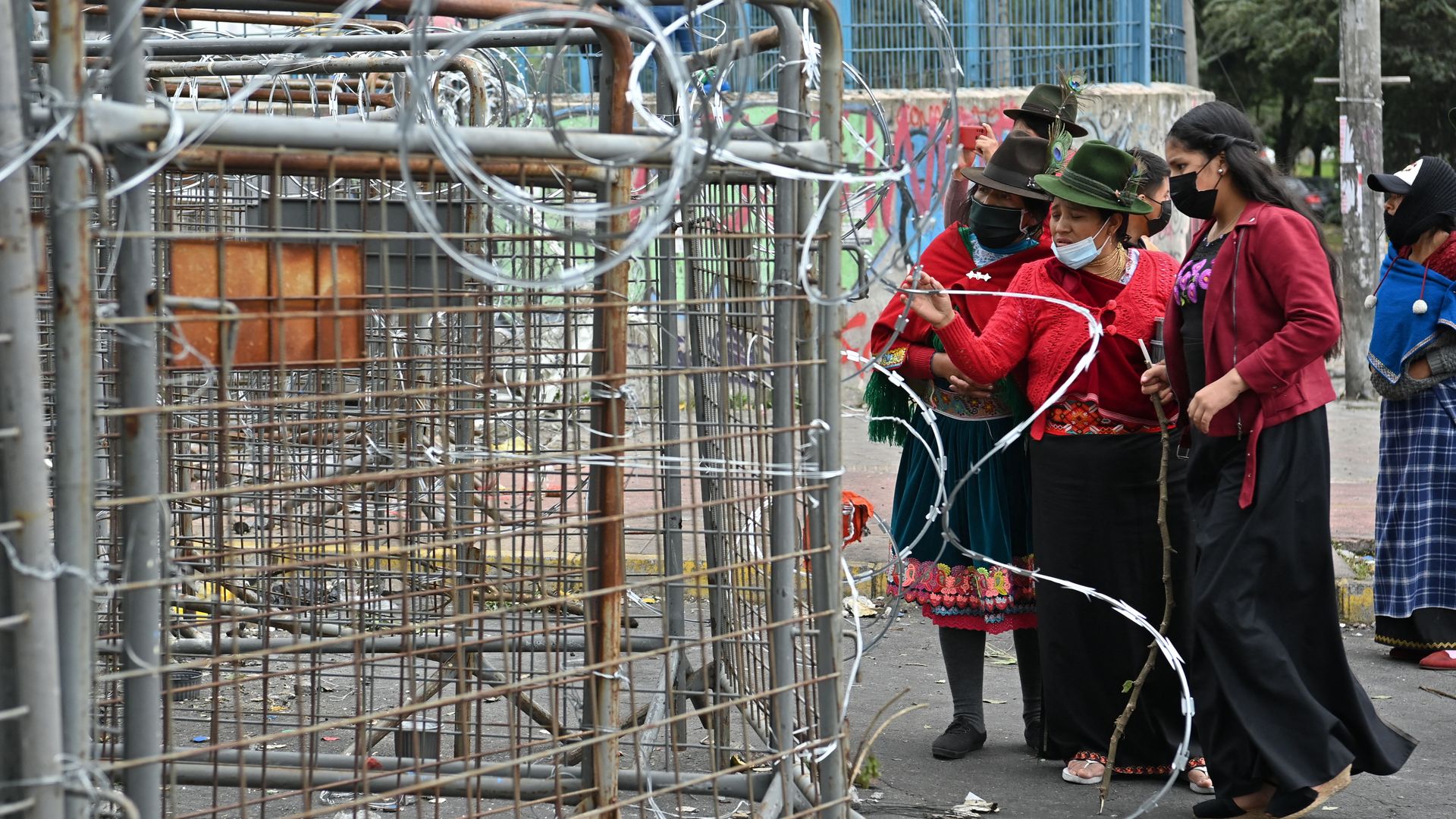 An Indigenous coalition in Ecuador behind major protests against rising costs, medicine shortages and mining projects rejected yesterday the government's plan to lower gas prices, saying it was insufficient, Marina writes.
Why it matters: The protests started June 13 and have shut down roads in the nation's capital and other cities, delaying the country's oil production and causing food shortages.
The blockades have also resulted in an oxygen supply shortage in hospitals and temporary school suspensions, authorities say.
The Confederation of Indigenous Nationalities of Ecuador (CONAIE), launched the protests and says it will open humanitarian corridors. One of its 10 demands has been for food to be more readily available in certain provinces.
College students and other groups have joined the protests.
Driving the news: The National Assembly is considering impeaching President Guillermo Lasso this week over the crisis.
Details: Lasso said during a national address Sunday night that gas would soon be lowered by 10 cents a gallon. CONAIE was asking for a 40-cent reduction.
Lasso also put an end to a curfew and military policing instituted during a state of emergency declared June 18 in six provinces. Amnesty International says at least one person was killed by the armed forces.
Some protesters have been accused of looting, setting cars on fire and other acts of violence.
4. 🇺🇸 From "undocumented" to the White House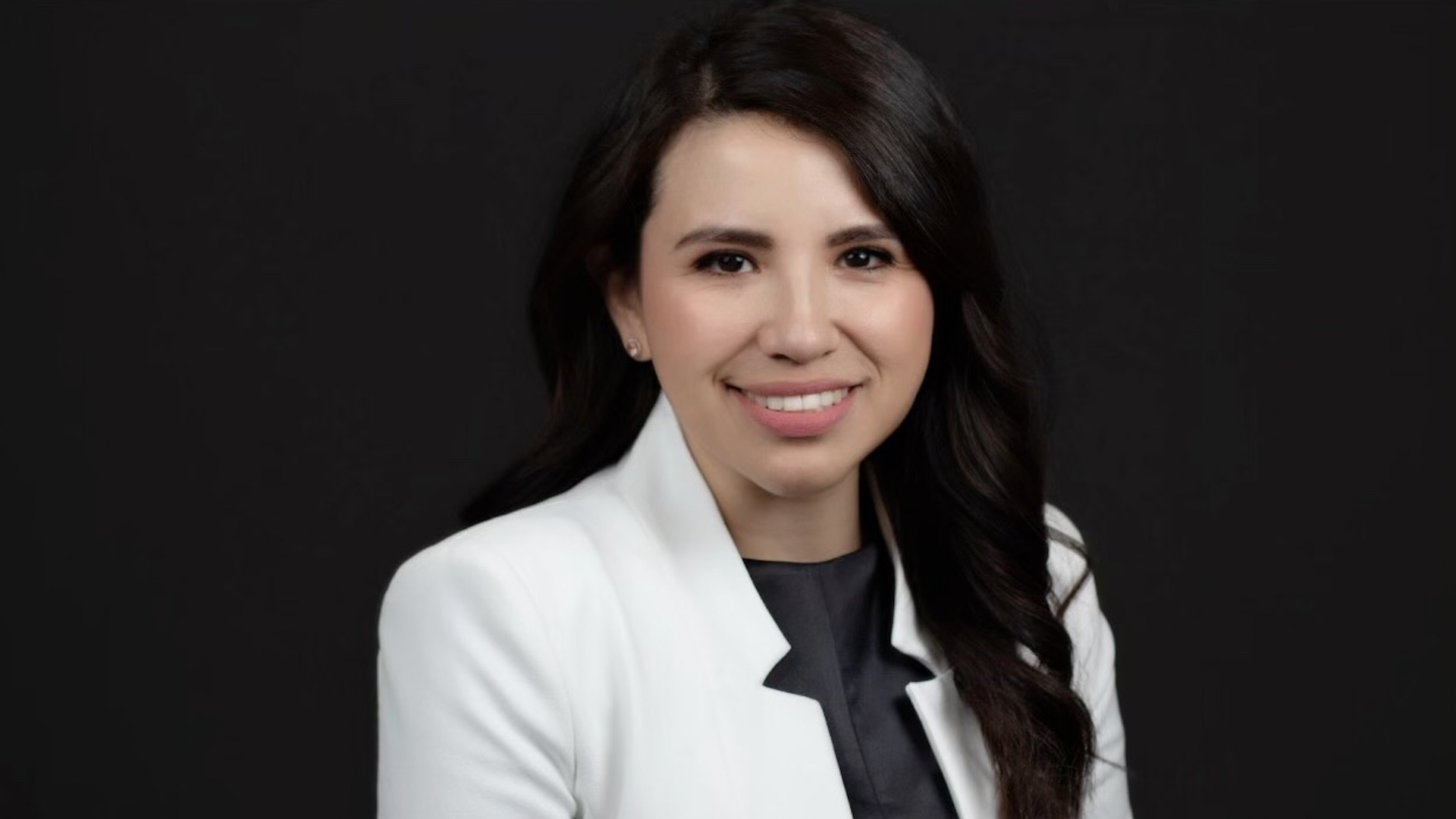 Cindy Nava, a once-undocumented immigrant from Mexico who worked without pay in the New Mexico Legislature for a decade, is joining the Biden Administration as an adviser on housing issues.
Why it matters: Nava's appointment as the senior policy adviser to the secretary of the U.S. Department of Housing and Urban Development makes her one of the first former DACA recipients to receive a White House presidential appointment.
In an interview with Axios, Nava said her new role comes after years of insecurities about her immigration status, her accent and a nagging feeling of never feeling good enough despite her years of experience.
For years, few people knew about Nava's immigration status, even as she became a political analyst in New Mexico.
Details: Born in Chihuahua, Mexico, Nava was brought to New Mexico as a child and grew up in Albuquerque and Santa Fe.
She got involved in politics immediately after high school and worked in the New Mexico Statehouse on behalf of Democratic lawmakers. She couldn't get paid because she was undocumented.
She eventually enrolled in the Deferred Action for Childhood Arrivals (DACA) program and became a U.S. citizen through marriage.
On experience: Working for state lawmakers exposed her to housing issues in New Mexico, one of the poorest states in the nation.
Nava said images of the Navajo Nation's lack of electricity on and no adequate plumbing in some border communities will help shape her policy with HUD.
5. Stories we're watching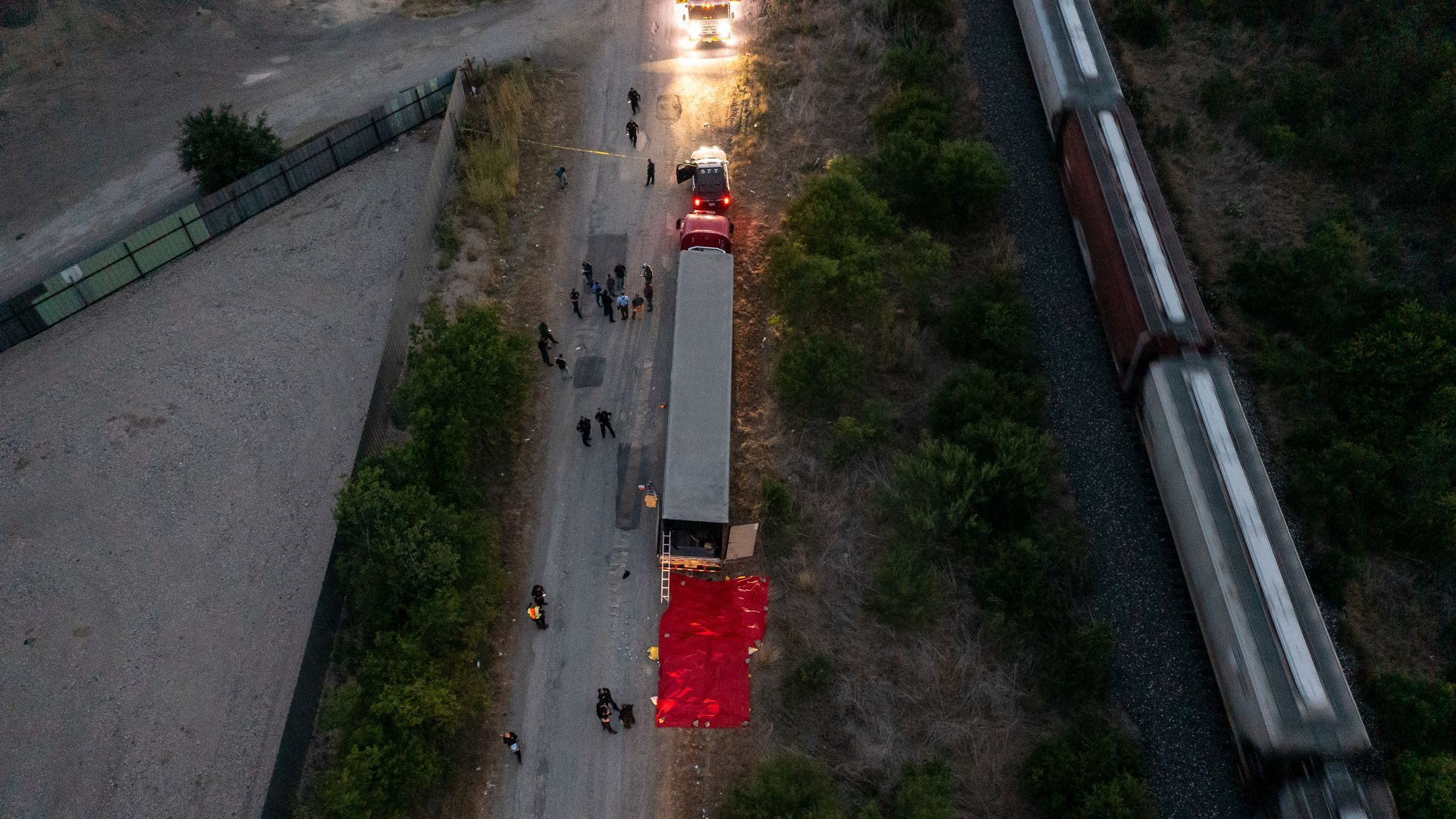 1. Authorities are investigating the deaths of at least 50 people found in a tractor-trailer in San Antonio yesterday.
16 others were taken to hospitals in a what is believed to be a migrant smuggling attempt.
2. At least 50 people died early this morning in a fire in Colombia during a prison riot, authorities said.
30 others were injured.
The riot took place in a ward with 200 prisoners in Tuluá.
6. Smile to go: 🪦 Unexpected findings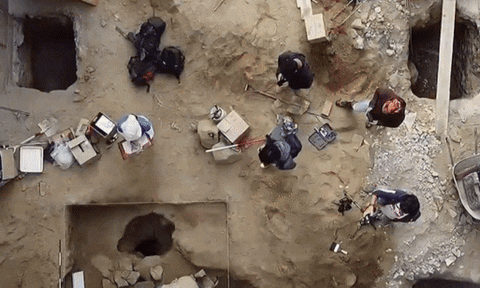 Workers renovating a house in Peru discovered a pre-Incan tomb site, Marina writes.
Details: Construction in part of the house in Lima unearthed the remains earlier this month.
Archeologists are now studying the tomb, which had bundles of silver and copper objects and appears to hold members of a well-off family from the 15th Century.
Thank you! If you enjoy this newsletter, please tell your friends and family to sign up here.