September 14, 2021
¡Muy buen martes! Today we dive into hunger, baseball con sabor, and Latinos rocketing NASA to Mars. Send us any feedback (quejas, sugerencias, chismes) by replying to this email. Read the Spanish version here.
🚨 Situational awareness: Axios Latino is now publishing twice a week, on Tuesdays and Thursdays. Sign up here if you aren't yet subscribed.
This newsletter — edited by Michele Salcedo — is 1,232 words, about a 5-minute read.
1 big thing: Latinos' worldwide imprint
From color TV to medical breakthroughs that led to the birth control pill, from the use of fingerprints to solve crimes to cuisines that are as rich as they are varied, Latin America and the Caribbean has had a game-changing influence on the world.
Why it matters: During Hispanic Heritage Month, which begins Wednesday, we'll be highlighting contributions Latinos have made to improve life around the globe, from ancient agricultural practices still in use today to more recent innovations in medicine, science and education.
Details: Some examples:
The Happy Meal, now a fast food staple with a toy included to appeal to kids, was the brainchild of Guatemalan Yolanda Fernández de Cofiño, who passed away last week.
The first ovulation-blocking hormone to be synthesized, which paved the way for the birth control pill, was a Mexican scientist's achievement. And a Chilean researcher devised the contraceptive arm implant.
Lasik surgery to correct eyesight exists thanks to testing procedures by ophthalmologist José Barraquer in Colombia.
Puerto Rican Fernando E. Rodríguez, a U.S. Army major, did the initial research that led to identifying the bacteria that causes dental cavities and how they can be treated.
Flashback: Hispanic Heritage was originally celebrated as a weeklong event after President Lyndon B. Johnson signed a proclamation, and it became a monthlong commemoration in 1988.
The festivities are meant to coincide with several independence anniversaries in Latin America, including Mexico's, Chile's and most Central American countries'.
2. Latinos get NASA to Mars
Recent missions from the space agency have been made possible with the work of Latino and Latina engineers.
Details: Aerospace engineer Diana Trujillo moved from Colombia to the U.S. speaking no English. She paid her way through school by working as a housekeeper. She is now a lead scientist for the Mars Perseverance rover.
Driving the news: Hernandez, O'Farrell and Trujillo will be among the recipients of the Hispanic Heritage Foundation Awards this October.
They follow Latinas like Sylvia Acevedo, one of the first female NASA engineers, and Ellen Ochoa, who was the first Hispanic director of the Johnson Space Center.
What's next: In October of next year, NASA plans to launch a space telescope to try to find the universe's first galaxies.
Mexican optical engineer Margaret Zoila Domínguez has been one of the key team members.
Yes, but: Last year only 7% of NASA employees were Hispanic or Latino, the second-lowest ethnic or racial group in the ranks of the space agency.
Go deeper: Mind the Latino gap in STEM jobs
3. Minor League Baseball's homerun with Latinos
A Minor League Baseball campaign aimed at U.S. Latinos has amassed widespread community acclaim and engagement as overall baseball fan participation dwindles, Axios' Yacob Reyes and Russell Contreras report.
The big picture: The Copa de la Diversión is a community-based initiative that gives 76 teams Latino-themed logos and names on certain nights.
The Charleston RiverDogs of South Carolina turn into the Perros Santos de Charleston, and the Down East Wood Ducks in North Carolina become the Avocados Luchadores for a few games.
The teams collaborate with their local Hispanic Chamber of Commerce and other civic leaders to create a name, logo and program unique to that place's market.
Why it matters: Latinos make up more than 30% of Major League Baseball's talent.
Yet before the Copa de la Diversión initiative, the MiLB had struggled to attract Latinos to games.
Copa-designated games drew 20%-larger crowds than non-Copa games in the years before the pandemic.
What they're saying: "The best way to celebrate these really passionate fans who love baseball is to adopt a culturally relevant moniker that is representative of the local community," Kurt Hunzeker, Major League Baseball's vice president of Minor League business operations, told Axios.
He added that having a single Hispanic Heritage night "was just checking a box and not what its intent was supposed to be."
4. Hunger pangs in a pandemic
One in five Latino households with children in the U.S. had to skip meals during 2020, according to data from the U.S. Department of Agriculture.
State of play: Latino and Black households were more likely not to have enough to eat during 2020 than they were in 2019, per USDA's annual Household Food Security report.
Food insecurity, the lack of consistent and dependable access to enough meals, also rose for Hispanic individuals without children.
However, the report states food insecurity overall in the U.S. and for white non-Hispanic households remained steady compared to 2019 levels, to a large extent because of federal aid and food banks.
Of note: Latino and Latina workers are more likely to depend on jobs in the hospitality and other industries that were greatly affected by the pandemic, leaving many unemployed and unable to afford some meals.
In metropolitan areas like D.C. many of the Latinos who visited food banks were still employed, yet unable because of expenses to get enough food on the table.
The end of pandemic unemployment benefits last week could mean more Hispanic people in the U.S. will need food banks.
5. Stories we're watching
1. Argentina's governing party stumbled this past Sunday in the open primary elections to decide who will run for Congress on Nov. 14, seen as a barometer of how President Alberto Fernández and the Frente de Todos coalition is handling the pandemic.
Half of the lower house and a third of the Senate will be up for grabs in the South American country, where over 5 million people have had coronavirus, the second-highest overall number of infections in the region.
2. Peruvian authorities are in a bind over the remains of Abimael Guzmán, who died Saturday in prison, convicted of terrorism for leading the Sendero Luminoso insurgency that perpetrated car bombings and assassinations in the 1980s.
The legal claimant for Guzmán's body is a former member of Shining Path, raising fears that Guzmán's tomb would attract pilgrims.
Justice Minister Aníbal Torres has suggested the body be incinerated and the ashes thrown into the sea, but the legality of that action is unclear. The attorney general's office, which is in charge of Guzmán's remains, is scrambling.
6. 1 smile to go: Lighting up the bus system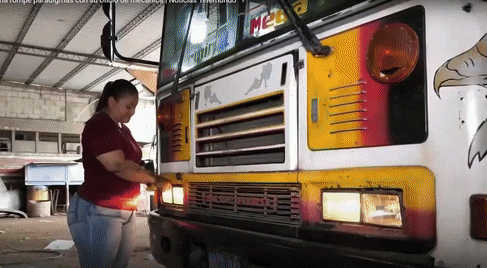 Greasing up to dive under a bus is part of Alexandra González's daily routine, one she says makes her the only woman in El Salvador employed as a mechanic in an auto workshop.
Details: González is in charge of checking the lighting and ignition of the buses that come through the repair shop.
A scholarship allowed her to go to technical school, which in turn opened the door for full undergraduate studies in electrical engineering. She is months away from graduating.
González says she now dreams of perhaps opening her own workshop to train and employ even more women.
Hasta el jueves, have a safe one.