Axios Latino
October 21, 2021
¡Muy buen jueves! Today we look into a health paradox, Latina-brewed beers, human smugglers recruiting on TikTok, and a Mesoamerican ball game.
Send us any feedback (quejas, sugerencias, chismes) by replying to this email. Sign up here if you aren't yet subscribed, and remember you can read the Spanish version here.
This newsletter — edited by Michele Salcedo — is 1,265 words, about a 5-minute read.
1 big thing: Brewing up change in the craft beer industry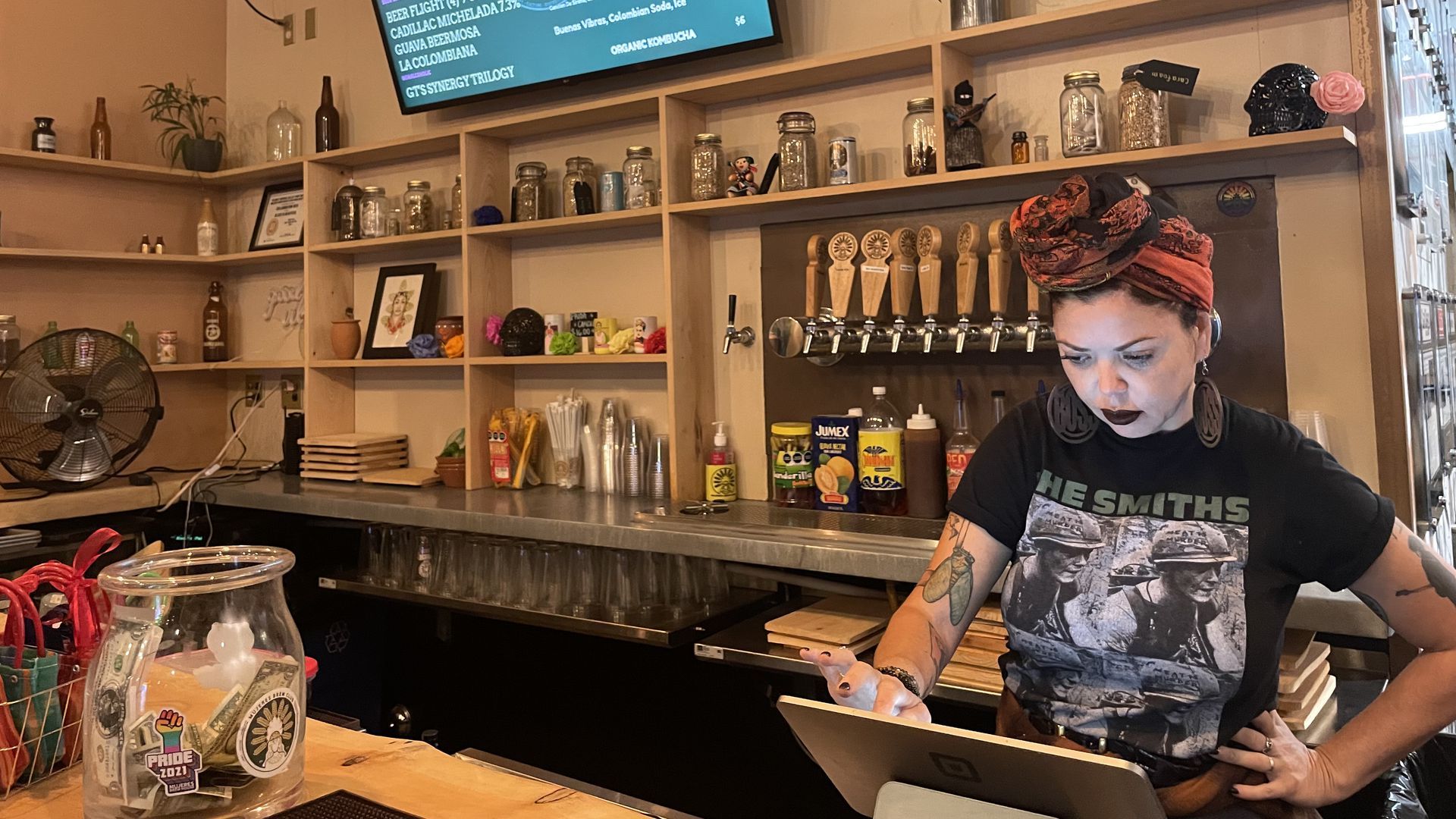 A small but growing number of independent craft breweries popping up across the U.S. are Latina-owned or run by a Latina head brewer.
The big picture: The breweries are opening as Latina-owned small businesses continue to be one of the fastest-growing segments of the economy, despite pandemic setbacks and a lack of venture capital.
Details: Mujeres Brew House opened last year in San Diego during the height of the pandemic. The owner and co-founder, Carmen Favela, said she hopes to empower more women of color to wade into the industry.
Hot Plate Brewing Company is scheduled to open in Pittsfield, Massachusetts, with a seven-barrel brewhouse.
Three years ago, Jessica Fierro opened the Atrevida Beer Company in Colorado Springs, and has since won a number of awards.
Around the same time, Cielomar Cuevas with her husband, Luis Castro, opened up the San Francisc0 Bay Area-based Del Cielo Brewing Co.
By the numbers: Around 93.5% of brewery owners in the U.S. are white non-Hispanics, according to the latest survey by the Brewers Association, the nation's top trade group for independent and craft brewers.
Only 2.2% were owned by someone of "Hispanic, Latina -o, or of Spanish origin," the survey found. It did not break that ownership down by gender.
What they're saying: "One of the biggest reasons for wanting to own my own brewery is because I don't fit in that box of whatever a brewer is supposed to look like," Atrevida Beer Company's Jessica Fierro told Axios.
Of note: In all industries in the U.S., Latinas make only 57 cents on average for each dollar earned by a white non-Hispanic man.
2. Better health with less access to health care
Researchers have received a grant to look into why Hispanics and Latinos in the U.S. sometimes have better life expectancy and illness outcomes despite their often lower socioeconomic status and reduced access to preventive care and treatments.
Why it matters: The reasons behind the so-called Latino Health Paradox or Latino Mortality Advantage have puzzled researchers for decades.
Latinos fare better on average than non-Hispanic whites, with lower rates of asthma development in childhood, and lower mortality for COPD and some cancers.
The paradox has been reported throughout the hemisphere, with people from several Latin American countries having lower premature death rates than non-Latino adults in the U.S.
Foreign-born Latinos in the U.S. also usually have better health than U.S.-born Hispanics.
Details: University of Arizona researchers will lead the study, which will examine whether social and familial bonds contribute the most towards better health outcomes.
Latinos have a greater tendency to be caregivers, and the researchers posit that counting on a tight-knit community motivates Latinos through treatment.
Yes, but: U.S. Latino life expectancy decreased by three years in 2020, with the pandemic's toll erasing the advantage of past paradox trends.
3. Coyotes brag and recruit on social media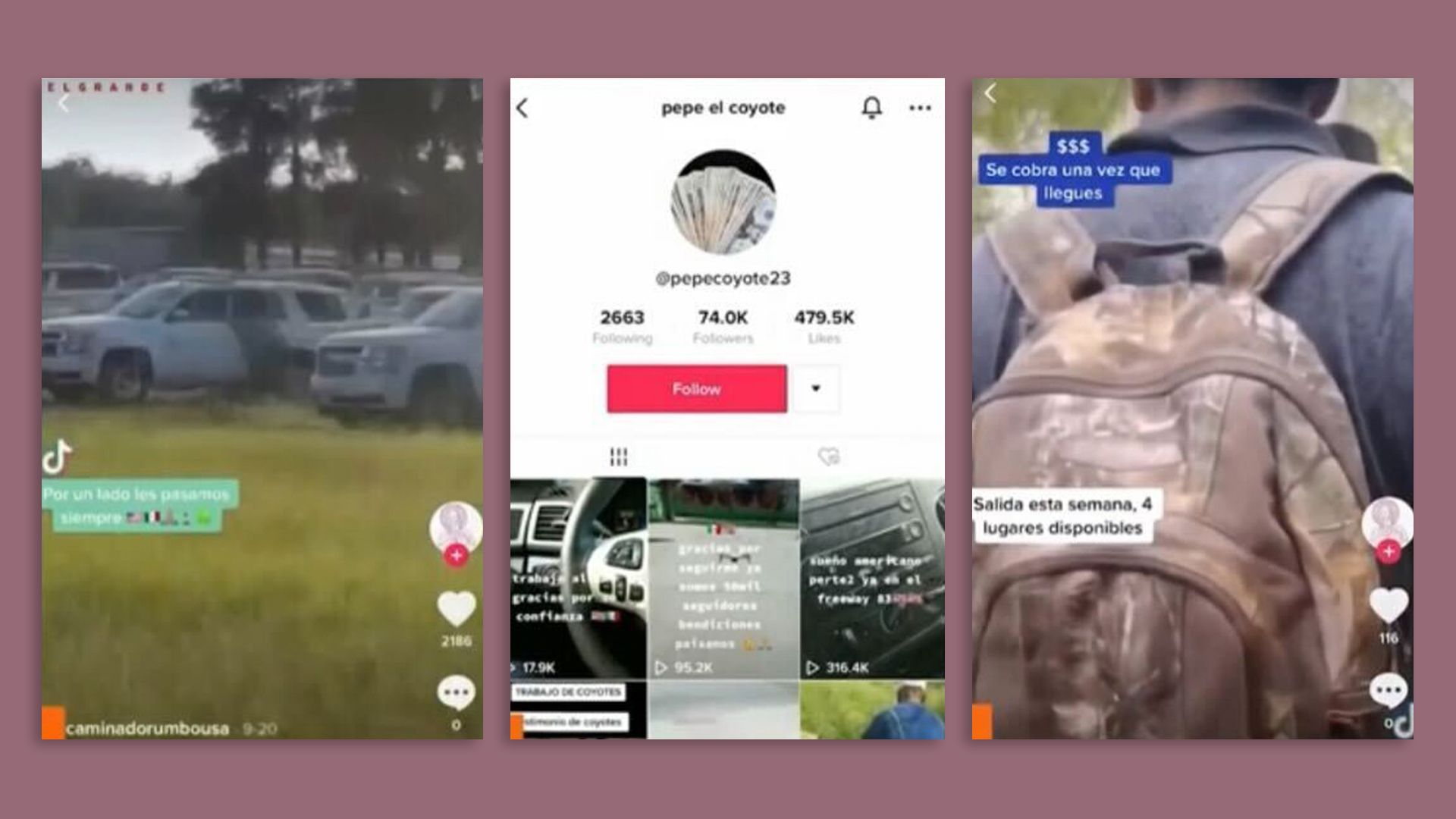 Human smugglers are turning to TikTok and Facebook to advertise their services to help migrants cross the U.S. border.
What's happening: Videos uploaded to social platforms by accounts like "pepecoyote23" show snippets of the purported smuggler's routes.
They film themselves as they lead people along marshes and desert, with text showing prices or updates such as, "We leave this week; two spots still open."
A video shows a pollero, or driver, in an SUV with migrants squashed into the backseat, driving unseen right across from Border Patrol cars.
The coyotes also record themselves counting wads of cash and running from U.S. officers to avoid capture.
Why it matters: Experts and migrant advocates worry about how social media misinforms migrants about the frequently deadly journey, and about the probability of being detained and deported.
"The true price of hiring them is sometimes your life. These are people without scruples that leave migrants to die in the desert, to drown in the river," Fernando García, executive director of the Border Network for Human Rights, tells Noticias Telemundo.
4. Hollywood missed the mark on Latinos in 2020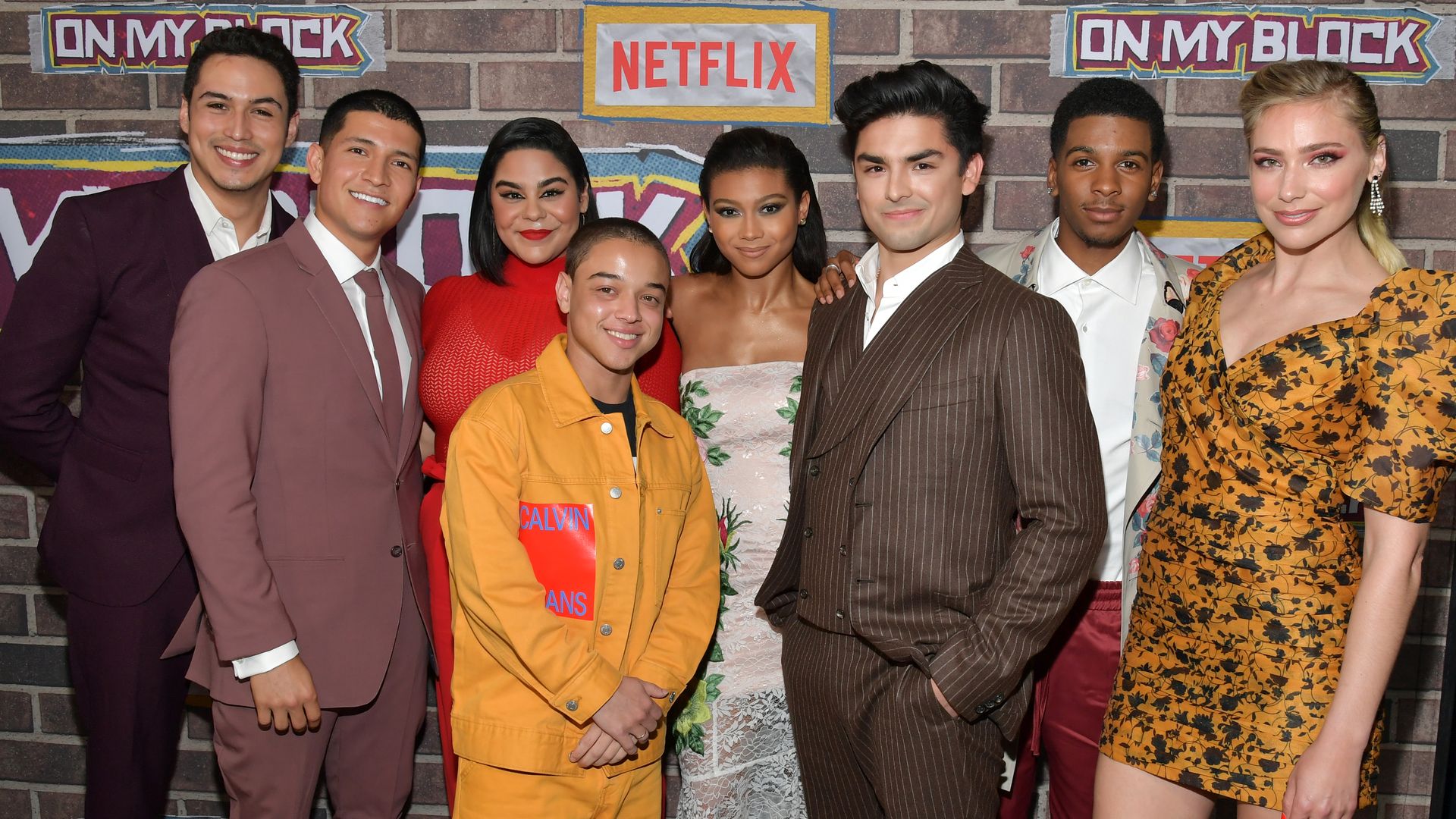 The likelihood of a show having a Latino lead last year was lower than that of someone having an identical twin, according to a report on media representation.
Why it matters: This highlights a trend of the underrepresentation of a group that makes up nearly 19% of the U.S. population, with other recent reports scrutinizing the media for the lack of Latino voices and faces.
Only 5% of lead actors in films and 2.9% in new and returning television and streaming shows were Latino in 2020, the nonprofit research firm Latino Donor Collaborative found.
Latinos were the only demographic in the U.S. — when compared to Black Americans, Asian Americans and white non-Hispanics — for which the percentage of media representation fell short of their U.S. population weight, the study found.
Of note: The Latino Donor Collaborative recently launched a database of Latinos who have worked on at least one network show or one studio film during the last four years.
Ana Valdez, executive director of the group, told Axios the database is meant as a response to Hollywood executives who say they can't find Latino talent.
What's next: A handful of upcoming and recent high-profile animation works do incorporate Latino stories, cast and crew.
5. Stories we're watching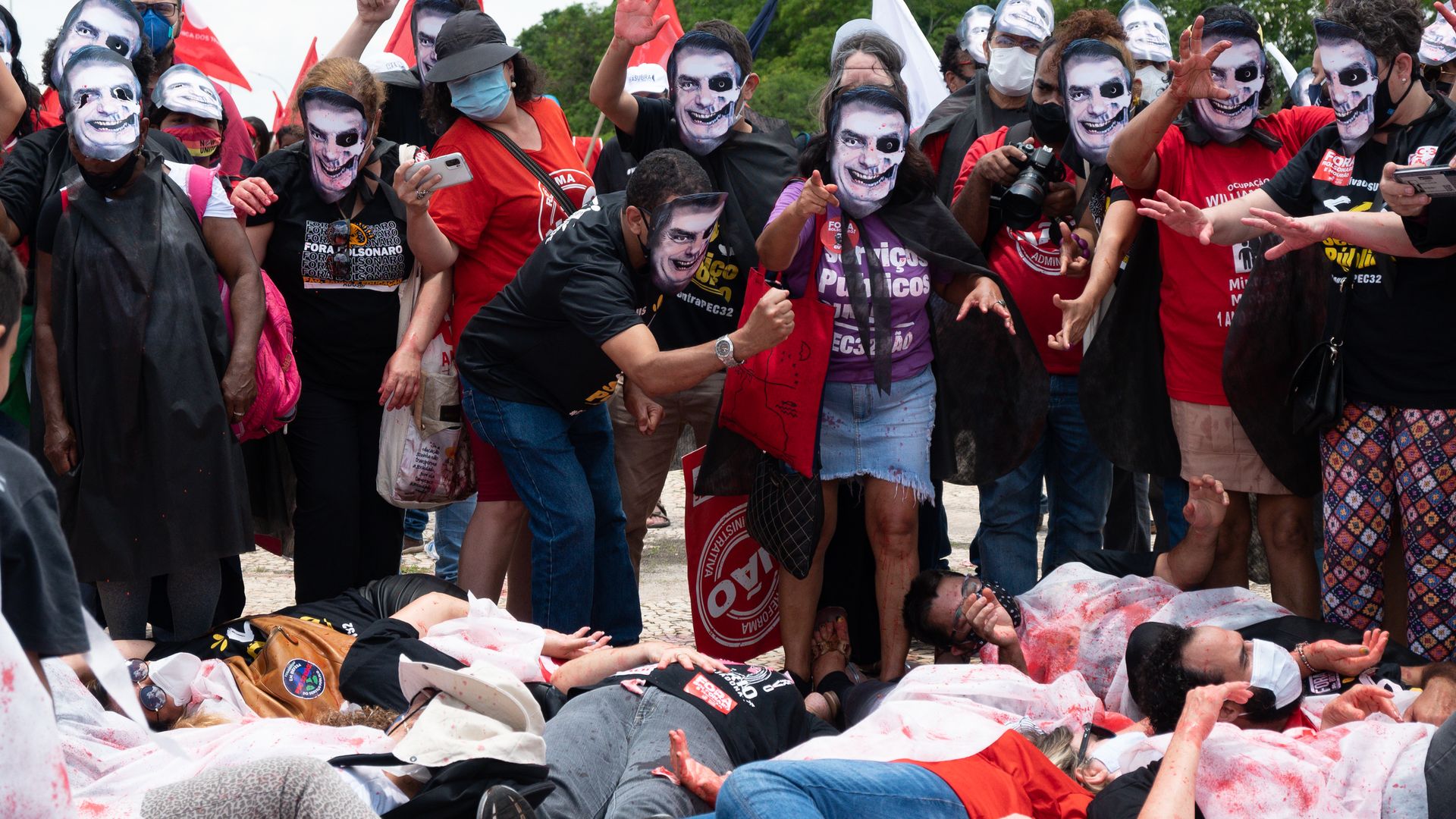 1. Brazilian President Jair Bolsonaro boasted that an official criminal dossier against him won't go anywhere, after a Senate committee recommended yesterday that Bolsonaro, three of his sons, and a handful of cabinet members be formally charged with crimes against humanity, deliberate neglect, dereliction of duty, incitement to commit crimes and charlatanism.
The charges against Bolsonaro would derive from his championing of unproven drugs for COVID-19 treatment, his minimization of vaccines and his government's abandonment of health clinics in Indigenous areas.
A final Senate vote on whether the case should be sent to Brazil's attorney general (who is close to Bolsonaro) and to the International Criminal Court in The Hague is scheduled for Tuesday.
2. The Cuban government unveiled a draft update to the criminal code's section on family this week that would recognize same-sex unions and adoption by same-sex couples.
Cubans are set to send in comments so a final Código de las Familias text can be voted on by referendum next year, then debated in the one-party Congress.
6. ⛹️‍♂️ 1 smile to go: Reviving a Mesoamerican tradition
The traditional pre-Columbian juego de pelota is making a comeback, thanks to teams gearing up for a world competition.
Details: The game uses a 7-pound ball made of solid rubber that must be put through elevated rings using only the body's joints. It was originally forbidden by Spanish colonists and remained unplayed for millennia.
Teams from Belize, El Salvador, Guatemala, Honduras, Panamá and two Mexican states will compete this December in Yucatán.
It'll be the fourth edition of the contest, which has been played every two years since 2015.
Teams are mixed, in contrast with the available historical record showing it was only for boys and men.
Context: The Mayan version of the game is known as pok ta pok and rules are only the hip can be used, while other Mesoamerican variants allow for the elbow and knees as well.
It had ritual undercurrents, with markings on the field representing the trek to the underworld and teams being seen as "beating" death when winning.
Hasta el martes, have a safe one.