Good morning, I recently returned from a whirlwind week covering the climate talks in Bonn, Germany.
My latest column — about the left's internal struggle over nuclear power — is reported mostly from interviews on the sidelines there. I'll offer you a glimpse of that, and then Ben Geman will get you on top of the rest of the news.
https://www.axios.com/newsletters/axios-generate-fe1e80d2-64b5-4740-a70d-5069b3ab23db.html?chunk=0#story0
The left's nuclear problem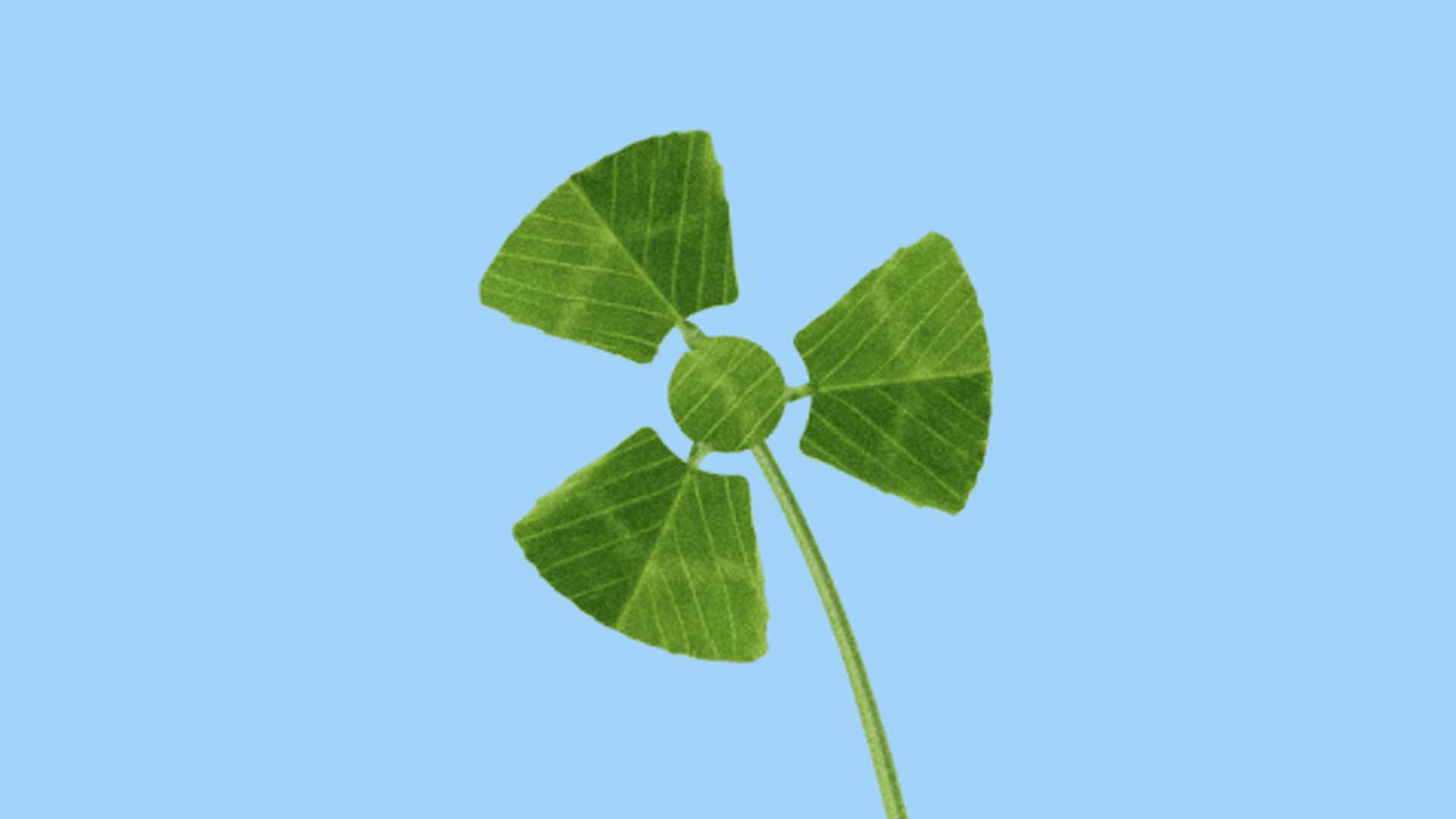 America's liberal leaders are torn between fighting climate change and resisting nuclear power.
Why it matters now: The nuclear power industry, which provides the U.S. nearly two-thirds of its carbon-free electricity, is reaching an inflection point. Several power plants are shutting down under economic duress, which is putting pressure on Congress and state legislatures to keep them open, while a new generation of advanced nuclear technologies need government backing to get off the ground.
https://www.axios.com/newsletters/axios-generate-fe1e80d2-64b5-4740-a70d-5069b3ab23db.html?chunk=1#story1
Latest in oil: Keystone XL decision, Conoco's plan, markets await OPEC
Coming today: The Nebraska Public Service Commission is slated to make a decision on the Keystone XL oil sands pipeline.
Via the Associated Press, "The simplest choice is a yes-or-no vote on TransCanada's 'preferred route' through a dozen Nebraska counties. But the commission could include major caveats that would add years to the project's timetable."
Quick context: The Trump administration has already approved the proposed pipeline to bring crude oil from Canada's oil sands to U.S. refineries, reversing former President Obama's rejection. But developer TransCanada has not yet decided whether the project's economics still make sense.
ConocoPhillips: CEO Ryan Lance tells the Financial Times that the big U.S.-based company won't invest in new projects that require oil prices of $50 per barrel or higher to make a profit, and that the company is targeting most of its growth capital on U.S. shale projects.
Markets: Reuters reports that crude markets are "tepid" thus far today because traders are "reluctant to take on big new positions ahead" ahead of the Nov. 30 OPEC meeting where ministers will weigh the future of the OPEC/non-OPEC production limiting deal.
Crystal ball: According to their piece, a new Morgan Stanley note says, "the market expectation is for an extension through 2018...[but] there is increased risk that OPEC delays the extension decision."
PVM Oil Associates analyst Tamas Varga tells Bloomberg: "It is widely believed that OPEC, together with 10 non-OPEC countries, will roll over their production for the whole of 2018."
Transparency: A piece published by the center-left think tank New America looks critically at the Trump administration's recent decision abandon full implementation of Extractive Industries Transparency Initiative standards.
Noting that the U.S. still plans to back other nation's transparency efforts, the piece states: "In light of the United States' withdrawal, this form of development aid smacks of hypocritical paternalism and flawed diplomacy."
https://www.axios.com/newsletters/axios-generate-fe1e80d2-64b5-4740-a70d-5069b3ab23db.html?chunk=2#story2
Solar trade notes: Lobbying, deadlines, and Lighthizer's sway
Battle stations: A pair of residential solar companies opposed to potential tariffs on panel imports — Sunrun and Vivint — have brought on Ballard Partners to lobby on trade issues (newly available filings here and here).
Deadline: Midnight marks the deadline for initial comments to the United States Trade Representative — a branch of the White House — about potential tariffs on imported solar panel equipment.
USTR is planning a Dec. 6 public hearing ahead of making policy recommendations to President Trump, who is supposed to make a decision on any solar trade measures by mid-January.
Why it matters: The USTR process is the latest phase in the high-stakes solar trade battle.
The U.S International Trade Commission recently recommended that the White House impose new import penalties at the behest of domestic manufacturers Suniva and SolarWorld, although they're weaker than the two companies suggested.
The wider solar industry and its allies are battling the proposal, arguing it would wreak havoc on project economics and significantly slow the growth of U.S. solar power.
Person to watch: I recommend reading this piece by my Axios colleague Jonathan Swan. He reports that "hardline trade negotiator Robert Lighthizer is wielding extraordinary — and growing — influence inside the White House."
Why it matters: While the White House hasn't tipped its hand on solar trade policy yet, the sway of a Lighthizer, a China hawk, could suggest which way Trump will lean on the solar question. A number of Chinese-owned companies export panels to the U.S.
https://www.axios.com/newsletters/axios-generate-fe1e80d2-64b5-4740-a70d-5069b3ab23db.html?chunk=3#story3
Exclusive: Who's in the new group fighting Perry's FERC plan
Going public: A group urging the Federal Energy Regulatory Commission to reject a DOE proposal that would mandate higher revenues for coal and nuclear power plants is now making its members public.
The Affordable Energy Coalition's members thus far are: Advanced Energy Economy, the American Wind Energy Association, BP, the Electricity Consumers Resource Council, Energy Storage Association, Industrial Energy Consumers of America, and the free-market R Street Institute.
Why it matters: The coalition's emergence underscores the breadth of the opposition from several industry sectors to Energy secretary Rick Perry's push to keep coal and nuclear plants at risk of retirement online by shaking up wholesale power market rules.
It's part of a broader, strange bedfellows alliance that spans renewable energy groups, the oil-and-gas industry and environmentalists — a mix that highlights the high-stakes of one of the most intense energy policy fight of the Trump era thus far.
The coalition announced its presence two weeks ago but has not previously disclosed its members.
In their words: "The DOE grid proposal would raise costs for millions of American families and make it harder for American businesses to compete," said Michael Steel, a spokesman for AEC.
Steel, a former senior House GOP aide now with the firm Hamilton Place Strategies, said the group will "educate consumers across the country and leaders in Washington on the consequences of the DOE grid proposal."
What's next: Interim FERC chairman Neil Chatterjee is pushing for FERC action in mid-December that would extend a "lifeline" to at-risk plants while the independent agency weighs Perry's request.
https://www.axios.com/newsletters/axios-generate-fe1e80d2-64b5-4740-a70d-5069b3ab23db.html?chunk=4#story4
Electric vehicle news and views
Tesla's truck: Here's a few more items about the company's newly unveiled electric semi-truck prototype...
Via Trucks.com this morning, here's a comprehensive list of knowns and unknowns about the vehicle.
MarketWatch reports that retail giant Walmart has pre-ordered 15 of the Tesla trucks and the trucking company J. B Hunt Transport Services has also placed orders for the new rig. From their story: Walmart is "excited to be among the first to pilot this new heavy-duty electric vehicle. We believe we can learn how this technology performs within our supply chain, as well as how it could help us meet some of our long-term sustainability goals, such as lowering emissions," the company said in a statement.
The latest episode of Greentech Media's Energy Gang podcast looks at the state of Tesla's ship, and Jigar Shah argues that the truck is a better fit for the company than the mass-market Model 3, given Tesla's problems thus far trying to produce vehicles on a large scale.
Big picture: Reuters has published a very useful, company-by-company summary of major automakers' EV plans.
Counterpunch: A very interesting Wall Street Journal feature looks at joint efforts by major oil companies and automakers to develop the next generation of advanced engine lubricants and other technologies that make internal combustion vehicles more efficient.
Bottom line: "They're betting the new, thinner oils will help them squeeze even more efficiency out of traditional car engines, allowing them to comply with stricter environmental rules and remain relevant as new technologies like zero-emission electric vehicles gain traction."
https://www.axios.com/newsletters/axios-generate-fe1e80d2-64b5-4740-a70d-5069b3ab23db.html?chunk=5#story5
One cool website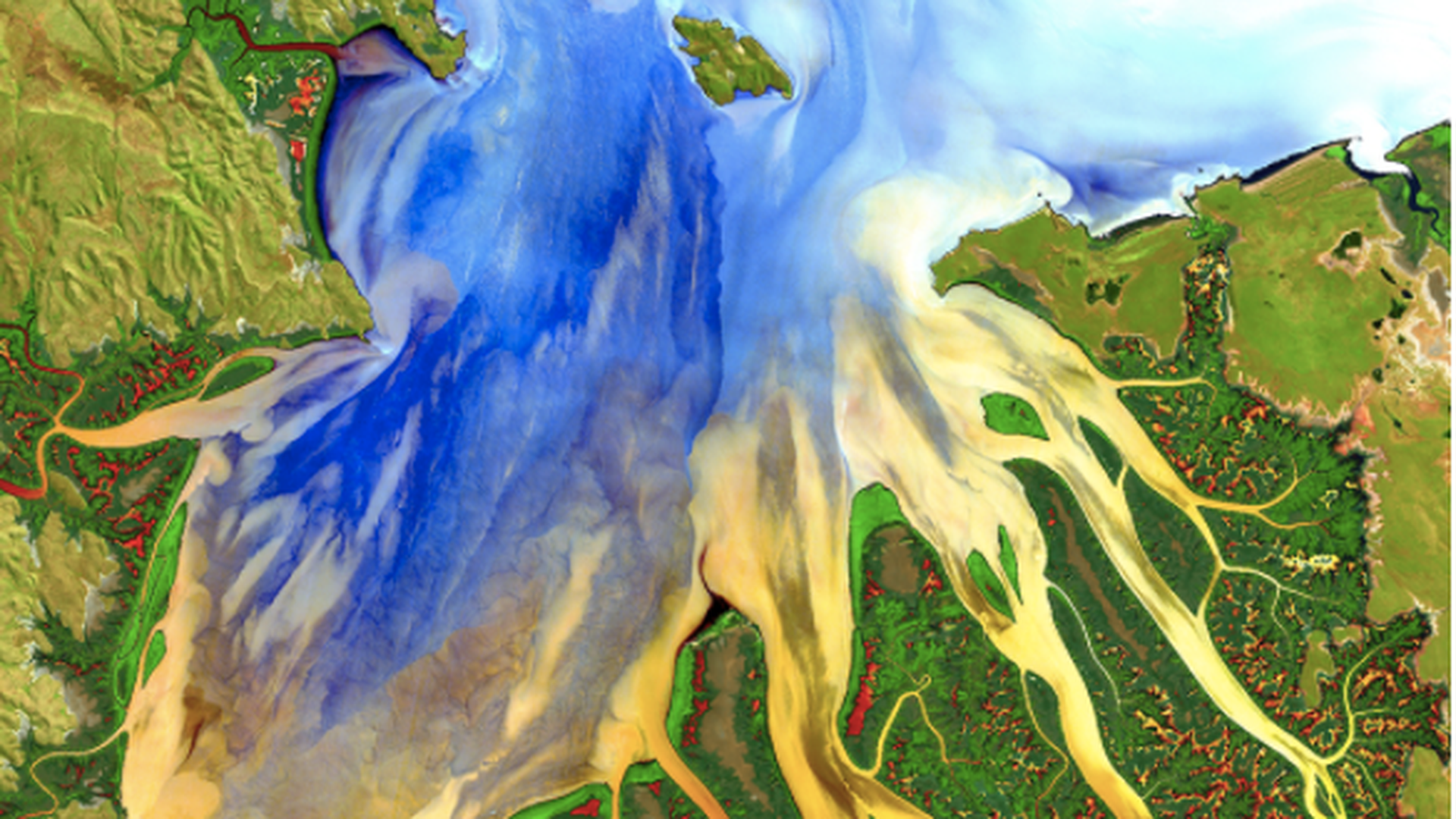 Check it out: This corner of NASA's website has lots of stunning satellite and aerial images.
The shot above is part of western Australia captured by the Landsat-8 satellite a few years ago.
From their description: "The image is enhanced and involved masking, separately enhancing and then reassembling water and land portions of the image. The water patterns are the result of an RGB display of Landsat-8's red, blue, and ultra-blue bands. Land is shown using short-wavelength-infrared, near-infrared and green."