Axios Generate
January 13, 2021
Hi readers! Today's Smart Brevity count: 1,117 words, 4½ minutes.
🎧 Axios' Amy Harder joined the podcast of the Columbia University's Center on Global Energy Policy to discuss what to expect on energy and climate change this year.
🎸And this weekend marks 50 years since ZZ Top released their debut album, so their killer guitar animates today's intro tune...
1 big thing: Oil's long road back from COVID-19
Fresh U.S. government projections of U.S. oil production underscore how it will be a long time before the country again reaches its record pre-pandemic output — if ever.
Why it matters: The Energy Information Administration's outlook published Tuesday provide the first glimpse at where they see U.S. output in 2022 — at a substantial, but nowhere near complete, recovery.
Where it stands: U.S. production reached around 13 million barrels per day at the dawn of 2020 but then fell precipitously as COVID-19 caused demand and prices to crater.
The intrigue: It's not clear whether production will ever return to those levels, partly due to the unknowns around future global demand and prices.
Also, investors appear to be out of patience with years of investment in high growth at the expense of returns.
"Most shale producers are now more focused on clearing debt and honoring investor pledges to keep fiscal discipline," Bloomberg notes.
Of note: The 2021–2022 analysis is hardly set in stone.
EIA updates its projections every month, but they nonetheless provide a running gauge of where modelers see the market heading.
And these are tragically unpredictable times. The analysis "remains subject to heightened levels of uncertainty because responses to COVID-19 continue to evolve," EIA notes.
Go deeper: US EIA revises crude price forecast higher amid tightened fundamental outlooks (S&P Global Platts)
2. The energy irony that will greet Biden
Here's a sign of how much the pandemic has shaken things up: President-elect Joe Biden, who has vowed to accelerate movement away from fossil fuels, could initially preside over a coal and oil production surge.
Driving the news: Let's turn to coal because we talked about oil above.
EIA projects that U.S. production will rise by 12% this year, largely thanks to a rise in natural gas prices that make coal more competitive, and will keep going up in 2022.
This comes after coal's yearslong decline greatly sped up last last year, falling by 24%.
By the numbers: On the power generation side, EIA sees coal's share going from 20% last year to 22% in 2021 and 24% in 2022. But zoom further out and the general trend is still downward.
Coal, which once provided well over half of U.S. generation, has seen its market share erode greatly this century amid the rise of cheap gas and renewables.
What we're watching: Biden's platform calls for aggressive steps that would result in U.S. electricity coming 100% from carbon-free sources by 2035.
But, the administrative and legislative openings to push through policies that would speed up existing market trends enough to accomplish that goal are hardly certain.
And putting the U.S. on that path theoretically leaves room for continued, long-term heavy reliance on gas and coal — if carbon capture tech becomes a commercial reality in the power sector.
3. New hydrogen plans are spinning up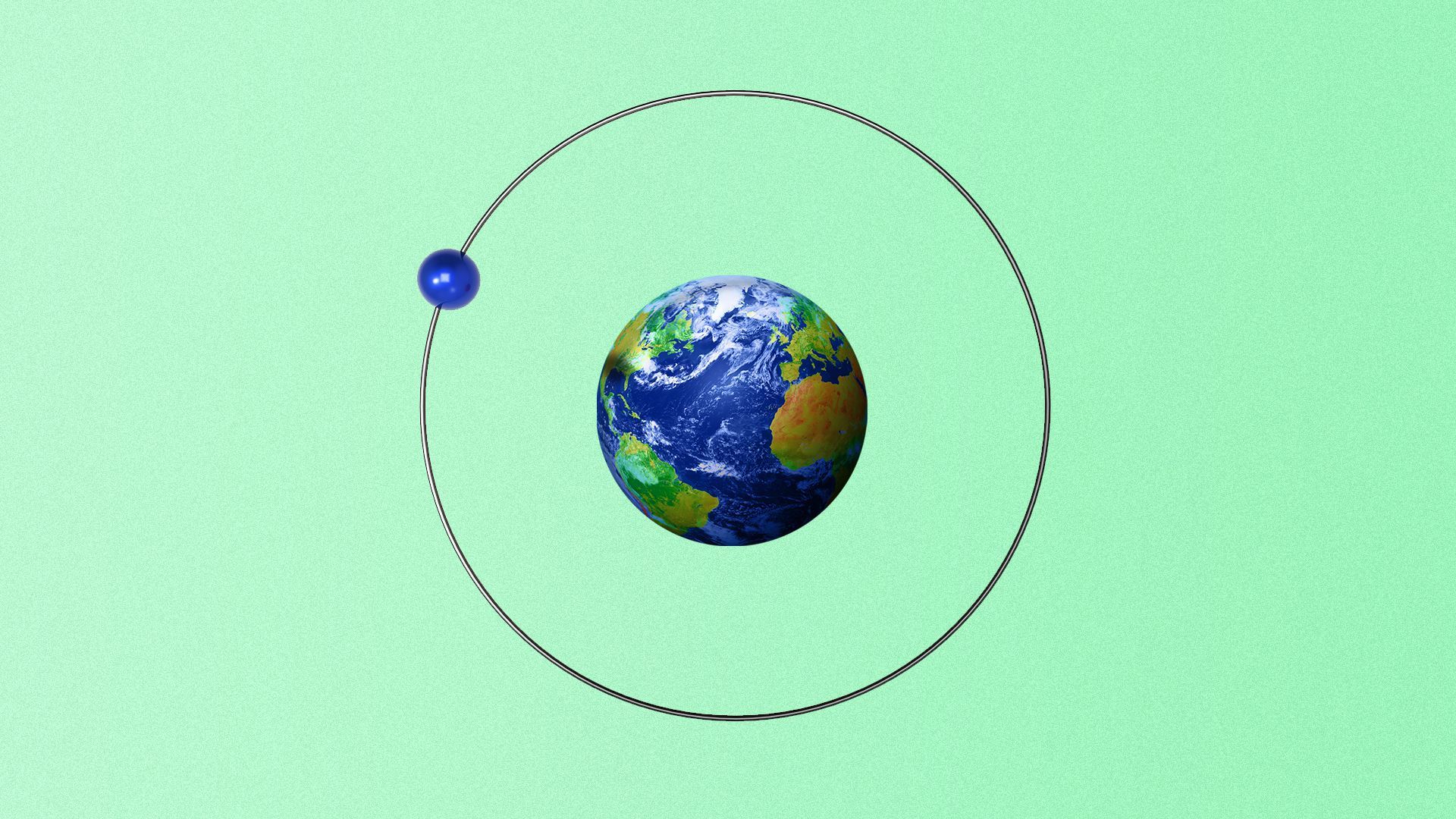 This week is bringing word of new hydrogen efforts among some deep-pocketed energy companies.
Driving the news: "Siemens Gamesa and Siemens Energy are developing a commercial offshore wind turbine that produces hydrogen via electrolysis, the companies said, marking a breakthrough for the mass production of renewable hydrogen," Reuters reports this morning.
Why it matters: Their piece calls it "the renewable industry's most concrete plan yet to capitalise on an expected boom in hydrogen demand."
Separately, Bloomberg reports: "Total SE and Engie SA plan to build France's largest green hydrogen facility to feed the oil company's biodiesel plant in the south of the country from 2024, provided they get subsidies to make the project viable."
And Reuters also has this today: "A joint venture comprising Air Products, ACWA Power and NEOM has hired financial firm Lazard to advise it on a planned $5 billion hydrogen project in the NEOM high-tech business zone in Saudi Arabia, sources said."
4. Why fuel efficiency gains are slow
The chart above shows pricing is one reason why wringing carbon emissions out of transportation is hard: Automakers have incentives to sell lots of big vehicles that don't get very good mileage. And they're what consumers want.
The big picture: The average price for new light trucks, a category that includes pickups and SUVs, was 43% higher in 2019 than the average for cars, per this new Energy Department analysis of Commerce data.
The chart shows average base prices in inflation-adjusted dollars.
Why it matters: Recently released EPA data shows that the average fuel economy of vehicles sold in the U.S. actually declined slightly in model year 2019.
That's because while all types of new vehicles are getting more efficient over time, bigger models' increased share of the sales mix is a brake on the fleetwide gains.
What we're watching: The incoming Biden administration will look to mandate steep increases in fuel economy.
The Trump administration scuttled Obama-era rules and instead will require much smaller increases through the mid-2020s than the prior mandates.
5. One climate hurdle facing Biden: paperwork
The EPA is slated to finalize regulations today that would make it harder to stem greenhouse gas emissions from various industrial sectors in the future.
Quick take: The Biden administration will likely seek to prevent the rule from taking effect and work to unwind it. But it's a sign of a wider challenge facing Biden officials.
They're vowing new emissions-cutting and environmental efforts, but they'll also be busy with the administrative and legal work of walking back their predecessor's various policies.
Driving the news: These specific rules say that industrial sources only "contribute significantly to dangerous air pollution due to their [greenhouse gas] emissions" if that sector's total exceeds 3% of total U.S. emissions.
Why it matters: Power generation is the only industrial source that meets that threshold, with EPA noting the sector has over 25% of the U.S. total.
The rule says the 3% threshold represents a "natural breakpoint" between power plants and all other industries. But environmentalists decried the rule, which addresses what constitutes a "significant contribution finding (SCF)."
They say it would stifle efforts to cut emissions from industries such as refining and heavy manufacturing that together are a huge emissions source, even if specific sectors are below the threshold.
What's next: The research firm ClearView Energy Partners, in a note, gamed out what the new rule means for the Biden's EPA.
They say it would prevent it from imposing GHG rules on various industrial sectors "without either (a) rescinding the rule entirely; (b) revising the threshold; or (c) predicating an SCF based on 'secondary' criteria."
Go deeper: Trump's EPA chief hopes Biden doesn't focus solely on climate change (Washington Post)
6. Here's GM's electric delivery van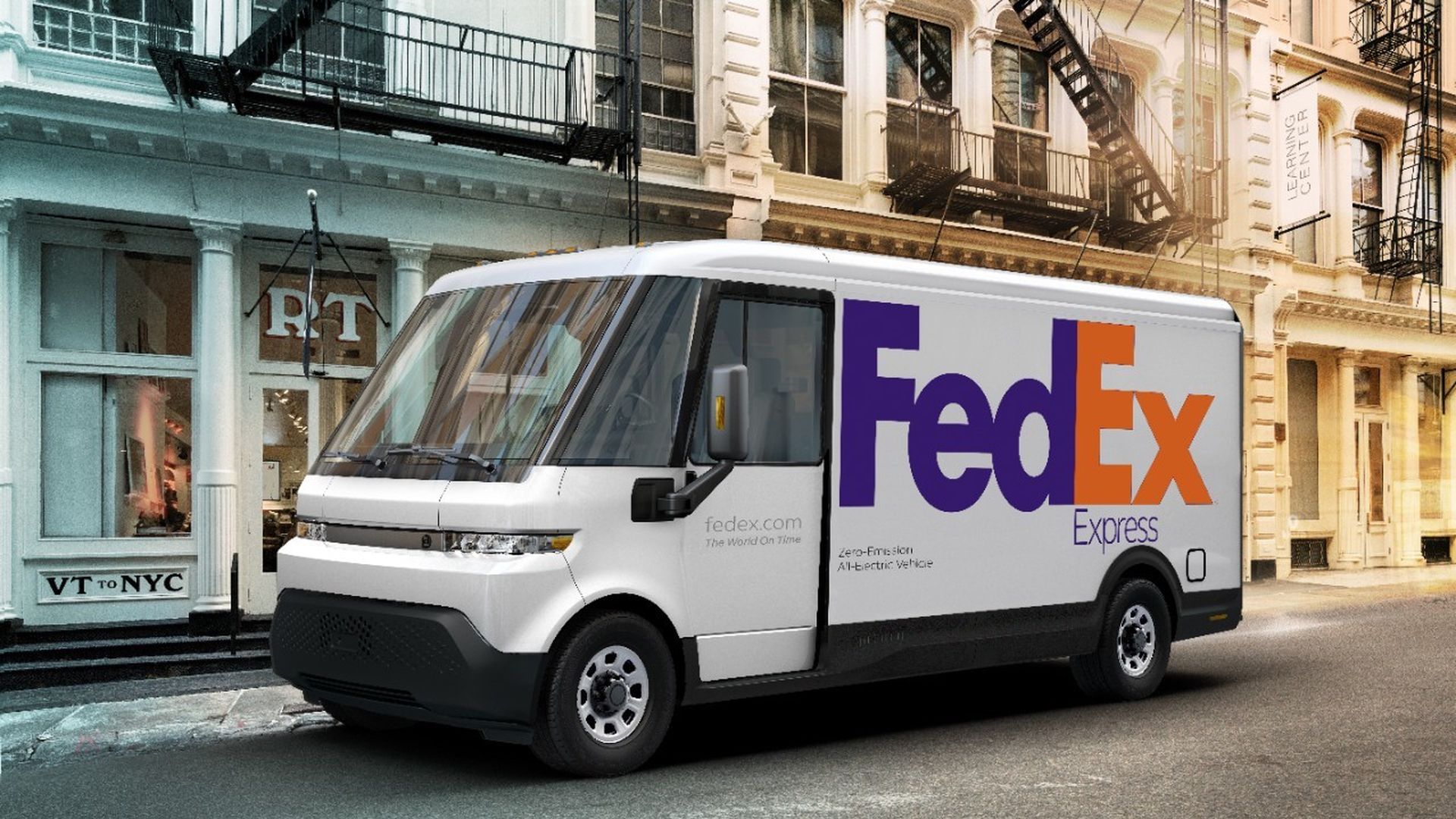 The photo above is GM's new electric delivery van that inaugural customer FedEx will start receiving late this year.
Catch up fast: It's part of GM's new BrightDrop electric goods delivery business unveiled yesterday, one of multiple announcements from the company.
What's new: The market seems to like where GM is heading.
"Shares of [GM] hit a record high Tuesday after the automaker unveiled an electric delivery van and revealed potential plans to delve into futuristic flying cars," CNBC reports.