Axios Generate
January 02, 2019
Happy new year and welcome back!
Situational awareness: "Tesla disappointed investors Tuesday, saying it delivered less vehicles than expected during the fourth quarter despite efforts to ramp up production," CNBC reports.
And, it's 2019, which of course means TLC's "CrazySexyCool" turns 25 this year, so let's creep into the news...
1 big thing: Climate politics enters 2020 race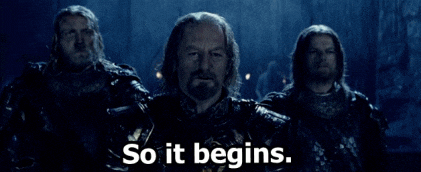 Several new developments suggest that global warming might not just be an afterthought in another presidential race.
Where it stands: The 2020 White House election cycle got rolling during our holiday break — including some early positioning on climate change.
1. Sen. Elizabeth Warren (D-Mass.) told Axios through an aide yesterday that she broadly supports the idea of a Green New Deal.
The comments came a day after Warren became the first major Democratic hopeful to formally begin a White House run.
2. Washington state Gov. Jay Inslee plans to get into the race and run a climate-focused campaign, per this morning's The Atlantic.
"Inslee is lining up donors and adding them to the political-action committee he launched in December. An official presidential exploratory committee is next," Edward-Isaac Dovere reports.
3. Billionaire Michael Bloomberg signaled on Sunday's "Meet the Press" that he aims to elevate the role of climate in the 2020 race, whether he runs or not.
The big picture: There's growing momentum among Democrats behind the Green New Deal, raising the odds it will be on the national political agenda as the 2020 cycle unfolds.
The Green New Deal is the sweeping climate, energy and economic framework championed by progressives including Rep.-elect Alexandria Ocasio-Cortez.
The odds: There are other reasons to think climate might buck precedent and actually make more than just cameo appearances in a national election.
They include a slew of dire and recent scientific reports on the dangers of global warming and the closing window to hold the temperature rise in check.
Sen. Bernie Sanders (I-Vt.), who's eyeing another presidential run, also backs the Green New Deal and has long made climate central to his politics and work.
And other potential candidates, like Sen. Cory Booker (D-N.J.) and activist Tom Steyer, broadly endorse the Green New Deal idea.
Go deeper:
2. More on Warren and the Green New Deal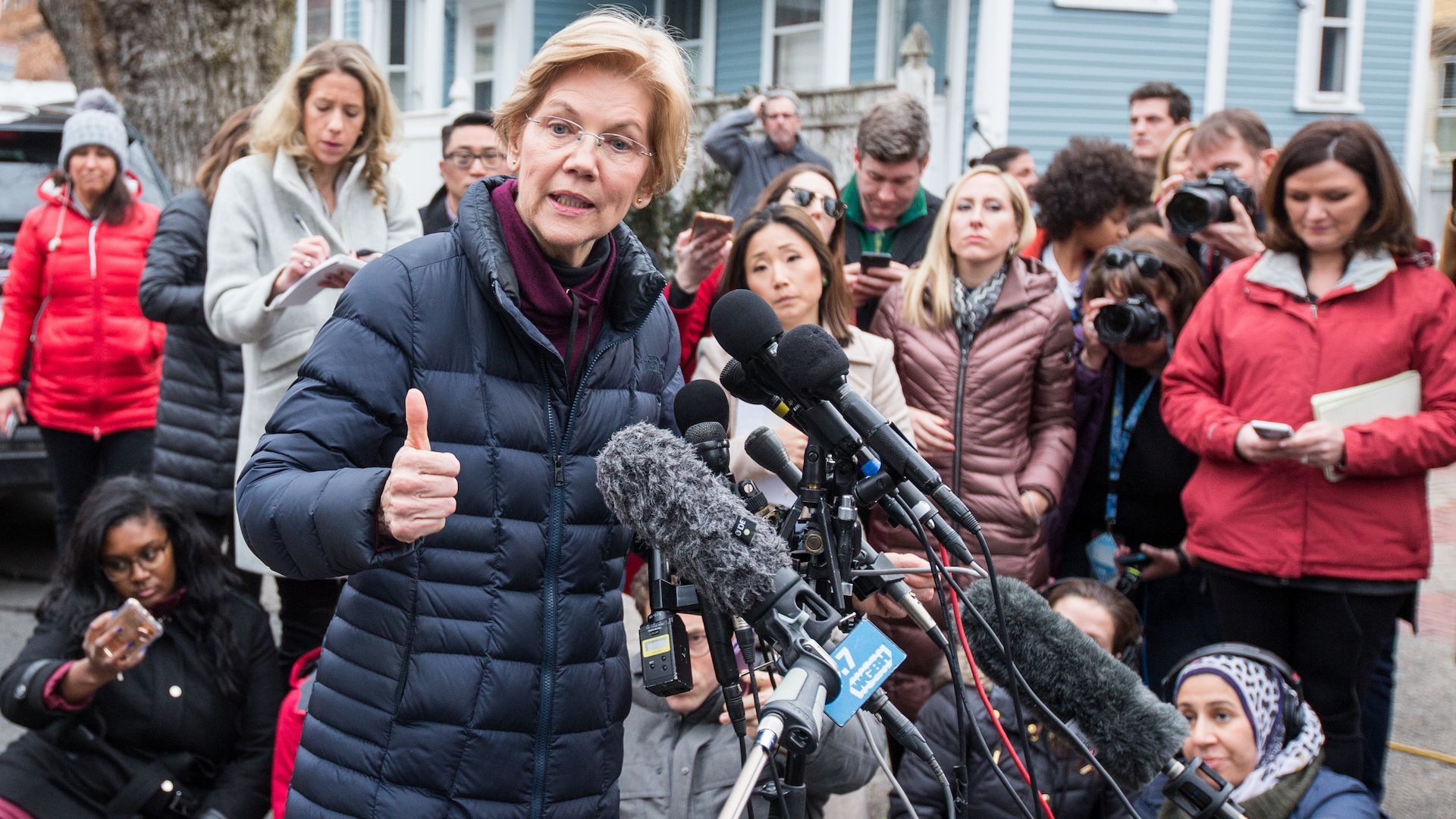 "Senator Warren has been a longtime advocate of aggressively addressing climate change and shifting toward renewables, and supports the idea of a Green New Deal to ambitiously tackle our climate crisis, economic inequality, and racial injustice."
— Senate aide for Elizabeth Warren tells Axios
Quick take: While climate hasn't been a big focus for Warren in the Senate, the Green New Deal concept could fit within Warren's campaign narrative on economic inequality.
But, but, but: Warren scarcely grazed energy and climate in Monday's rollout of a 2020 exploratory committee.
Warren has a 99% lifetime score from the League of Conservation Voters. But climate has not been a big focus of her Senate tenure which, as E&E News points out, has emphasized economic inequality and consumer protection.
The intrigue: Turning back to the Green New Deal specifically, it's impossible to get a handle on the depth of the support right now.
That's because it consists of several things: a slogan, a proposed House process for crafting a detailed draft bill, and a set of broad policy goals.
Ocasio-Cortez and activists with the Sunrise Movement and Justice Democrats want House Democratic leaders to establish a select committee that would create a detailed proposal.
But they're disappointed with the Select Committee on the Climate Crisis that House Democratic leader Nancy Pelosi is forming.
Why? The panel, which the House will vote to create later this week, is not slated to have subpoena power. Nor does the plan bar Democrats who have taken money from fossil fuel companies, which Ocasio-Cortez and activists want.
Details: The sweeping Ocasio-Cortez proposal calls for writing a detailed plan by early 2020 to meet a suite of goals including:
Transition to 100% renewable electricity in the U.S. within 10 years, as well as efforts to curb transportation emissions.
Massive investment in greenhouse gas mitigation, a national "smart grid," and work around emissions from agriculture and manufacturing.
The plan would include job guarantees for people working in the transition to a low-carbon economy.
3. OPEC limps into 2019
Oil prices are heading back downward this morning, even though they've bounced back somewhat from the pre-Christmas trough that briefly saw Brent crude dip below $50-per-barrel.
Where it stands: This morning, WTI crude was trading around $44.71 and Brent at $53.17.
Per Reuters, the downward pressure on prices to open the year stems from "surging U.S. output and concerns about an economic slowdown in 2019 as factory activity in China, the world's biggest oil importer, contracted."
Why it matters: The steep decline over the last 3 months shows the challenge facing OPEC members and allied petro-states as they try and stabilize the market to bolster their finances.
OPEC and Russia agreed in early December to cut output combined 1.2 million barrels per day for at least the first 6 months of 2019, but so far that hasn't prompted a major price recovery.
What's next: A number of experts see oil climbing, although there's a lot of variation in estimates of how much.
"While most analysts expect oil to be higher by the end of 2019, the fundamental concerns on both the supply and demand sides could see the meltdown continue," OANDA senior market analyst Ed Moya wrote in a recent note, via S&P Global Platts.
China's economy will matter a lot. Analyst Ahn Yea Ha of Kiwoom Securities tells Bloomberg, "Sluggish economic data we see from China is again worrying investors but as weak economic signals have been somewhat expected, oil prices may gradually rebound after hitting the floor if OPEC producers actively trim output."
4. On my screen: EVs, coal, LNG, storage
EV batteries: From the blast-from-the-past files, the Financial Times reports "Erik Prince, the founder of private security company Blackwater, is launching a fund to capitalise on the scramble for battery metals across Africa and Asia, as the world's largest carmakers gear up to go electric."
LNG: Per the Houston Chronicle, "The growth of the Gulf Coast's liquefied natural gas industry is set to accelerate in 2019 as at least three major projects are expected to get the go-ahead from developers."
Coal: The Wall Street Journal reports on a sign of the times: "Coal production from the Powder River Basin, an arid region spread over parts of Wyoming and Montana that produces about 40% of all U.S. coal, has declined by one-third between 2008 and 2017. It is expected to continue to drop in 2019."
Storage: Greentech Media's wide-angle look at what's next for the power sector in 2019 includes this forecast...
"The value of the U.S. storage market will more than double, to $973 million from $474 million in 2018, according to Wood Mackenzie's latest Energy Storage Monitor report. The market value is expected to double again in 2020."
5. Trump's "energy dominance" push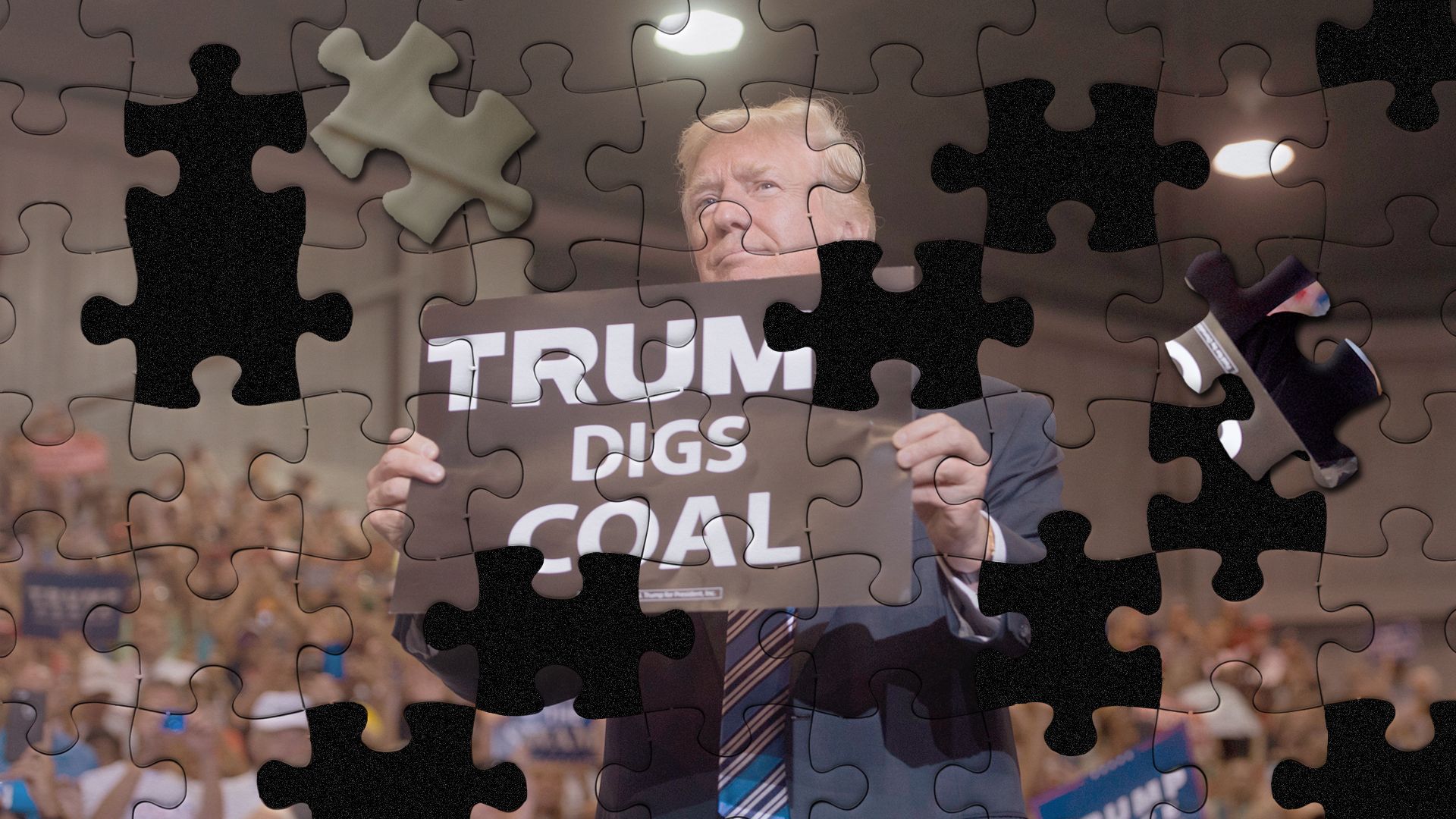 Almost 2 years into his push to unwind Obama-era energy regulations, President Trump's attempt to help the coal industry faces an uphill climb, while separate market forces may ultimately limit his moves to expand the oil boom into new regions.
But, but, but: The sweeping effort to remake regulations — which spans dozens of rules — will have consequences beyond the most high-profile fights. More on that in a moment.
Where it stands: When it comes to one of Trump's biggest energy pledges, to end what he and other Obama critics called the "war on coal," the president hasn't turned the tide.
The most recent Energy Information Administration forecast shows coal's share of electric power sliding down again to 26% next year, compared to 28% in 2018.
The same analysis sees U.S. coal production falling another 3% in 2019.
The odds: It's unlikely the power industry's calculus will be altered greatly once revisions to various pollution rules are complete, although decisions about whether to keep some specific plants running could very well change.
"Outcomes in the electricity sector are just dominated by facts on the ground," notes Dallas Burtraw of the nonpartisan think tank Resources For the Future.
He points out that abundant natural gas, as well as renewables, are pushing coal aside.
When it comes to oil and natural gas, the domestic boom that began around a decade ago has continued under Trump, with U.S. oil production now far above record levels at roughly 11.5 million bpd.
Yet not much of that stems from unwinding Obama-era protections.
Reality check: It's true that the Interior Department is offering more leases on public lands in western states, and the number of drilling permits approved and producing leases has ticked up.
But thus far, a limited amount of the production surge is related to speeding up permitting where access is already allowed, much less efforts to expand access to Arctic and Atlantic Coast regions, which remain a work in progress.
Instead, the boom remains concentrated in shale regions — most notably Texas — seeing a years-long surge concentrated on state and private lands.
What's next: Several of the biggest moves are at the midway point of the bureaucratic process or tied up in court, so the ultimate result won't be known for years.
6. Sizing up Trump's pivot from Obama
Let's spend a little more time with the 2-year anniversary of the Trump era, as sometimes the most consequential changes to the massive federal regulatory apparatus are not always the ones that get the most press.
What's happening: Officials are altering the way costs and benefits of environmental and public health regulations are considered more broadly.
One big example is sharply lowering estimates of a metric called the "social cost of carbon."
Another is altering how regulators view "co-benefits." It's basically the way basically the way that rules aimed at one type of pollutant have beneficial health effects by cutting other dangerous emissions.
What they're saying: "There is a quiet revolution going on," University of Chicago economist Michael Greenstone says.
"The Trump administration has systematically been altering the guts of that machinery, always in the direction of making the environment less important," notes Greenstone, who was chief economist on the Council of Economic Advisers early in the Obama years.
What to watch: Greenstone, who directs the university's Energy Policy Institute, says one area where results of these efforts will be evident when EPA reviews air quality standards for pollutants like soot and ozone.
More broadly, they could make it more challenging for a future administration to expand protections. "The machine is not designed to be able to turn 180 degrees on a dime," Greenstone adds.
The big picture: A few days ago the New York Times ran an in-depth look at the on-the-ground health and environmental effects of changes to regulations around pesticides, venting and flaring of methane from oil-and-gas wells, and more.
A companion piece notes: "A New York Times analysis, based on research from Harvard Law School, Columbia Law School and other sources, counts nearly 80 environmental rules on the way out under Mr. Trump."
7. Gates shelves nuclear reactor in China
ICYMI: TerraPower, a nuclear-energy company founded by Bill Gates, is unlikely to follow through on building a demonstration reactor in China, due largely to the Trump administration's crackdown on the country, Axios' Amy Harder reports.
Why it matters: This is a blow to America's attempts to commercialize advanced, smaller scale nuclear technology. Separately, it also offers further evidence of soured relations between the U.S. and China under Trump.
Driving the news: In a year-end blog post covering various topics published Saturday night, Gates said of TerraPower, "We had hoped to build a pilot project in China, but recent policy changes here in the U.S. have made that unlikely."
Background: The Trump administration, led by the Energy Department, announced in October that it was implementing measures to "prevent China's illegal diversion of U.S. civil nuclear technology for military or other unauthorized purposes."
Those measures made it nearly impossible for TerraPower's project to go forward, according to multiple people familiar with the development.