Axios Generate
October 13, 2022
🎆 Let's do this! Today's newsletter has a Smart Brevity count of 1,253 words, 5 minutes. 
📬 Did a friend send you this newsletter? Welcome, please sign up.
🎶 At this moment in 2003, OutKast was #1 on Billboard's album chart with "Speakerboxxx/The Love Below," which provides today's intro tune...
1 big thing: Biden's security strategy goes big on climate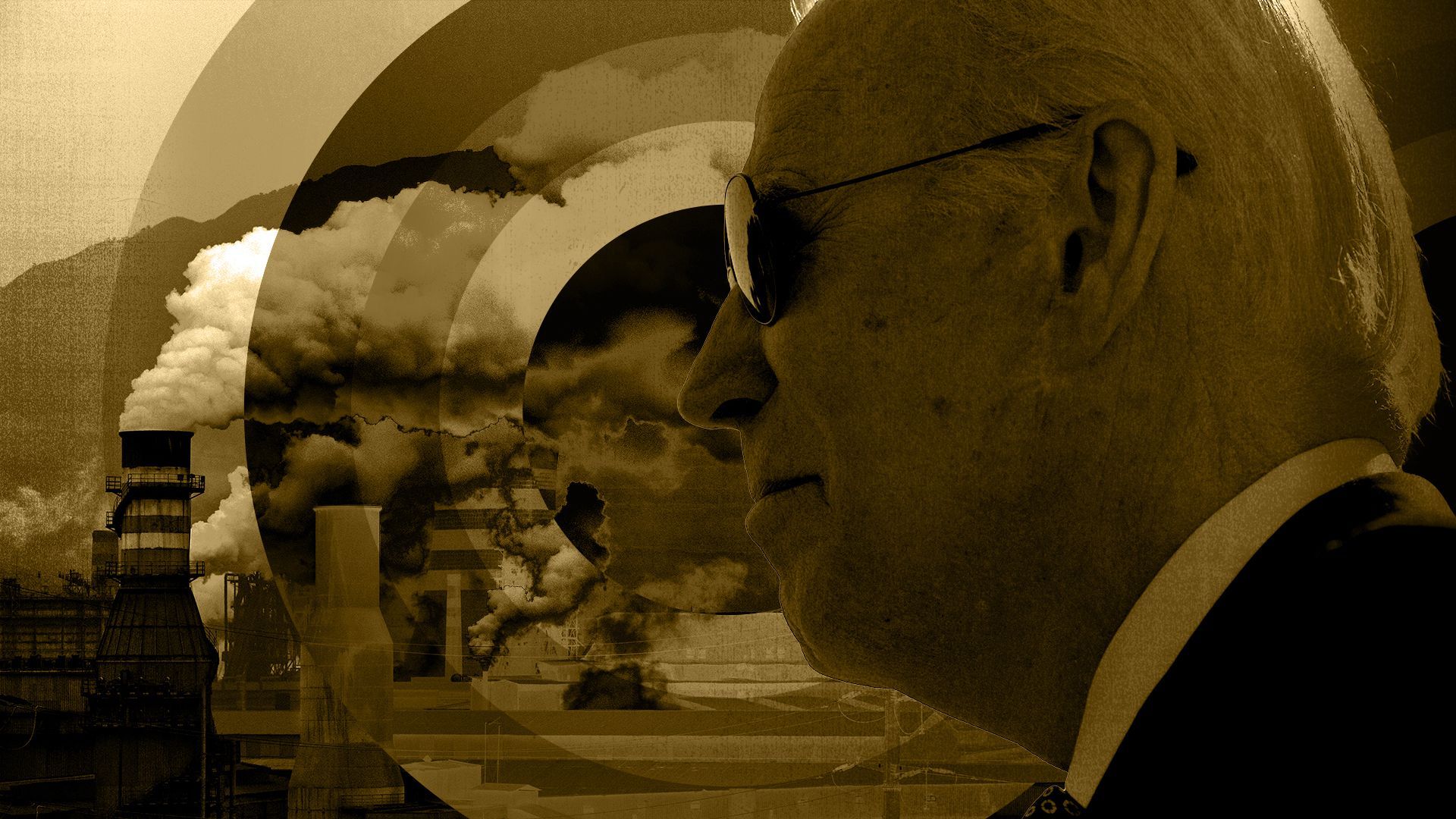 The long-awaited Biden administration national security strategy puts climate change at the center of policymaking toward China, in the Arctic, and many other parts of the globe, Andrew writes.
Why it matters: The strategy released yesterday by the White House integrates global warming into national security policy to an unprecedented extent, making clear the administration views the issue as "the existential challenge of our time."
Driving the news: The shrinking window to meet the Paris Agreement targets is one of several dynamics at play that will either point toward a more stable world or help usher in "[a]n age of conflict and discord," per the White House.
Zoom in: Previous climate change and security assessments from the military, the intelligence community and think tanks have pointed to climate change as a threat multiplier.
For example, climate change can worsen extreme weather and climate events, from hurricanes to droughts, leading to politically destabilizing mass migrations that can entangle the U.S. military in humanitarian relief missions.
The new strategy designates climate change as being among the greatest of the world's shared challenges, which lies "[a]t the very core of national and international security," along with food insecurity, terrorism and inflation.
It states the U.S. is open to cooperating on shared challenges with rivals, pointing to climate talks with China.
Yes, but: It also takes a swipe at China's climate policies, stating the Chinese government "[a]lso continues to endanger the world with inadequate action on climate change domestically, particularly regarding massive coal power use and build up."
Between the lines: The document nods to the fraught nature of the energy transition, and the need to reduce the country's dependence on hostile regimes "that seek to weaponize energy for coercion," citing Russia as an example.
Our thought bubble: The last time climate change played such a prominent role in a national security strategy was in the Obama administration's 2015 strategy. It described the climate challenge in less dire terms: "Climate change is an urgent and growing threat."
It also touted a climate agreement with China that helped pave the way for the Paris Agreement.
Now, climate change impacts are far more severe, and the window to cut emissions sufficiently to meet the Paris targets is rapidly closing. At the same time, the U.S. is locked in far more heated competition with China.
2. Economic clouds blunt OPEC+ price impact
Gloomy economic news has pushed oil prices back down to their levels before OPEC+ announced its supply cut a week ago, Ben writes.
What they're saying: "Bearish macroeconomic sentiment — particularly in China — is now reasserting control," Bob McNally, president of Rapidan Energy Group, tells Axios' Hans Nichols.
Quick take: That may help ease Democrats' political jeopardy by blunting gas price increases.
What's new: "The relentless deterioration of the economy and higher prices sparked by an OPEC+ plan to cut supply are slowing world oil demand," the International Energy Agency said this morning.
IEA's latest monthly report trimmed its 2023 global demand growth forecast by 470,000 barrels per day.
The new monthly outlook from the U.S. Energy Information Administration has a similar 2023 downward revision.
🤷🏼‍♂️What we don't know: I mean, a lot? "Disruptive market forces are multiplying as the world struggles to navigate the worst global energy crisis in history," IEA notes.
3. The emissions data arms race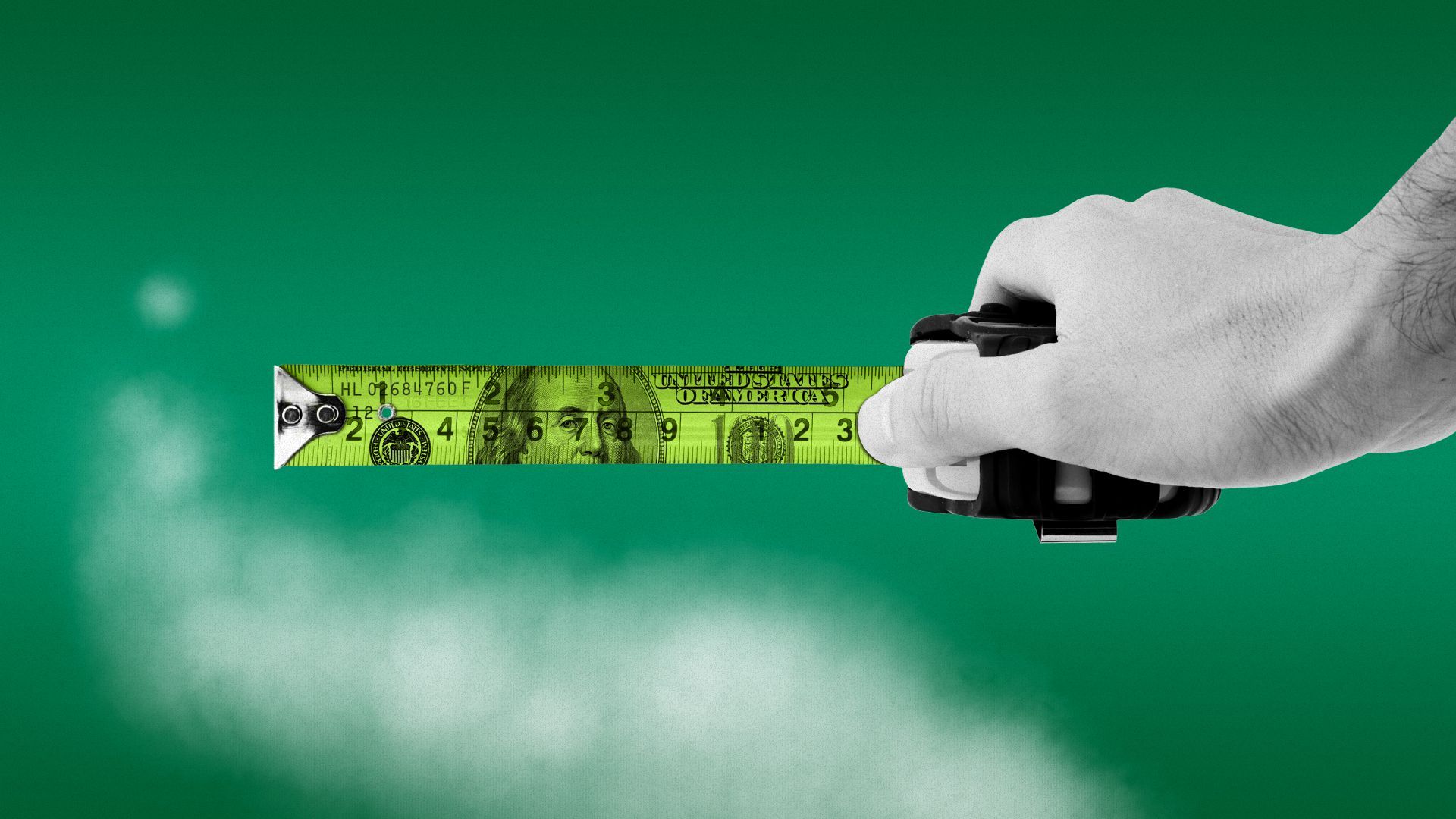 Microsoft is the latest company hoping to become the one emissions-data software provider to rule them all, Axios' Megan Hernbroth reports.
Why it matters: Proposed SEC disclosure rules represent one of the biggest business opportunities in decades, and everyone from the Big Four accounting firms to Big Tech wants in.
Driving the news: Microsoft is rolling emissions tracking software and a carbon credit network into its 365 enterprise software, it said yesterday.
The big picture: Startups, the Big Four and now legacy tech companies are competing for what could amount to a billion-dollar market in carbon accounting and emissions tracking after the proposed SEC disclosure rules take effect.
Subscribe to Axios Pro Climate Deals to read the whole story.
🎉 Bonus tech notes: EVs and private equity
🚗 "Sony and Honda have announced that they plan to start selling their jointly-developed electric vehicles in the US in early 2026," The Verge reports.
💰 The private equity firm Lightrock this morning announced the close of its first "climate impact fund" at $836 million. Bloomberg has more.
4. Report: Russia's war won't thwart energy transition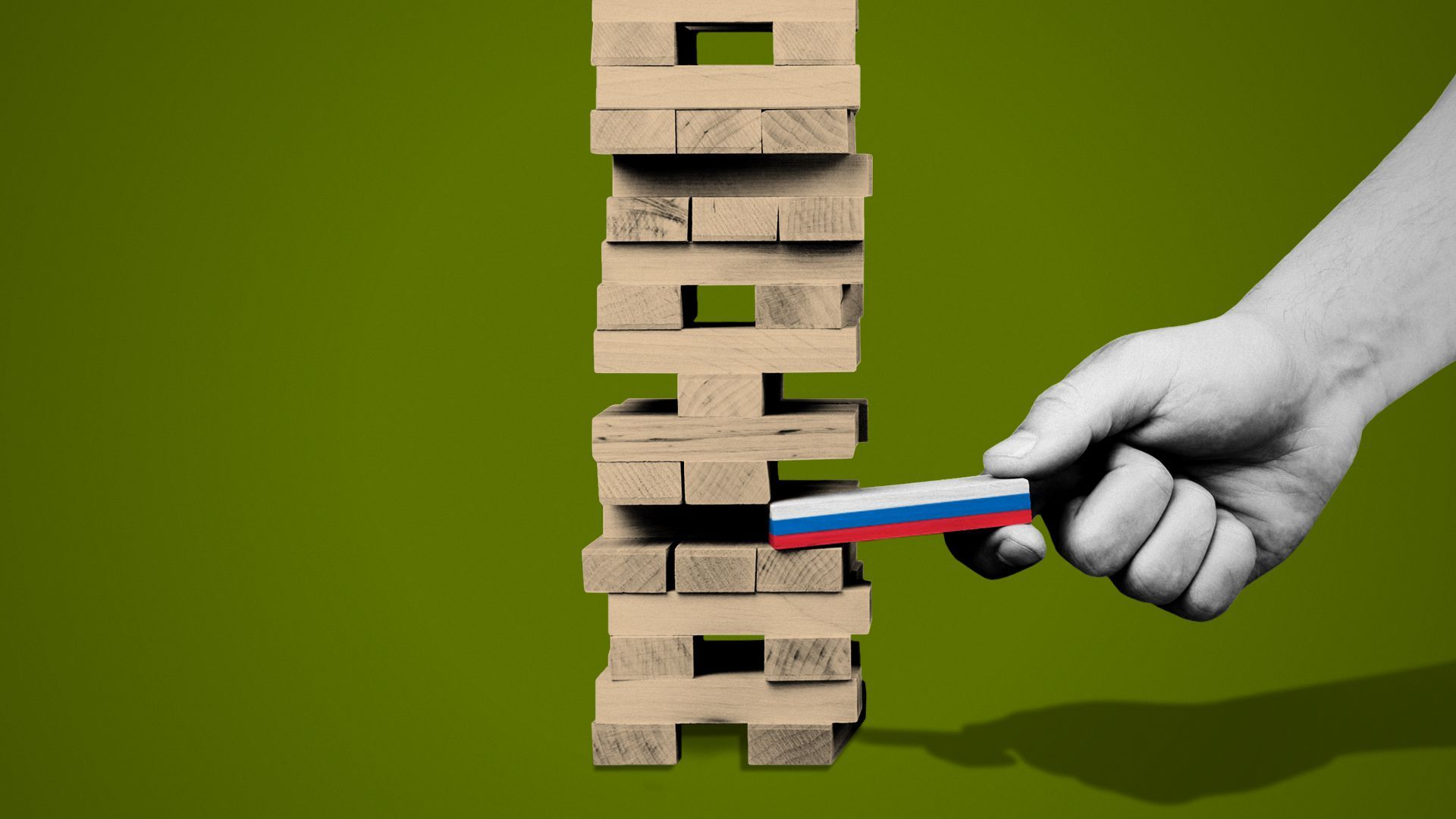 A new analysis dismisses fears that Russia's invasion of Ukraine will meaningfully deter global movement toward low-carbon energy, Ben writes.
Driving the news: That's the rosier side of the consultancy DNV's multi-decade global energy outlook.
Europe aims to accelerate the growth of its renewables as it replaces Russian fossil fuels. DNV cautions that elsewhere, high energy and food prices are sapping focus on climate, but adds:
"The long-term influence of the war on the pace of the energy transition is low compared with main long-term drivers of change: plunging renewables costs, electrification, and rising carbon prices."
Yes, but: The less rosy side? It's the latest to show the world is off-pace to meet the Paris goals.
It sees global temperatures heading for a rise of 2.2°C above preindustrial levels under current policies and trends.
The main Paris goal is 1.5°C — a benchmark for avoiding some of the worst harms — and the deal's fallback target is 2°C.
Zoom in: They see renewables providing 83% of global electricity in 2050.
But fossil fuels have more staying power in other sectors, with around 50% of the overall energy mix at midcentury.
5. China's LNG needs and the geopolitics in tow
China is slated to import lots of gas from the U.S., and those commercial ties could help what's now a frayed relationship on climate, a new analysis argues, Ben writes.
Driving the news: The report from Columbia University's energy think is a wide-ranging look at China's growing LNG thirst.
One section that caught my eye explores how long-term contracts in place might influence U.S.-China relations which are now at a low ebb.
"If the success in LNG trading between the two countries is just the starting point for their energy cooperation, they could have more binding relations on tackling climate issues, therefore accelerating the two countries' progress in achieving their respective climate targets."
Yes, but: LNG brings its own major climate challenges, even though combusting gas produces much less CO2 than coal.
6. Study: Hurricane images perpetuate stereotypes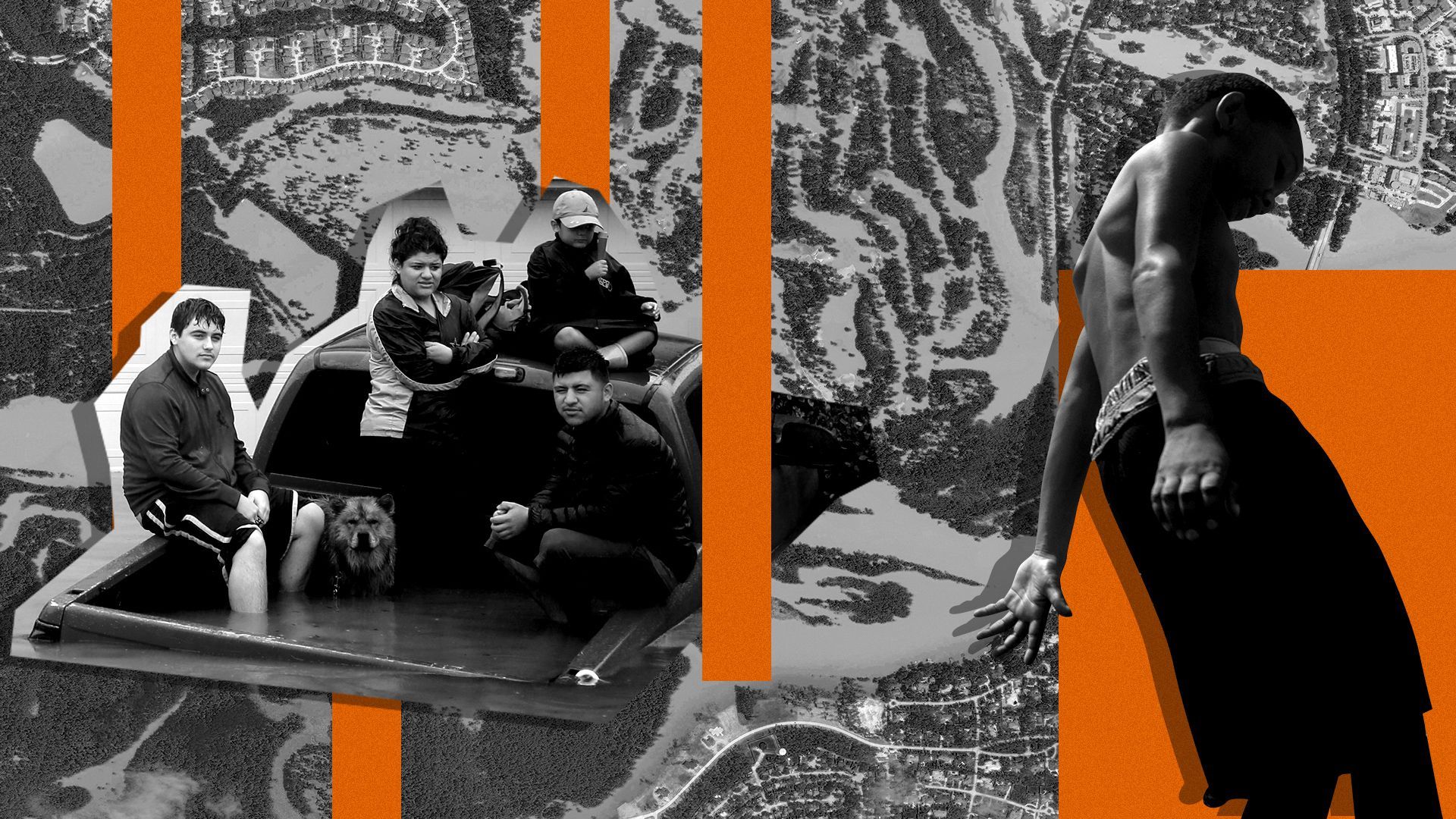 A recent study suggests that damaging racial and gender stereotypes were perpetuated by newspaper images included in the coverage of Hurricane Harvey, Axios' Ayurella Horn-Muller reports.
The big picture: Presenting people of color as victims and white people as rescuers in U.S. news coverage of climate disasters has long been a problematic trend.
Zoom in: Published in the journal Critical Studies in Media Communication, the study analyzed 106 front-page images published by the 11 highest circulating national newspapers and four Texas-based daily publications in the week following Harvey's 2017 landfall in Texas.
It found that of the 106 photographs, 63 included images of people in flood water, 33 were of shelters, 57 showed a "strong masculine hero," and 27 showed people repairing their homes.
The study's author — Ever Josue Figueroa of the University of Kansas — used semiotic analysis, or coding concepts in an image, to classify the way the photos featured people.
"If I only see images of people of color being given FEMA aid or being rescued from hurricane floods, it paints the community as incapable of having self-autonomy to persevere through problems on their own," Figueroa told Axios.
Of note: Multiple studies have shown that human-caused climate change supercharged Harvey's rainfall, which was particularly felt in Texas' low-income Latino neighborhoods.
🙏Thanks to Mickey Meece and David Nather for edits to today's newsletter. We'll see you back here tomorrow!