Good Monday morning, and welcome back to Generate. I hope everyone had a nice weekend. We had beautiful, humidity-free weather in Washington, D.C., so I made the most of it with a long run on Sunday. OK, let's get to the news.
My latest column looks at the problems with President Trump's push on natural gas exports. Check it out below, and then I'll hand things back to Ben to get you up to speed on everything else you need to know.
https://www.axios.com/newsletters/axios-generate-f9a14ba0-3585-479b-949d-61cacf4e74e5.html?chunk=0#story0
The problems with Trump's natural gas exports push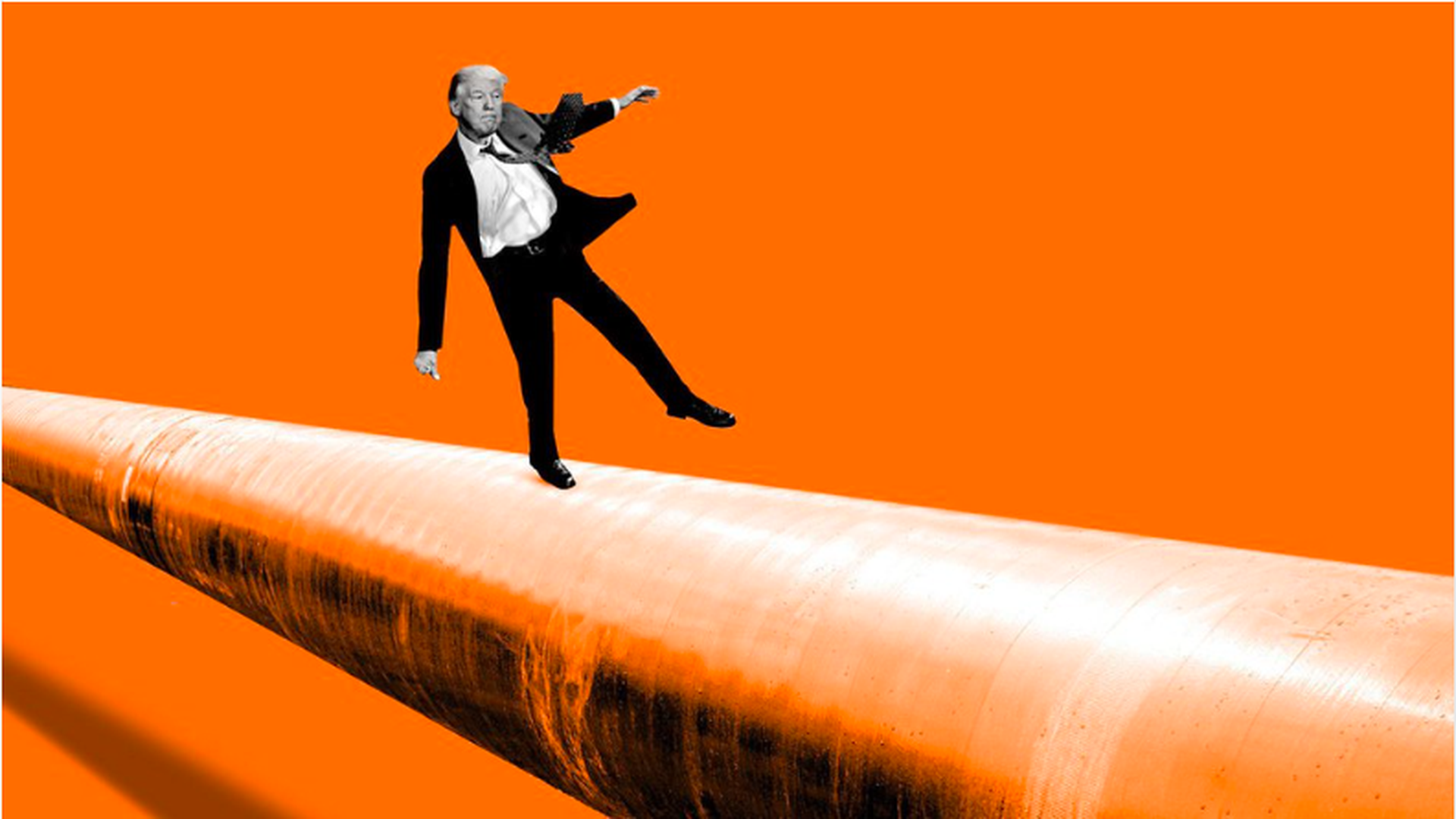 President Trump and his top advisers are talking a big game about how American natural gas can help Europe lessen its dependence on Russian gas. But the administration is running into some obstacles, like cheap fuel prices and a pair of Russian-backed pipeline projects.
Why it matters: Exporting America's bounty of natural gas to central and eastern European nations has emerged over the last few weeks as a key part of Trump's energy and foreign policies. But the administration's influence in this area is limited, and the president faces risk of backlash if he goes too far in pushing American natural gas over other nations' resources.
Read the rest of my
Harder Line column here
.
https://www.axios.com/newsletters/axios-generate-f9a14ba0-3585-479b-949d-61cacf4e74e5.html?chunk=1#story1
Energy and climate notes from Trump-world
Sanctions: Axios' Jonathan Swan has an inside look at the White House maneuvers to soften Russian sanctions legislation that's moving through Congress, a measure that targets Russia's energy sector.
He reports that the White House is making the case that the bill approved overwhelmingly in the Senate would be bad for American energy companies who would be punished for doing international business with Russian firms.
Go deeper: Listen to this recent podcast from Platts Capitol Crude, which breaks down the stakes for the energy business.
Climate: Here's a couple follow-up thoughts to the G20 summit that laid bare U.S. isolation on climate, with the other nations jointly calling the Paris agreement "irreversible" in the closing communique on Saturday.
The next round: French President Emmanuel Macron said on Saturday that he hopes to change Trump's mind about leaving the Paris agreement. Trump will meet with Macron in France late this week.
Dissonance: One theme that has emerged in U.S. climate policy and diplomacy under Trump is the simultaneous heralding of U.S. progress in cutting CO2 emissions while breaking with the scientific community by questioning whether those emissions even drive global warming.
Recent days brought fresh evidence of those dueling trends. "If you look at what we've achieved environmentally in the United States, our numbers are pretty good," White House economic adviser Gary Cohn said on Air Force One Saturday in defending the U.S. decision to abandon the Paris agreement.
Yes, but: Cohn touted U.S. progress just a week after E&E News broke the story that EPA will lead a "formal initiative to challenge mainstream climate science" using "red team, blue team" exercises.
https://www.axios.com/newsletters/axios-generate-f9a14ba0-3585-479b-949d-61cacf4e74e5.html?chunk=2#story2
The latest in oil
OPEC: Deepening the production-cutting deal between the cartel and several non-OPEC producers won't be on the table at a meeting to be held later this month, top officials said in Turkey on Sunday, even though the arrangement hasn't stabilized prices or cut inventories as much as hoped.
The International Business Times adds more on what OPEC Secretary General Mohammed Barkindo told reporters on the sidelines of the World Petroleum Congress.
And via Bloomberg, Kuwait's oil minister Issam Almarzooq said at the same event that it's "too early to discuss deeper output cuts by OPEC/non-OPEC producers participating in the agreement to curb production."
Libya and Nigeria limits eyed: Almarzooq confirmed that OPEC members Libya and Nigeria, which aren't covered by the deal and have been boosting output, may be asked to cap their production, Bloomberg reports.
Slash: Via Reuters' Christopher Johnson, a top analyst at BNP Paribas just significantly cut their crude oil price forecast, lowering the Brent crude projection for 2017 by $9 to $51 and cutting the 2018 projection by $15 to $48 per barrel.
Fresh warning on long-term supply: Saudi Aramco's CEO reiterated warnings Monday that insufficient industry investment in new projects could create a supply shortfall years down the line.
"If we look at the long-term situation of oil supplies...the picture is becoming increasingly worrying," Amin Nasser said at the WPC, via Reuters.
https://www.axios.com/newsletters/axios-generate-f9a14ba0-3585-479b-949d-61cacf4e74e5.html?chunk=3#story3
Big days for EVs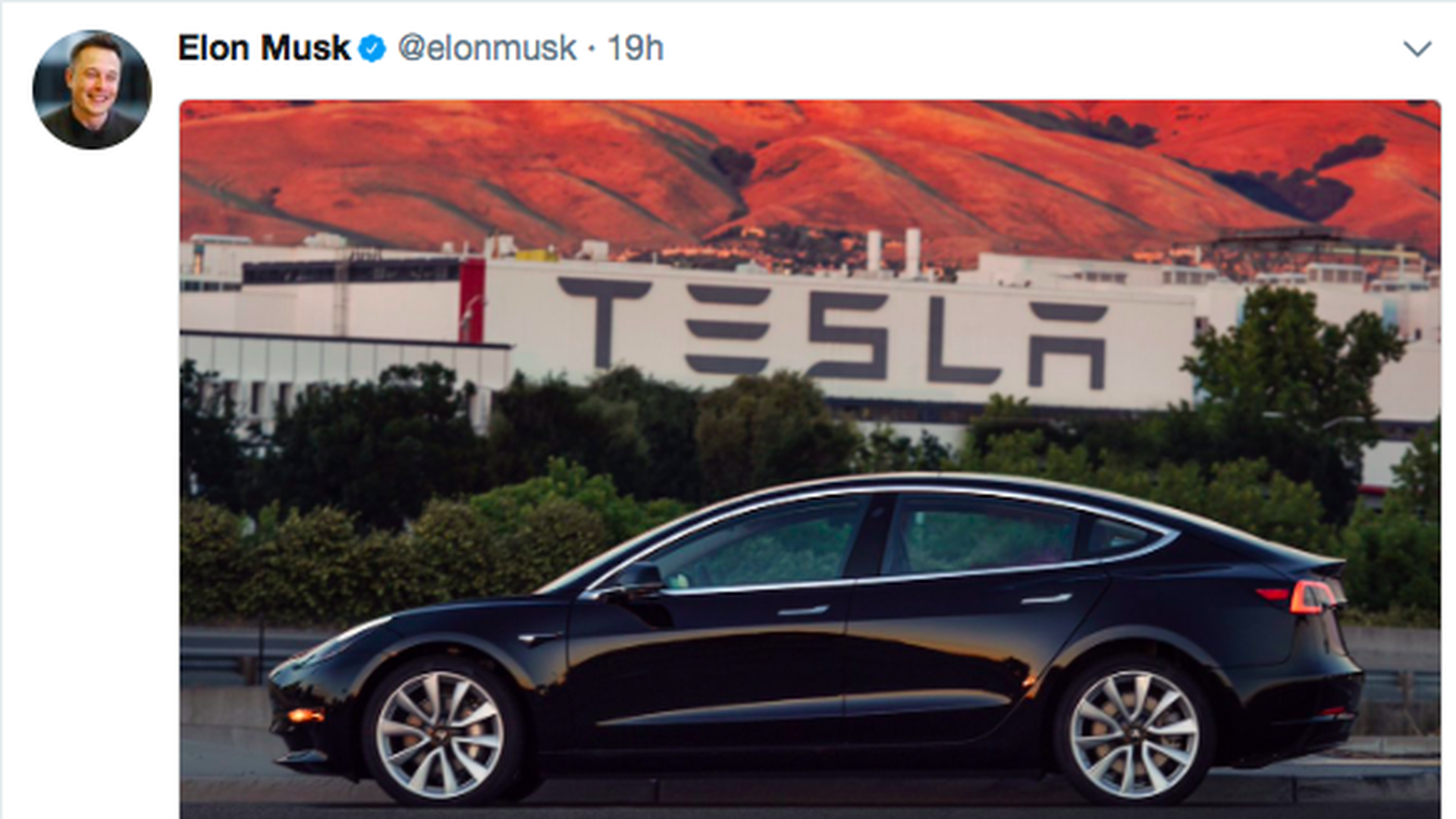 The last few days have been pretty busy on the electric vehicles front...
Crystal ball: Analysts at Bloomberg New Energy Finance released their latest long-term electric vehicles forecast. It predicts EVs will be 54% of new light-duty vehicles sales in 2040, a huge jump from the 35% in last year's projection.
What changed: Their rosier numbers are based on steeper-than-expected declines in lithium-ion battery prices and automakers stepping up their plans for EV offerings.
Reality check: Statoil's recent long-term energy forecast models a suite of huge changes in the global energy mix needed to avoid blowing past 2 degrees Celsius of global warming, and the EV portion requires significantly steeper market penetration than BNEF's forecast shows will occur based on existing policies.
Tesla: The Model 3 has begun rolling off assembly lines over the last couple of days, with actual customer deliveries slated to begin later this month. Tesla CEO Elon Musk tweeted the photo above over the weekend.
Why it matters: "[O]f the dozens of electrics to reach the global market in the coming five or so years, the Model 3 probably stands the best chance of popularizing a new mass-market electric car age," writes my Axios colleague Christopher Matthews.
The rollout also arrives during a somewhat rough patch for the Silicon Valley automaker, which has seen its share price drop recently amid news that it delivered fewer vehicles than expected in the second quarter (among other factors). Read Christopher's breakdown here.
Volvo: Starting in 2019, it will no longer produce any fully internal combustion models — everything will have some form of electric power, either via hybrid form or as a full EV.
"Volvo's move vastly escalates the commercial and geopolitical contest to dominate electric cars," writes Axios' Steve LeVine.
France: The country plans to end sales of gasoline- and diesel-powered vehicles by 2040.
https://www.axios.com/newsletters/axios-generate-f9a14ba0-3585-479b-949d-61cacf4e74e5.html?chunk=4#story4
On my screen
Lobbying: The White House Office of Information and Regulatory Affairs has begun posting records of meetings with outside parties on EPA's Clean Power Plan.
Why it matters: That's a sign that EPA is getting closer to unveiling its proposal to unwind the big Obama-era rule to cut carbon emissions from power plants. The agency sent the plan to the White House in early June.
OIRA doesn't make it easy, but click here to bring up the meeting calendar, then scroll back one month to the June listings, and you can find records of meetings on June 22, June 26, June 28 and June 29. More will likely be added soon.
Semantics: Some energy experts don't think the Trump administration's mantra of achieving energy "dominance" is the greatest messaging idea.
The latest breakdown of the phrasing around the exports push comes via Foreign Affairs, where Jason Bordoff, a former Obama aide, calls it a "terrible marketing slogan."
"Consumer countries are wary of suppliers that seek to dominate them — for example, Eastern Europeans buying their natural gas from Russia, or Mexico, which has sharply increased its reliance on U.S. natural gas and now frets about political risk in its dominant supplier," writes Bordoff, who now runs Columbia University's Center on Global Energy Policy.
Solar: Over the weekend the New York Times ran a deep dive into the headwinds facing the rooftop solar market, which has seen its growth stall.
One of the hurdles: "a concerted and well-funded lobbying campaign by traditional utilities, which have been working in state capitals across the country to reverse incentives for homeowners to install solar panels."
https://www.axios.com/newsletters/axios-generate-f9a14ba0-3585-479b-949d-61cacf4e74e5.html?chunk=5#story5
What we're watching in Washington
Nominations: On Monday evening, the Senate is slated to confirm Neomi Rao to head OIRA.
Why it matters: OIRA wields a powerful, largely behind-the-scenes influence over federal rulemaking. Rao will have the power to make key decisions about administration efforts to unwind and rewrite environmental and energy regulations — efforts that will face certain litigation.
More nominations: On Wednesday, the Senate Environment and Public Works Committee will vote on Trump's nominees for two slots on the Nuclear Regulatory Commission and his pick for EPA's top enforcement official.
Appropriations: On Wednesday, the full House Appropriations Committee will mark up Energy Department spending legislation, while a subcommittee will consider the Interior Department's spending bill. Details here.
House floor: The big annual defense policy bill arrives on the floor later this week and could feature some climate-related amendment fights. The House Rules Committee is slated to meet Wednesday to decide which proposed amendments will actually be debated on the floor.
One to watch: GOP Rep. Scott Perry is floating an amendment that would cut the section of the bill that calls climate change a "direct threat" to U.S. national security and requires a Defense Department report on the vulnerabilities of military installations.
On our radar: The Senate schedule is in flux amid all the health care drama, but the big energy bill co-authored by Energy Committee Chairwoman Lisa Murkowski and ranking Democrat Maria Cantwell could be coming to the floor soon. A committee summary is here.