Good morning!
Let's head into the news with this song that was atop the Billboard charts 40 years ago this week. Oh, and there's a snippet of dialogue from "The Terminator" buried in here too.
https://www.axios.com/newsletters/axios-generate-f93fcf2c-0e2d-435c-95a6-4fa9f6974da1.html?chunk=0#story0
Big today: Tesla earnings

Back on planet Earth: Elon Musk's SpaceX just sent a Tesla into space (more on that below), but today the focus shifts back to more earthly concerns as Tesla reports its fourth-quarter earnings after markets close this afternoon.
The big question: Analysts will be looking for signs of how things are going with the troubled production ramp-up of the mass-market Model 3. Last month Tesla delayed its goal of producing 5,000 per week to the end of the second quarter. The Model 3 is seen as key to the automakers' future, and to some extent electric vehicle adoption more widely.
"[W]e don't expect Tesla to veer from this target. Moreover, further reiteration of this target, noting that the ramp is improving, could be viewed as a positive by the blue-pillers and the purple-pillers," Barclays analysts said in a note yesterday, using their parlance for Tesla bulls (blue-pillers) and quasi-optimists (purple-pillers).
Buzz: Business Insider previews the earnings report and conference call here. The Wall Street Journal breaks down the earnings and revenue numbers that analysts are predicting here. Plus, keep an eye on the Axios stream this evening.
https://www.axios.com/newsletters/axios-generate-f93fcf2c-0e2d-435c-95a6-4fa9f6974da1.html?chunk=1#story1
One more EV thing
One possible future: There's fresh evidence that analysts are all over the map when predicting how quickly EVs will achieve widespread commercial deployment.
The base or "reference" case in the Energy Information Administration's new Annual Energy Outlook released yesterday projects:
"Battery-electric vehicle (BEV) sales increase from less than 1% of total U.S. vehicle sales in 2017 to 12% in 2050. Plug-in hybrid electric vehicle (PHEV) sales increase from less than 1% to 2% over the same period."
Contrast that to Bloomberg New Energy Finance, a consultancy on the bullish edge of EV forecasts, which projects EVs will reach 58% of total U.S. vehicle sales in 2040.
Needless to say this is a massive difference.
Why it matters: The pace of EV adoption is one factor that will influence how quickly global oil demand will peak and the future of carbon emissions from transportation.
Thought bubble: EIA has long been raked over the coals by critics for consistently low-balling the growth forecasts for renewable power, only to see deployment far outpace their projections.
The next few years will show whether the same dynamic holds for EVs.
Go deeper: This mid-2017 chart looks at how various energy companies and forecasting bodies were looking at the trajectory of global EV growth in coming decades.
https://www.axios.com/newsletters/axios-generate-f93fcf2c-0e2d-435c-95a6-4fa9f6974da1.html?chunk=2#story2
New projections for U.S. oil's near-term and long-term
One possible future: A pair of new Energy Information Administration reports provide the agency's latest thinking on the future of U.S. crude oil production.
Check out the chart above. The base case in the Annual Energy Outlook sees production leveling off between 11 million and 12 million barrels per day, a level that's around a million barrels higher than the 2017 version of the annual long-term forecast but could nonetheless prove too conservative.
Why it matters: The increased projection in the base, or reference, scenario underscores the surge from shale plays ("tight oil" in the chart above) — the stuff tapped by fracking and horizontal drilling — in Texas and elsewhere.
Worth noting: U.S. production is already around 10 million barrels per day. The annual EIA report contains more and less aggressive future scenarios, including what could be a vastly larger boost in U.S. production as shale development surges and becomes an even more dominant share of national output.
The "high oil and gas resource and technology case" projects U.S. crude oil production rising through the forecast period, climbing to the 15 million barrel range around 2030 and rising into what appears to be the 18-19 million barrel range by 2050.
Here and now: A separate report released just hours later, the monthly Short Term Energy Outlook, provides the latest evidence that shale's surge can quickly outpace even recent projections.
It projects an average of 10.6 million barrels per day this year, which is 300,000 more than last month's version. And the forecast for 2019 rose by 400,000 to 11.2 million.
https://www.axios.com/newsletters/axios-generate-f93fcf2c-0e2d-435c-95a6-4fa9f6974da1.html?chunk=3#story3
Big oil, big power and climate goals
A few pieces of corporate news caught my eye . . .
BP's pledge: The oil-and-gas giant provided a bit more detail on the financial scope of its clean energy investments, adding to what my colleague Amy Harder reported here last week.
What's new: The company offered an annual investment target — $500 million — going forward.
"With one of the largest operated renewables portfolios among its peers, BP will look to stay at the forefront of changing global needs, with around $500 million set to be spent annually on renewables, new technologies, venturing and research," the company said in a short report on its "view to 2021".
To be sure: BP's overall capital spending was nearly $17 billion last year, so the $500 million target remains a small part of its portfolio.
Why it matters: It's another sign that some oil majors are deepening their investments into climate-friendly technologies and projects, such as solar and EV infrastructure.
Other majors:
On Wednesday, CNBC reported on Statoil's plans. "The Norwegian oil firm said Wednesday it expected to invest around 15 to 20 percent of its total capital expenditure in so-called new energy solutions by 2030."
Another European-based behemoth, Royal Dutch Shell, said in November that it would spend $1 billion to $2 billion per year on alternative energies until 2020.
* * *
Power: American Electric Power — the massive, multi-state utility that currently relies on coal for almost half its power generation — outlined plans yesterday to slash its CO2 emissions.
The goals are cuts of 60% from 2000 levels by 2030 and 80% by 2050.
Cuts will come from: investments in renewables, more efficient transmission and distribution, increased use of natural gas, and expanded demand response and efficiency programs.
The gritty details: Power magazine dives into the plan here. They note that AEP is assuming carbon emissions regulations in the future.
https://www.axios.com/newsletters/axios-generate-f93fcf2c-0e2d-435c-95a6-4fa9f6974da1.html?chunk=4#story4
On my screen: solar tariffs, coal's future, climate history
Solar: The Columbia Center on Global Energy Policy published this analysis by two experts who are very doubtful that the new White House tariffs on solar panel equipment will spur a lot of new domestic manufacturing.
One of the reasons: The four-year duration and declining stringency of the tariffs present headwinds.
"A new solar cell / module manufacturing facility typically takes at least 9–18 months to construct and begin operation at scale. Even if foreign suppliers have already done their homework and can pull the trigger right away, their new facility will likely receive a maximum of three years' worth of advantage thanks to the tariffs," write Shayle Kann and MJ Shiao.
The other main reason is that the penalties probably won't erode the economic advantage of foreign manufacturers. "Given the difference in manufacturing cost, a US cell/module facility may already be uncompetitive with solar panels coming from Southeast Asia by the time it begins operation in year two."
Coal: S&P Global Market Intelligence reports that while the coal mining sector saw its fortunes brighten last year, "the bad news continued for the coal-fired power industry, which announced the future shutdown of 16,320 MW of capacity, with two-thirds of that total to be shut this year alone."
One battleground: The Washington Examiner reports on Interior Secretary Ryan Zinke's efforts to keep open the big Navajo Generating Station coal-fired power plant in Arizona.
Tax policy and utilities: Via The Wall Street Journal this morning, "A flurry of regulated gas and electric utilities are passing savings stemming from the recent tax overhaul to their customers, a move welcomed by consumers but met with concern by credit ratings analysts."
History lesson: This blog post by Harvard's Robert Stavins looks at how past administrations including those of Presidents Lyndon Johnson and Richard Nixon viewed the risks of climate change.
https://www.axios.com/newsletters/axios-generate-f93fcf2c-0e2d-435c-95a6-4fa9f6974da1.html?chunk=5#story5
One future thing: Elon Musk and rockets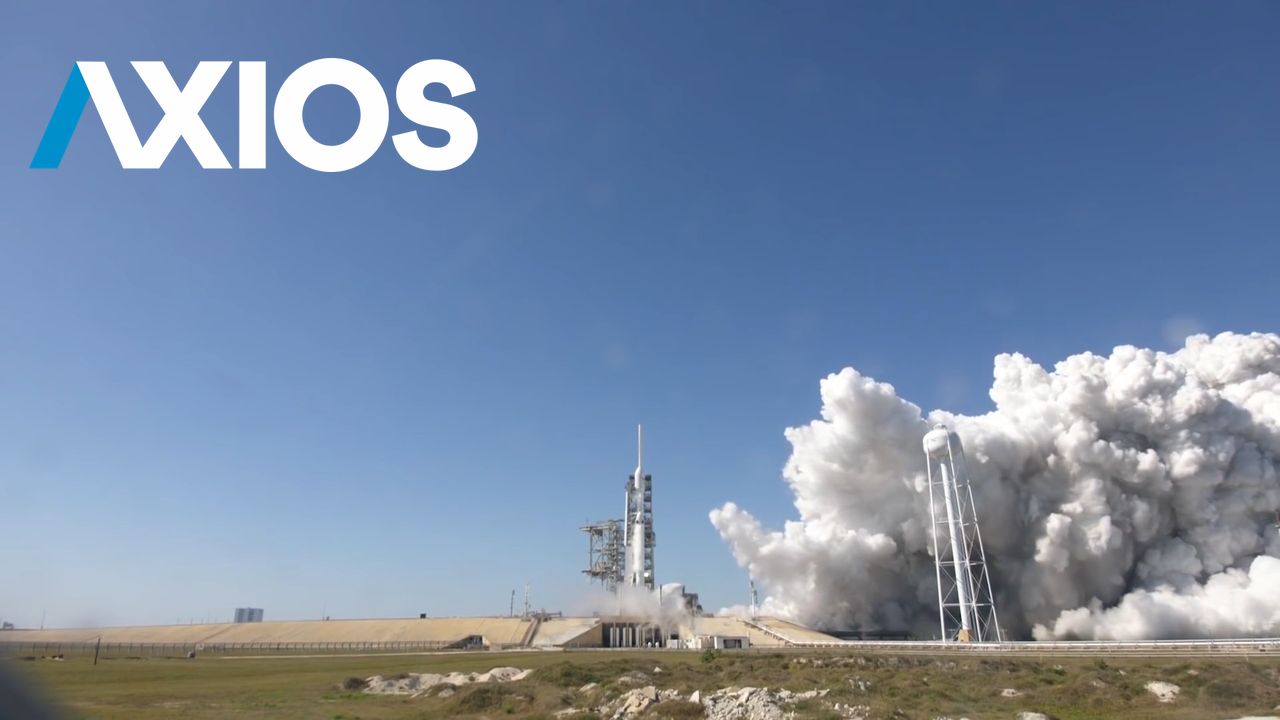 The final frontier: Now that Elon Musk has launched a Tesla Roadster into outer space aboard a big rocket, check out this cool Axios video posted shortly beforehand that explains why the Falcon Heavy launch matters.