Axios Generate
April 08, 2019
Good morning! In case you missed it: I went on NPR's "Weekend Edition" to talk about Shell leaving a Washington trade group.
Officially launching tomorrow is Axios Space, your new weekly missive covering the latest in the trends, business and science of space. 
Below, I share a glimpse of my exclusive column about former Secretary of State John Kerry, and then Ben Geman gets you up to speed on the rest of the news. 
1 big thing: Kerry's shadow climate diplomacy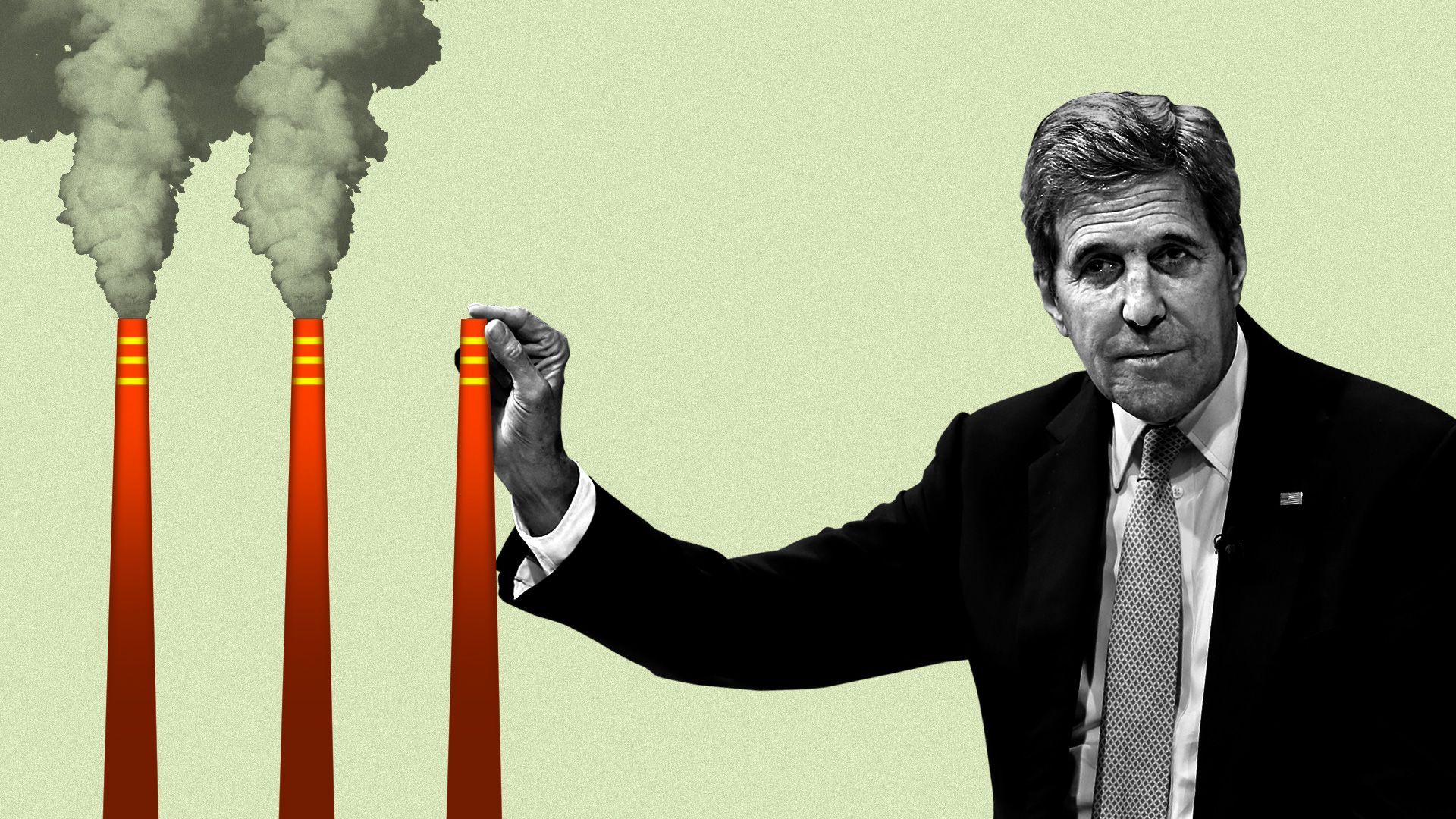 Former Secretary of State John Kerry is speaking publicly for the first time about a new chapter in his half-century history with Vietnam: an initiative aiming to get the country off coal-fired power.
Driving the news: In an exclusive interview with Axios last week, Kerry laid out the broad parameters of a renewables financing proposal that he said could become a model for other countries in coal-dependent Asia too.
He's been working on this since he left government, and he has enlisted the help of former Vice President Al Gore, who made a trip to Vietnam last summer. Kerry is meeting Vietnamese government officials this week in Boston to negotiate details.
"I'm trying to put together a model project of how Vietnam can get off coal now, and we are working very hard to help them see that coal is in fact more expensive and has many, many more downsides."
— John Kerry
The big picture: Vietnam, like the rest of Asia, is where the world's battle over growing economies and worsening climate change is raging.
These nations want cheap power — usually coal — to provide better standard of living for their growing populations.
Yet they're under political pressure to back away from coal, given that their heavy use of it is accelerating global warming and worsening local air pollution.
Flashback: Kerry's history in climate change diplomacy and Vietnam runs deep.
He was a leading architect of the 2015 Paris Climate Agreement — which will proceed without the U.S. since President Trump has vowed to withdraw from it.
He was a decorated officer in the U.S. Navy during the Vietnam War and worked toward normalizing relations with the nation decades later.
Coal became Vietnam's biggest electricity source in 2018, surpassing hydropower for the first time, according to preliminary International Energy Agency data.
More than 42,000 megawatts of new coal capacity are under development, according to a recently released report by environmental groups. That's nearly one-fifth of America's entire operating coal capacity.
Where it stands: Kerry's proposal includes undisclosed private-sector financing for wind and solar along with transmission lines. It also calls for more efficiently using Vietnam's hydropower and tapping a domestic natural gas field.
"We've opened the door," Kerry said. "We've got a preliminary agreement. We now need to work on the feasibility for how exactly it's going to be implemented, and then sign it."
2. By the numbers: Asia and coal
Speaking of Kerry, his quest to get Vietnam off coal is running headfirst into a power-hungry and growing region.
The big picture: The 330 million people in the U.S. consume twice as much electricity as the two billion people living in India, Indonesia, Pakistan, Bangladesh and Vietnam, according to IEA expert Carlos Fernández Alvarez.
"That's six times less people consuming more than double the electricity," he said.
In America where power demand is stagnant, wind and solar can make up the difference, Alvarez said. But, he added: "When you have electricity growth, even if you have wind and solar, electricity demand grows more than this, so you need something else. This something else in many cases, in Asia, is coal."
What we're watching: The State Department is holding a closed-door meeting Friday with Vietnamese officials about its energy sector. A spokesperson declined to comment on its specific focus.
3. Trump to roll out 2 executive orders
Trump will announce 2 executive orders in Houston on Wednesday to help energy companies "avoid unnecessary red tape" in order to speed up development of pipelines and other projects, a White House aide said.
Why it matters: While U.S. oil and natural gas production is already at record levels, companies have chafed at the regulatory process for some infrastructure projects, notably battles over gas pipelines in the Northeast.
But, but, but: There isn't enough information yet to know whether the orders will assert new powers that will speed up development. Executive orders range from consequential moves to more symbolic documents that signal a chief executive's priorities.
What's next: Trump will discuss the orders in remarks Wednesday at the International Union of Operating Engineers' training center in Houston.
What they're saying: The White House aide said the orders are aimed at expanding oil-and-gas production, spurring more private infrastructure investment, streamlining permitting, and "further reducing regulations."
The goal is to allowing the U.S. to "continue to be the undisputed global leader in crude oil and natural gas production for the foreseeable future."  
"American families and businesses in states with energy restrictions will be able to access affordable and reliable domestic energy resources," the aide said.
Go deeper:
4. Shell's $300M carbon plan and more petro-notes
Climate: "Royal Dutch Shell announced that it will spend $300m over the next three years to help motorists offset the emissions from their cars, by funding large forest projects in the Netherlands, Spain, Australia, and other countries," the Financial Times reports.
Prices: Via Reuters, "Oil prices rose to their highest level since November 2018 on Monday, driven upwards by OPEC's ongoing supply cuts, U.S. sanctions against Iran and Venezuela, fighting in Libya as well as strong U.S. jobs data."
Markets: Per the Wall Street Journal, "It has been a good year for exchange-traded funds focused on the oil-and-gas industry, though investors should be wary of potential pitfalls, analysts say.
They note that the 2 biggest ETFs in the sector — the Energy Select Sector SPDR Fund and the Vanguard Energy ETF — are both up more than 16% in 2019.
5. One media thing: Climate podcasting heats up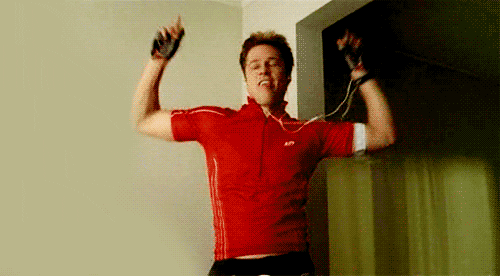 Political Climate, a podcast that tracks the politics and substance of global warming policy, has new partners and wider ambitions.
What's new: It's now backed by the USC Schwarzenegger Institute and Leonardo DiCaprio Foundation. The first episode of the new season landed this morning.
Political Climate was previously a Greentech Media project, and Greentech's Julia Pyper will remain the host, but she's moving into a contributing editor role there and spending more time on the pod.
Why it matters: Climate change has become a front-burner political topic in the 2020 White House election cycle, a break with past national elections. It's also a big focus on Capitol Hill.
How it works: Involvement of Schwarzenegger's institute and DiCaprio's foundation will mean "collaboration on many activities including sponsorship funding, marketing support, guests, live shows, international events, calls to action, and engagement with students," Brandon Hurlbut, partner with the energy advisory firm Boundary Stone Partners, said in an email.
Hurlbut, who served as chief of staff to Obama-era Energy Secretary Steven Chu, joins Pyper each week with Shane Skelton, a partner with the consulting firm S2C Pacific and previously a senior aide to former GOP House Speaker Paul Ryan.
What's next: Guests this season are slated to include former California Gov. Arnold Schwarzenegger. He said in a statement...
"As 7 million people die every year from pollution, the Political Climate podcast is bringing bipartisan conversations about energy and the environment to the public at a critical time and that's why the USC Schwarzenegger Institute is excited to partner with them."
6. What they're saying: Electric vehicle demand
ICYMI, a Friday item in the Axios Future newsletter uses Tesla's disappointing Q1 deliveries to dive into whether EVs can really capture a large share of the mass vehicle market.
The big picture: Axios' Steve LeVine writes that people have bought Teslas in droves because they are cool, which is something that other early electric carmakers, including GM, Nissan and BMW, could not claim.
Yes, but: The first-quarter plunge in deliveries — following the exhaustion of Tesla's federal vehicle subsidy quota — may suggest that cool only goes so far.
What they're saying: One Tesla bear, Gordon Johnson at Vertical Group, is forecasting that Tesla will fail to sell as many cars this year as it projected, reports Business Insider's Arjun Reddy.
But Tony Posawatz, CEO of Invictus iCAR, tells Axios that it's a matter of vehicle mix. He adds...
"Customers want more electric drive choices in different segments, and mainstream customers need better prices and value propositions. Remember that sedans are a tougher sell throughout all of the industry. [Tesla's] Model S & X may also be in need of a refresh."
Our thought bubble: Axios' Joann Mueller says...
"All automakers are going to be bringing EVs to market in the next few years, whether customers want them or not. I think they will end up being discounted (both because of the tax incentives and just to get people interested) and the question is whether there is a tipping point at which natural demand will take off."
* * *
Speaking of Tesla, Bloomberg reports: "Fiat Chrysler Automobiles NV is pooling its fleet with Tesla Inc. to comply with stricter European Union rules on carbon-dioxide emissions, in a deal that's likely to pay the U.S. electric-car leader hundreds of millions of dollars."