Axios Generate
February 05, 2020
Good morning! Today's Smart Brevity count: 1,293 words, 5 minutes.
🎙Podcasting with Axios' Amy Harder: She joined Resources for the Future to talk about her approach to climate and energy coverage. Amy also discussed stories to watch this year with the Washington Post's Steve Mufson on the latest podcast from Columbia University's Center on Global Energy Policy.
🎶 And 40 years ago today, The Cure released the album "Boys Don't Cry," which introduced them to American audiences with tunes like this one...
1 big thing: Renewable jobs face geographic hurdles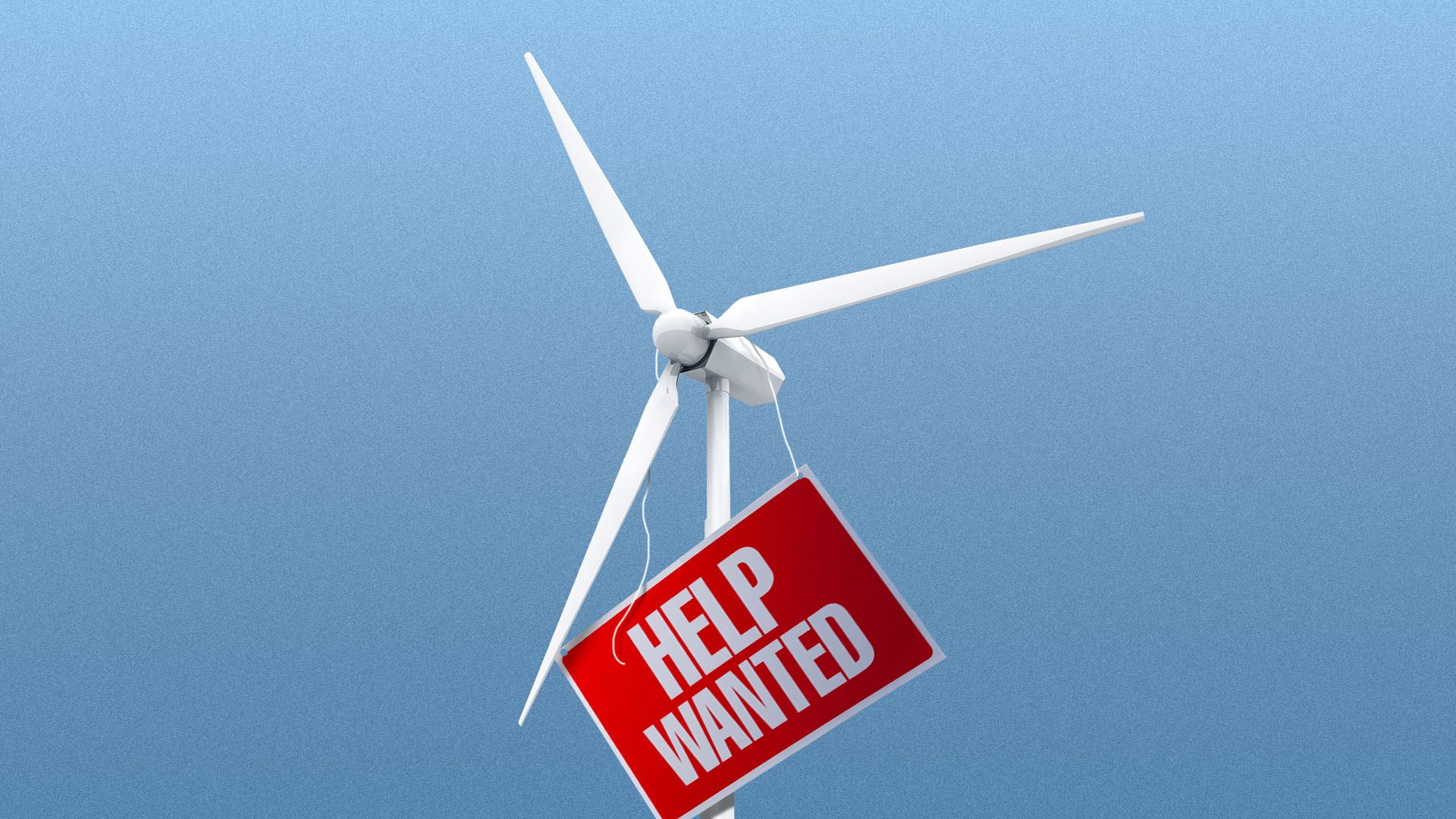 A global transition is underway from coal to renewable energy, but a corresponding jobs shift is far less certain, Amy reports.
Driving the news: Wind-industry jobs aren't a "feasible" replacement for local coal-mining jobs in the world's four biggest coal-producing nations, and although solar is better situated than wind, it would require a massive buildout, a new peer-reviewed report finds.
Why it matters: As the world moves to cleaner kinds of energy, concern is growing about what happens to the people employed in heavy-polluting industries, especially coal. This progression is already rapidly underway in America.
How it works: The paper, published last month in the Environmental Research Letters journal, analyzed wind and solar resources of coal-mining regions in the U.S., China, India and Australia.
Noting that most coal miners don't migrate when they're laid off, the paper analyzed whether renewable-energy jobs could be created in coal-mining areas.
It concluded that it's just not windy enough in those countries' mining regions for wind to be a viable replacement.
Solar was better situated for replacing coal-mining jobs in Australia, India and America, but not China.
By the numbers: In America...
Nearly two-thirds — 62% — of coal-mining areas are suitable for solar power.
To ensure miners in those areas could transition to solar, 143 gigawatts of solar power — or nearly three times America's current capacity — would be needed.
That would mean at least two-thirds of current coal miners could transition to solar-energy jobs — assuming the buildout and necessary retraining — occurs.
Wyoming is the only state in the U.S. where wind jobs could be a feasible option for coal miners.
Go deeper: Coal miners being trained to work in alternative energy
2. Amazon: Our electric van is really happening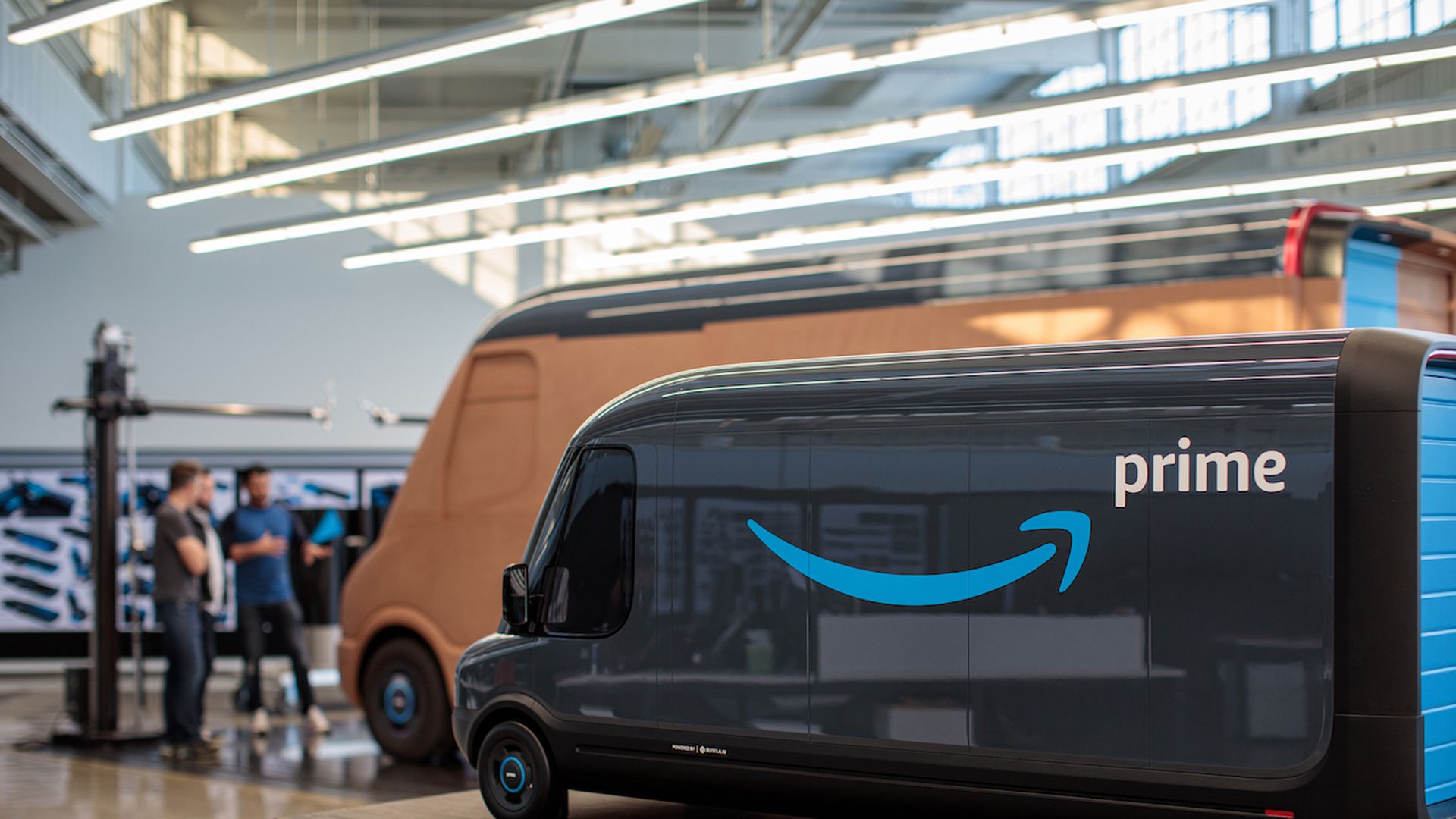 Amazon is sharing new info about its late 2019 vow to buy 100,000 (!) electric delivery vehicles from Rivian.
Driving the news: Amazon released a video yesterday showing its close collaboration with the Michigan-based startup on designing the vehicles; new photos of the design (see above); and other details in this blog post.
One revelation: "[T]hey'll come in three size variants and support multiple battery sizes so they can be optimized for specific delivery routes."
Why it matters: It's among the most aggressive moves in the fleet electrification space and, if indeed it proceeds, will cement Rivian's prominence among EV startups.
What's next: Amazon says package deliveries with the vehicles will begin in 2021. They hope to have 10,000 operating as soon as 2022, and all 100,000 by 2030.
The post says the vehicles will have display screens that are "integrated with Amazon's logistics management, along with routing and package delivery technology systems to make it easier for the drivers to focus on operating the vehicle."
Quick take: Long-term corporate pledges are common these days (and Amazon itself has vowed to reach net-zero emissions in 2040), but yesterday's release appears designed to show there's actual stuff happening now.
Quick take II: Per Axios' Joann Muller, the video showing the advanced planning and design work could begin to quell skepticism that greeted Amazon's pledge to buy 100,000 vehicles from a company that hasn't produced a single EV yet.
3. A tale of two companies
Two of the most important companies on the energy beat are having very different weeks.
Driving the news: Tesla's shares went bananas again Tuesday, spending much of the day well above $900 before falling at the trading close. The barely profitable company's market valuation is now $160 billion.
The intrigue: While the volatile electric automaker has emerged from near crises in recent years and turned a profit the last two quarters, it's hard to say why its stock has basically doubled in price in 2020 and shot up so fast the last few days.
"No amount of product announcements, analyst upgrades or bullish investor predictions can satisfactorily explain this sort of meteoric rise. Nor the plummet into market close," Axios' Dan Primack wrote yesterday.
Speaking of Tesla, overnight CEO Elon Musk seemed to float the idea of building a factory in Texas. Reuters has more.
Meanwhile, Exxon's stock has been on a downward trajectory all year that picked up speed with Friday's disappointing earnings report. The stock is at a decade-low.
Driving the news: One reason why the declines continued this week, per multiple reports, seems to be Goldman Sachs' gloomy assessment Monday.
"Goldman Sachs downgraded the stock to a sell rating Monday, saying 'more compelling returns opportunities exist both among the global majors and global large cap stocks outside of energy,'" CNBC reports.
4. Parsing SOTU on energy ...
I'm honored to be writing the trillionth word on the State of the Union, so let's do this.
Driving the news: President Trump talked up the U.S. energy boom and sought to make it into a political asset. He said...
"Thanks to our bold regulatory reduction campaign, the United States has become the number one producer of oil and natural gas anywhere in the world, by far."
"With the tremendous progress we have made over the past three years, America is now energy independent, and energy jobs, like so many other elements of our country, are at a record high."
Why it matters: Energy has been prominent in the 2020 White House race.
Bernie Sanders and Elizabeth Warren want to ban fracking, which would greatly curtail production. But while they could exert considerable sway over federal lands, a national ban would require very long-shot legislation.
Joe Biden and Pete Buttigieg would impose major new constraints on energy development but have not proposed such sweeping bans.
Reality check: The U.S. oil and gas production surge began well over a decade ago and has continued under Trump. Crude oil production surpassed its 1970 peak around late 2017, remarkably grew by roughly 2 million barrels per day in 2018, and kept going.
The U.S. became the world's largest gas producer around 2009, and overtook Russia and Saudi Arabia to become the largest crude producer about two years ago.
While the country has recently started becoming a net exporter of oil and petroleum products combined, "energy independence" is not accurate. The U.S. still imports several million barrels of crude per day.
The country's rise stems most directly from advances in hydraulic fracturing and drilling techniques that have unlocked shale resources, and market forces — not regulatory changes.
5. ... and climate change
Those words never appeared in the speech, though Trump did reiterate that the U.S. is joining the global "one trillion trees" initiative launched at the World Economic Forum last month.
Quick take: There's no major election-year pivot from the White House climate posture in the offing.
At the same time, it comes as House Republicans are promoting planting trees as one of their climate policies, while rejecting Democratic calls for mandatory emissions curbs and fossil fuel restrictions.
Reality check: Via the New York Times' SOTU coverage...
"But just how much all these trees will help is disputed. According to a report last year by the National Academies of Sciences, Engineering and Medicine, the United States produced about 5.8 billion tons of emissions in 2019."
"Getting that much carbon out of the atmosphere with trees alone would require planting on about 371 million acres — about four times the area of California."
The intrigue: A note from the research firm ClearView Energy Partners flags another "tangentially" climate part of the speech — Trump's shout-out to massive Senate infrastructure legislation.
The bill, which cleared the environment committee last summer in a bipartisan vote, would steer $10 billion into emissions-related and resilience initiatives. Trump didn't mention that part.
6. Catch up fast on climate
Diplomacy: "UK Prime Minister Boris Johnson has called on every country to set long-term goals in 2020 to reach net zero emissions at the formal launch of UK plans to host UN climate talks in November. ...Johnson launched Cop26 despite the fact the summit is lacking a president to facilitate it." (Climate Home News)
Europe: "The European Union's executive arm will unveil on March 4 proposals to make the goal of zeroing out emissions by 2050 irreversible under the so-called Green Deal strategy, according to an EU document." (Bloomberg)
Advocacy: "Barclays is under intense pressure over its role in financing fossil fuel producers after a second influential group of big shareholders demanded the British lender adopts a stricter climate change policy." (Financial Times)