October 22, 2018
Good morning!
ICYMI: Have you checked out Axios' Instagram yet? Follow us to see our latest data visualizations and the incredible illustrations that top all of my columns and more.
Speaking of which, my latest is from my home state of Washington and looks at the effort to pass by ballot measure a carbon price, which experts say would be a first in the world. I'll share a glimpse of that, and then Ben Geman will get you up to speed on the rest of today's news.
1 big thing: Washington state's climate test
Olympia, Wash. — The political landscape is ripe for this progressive state to approve a carbon price after a decade of failed attempts, fueled by disgruntlement with President Trump and a uniquely broad coalition.
Why it matters: If voters approve a ballot initiative this November imposing a fee on carbon dioxide emissions, it would reinvigorate liberal leaders despondent over Trump's anti-climate change policies. If the measure fails, it'll reinforce a prevailing notion that carbon prices are politically unpopular.
"If we are going to move toward more state-driven climate policies, the question of whether a state could adopt a carbon price is pretty significant."
— Barry Rabe, professor, University of Michigan
The big picture: Putting a price on carbon emissions is considered an essential piece of addressing climate change, but it also makes energy products that run our lives more expensive — most notably prices at the pump.
Flashback: 2 years ago, Washington voters rejected a similar ballot initiative that had more support among conservatives. A lot has changed since 2016, so there are signs that this year's proposal has a higher chance of passing, despite deep uncertainties about the policy and a more aggressive opposition than last time.
Here's a glimpse of the changing dynamics, and check out the whole thing on the Axios stream...
1. Trump: Washington Gov. Jay Inslee, a Democrat flirting with a 2020 presidential run, says a vote against the proposal is a vote for Trump's anti-climate change positions. That's a leap in logic, but it could be effective messaging to discontented voters in the mostly blue state of Washington.
2. Broad coalition: Organizers of the proposal have convened a coalition larger and more progressive than the last effort. Backers include Microsoft co-founder Bill Gates and an array of environmental groups.
The money raised from the carbon fee — technically it's not a tax — would fund clean-energy investments and other causes (clean energy would get 70%). That's a more progressive policy than the 2016 initiative that lowered other taxes.
3. Moneyed opposition: Washington is America's fifth-largest refining state, so it's not surprising opposition is coming largely from petroleum companies. The industry was mostly neutral on the 2016 proposal, reflecting that measure's more conservative and industry-friendly cred, but now opposition is ramping up.
4. Policy uncertainty: The proposal doesn't get into details about how the money would be spent other than dividing it into general categories. The policy authors say those details will be filled in upon passage. Experts worry it could lead to unintended consequences, political favoritism and/or no actual emission reductions.
What's next: If it passes, expect other states to replicate it, Rabe says. If it doesn't pass, Inslee says he'll keep fighting — in the state legislature and at the ballot box. He might even pursue it from the White House, if he follows through with a 2020 run.
The bottom line: "I don't think failure to pass is necessarily the kiss of death for other states or nationally," Rabe says. "But, it would further underscore the political difficulty of doing this."
2. Saudi official: "No intention" of oil cut-off
Saudi energy minister Khalid al-Falih told Russian state media TASS that the kingdom has "no intention" of cutting off oil supplies akin to the 1973 embargo.
He also told TASS that his country plans to boost its production from 10.7 million barrels per day to 11 mbd in the "near future."
Why it matters: The comments published Monday come amid global condemnation and pressure on the kingdom over the killing of journalist Jamal Khashoggi.
They also come a week after OPEC's dominant producer issued a veiled threat to use oil as a weapon if the U.S. imposes sanctions or other measures.
Few expected the Saudis to make good on that threat, but the new remarks are further evidence of backing off that idea.
Quoted: "Saudi Arabia is a very responsible country, for decades we used our oil policy as responsible economic tool and isolated it from politics," al-Falih said.
Go deeper:
3. Petro news and notes
OPEC: Another tidbit from the Saudi oil minister's interview with TASS — al-Falih also discussed the plan to formalize a long-term cooperation agreement between OPEC and non-OPEC producers including Russia that goes beyond the current supply management deal.
He said the goal is to sign a deal creating this so-called OPEC Plus at a December meeting in Vienna, and that the agreement would be "open ended."
"It should not have fixed production target. But it allows us to perform regular coordination and sharing information on what are our views on the market, supply and demand, how healthy the market is, what kind of intervention we need, if any,  and when," he said.
Shale: The Wall Street Journal has an informative weekend feature about the push for expanding Gulf Coast port infrastructure to handle rising volumes of U.S. crude oil exports.
"Existing U.S. shipping terminals are already ill-equipped to handle the growing load, because only one can fully accommodate the giant tankers used to ship oil to Asia and Europe," the story notes.
At least 4 companies are planning new or expanded facilities, the paper reports.
Sanctions: Per Reuters, "U.S. Treasury Secretary Steven Mnuchin said on Sunday it will be harder for countries to get waivers on Iran oil sanctions than during the Obama administration and dismissed concerns that oil prices could rise, saying the market had already factored in the losses."
4. BASF strikes EV metals supply deal
BASF, the German industrial giant, announced plans to build a factory in Harjavalta, Finland, that produces materials for electric vehicle batteries.
The company said it has struck a long-term nickel and cobalt supply deal with the Russian metal and mining company Nornickel, which has an existing refinery for the materials that's adjacent to the new factory site.
Why it matters: Supplying critical materials needed for EV batteries is a highly competitive and growing market.
"The co-location of BASF's new plant and Nornickel's metal refinery in Harjavalta will enable unparalleled access to a local nickel and cobalt supply," said Jeffrey Lou, a top BASF executive, in a statement.
What's next: According to the announcement, startup of the plant is slated for late 2020 and it will have the capacity to supply 300,000 vehicles per year with materials from the facility.
And per Reuters, "It could also provide fresh impetus to European efforts to create local battery cell manufacturing capacity — a market that is so far dominated by Chinese and Korean firms."
The big picture: This Forbes commentary a couple days ago by a Wood Mackenzie analyst looks at what's expected to be soaring demand for raw materials that are found in a limited number of countries. WoodMac's Simon Flowers writes:
Weaning transportation off oil and onto EVs is one of the central planks of decarbonization. Geopolitical risks around the supply of nickel, manganese and cobalt suggests that, in the absence of new, evolving battery chemistries, the EV era will be just as fraught as the present one.
5. Chart of the day: demand for bigger cars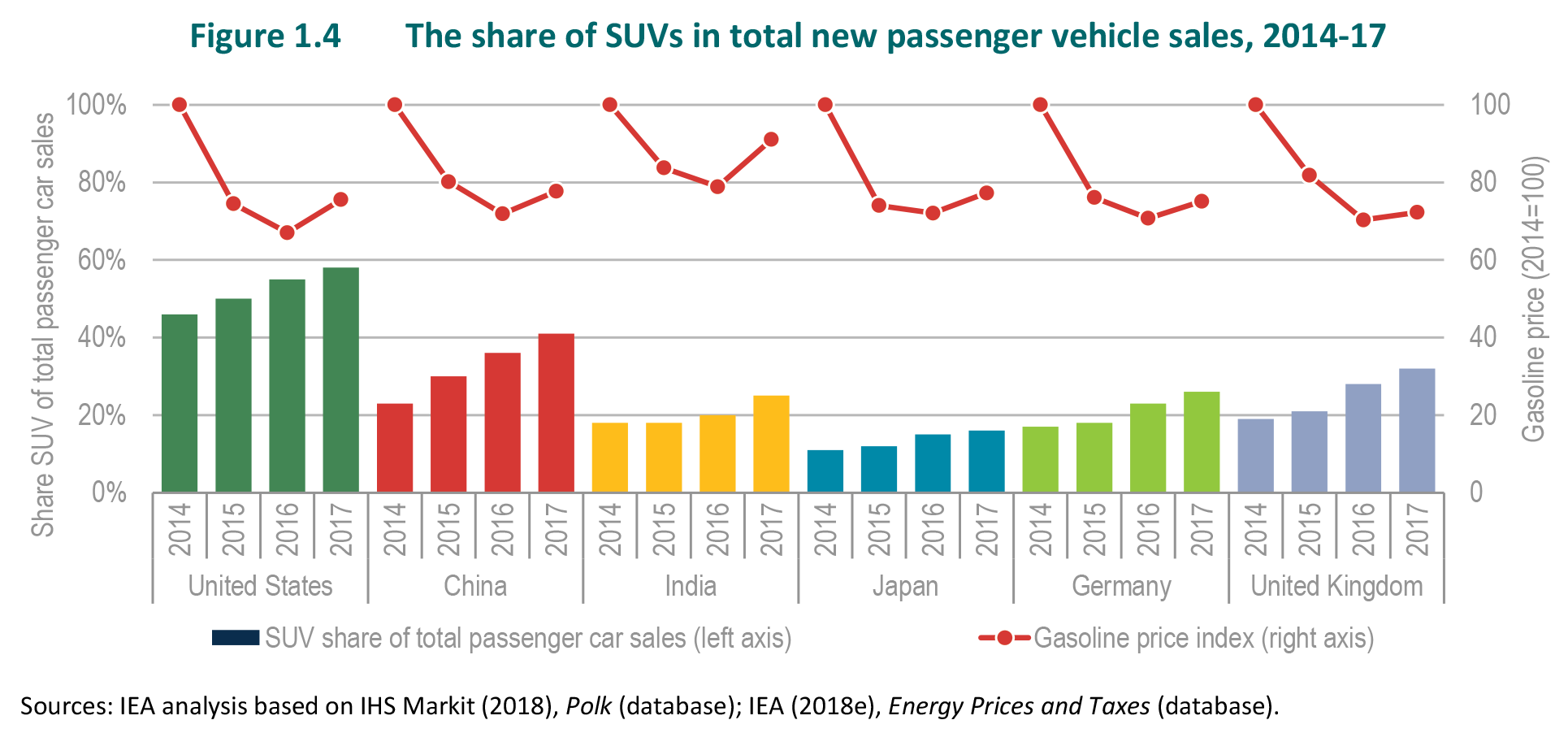 The chart above comes from the International Energy Agency's latest report on energy efficiency trends, which came out late last week and we wrote about here.
But let's follow up a little on cars...
What they found: While rising worldwide oil demand is largely driven by global economic growth, especially in emerging economies, consumer tastes for bigger cars is "compounding" the rise.
"The share of sport utility vehicles (SUVs) in passenger vehicle sales has been rising steadily in all major markets in recent years," IEA said.
"Globally, the share rose from 30% in 2014 to 41% in 2017."
The big picture: The chart offers a helpful look at one of the reasons that cutting CO2 emissions out of transportation is a challenge. Here are a couple of the findings...
Vehicle efficiency standards have enabled plenty of energy-savings over the years worldwide.
"Without them, road transport would be using an additional 1.2 million barrels of oil per day," IEA said.
But, but, but: "[A]nother 2.2 mb/d would be saved if all standards were as good as the best in class," the report finds.
6. OECD warns on metal and concrete emissions
A new OECD analysis projects that greenhouse gas (GHG) emissions from 2 big areas — concrete production, and metals extraction and processing — will together account for a fifth of global GHGs in 2060.
Why it matters: It's a reminder that cutting GHGs, especially to levels scientists say is needed to prevent high-warming levels, requires action across the board, not just the energy sector.
The big picture: The metals and concrete info is from a much wider report on overall global raw materials demand and growth — including energy, building materials, wood, crops and more — and its impact in coming decades.
Global materials use is projected to nearly double from 90 gigatonnes today to 167 gigatonnes in 2060, the organization said, with construction materials like sand, gravel and crushed rock accounting for the biggest rise.
Go deeper: The overlooked climate impact of industrial emissions
This piece was corrected to say global materials use is projected to nearly double by 2060 (not more than double).