Axios Generate
October 26, 2021
☕ Good morning. Today's Smart Brevity count is 1,259 words, 5 minutes.
🚨 Situational awareness: Special climate envoy John Kerry heads to London today for meetings with Chinese officials ahead of the COP26 summit.
🎶 Fifty years ago The Persuaders were atop Billboard's R&B charts with today's intro tune...
1 big thing: Mind the emissions gap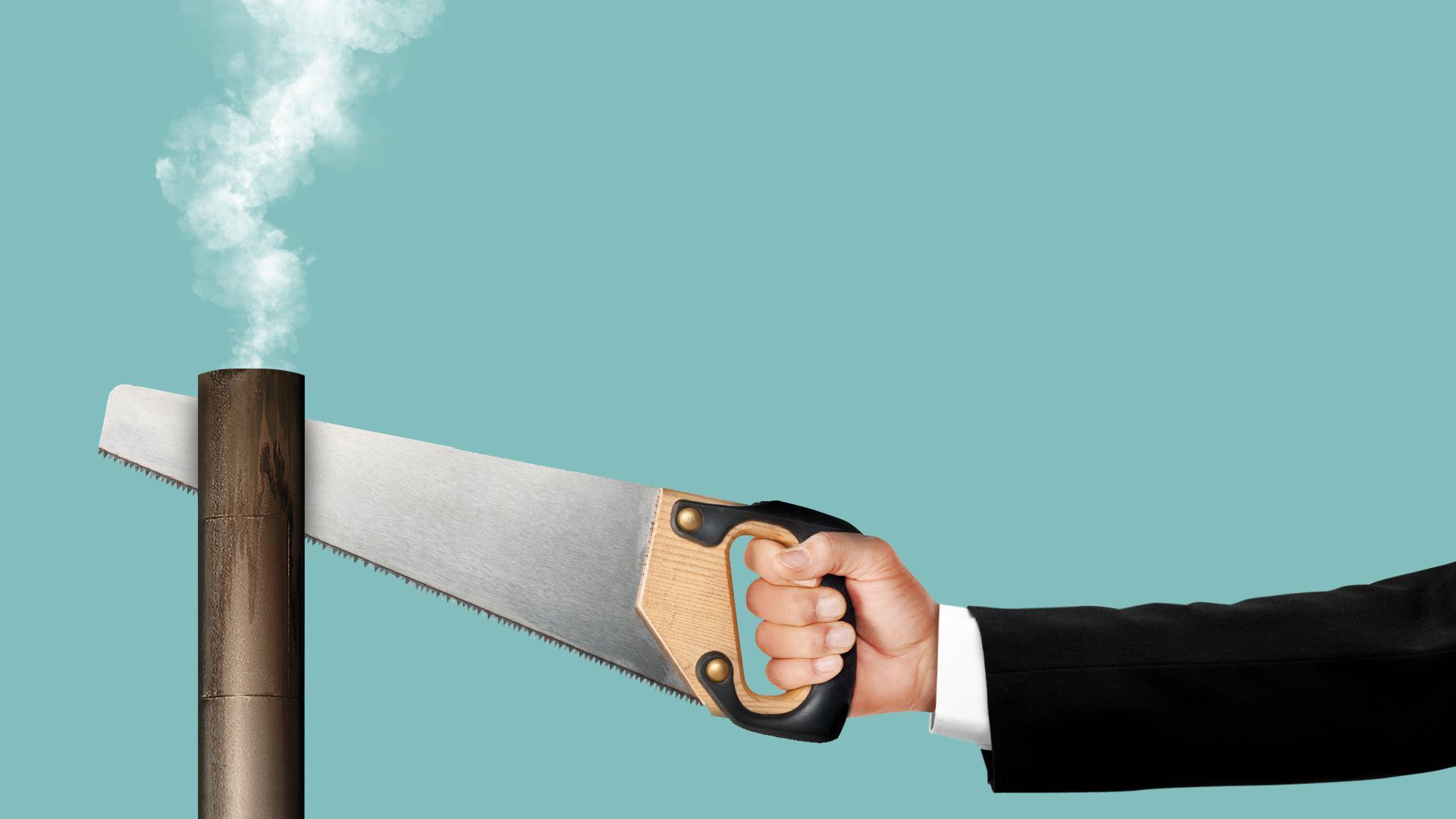 The sprint to secure more stringent emissions reduction commitments ahead of the COP26 summit has petered out well short of the finish line, a new United Nations report out this morning concludes, Andrew writes.
Driving the news: The "Emissions Gap" report offers a clear comparison between where emissions need to be to reach the Paris Agreement's goals, and where they actually are. It takes new and preexisting emissions pledges, called Nationally Determined Contributions (NDCs), into consideration.
It presents a discouraging picture, as countries' recent pledges that were made through Sept. 30 would only shave off another 7.5% from predicted emissions in 2030, compared to previous commitments.
Why it matters: One of the main goals of COP26 is to keep both of the Paris climate agreement's temperature targets viable, yet if emissions remain on their current trajectories, the more ambitious 1.5-degree target would quickly be surpassed.
Compared to the 7.5% cut that the new plans will yield, the report says, meeting the 1.5°C target would require that 2030 emissions be cut by at least 55%.
To hit the agreement's 2°C target on a "least cost pathway," a reduction of 30% by 2030 is needed.
"As world leaders prepare for COP26, this report is another thundering wake-up call," said UN Secretary-General António Guterres. "How many do we need?"
By the numbers: The report says the surge in net-zero commitments, if actually realized, could help lower global warming further, possibly by another 0.5°C, down to 2.2°C (4°F) above preindustrial levels.
But it criticizes such targets are "vague" and out of step with countries' official emissions reduction plans through 2030.
The report finds the world has just eight years to shave off an additional 28 billion tons of carbon dioxide equivalent from annual emissions, above what has already been committed.
This amounts to nearly cutting annual emissions in half once all greenhouse gases are factored in, the UN states.
Threat level: The new analysis is part of a triple whammy of UN assessments that show countries' emissions would still put us on course for some of the most dangerous impacts of global warming. They also add even more urgency to the Glasgow talks.
A separate UN report released Monday analyzed 165 NDCs, including revised 2030 targets submitted as of mid-October.
Overall, the existing plans would bring greenhouse gas emissions in 2030 that are 16% higher than 2010 levels, the UN found.
Both reports agree that greenhouse gas emissions are on track to warm the planet by at least 2.7°C (nearly 4.9°F) by 2100.
Another UN report Monday found that carbon dioxide levels in the air hit a record high in 2020, and are climbing quickly this year.
🎧 Andrew chats about COP26 on the latest Axios Today podcast.
2. Tesla's Hertz deal helps push market cap to $1T
Tesla's market cap zoomed over $1 trillion (!) after yesterday's announcement that Hertz is buying 100,000 Teslas for its fleet. Axios' Joann Muller and Felix Salmon break down the deal and the electric automaker's value.
The big picture: The only other companies in the world worth more than $1 trillion are Apple, Alphabet, Microsoft and Saudi Aramco.
Driving the news: The Hertz order represents $4.2 billion in revenue for Tesla and is the carmaker's biggest-ever order, Bloomberg reported.
The vehicles will account for more than 20% of Hertz's global fleet. And Hertz is also adding thousands of charging stations to its rental locations and hiring seven-time Super Bowl champ Tom Brady to pitch EVs to consumers.
Why it matters: Broader availability of electric cars on rental lots could give the EV movement a needed boost by allowing cautious consumers a no-risk way to try before they buy.
Keep reading Joann's piece and Felix has more in the Axios Markets newsletter.
3. Catch up fast: Congress, COP26, divestment
Negotiations: "A proposal to impose a methane fee for oil and gas producers is on shaky ground for survival in the congressional Democrats' social spending bill." (E&E News)
Pledges: Australia has pledged to reach net-zero emissions by 2050, but how they'll get there is anyone's guess right now.
The NYT reports from Sydney that the plan is "built on hope" and investment in low-emissions tech.
"Promising jobs and no new taxes or mandates, the plan did not include any toughening of emissions targets for 2030 — a major component of what scientists have said will be needed from world leaders at next week's U.N. climate summit in Glasgow," it reports.
Money: "Dutch pension fund ABP will divest 15 billion euros ($17.5 billion) of investments in fossil fuel producers by 2023, it said on Tuesday, as many of the world's biggest investors set out new climate policies ahead of next week's COP26 summit." (Reuters)
More money: Bloomberg reports on a new tally from the group DivestInvest: "Roughly 1,500 investment institutions overseeing a combined $39.2 trillion are now committed to offloading their fossil-fuel holdings."
4. On our radar: electric vehicle weights
Back to EVs for a moment: Analysis in the journal Nature finds their high weight relative to gas-powered models creates safety risks that can be addressed through design and policy changes, Ben writes.
The big picture: EVs are heavy due to battery weights and heavier equipment to provide "necessary structural support." That's a problem because heavier vehicles mean more deaths in accidents.
Threat level: This erodes the benefits of climate-friendly transport.
The authors — while warning this is a back-of-the-envelope tally — say the cost of extra lives lost by adding 1,500 pounds to a truck "rivals the climate benefits" of avoided emissions.
Heavier vehicles also create pollution from wear on tires and require more materials and energy to build and propel.
What's next: They propose setting vehicle registration charges based on weight to encourage the use of lighter vehicles.
Another idea is focusing more on cutting battery weight, not just today's emphasis on range extension. One specific suggestion: altering EV subsidies to make them based on storage per unit of weight to incentivize lighter batteries.
Other recommendations are around ways to lighten vehicle frames; technology and street-design changes to reduce accidents; and policies that encourage walking, biking and public transit.
The bottom line: EVs are "essential for decarbonizing transport" and "a focus on driving lighter, safer, cleaner and less can ensure a better future for everyone."
5. Sweetgreen weighs climate risk in IPO filing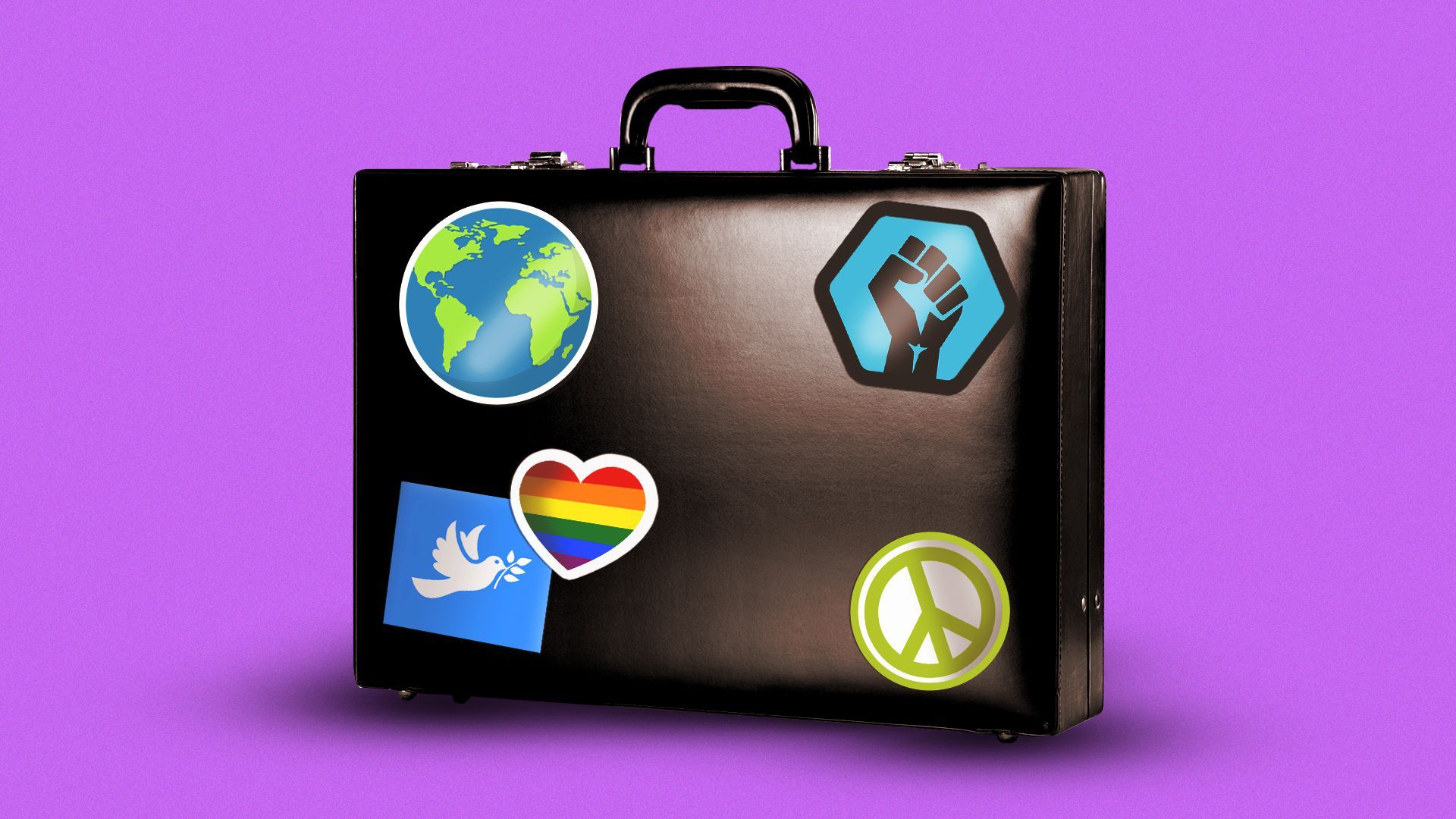 Eco-conscious salad chain Sweetgreen's new filing with regulators to go public offers a window onto how companies must grapple with climate risks to the food system, Ben writes.
Driving the news: Sweetgreen's paperwork, like other pre-IPO filings, lists potential headwinds. Climate change is among them.
"Changes in commodity and other operating costs, particularly due to climate change, could adversely affect our results of operations."
Costs for items like kale and avocados "will likely continue to increase over time if global warming trends continue," and may grow more volatile due to climate change and specific risks like more severe storms and wildfires.
Threat level: The company can only partially control this through strategies like hedging, the filing adds, calling these risks among the potential barriers to profits.
The big picture: It's hardly the first IPO filing to lay out climate risks. For instance, Beyond Meat had similar phrasing about its key ingredients.
It shows the growing importance of global warming as both a business risk and an opportunity.
Sweetgreen's filing talks up the company as a climate solution, noting its menu is "30% less carbon intensive than the average U.S. diet."
It also cites a commitment to being "carbon neutral" by 2027.
The company's list of reasons that it's well-poised says consumers are "increasingly aware" of the environmental and health benefits of a "plant-forward" diet.
Go deeper: Naomi Osaka-backed Sweetgreen's revenue surges ahead of NYSE listing (Reuters)