April 27, 2018
Happy Friday! I missed the mid-April 65th birthday of Midnight Oil frontman Peter Garrett, whom you can hear on today's intro tune . . .
1 big thing: Exxon profits rise but miss forecasts
Breaking: Exxon Mobil Corp. this morning reported $4.65 billion in first-quarter profits, an increase of 16% from the same period last year.
But per CNBC, the $1.09 earnings-per-share fell short of analysts' expectations. The company's stock price dipped around 2% in pre-market trading.
Bloomberg notes that Exxon fell short of production targets. "The company pumped the equivalent of 3.889 million barrels a day during the first quarter, lower than all seven estimates from analysts in a Bloomberg survey," they report.
Why it matters: The U.S.-based multinational behemoth is the latest of major oil-and-gas producer to report higher profits this week on the strength of the oil price recovery.
"Increased commodity prices, coupled with a focus on operating efficiently and strengthening our portfolio, resulted in higher earnings and the highest quarterly cash flow from operations and asset sales since 2014," CEO Darren Woods said in a statement.
2. Parsing the big solar manufacturing news
Let's spend a little more time with the news that First Solar is building a 1.2 gigawatt module factory in Ohio near its existing plant there.
Why it matters: The move will "further solidify our position as the largest U.S. solar module manufacturer," CEO Mark Widmar said on the company's first quarter earnings call, adding that production will be fully ramped up by the end of 2020 and create 500 jobs.
It's a $400 million investment to expand production of its Series 6 thin-film PV module.
The intrigue: It's one of several moves in the domestic industry that follow the controversial White House decision early this year to impose tariffs on imported panel equipment.
It comes roughly a week after SunPower — which had lobbied against the tariffs — announced it was buying SolarWorld Americas, which manufactures in Oregon and is one of the two companies that petitioned for the penalties.
Quick take: It's tough to say if the penalties had much effect on First Solar's decision, which the company said will triple its U.S. capacity. Yesterday, First Solar did not cite the tariffs as a factor behind the expansion. Instead, executives said it stems from strong U.S. demand and the corporate tax overhaul.
First Solar's overseas manufacturing in Malaysia and Vietnam is already exempt from the tariffs, which do not cover the cadmium-telluride thin-film tech they use.
Yes, but: Published reports and sources I touched base with last night say the tariffs were at least an indirect factor for the company, which is a solar project developer as well as manufacturer.
Go deeper: Click here for more.
3. Birds-eye view of deforestation in Brazil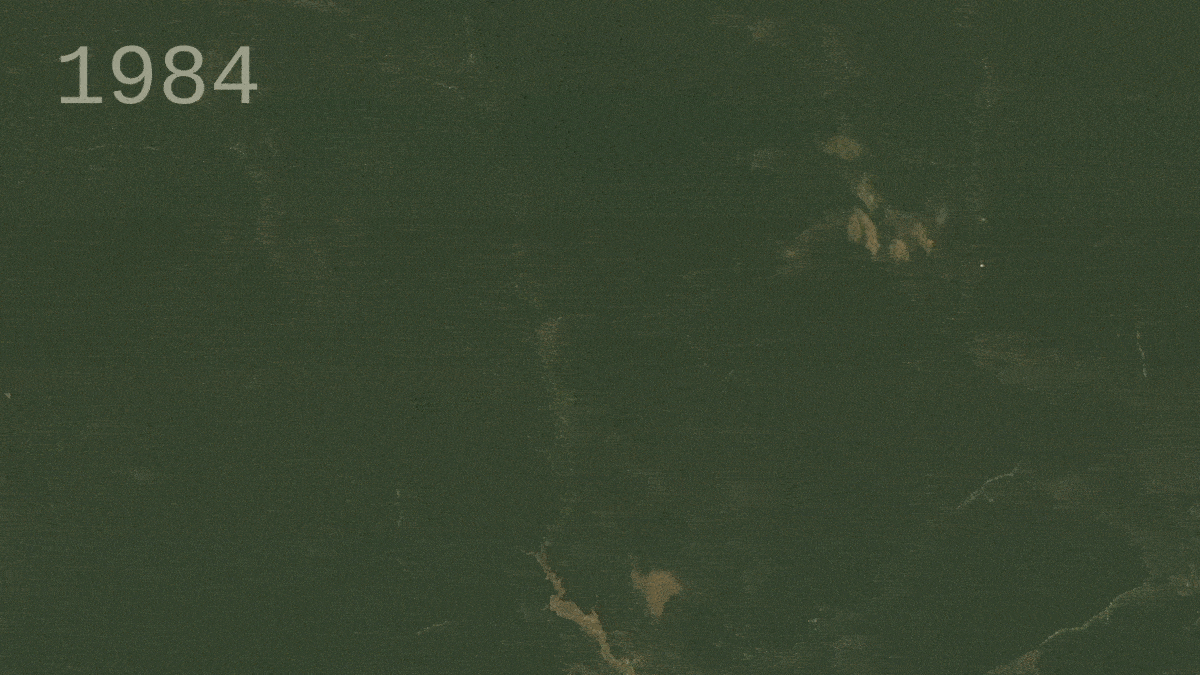 Via my Axios colleagues Lazaro Gamio and Eileen Drage O'Reilly...
Big changes: As seen in the graphic above, based on EarthTime's deforestation data and story, Brazil's Rondônia state changed drastically over a 30-year period. It started as pristine forest in 1984, then came a single road the following year that exploded into a town of 20,000 people with tens of thousands of square kilometers of forest cut for crops and cattle.
Why this matters: Deforestation can create areas of extreme heat, make forests vulnerable to mega-fires, and lead to the loss of habitatfor millions of species. Forests lock in carbon — and about 12% of man-made climate emissions today are linked to deforestation.
What's happening now: Brazil, which made great strides to combat illegal deforestation years ago, appears to have started slipping into cutting down more trees due to political and agriculture lobbying pressures, per the Financial Times.
For example, there was a surge in deforestation of 184 square km of Brazil's Amazon forest in December 2017 — 20 times more than the same month in the prior year, according to conservationist news service Mongabay.
Bright spot: Globally, forests are being replanted, particularly in western countries, and stronger protections have been issued by other Amazon countries like Colombia, whose higher court recently ordered the government to protect the forest. New technologies could also help — like drones that can plant 100,000 trees in a day.
4. European energy exec bullish on offshore wind
My Axios colleague Amy Harder reports...
Danish company Ørsted, whose North American President Thomas Brostrøm spoke at The Atlantic Council Thursday, is among numerous firms bidding for government-administered wind leases offshore America's mid-Atlantic coastlines.
Why it matters: Offshore wind is a rare renewable energy the Trump administration is actively supporting. There's currently only one offshore wind farm in the U.S., located off Rhode Island.
The big picture: Ørsted is at the leading edge of Europe's traditional oil and natural-gas companies that are transforming into producers of cleaner energy sources. Formerly known as Danish Oil and Natural Gas, the company changed its name last year and has been shifting away from fossil fuels to renewables, particularly wind, in the last several years.
Trump administration influence: Brostrøm said the U.S. Interior Department is supporting the development of offshore wind, particularly by helping to streamline the permitting process. That's an "area that is a little bit more cumbersome here," Brostrøm said, comparing it to Europe.
Where the company is looking to develop in the U.S.: Up and down the East Coast to the Carolinas and eventually California, Brostrøm said. The company already has two projects under development off Massachusetts and New Jersey, with more in the works elsewhere.
Go deeper: Amy's got a bit more in the Axios stream.
5. Scott Pruitt's dangerous day
Here are a few takeaways and notes from embattled EPA Administrator Scott Pruitt's hours of testimony before two House panels yesterday.
The ice is still thin: It's not clear if Pruitt did enough to ensure job security with the White House, where officials say they're looking the allegations surrounding him and have lately stopped way short of full-throated defenses.
The signals coming from the White House have been mixed. One White House official tells my Axios colleague Jonathan Swan: "He doesn't survive ultimately. I don't know why we don't just rip off the band-aid."
Yes, but: Here's a snippet from the New York Times account of the day that's a bit more encouraging for him, as his supporters said his performance may have saved his standing with President Trump and, therefore, his job.
"It's an audience of one, and Pruitt acquitted himself well," said Frank V. Maisano, a principal at the law firm Bracewell, which represents energy companies that lobby the EPA.
Meanwhile, The Washington Post notes there were "few signs Thursday that House Republicans were ready to abandon him."
About those raises: Pruitt appeared to at least slightly change his tune on one controversy.
AP notes that Pruitt conceded "he did have some knowledge of big pay raises awarded to two close aides." He had previously told Fox News in early April that he had just learned of them.
However, Pruitt also said yesterday that he was "not at any time aware of the amount, nor the process that was used to grant those pay raises."
My Axios colleagues have more here.
6. Finding elusive middle ground on fracking
Amy was in Chicago recently to moderate a debate on fracking at the University of Chicago. The video and a recap just went up on the website for the school's Energy Policy Institute.
Here are highlights of the debate, which Amy found to be genuinely productive and enlightening despite the usual polarization that plagues the issue:
1. Jeff Holmstead, who represents oil and gas companies as a partner at Bracewell and served as EPA assistant administrator for air and radiation under former President George W. Bush, said the industry takes local health impacts seriously.
"From the industry perspective, most operators believe they're better off with reasonable regulations than with no regulation at all, and I think over time we've seen more responsible development of shale resources," Holmstead said.
2. Sue Tierney, a former assistant secretary for policy at the Energy Department under President Clinton, said she didn't support a ban on fracking. Some politicians, including former presidential candidate Sen. Bernie Sanders, have called for one.
Tierney, now a consultant at the Analysis Group, said that would be a "terrible idea" because that would mean "coal would come roaring back."
Go deeper: Read a full recap here.
7. Quote of the day
"The enemy is not fossil fuels; the enemy is emissions."
— Former DOE official Julio Friedmann
The context: That's a line from this interview with MIT Technology Review, where Friedmann discusses carbon-trapping tech and the prospect of so-called direct air capture.
Why it matters: "Even if we zeroed out all our emissions today, we still have a legacy of harm of two trillion tons of CO2 in the air, and we need to do something about that," he notes.
8. Stat of the day: 50
New target: Via CNET, "Volvo announced this week that it aims to have 50 percent of its sales come from battery-electric vehicles by 2025."
"With China leading the pun-not-intended charge on electric vehicle sales, odds are that's where a large chunk of its early EV sales will originate," they add.
Why it matters: The goal is the latest sign of major automakers moving toward electrification, even as EVs are currently a tiny portion of global car sales.