Axios Generate
May 04, 2021
Hi readers! Today's Smart Brevity count is 1,230 words, 4.6 minutes.
🛢️ Saudi state oil giant Aramco, citing stronger oil markets, reported a $21.7 billion Q1 profit. That's up $5 billion from the same period in 2020. Reuters has more.
🎶 On this date in 1977, Blondie was among many artists at a punk benefit at New York City's legendary CBGB's.
They went on to record the hit single "Heart of Glass," which lulls us into Tuesday as today's intro tune...
1 big thing: Food's moment in the climate and culture war spotlight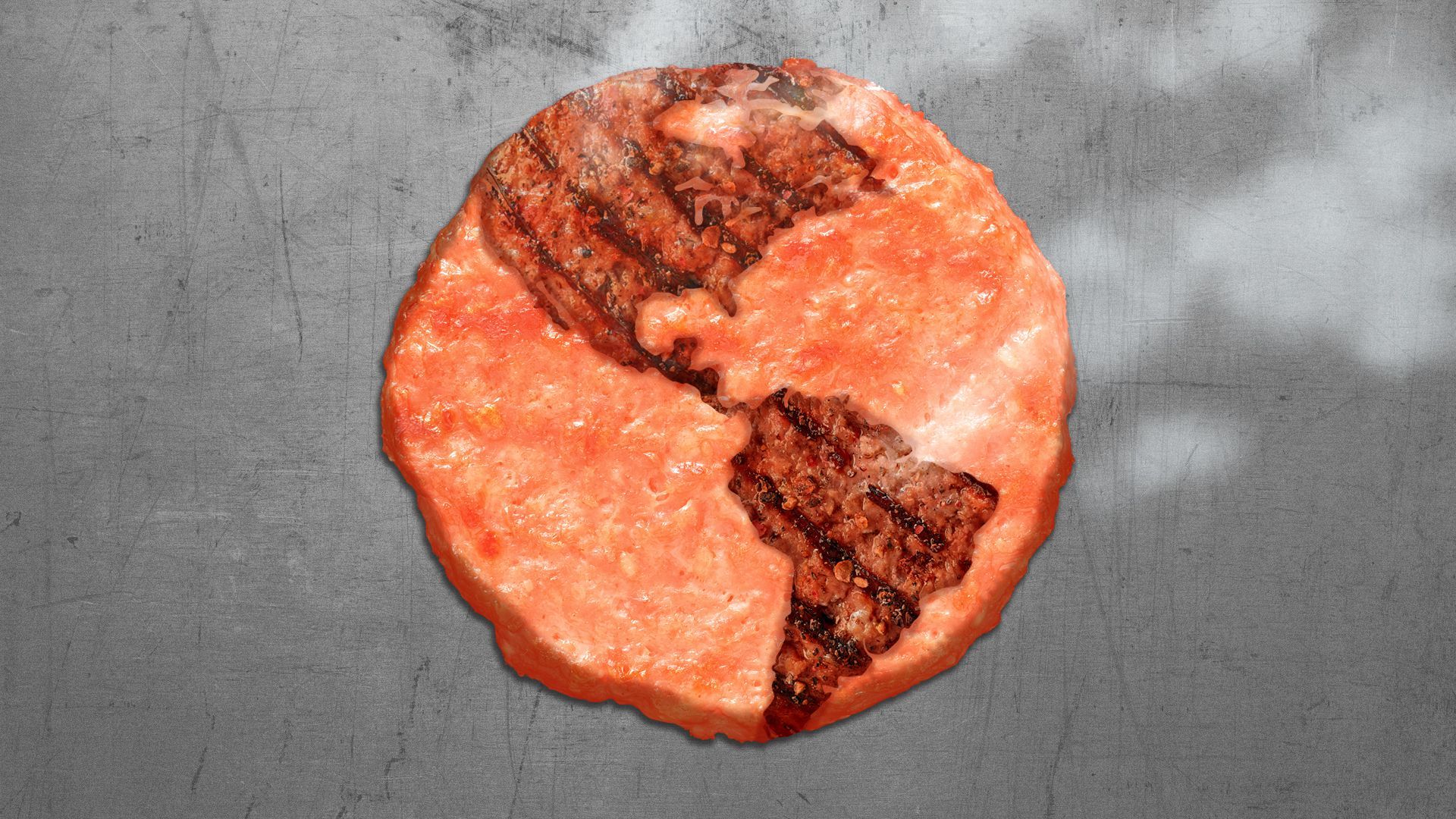 The role of food in climate change is having its time in the spotlight, though advocates for eating less red meat probably weren't hoping for it to happen quite like this.
Why it matters: The food system, including raising cattle for consumption, accounts for greater than 30% of worldwide emissions of heat-trapping gases.
How to reduce those emissions is an increasingly urgent question as the world remains off-track to meet the temperature targets in the Paris Agreement.
Driving the news: The move by a prominent food website to forgo new meat recipes, a baseless conservative media panic over President Biden's climate plan, and a high-profile New York restaurant's abandoning meat have drawn fresh attention to the food system's role in climate change.
On Monday, the much-celebrated restaurant Eleven Madison Park said its post-pandemic return to in-person dining will come with a twist: a plant-based menu.
Two other recent developments help put the news into the context of the culture war over any attempts to tell meat-loving Americans to consume less in order to protect the planet.
The restaurant's announcement followed Fox News' multiday frenzy over a false claim that White House climate plans would limit Americans' meat consumption. (A Fox News anchor eventually conceded the report was erroneous.)
In addition, Epicurious, a database of recipes, said last week that it would no longer publish new recipes containing beef.
Context: Not long after the Eleven Madison Park news broke, a Columbia University energy think tank released a helpful primer on why food isn't just a sideshow in the climate debate.
Climate change poses significant risks to the food system in the form of drought, extreme heat events and wild swings from one end of the temperature scale to another.
Yes, but: Becoming a vegetarian alone won't be enough to eliminate your carbon footprint, nor will it save the planet from the worst ravages of climate change.
There would still be a need for massive, systemic change in energy systems, the transportation sector and more.
2. What's next for Google's data center carbon plan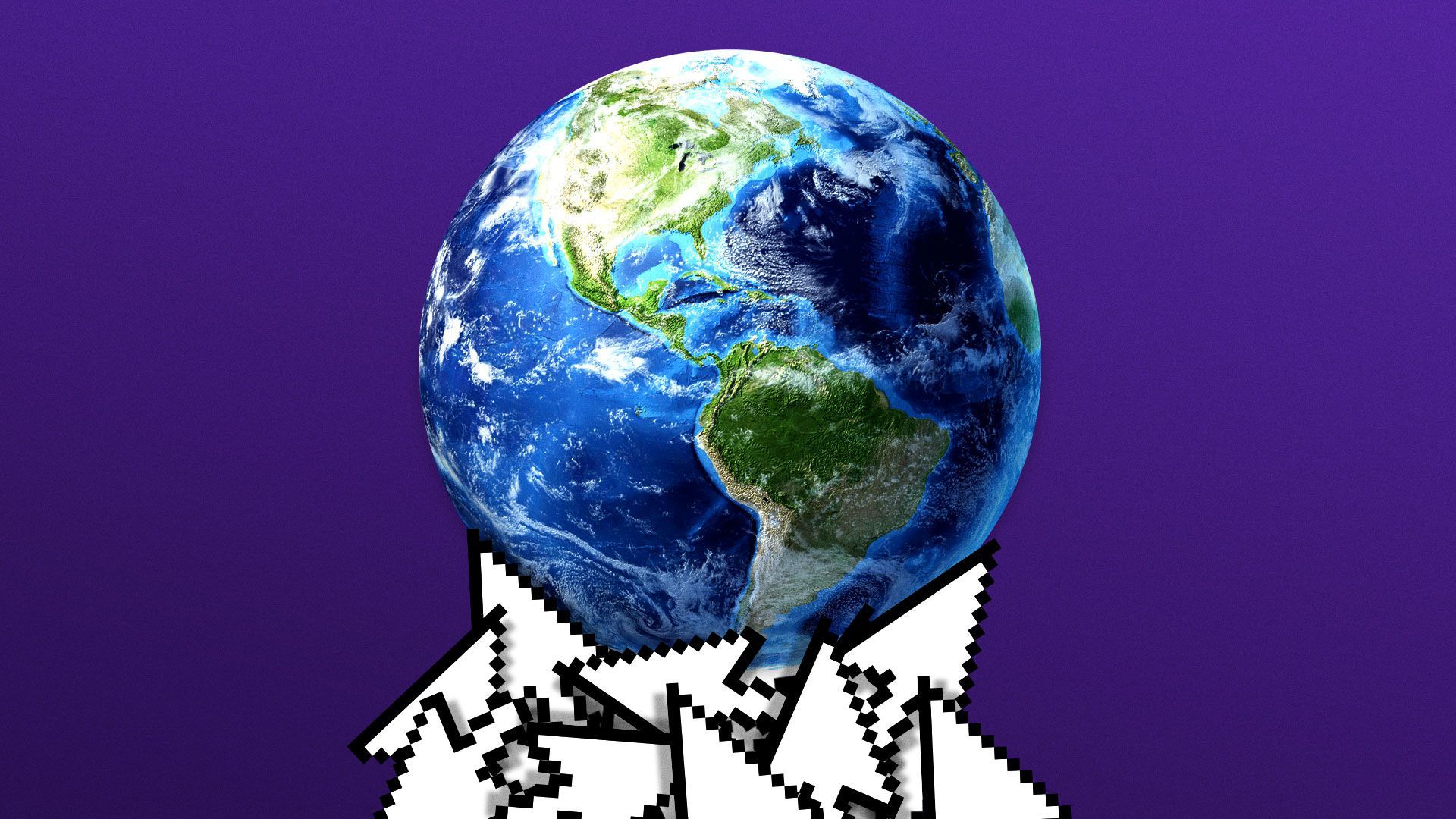 This morning brings Google's latest move in its pledge to have all its operations run round-the-clock on carbon-free power by 2030.
Driving the news: Google and the energy company AES announced a 10-year deal to supply three Northern Virginia data centers with 90% power from zero-emissions sources on an hourly basis.
Why it matters: Data centers use lots of power. Google says it already buys enough renewable power annually to match the company's power use.
But that's not the same thing as never relying on fossil generation, and its operations rely on grids with varying levels of coal and gas.
Google said last month that five data center sites — in Denmark, Finland, Iowa, Oklahoma and Oregon — are now around 90% carbon-free 24/7.
How it works: AES said it would supply Google with a 500-megawatt mix of wind, solar, hydro and battery storage it will develop or contract.
The portfolio will require roughly $600 million of investment and generate 1,200 permanent and temporary jobs, it said, while calling it a way to help decarbonize the region's grid more broadly.
"Our plan is to provide this kind of carbon-free energy product in the future to a wide range of customers in similar circumstances," AES Clean Energy President Leo Moreno tells Axios.
The big picture: Google CEO Sundar Pichai told Axios' Andrew Freedman that relying only on carbon-free power around the clock everywhere is their "moonshot goal."
"Moving to a world where we are able to operate by sourcing clean energy for every location and where you are, and, and doing it across your operational footprint in everything you do — I think that's profound," he said in a recent interview.
3. Uber's new plan for electric rides
Uber and the electric vehicle startup Arrival are teaming up to develop an "affordable, purpose-built" EV for the ride-hailing industry that Arrival hopes to bring into production in late 2023, the companies said.
Why it matters: Making ride-hailing electric is important from a climate standpoint, given the mileage the vehicles travel and signs that ride-hailing replaces some walking, biking and mass transit use.
What's next: Arrival said it will collaborate with Uber drivers in the design process to ensure the vehicle "reflects the needs of professional drivers and their passengers," with a final design expected later this year.
However, as The Verge notes, the vehicle won't be exclusive to Uber.
Context: The Verge also looks at what it means for U.K.-based Arrival, whose investors include UPS and BlackRock.
It notes it's "another vote of confidence" in the startup that recently went public via a SPAC deal, and also has backing from Hyundai and Kia.
Go deeper: Uber vows big expansion of electric rides
4. Distributed power startup Mainspring lands $95 million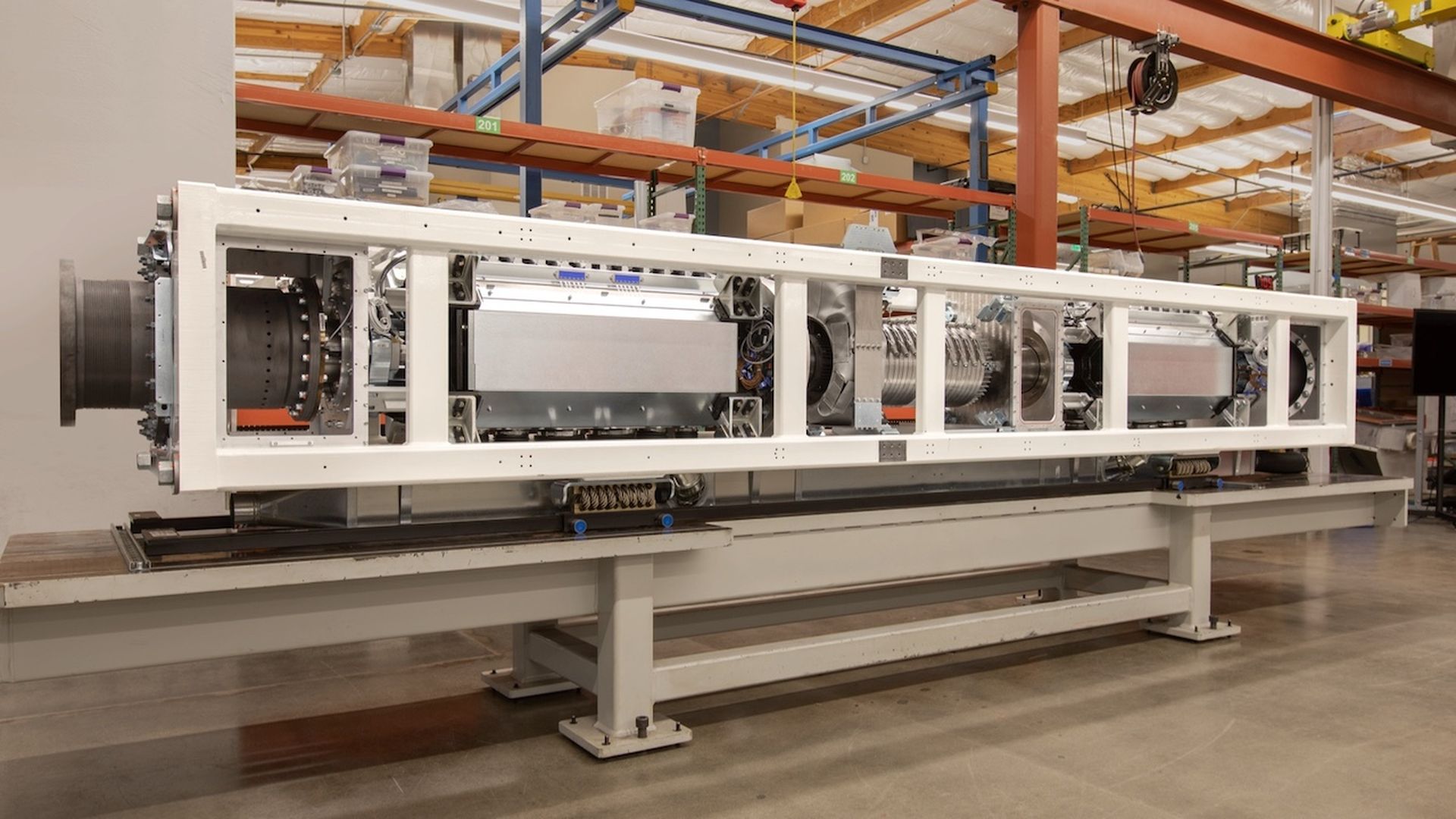 The distributed generation company Mainspring Energy has raised $95 million in new funding led by Fidelity Investment's private equity arm, alongside other new and existing backers like Chevron, Princeville Capital and Bill Gates.
Why it matters: There's growing interest in low-carbon onsite power sources as a way to fight climate change and to create more flexibility and resilience as grids are increasingly stressed by extreme weather.
How it works: The Bay Area firm's technology, called a "linear generator," is designed to run on multiple fuels.
It uses a "low-temperature reaction of air and fuel to drive magnets through copper coils to efficiently produce electricity."
CEO Shannon Miller has likened it to "an air hockey table that you've wrapped around into a tube."
Where it stands: Mainspring — founded by Stanford engineers in 2010 and formerly called EtaGen — said the new money brings its total capital raised to $228 million.
The Series D financing will enable Mainspring to add customer deployments, expand manufacturing and add staff, the company said.
It comes about two months after Mainspring announced a $150 million deal with power heavyweight NextEra Energy Resources to buy Mainspring units and finance customer projects.
Go deeper: Mainspring Energy launches its flexible fuel generator with a $150 million NextEra Energy contract (TechCrunch)
5. Biden administration notes: Solar, Kerry, climate
Power: The Interior Department announced Monday that it has approved a massive solar energy project on California's public lands, Axios' Ivana Saric reports. Read more
Money: Sen. Chuck Grassley (R-Iowa) wants more details about John Kerry's personal finances and how the Biden climate envoy is avoiding conflicts between his official duties and private investments, Axios' Lachlan Markay reports. Go deeper
ICYMI: The Environmental Protection Agency Monday morning floated draft regulations to sharply phase down planet-warming gases used in air conditioning and refrigeration over the next 15 years. Keep reading
6. Auto giants play the long game on batteries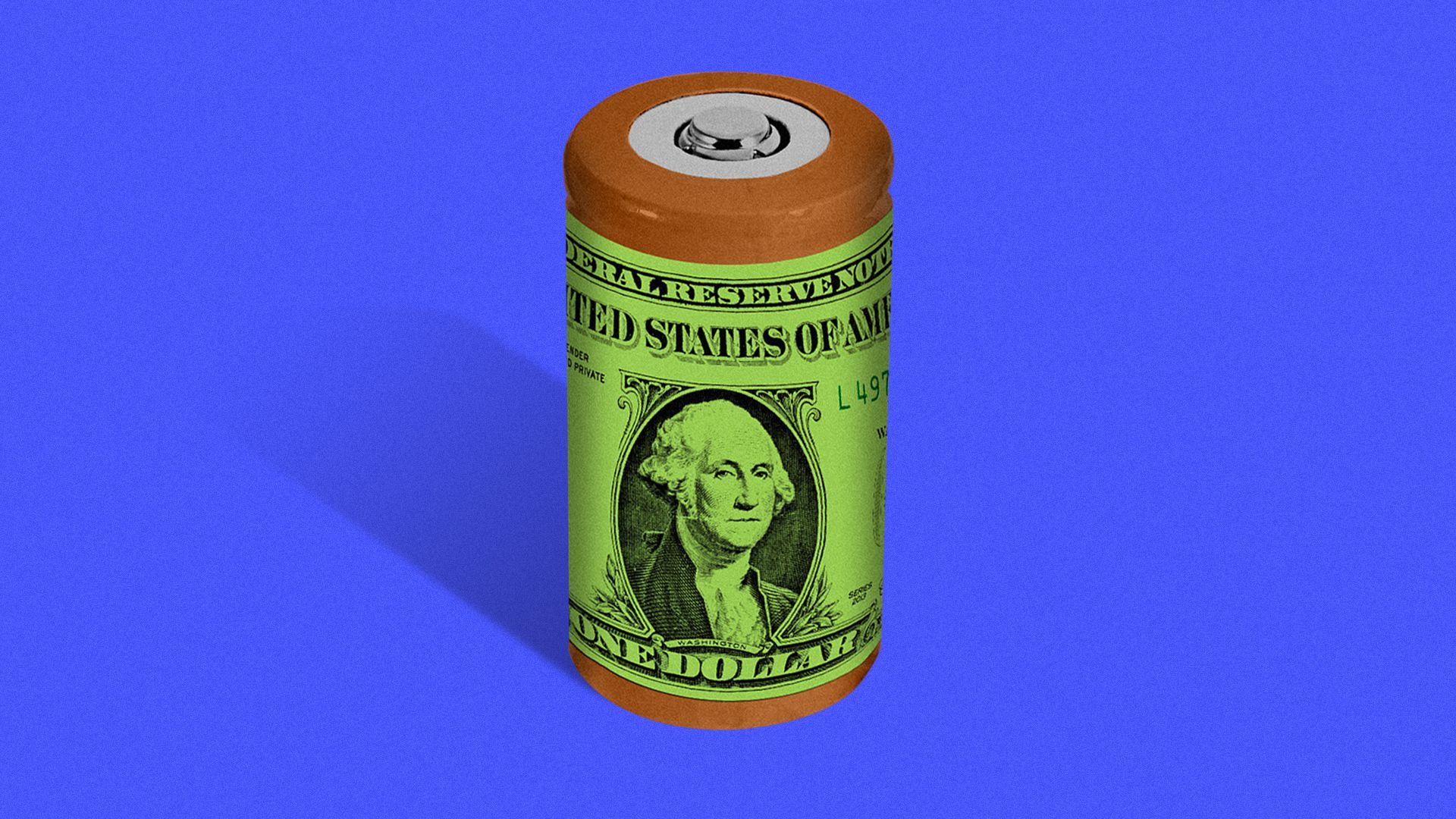 Ford and BMW, along with the VC firm Volta Energy Technologies, are investing $130 million in the solid-state battery startup Solid Power.
Why it matters: Solid-state batteries hold the promise of more energy density, durability and safety than existing battery tech with liquid electrolytes.
But successful and widespread commercialization remains a challenge.
The intrigue: The funding also signals how the world's biggest car companies are looking years ahead as they increasingly electrify their fleets.
Per the announcement, beyond the funding, the automakers have also expanded their separate joint development agreements with Solid Power.
CNBC reports that their interest in solid-state tech is a long game — they note that Ford and BMW are eyeing integration of solid-state batteries into mass-produced EVs by the end of this decade.
The two automakers now have equal equity stakes in the Colorado-based startup and will each have representatives on its board, Ford said.
The big picture: The new funding and development agreement comes a week after Ford announced a $185 million to create a battery R&D lab in Michigan.
It's an initial step toward potential large-scale manufacturing in the future.
Cox Automotive analyst Michelle Krebs said the two developments help to show how automakers are positioning themselves in the increasingly intense competition for batteries.
"They are realizing they need to be vertically integrated to some degree on batteries," she said. Krebs also said the chip shortage plaguing the industry has been "eye-opening for a lot of companies."