March 28, 2019
Good morning!
Breaking in EVs: Via the Wall Street Journal, "Daimler AG and Chinese auto maker Zhejiang Geely Holding Group have agreed to create a joint venture in China to transform Daimler's struggling Smart compact city car into a global all-electric brand, the companies said Thursday."
And onto music. Tomorrow will mark 40 years since Supertramp released "Breakfast in America," so the title song and its cool clarinet track bring us into the news...
1 big thing: Scaling up corporate renewables
Google, Facebook, Walmart and other corporate giants have launched a new trade association with hundreds of members aimed at greatly expanding direct renewable power purchases by companies large and small.
Why it matters: The Renewable Energy Buyers Alliance is a sign of both the mainstreaming of corporate procurement and a recognition that companies face market barriers, even as wind and solar costs have fallen.
Other companies involved include General Motors, Johnson & Johnson, First Solar, Salesforce, and Citi.
Overall, hundreds of companies — spanning energy buyers, renewable power developers and service companies — are taking part, the announcement states.
The big picture: The group hopes to collectively bring more than 60 gigawatts of new renewable capacity online by 2025.
That's a lot! As CNBC's Tom DiChristopher points out, that's nearly equal to the total amount of U.S. solar photovoltaic capacity of 64 GW at the end of 2018.
Last year saw roughly 6.5 GW added via new corporate renewables deals, according to the nonprofit Rocky Mountain Institute (RMI).
How it works: The group will provide members with technical assistance, education, data and more to help navigate the complexities of renewables procurement.
But at the same time, they hope to push for ways to remove friction from the market, not just help companies overcome it.
"The barrier to growth is access, not cost, and that needs to change," Michael Terrell, Google's head of energy market strategy, tells Axios.
The group will have the ability to lobby at the state and federal level, but has not yet unveiled its policy agenda.
Where it stands: A bunch of companies including Big Tech have been scaling up renewables procurement in recent years.
The new effort is aimed at making it a far wider corporate practice, in part by helping the big companies that have been at the forefront of renewables procurement share their expertise.
Between the lines: Terrell says every company — whether a bakery or a big box retailer — "should have a direct and easy path to buying clean energy."
He calls it part of tackling climate change. "We need to be giving every buyer who wants to be clean the opportunity to do that," Terrell adds.
Flashback: The group has its origins in a partnership developed between RMI, World Wildlife Fund, World Resources Institute, and Business for Social Responsibility several years ago.
"The new REBA will be a larger, better-resourced organization than when it was simply a collection of separate programs," RMI spokesperson Nick Steel said in an email.
Go deeper: The corporate renewables surge
2. Chart of the day: U.S. power sector CO2 rises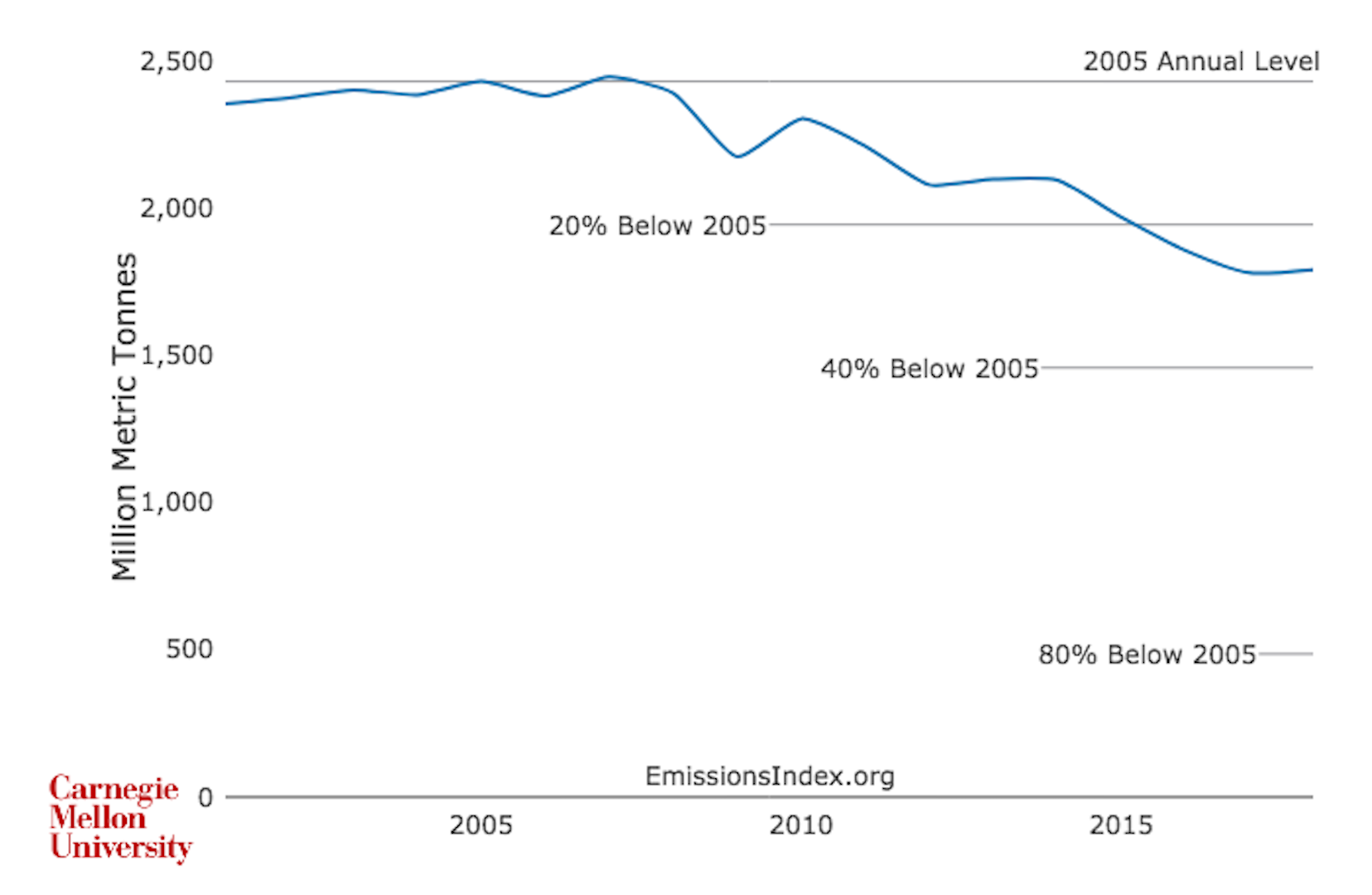 New data from a Carnegie Mellon University project show that U.S. power sector carbon emissions ticked upward last year, because overall generation rose enough to outpace declines in emissions per unit of output.
Why it matters: The newly updated Power Sector Carbon Index shows the challenge of continuing — let alone accelerating — what has been a major decline in emissions from electricity over the last decade.
The big picture: Total electricity generation rose in 2018 after what has largely been a multiyear plateau.
The sector's CO2 emissions were 1,791 million metric tonnes, up from 1,780 million metric tonnes the prior year, representing the first uptick in a half-decade (see chart above).
Emissions intensity — the amount of CO2 per unit of power produced — is 29% lower than 2005 as the power mix has moved away from coal and has seen growth in gas and renewables.
3. The Fed and climate change
Axios' Dion Rabouin reports that the Federal Reserve waded unambiguously into the conversation about climate change this week, as the San Francisco Fed produced a report detailing the potential financial, economic and monetary policy implications of global warming.
Why it matters: Glenn Rudebusch, a senior policy adviser and EVP at the San Francisco Fed, argues in the report that climate change is becoming increasingly relevant for monetary policy.
This week's paper was the first clear indication in an official Fed release that the central bank is watching and preparing for the potential of major financial disruptions from climate change.
Threat level: "Climate-related financial risks could affect the economy through elevated credit spreads, greater precautionary saving, and, in the extreme, a financial crisis," Rudebusch writes. He states...
"With regard to financial stability, many central banks have acknowledged the importance of accounting for the increasing financial risks from climate change. ... These risks include potential loan losses at banks resulting from the business interruptions and bankruptcies caused by storms, droughts, wildfires, and other extreme events."
4. The big Aramco deal and more petro-notes
Deals: Via Reuters, "The world's largest oil producer Saudi Aramco has agreed to buy a 70 percent stake in Saudi Basic Industries Corp (SABIC) from the kingdom's wealth fund for $69.1 billion in one of the biggest deals in the global chemical industry."
Geopolitics: "The US shale boom has made it possible for the Trump administration to take stronger positions in support of Israel, including recognising its sovereignty over the Golan Heights, because it is no longer dependent on imported oil, a senior US official has said," according to the Financial Times.
Click here for their interview with Dan Brouillette, the deputy secretary of energy.
Drilling: Bloomberg reports that for all the attention given to onshore shale boom, there's a lot happening offshore too.
"After years in the shadow of the U.S. shale patch, deep-water explorers from Royal Dutch Shell Plc to Talos Energy Inc., along with contractors such as Ensco Plc and TechnipFMC Plc, told investors at the Scotia Howard Weil Energy Conference in New Orleans this week they see a revival coming," they report.
Plastics: The European Union Parliament voted Wednesday 560-35 to ban single-use plastics with reasonable alternatives starting in 2021, per AP.
5. Poll: 51% support the Green New Deal
A new NBC News/SurveyMonkey poll shows that 52% of adults either strongly or somewhat agree with the Green New Deal, compared to 42% who disagree with it.
Why it matters: The survey conducted from March 18–25 provides a snapshot of public opinion about the sweeping proposal that has been driving the climate and energy policy conversation in recent months.
But, but, but: The NBC/SurveyMonkey question was asked in a very broad-brush way ("Do you agree or disagree with a proposal called the Green New Deal that addresses issues related to climate change") .
The intrigue: A New York Times opinion piece yesterday from a founder of the pro-GND think tank Data for Progress looks at results from their polling with Civis Analytics.
They asked questions with several hypotheticals about policy and costs (such as raising taxes by 15% on incomes over $200k), and a thumbnail of Democratic arguments for the GND and GOP criticism of it.
The bottom line: "What we found suggests very little reason for Democrats to worry about backlash: Forty-six percent of likely voters supported the policy and 34 percent opposed it," writes Data for Progress co-founder Sean McElwee.