April 05, 2021
Welcome back! Today's Smart Brevity count is 1,181 words, 4.5 minutes.
🎶 And at this moment 45 years ago, the late Johnnie Taylor was #1 on the Billboard singles charts with today's intro tune...
1 big thing: The electric vehicle sales surge
Tesla's stock is up over 7% in premarket trading this morning after it reported record deliveries in the year's first quarter on Friday. But it's not the only manufacturer seeing sales increases this year.
Why it matters: Even as gasoline-powered sales return from the pandemic, cars with plugs are going faster, albeit from a much smaller base.
"It's clear EV sales, both in the U.S. and globally, are increasing on a percentage basis faster than traditional internal combustion vehicles," iSeeCars.com analyst Karl Brauer tells Axios.
"Multiple automakers have introduced high-volume models in the past 12 months, with Tesla's Model Y and Ford's Mach-E being two prime examples," he said in an email.
Driving the news: Tesla beat analysts' expectations with 184,800 deliveries.
The full EV sector's Q1 tallies are still emerging, though Tesla is the leading player.
But individual company figures and a Morgan Stanley research note have some noteworthy numbers.
Over 181,000 fully electric vehicles were sold worldwide in February, which is up 138% compared to February 2020, per Morgan Stanley and data partner EV-Volumes. And January's numbers were even higher.
Several major automakers saw increases, including Ford, thanks to the initial deliveries of its new Mustang Mach-E.
Ford said in a separate release that it sold 6,614 in the U.S. despite what amounts to a cameo on dealer lots so far.
GM reported that U.S. Q1 sales of its Bolt EV are up over 50% compared to last year.
The intrigue: Higher figures are likely in part related to the pandemic, but that alone doesn't account for the acceleration.
Its full effects were not apparent in early 2020, and unlike internal combustion models, EV sales actually rose last year.
But, but, but: EVs still represent a very small (but rising!) fraction of total sales, and the U.S. lags behind China and Europe.
Per Morgan Stanley, fully electric cars were 2.3% of U.S. sales in February, compared to 6.3% in Europe and 7.9% in China.
U.S. manufacturers face battery supply chain challenges.
And the global chip shortage is affecting the overall industry, threatening production and sales.
What's next: A fuller picture of global Q1 EV sales will emerge in the coming days, so stay tuned.
Bonus: GM's electric Hummer SUV debuts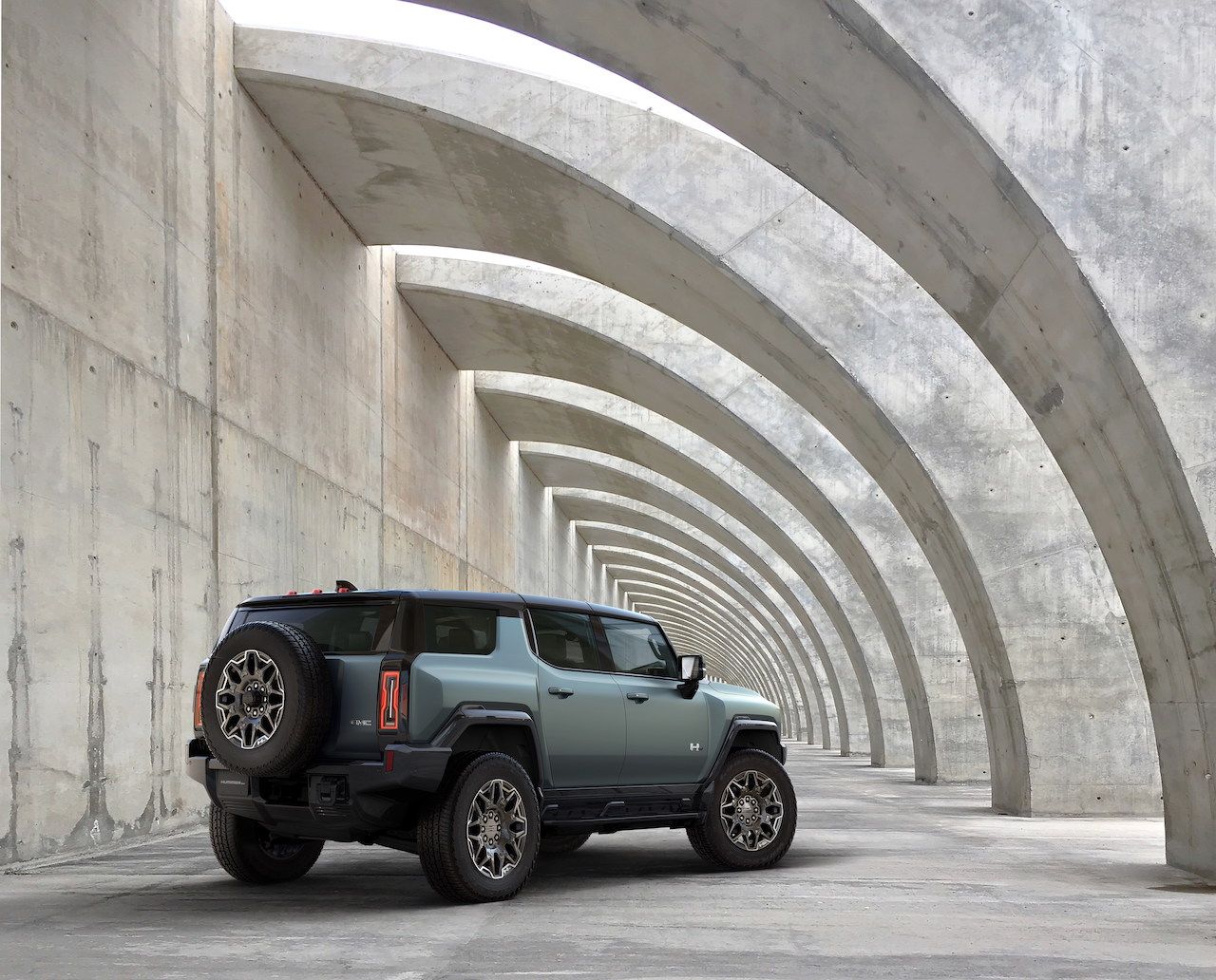 General Motors unveiled its upcoming electric Hummer SUV over the weekend, following last fall's rollout of the pickup version.
The first and pricier versions — which are well over $100,000 — go into production in late 2023, two years behind the pickup.
Go deeper: Hummer's new electric SUV can drive diagonally, with 300 miles of range and a $110,000 price tag (The Verge)
2. Why climate action risks leaving some behind
Axios contributor Amy Harder writes...A year ago, almost all of us were grappling with the unknowns of the pandemic. Today, some of us are doing just fine, while others are still reeling.
Why it matters: This split-screen economy, called a K-shaped recovery, highlights the risk facing politicians, including President Biden, as they rally around bold climate action.
If new climate laws aren't inclusive of those less well off in America and around the world, they risk exacerbating inequality.
The big picture: In a K-shaped recovery, the arm of the K represents higher-income people who can work from home and shield themselves from the pandemic's health and economic harm relatively easily.
In fact, the wealth of those on the K's arm has been growing over the past year as the stock market grew.
The leg of the K is comprised of blue-collar workers, small business owners and the half of the U.S. population that isn't invested in the stock market.
Where it stands: Climate change is an especially dire threat to people on the K's legs. Society's efforts to transition to clean energy and the impacts of a warming world both disproportionately impact poorer people in America and abroad.
Lower-income people spend a larger amount of their paychecks on heating, electricity and transportation. This is especially so in Black and Hispanic communities, where poverty rates are higher.
Lower-income people are also less financially able to respond to or move away from places that climate change is making hotter, drier or more at risk of extreme weather.
Editor's note: Amy Harder is vice president of publishing at Breakthrough Energy. Previously full time at Axios, Amy is now writing her Harder Line column monthly as an outside contributor.
3. The limited U.S. drilling revival
The number of U.S. oil drilling rigs in operation last week climbed by 13 to reach 337, Baker Hughes data shows.
Why it matters: It's the highest in nearly a year and, as Reuters notes, the increase was the largest since January 2020.
The increases — a signal of future output rises — are a sign of some activity returning from the pandemic as prices have risen.
The big picture: The Wall Street Journal explains why Pioneer Natural Resources' $6.4 billion deal to acquire DoublePoint Energy announced last week is another sign of life in the U.S. oil patch.
"A surge in the shares of U.S. oil producers, following the rollout of Covid-19 vaccines and a slow but steady recovery in oil demand, is enabling larger companies to use their equity to pay for targeted acquisitions," it reports.
But, but, but: It will be a long time before U.S. production approaches its pre-pandemic high of around 13 million barrels per day — if it ever happens.
The future of global demand growth is pretty hazy, while shale companies are under investor pressure to show returns instead of relentlessly pursuing growth.
What's next: The Energy Information Administration's next monthly look-ahead arrives tomorrow.
Last month the EIA forecast that U.S. production will average 11.1 million barrels per day this year and 12 million in 2022.
4. Catch up fast on the Beltway: Congress and labor
Strategy: "U.S. President Joe Biden would be willing to push through his $2 trillion infrastructure plan without the support of Republican lawmakers if he cannot reach a bipartisan deal, Energy Secretary Jennifer Granholm said on Sunday." (Reuters)
Tension: "Labor groups, echoed by Republicans in Congress, are cautioning that Biden's plan to hitch the jobs recovery to massive green energy investment could backfire because of the quality of employment it will create and the economic devastation it could cause on rural communities." (Politico)
5. Industry heavyweights boost carbon price lobbying
CEO Climate Dialogue, a two-year-old group that includes execs from giant energy and industrial companies, has brought on lobbying powerhouse Forbes-Tate.
Why it matters: The newly public filing highlights the increased K Street activity around pricing since President Biden's win opened the door for new climate legislation.
The group's members include Shell, BP, Ford, Dow, BASF, PG&E, Dominion Energy, Unilever and other big companies, as well as several environmental groups.
What they're saying: Forbes-Tate, in response to a query about working with the CEO Climate Dialogue, said the relationship began early this year and that the group sees 2021 as a "pivotal year for climate action."
"The CEO Climate Dialogue is uniquely positioned to advocate for an economy wide market-based carbon price and policies in line with their Guiding Principles that are needed to achieve net-zero emissions across the economy by 2050," it said.
But, but, but: Advocates of carbon taxes or permit trading systems face a steep uphill climb — pricing has lost cachet as a policy tool among Democrats while there's very widespread GOP opposition.
The White House climate proposal last week does not include pricing among its policy goals.