Axios Generate
December 18, 2018
1 big reminder: Our daily Axios Markets newsletter launches Jan. 7 and will cover all the important stories in markets, business and finance.
Dion Rabouin will be our markets editor, joining reporter Courtenay Brown and the writers of our other two business newsletters: Felix Salmon with the weekly Axios Edge and Dan Primack with his daily deals newsletter Axios Pro Rata.
The plan: Mike Allen will send two more editions of Axios Markets on Dec. 19 and Jan. 2 before Dion takes over. To get Axios Markets sign up here.
Onto music and a big, "Happy" 75th birthday to the Rolling Stones' Keith Richards, the man behind today's intro tune...
1 big thing: the disconnect over climate and coal
Global demand for coal, the most carbon-emitting fuel, is slated to grow slightly over the next 5 years, according to a new International Energy Agency forecast.
Why it matters: The latest projection of coal's persistence in the global energy mix arrives on the heels of major scientific reports warning that worldwide emissions must start plummeting — and soon — to avoid potentially disastrous warming.
"Despite significant media attention being given to divestments and moves away from coal, market trends are proving resistant to change," IEA said.
However, the agency's latest 5-year lookahead report trims its demand growth forecast slightly compared to last year's analysis.
The big picture: Surging demand in India and elsewhere in southeast Asia — including Indonesia and Vietnam — is driving the uptick.
It's cancelling out substantial declines in Europe and the U.S., which continues to move away from coal despite White House efforts to revive its fortunes.
Where it stands: Keisuke Sadamori, IEA's director of energy markets and security, said in a statement:
"The story of coal is a tale of two worlds with climate action policies and economic forces leading to closing coal power plants in some countries, while coal continues to play a part in securing access to affordable energy in others."
Buzz: IEA is using the forecast to make the case for stronger global efforts to deploy Carbon Capture, Utilization, and Storage (CCUS) technologies in the power sector...
"While 2018 brought some good news in terms of policies and projects, our progress with deploying CCUS remains woefully off-track with what is required for a sustainable energy future."
2. Oil companies are making more big finds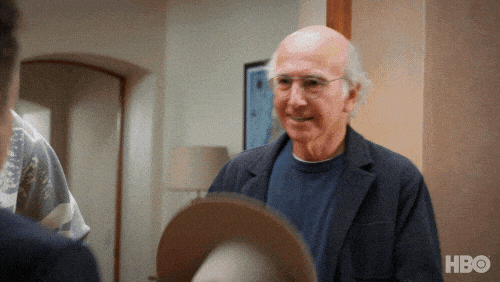 The oil-and-gas industry has halted years of declining investments in exploration and it's paying off in the form of big conventional finds.
Where it stands: The consultancy Rystad Energy said in a note Monday that discoveries this year will total an estimated 9.4 billion barrels of oil-equivalent.
It's the biggest year for exploration since 2015, they said. The total is dominated by offshore finds, including Exxon's string of big oil exploration hits off Guyana's coast.
The big picture: Industry spending on oil-and-gas exploration began plunging nearly a half-decade ago, dropping 61% from 2014 levels, but the picture is changing again. Rystad analyst Palzor Shenga said in a statement...
"Global exploration activity and discoveries have halted their year-after-year decline and look set to rise in the next year...
"This as an exciting recovery which runs contrary to a decline in global exploration spending from 2014 to 2017."
By the numbers: Analysis from the consultancy Wood Mackenzie — shared with Reuters and confirmed by Axios — shows that upstream spending is slated to grow to $425 billion next year.
That's $25 billion above 2016–2017 levels but still far below the $770 billion the industry spent finding new supplies in 2014.
"More careful allocation of capital since 2017 has returned exploration to profitability, and 2019 looks set to be another promising year. Hotspots will include Guyana, Brazil, Mexico, US Gulf of Mexico, Cyprus, South Africa and the Barents Sea in Norway," WoodMac said in a note.
In addition, WoodMac also sees an increase in final investment decisions on large production projects, including big South American offshore fields, rising next year.
The intrigue: It's not clear whether the industry will bring enough new crude supplies online in coming years to avoid problems down the road as demand grows and mature fields decline.
There's a (disputed) view among some analysts that despite the U.S. shale surge, a global supply crunch could surface in the 2020s absent stronger investment in conventional exploration and megaproject approvals.
What they're saying: The IEA's big World Energy Outlook in November warned: "The average level of new conventional crude oil project approvals over the last three years is only half the amount necessary to balance the market out to 2025."
IEA fears that the rise in U.S. shale production won't be enough to close the potential gap.
3. More petro notes: prices, shale, LNG
State of the market: "Oil prices continued a steep slide early Tuesday, as concerns that slowing global growth could further hinder demand for crude outweighed production cuts by the Organization of the Petroleum Exporting Countries," the Wall Street Journal reports.
Prices slipped to $58.10 for Brent crude and $48.80 for WTI this morning.
Threat level: One thing that could be on traders' minds is the seemingly relentless rise of U.S. shale output.
The Energy Information Administration estimated yesterday that production from U.S. shale basins has cracked the 8 million barrels per day barrier and will be around 8.17 mbd next month. Those numbers are rough and infused with caveats, but can still affect the market.
More shale: Per Bloomberg, "Royal Dutch Shell Plc is in negotiations to buy Endeavor Energy Resources LP for about $8 billion, according to people familiar with the matter, or roughly half as much as the Texas oil producer was expected to fetch when it put itself on the block this year."
LNG: Via Reuters, "The scramble for new projects to export liquefied natural gas (LNG) is shifting to the Pacific Northwest, where longstanding proposals are getting a renewed look as rising shipping rates make the region's easy access to Asia more appealing, with gas price shifts sweetening the deal."
4. "Green New Deal" is popular mystery to voters
Two pieces of energy and climate polling out yesterday caught my eye...
Green New Deal: A survey from Yale and George Mason universities find that respondents really like the "Green New Deal," which a growing number of Democrats led by progressive newcomer Alexandria Ocasio-Cortez are pushing. The details...
81% of registered voters either "strongly" or "somewhat" support these features of the deal: a move to 100% renewable power within 10 years, upgrades to grid and other infrastructure, and job training.
This includes nearly two-thirds of Republican respondents.
But, but, but: There are some big caveats here. The poll question only partially describes the sweeping climate and economic proposal, which also includes job guarantees, universal health care and a lot more aspects. I don't know how that might change the answers one way or the other.
Of note: The analysis accompanying the poll makes 2 other big points...
82% of voters had never heard of the idea.
The question did not mention that the proposal is coming from the left.
The bottom line: "For any survey respondents who were previously unaware of the Deal, it is likely that their reactions have not yet been influenced by partisan loyalty," per the analysis. Polarization over it could grow moving forward, they said.
* * *
Climate change: Via CNBC, a new NBC/WSJ poll shows that "66 percent of Americans now say they've seen enough evidence to justify action on climate change, up from 51 percent two decades ago."
However, "A 56 percent majority of the GOP says either that concern about climate change is unwarranted or that more research is necessary before taking action."
5. Who might replace Ryan Zinke at Interior
E&E News has a nice rundown of roughly a dozen names floating around, including:
GOP Reps. Raúl Labrador, Rob Bishop, and Cathy McMorris Rodgers (though they quote a source saying she's not interested).
"Labrador may be a leading candidate, after the Associated Press reported that he met with White House officials on Saturday," they report of the Idaho lawmaker who's leaving Congress.
Other names in the mix include...
Deputy Secretary David Bernhardt, who is slated to take the job on an acting basis.
Nevada GOP Sen. Dean Heller, who lost his re-election bid.
Outgoing Wyoming GOP Matt Mead, who is term-limited.
6. The climate link to the refugee crisis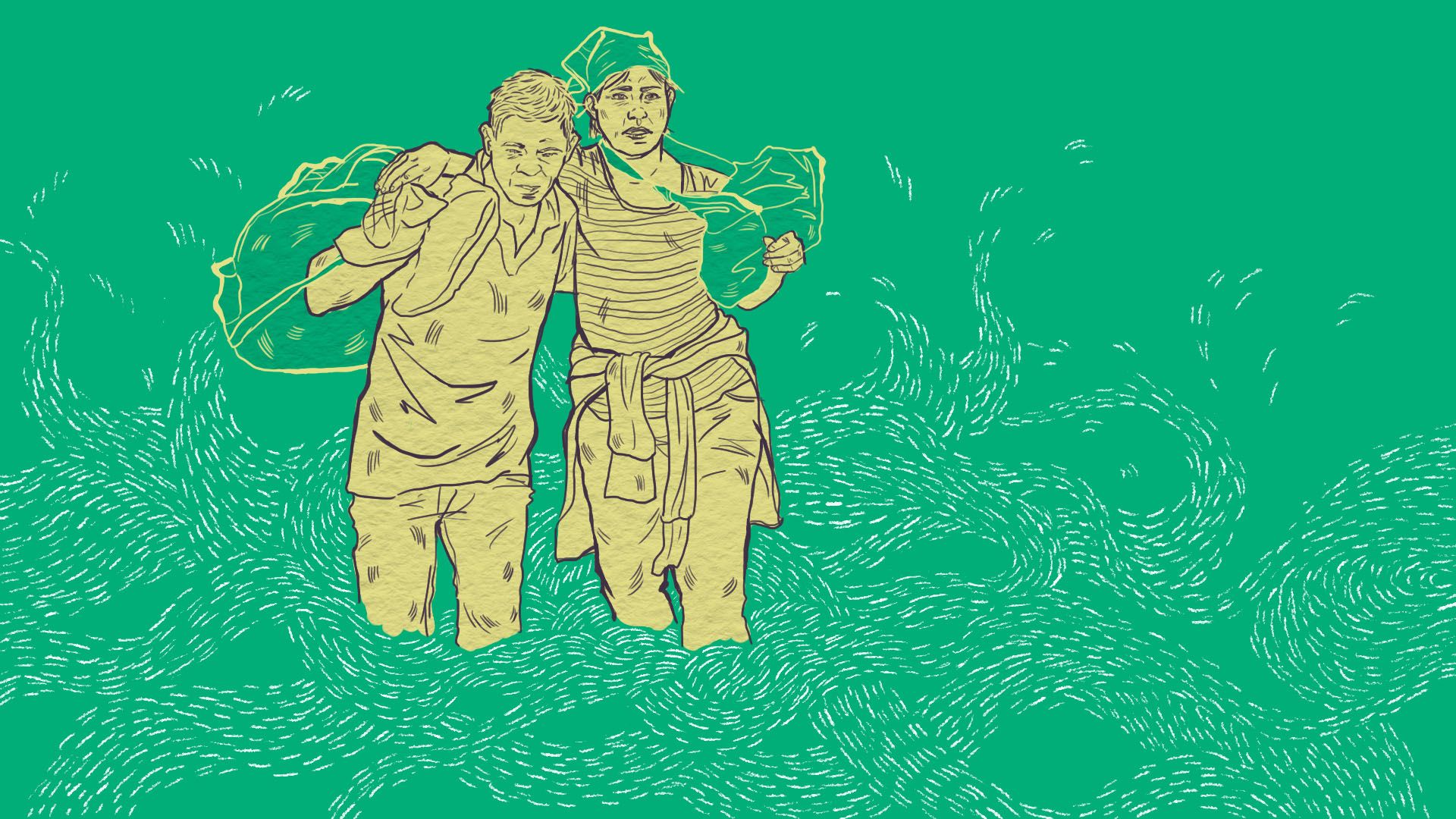 The U.S. military views climate change as a threat multiplier, one that is likely to worsen already existing weaknesses of government and poverty, Axios' Andrew Freedman reports.
Why it matters: Internal and external climate displacement is already occurring. Depending how quickly and significantly temperatures rise, the specter of climate migration and refugee flows looms large by midcentury.
Rising seas: In 2017 alone, nearly 19 million new internal displacements were recorded in more than 130 countries worldwide, largely triggered by extreme weather events such as floods and tropical cyclones, according to the Internal Displacement Monitoring Center.
That's more than were displaced due to armed conflict in the same year, and climate change is aggravating many of these extreme weather events.
Drought: In addition to sea level rise, water stress is the biggest concern of humanitarian groups and military planners.
By making droughts hotter and drier, the threat of drought induced migration and conflict is growing in areas that are vulnerable to social and military strife.
The bottom line: No refugee crisis or migration flow is purely due to climate change. But already, global warming-related factors are playing a role in setting people into motion, both within countries and between them.
Go deeper: Read this full story and check out Axios' deep dive into the global refugee crisis.
7. Trump's mixed message on carbon capture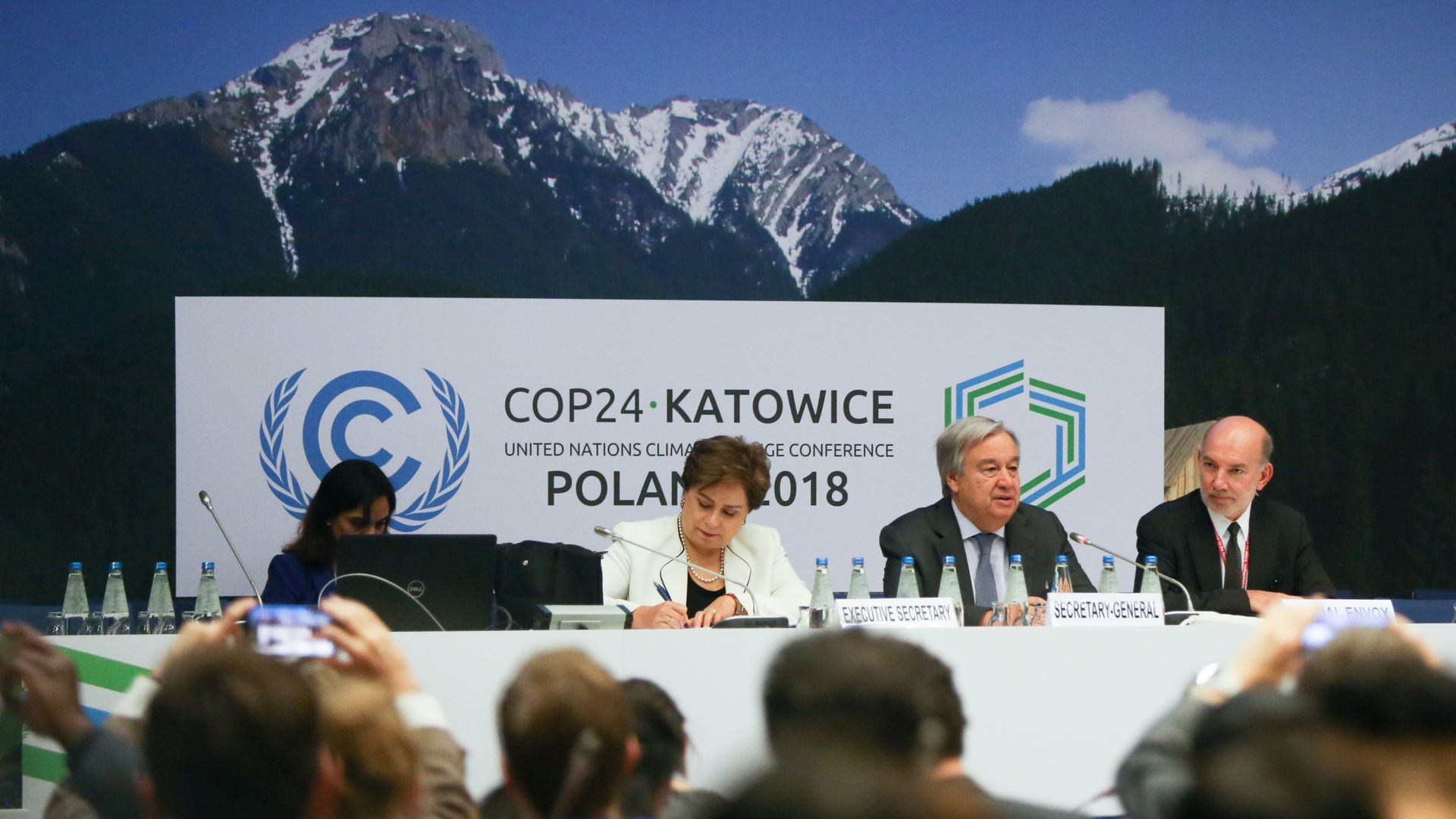 Axios Expert Voices contributor Sarah E. Hunt sees a disconnect in the White House posture on coal, based on their position at the UN climate conference last week.
Where it stands: Speakers at the Trump administration's event in Katowice, Poland, argued that future coal plants should be built with advanced clean coal technology from the U.S., which includes carbon capture and storage (CCS).
The big picture: Chinese emissions are rising, and China, India and African nations have hundreds of new coal-fired plants planned and under construction.
But, but, but: The Trump administration's commitment to energy R&D has been shaky.
Advanced nuclear and clean coal technologies have the potential to reduce GHG emissions, but they are unlikely to deploy at a global scale without additional public and private research investment.
Hunt is the co-founder and CEO of Joseph Rainey Center for Public Policy.