May 10, 2018
Good morning!
May 12 will mark the 1972 release of the Rolling Stones' double-album Exile On Main St., so I'm giving that masterpiece the newsletter's intro music two days in a row. Here's today's opener . . .
1 big thing: the reach of Trump's Iran move
Two complementary lines of conventional wisdom have emerged in the wake of President Trump's decision to abandon the Iran nuclear deal and reimpose energy sanctions.
One is that the bid to punish Iran by curbing their crude sector will have a real but nonetheless somewhat limited effect.
It's one that's well below the roughly 1.2 million barrels of Iranian oil that joint sanctions imposed years ago took off the market, which helped ramp up pressure for the nuclear deal.
Quoted: "At first blush, the reimposition of U.S.-only sanctions is expected to be less effective in (volumetrically) reducing Iranian oil exports than the sanctions achieved by the multilateral coalition during the Obama administration," notes this new Center for Strategic and International Studies analysis.
"Large importers like China and India are likely to continue Iranian purchases, and Russia has previously offered to market Iranian barrels," writes CSIS energy expert Frank Verrastro.
Crude prices have steadily risen in recent days to fresh three-and-a-half year highs, but they're not soaring in a way that would signal a seismic market convulsion.
But, but, but: The White House move is still altering the geopolitics of oil in important ways, because it could influence the future of the production limiting agreement between OPEC and Russia, which is currently slated to run through the end of 2018.
Context: Saudi Arabia has signaled in recent days that it's willing to raise output to help compensate for lost Iranian barrels.
"President Donald Trump's decision to withdraw from the nuclear agreement with Iran marks the end of the current output agreement between OPEC and its allies," writes Reuters analyst John Kemp.
All eyes now turn to whether any adjustments come at the June OPEC meeting, which arrives as the cartel and Russia have largely succeeded in curbing the global glut (with an assist from Venezuela's collapse).
"The Iranian sanctions may change the OPEC June meeting completely," analyst Amrita Sen of Energy Aspects said to reporters for this Bloomberg story.
"It's no longer about extending the production cuts, but rather about when to start raising output gradually," she said.
2. California's controversial solar push
A few notes on California's big new solar policy...
ICYMI: California regulators voted yesterday to mandate that, starting in 2020, newly built houses and multifamily buildings of three stories or less must have solar systems.
Why it matters: The California Energy Commission rule represents a newly aggressive policy in a state that already has ambitious climate laws and by far the nation's largest solar market.
California currently has over 21,000 megawatts of installed solar capacity — a tally that includes residential, utility-scale and other sources — that provides 16% of the state's power, per the Solar Energy Industries Association.
What will happen: Here are a few estimates on how much the mandate, which provides for certain exemptions, will spur growth beyond what's already forecast in years ahead...
The consultancy ClearView Energy Partners predicts it could drive up to 240 megawatts a year of additional growth on single-family homes.
Via Greentech Media, the CEC expects that when the standards take effect, around 100,000 new homes built each year will have solar.
Per Bloomberg, the big solar company SunPower expects the rule to increase residential solar demand in the state by 50%.
Pushback: This new piece in the MIT Technology Review criticizes the policy, quoting academics who say there are better, cheaper ways to attack carbon emissions.
UC-Berkeley economist Severin Borenstein tells the Review there are "limited political resources that can be mustered against climate change."
"By demonstrating a very expensive way to reduce greenhouse gases, I think this could very likely be used in other states and countries as an argument against moving towards renewable energy," he tells the Review.
What's next: ClearView predicts the rule could spur similar but slower-moving proposals in states like Massachusetts and New Jersey.
3. Latest in policy: cars, climate, coal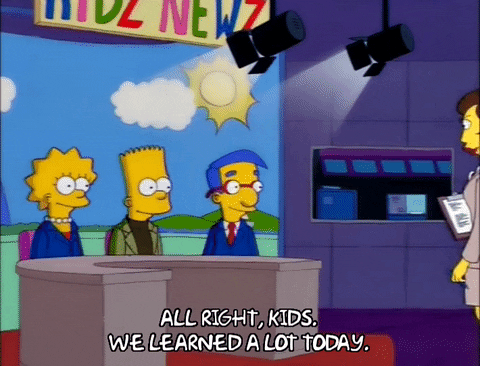 Canceled: Science magazine broke the news yesterday that the Trump administration has canceled an important, $10 million-per-year NASA program called the Carbon Monitoring System.
Why it matters: It will hinder efforts to verify progress under the Paris climate deal, Tufts University's Kelly Sims Gallagher tells Science.
"If you cannot measure emissions reductions, you cannot be confident that countries are adhering to the agreement," said Gallagher, who heads the school's Center for International Environment and Resource Policy.
Collision: The New York Times has some inside details on the crosscurrents swirling around tomorrow's meeting between Trump and auto industry executives.
Trump is expected to "deliver a pointed message: Get on board with the administration's plan to dramatically roll back fuel economy requirements," NYT reports.
The context: As we noted earlier this week, the industry chafed under tough Obama-era mileage mandates, but now they're also wary of potential rollbacks too far the other way.
The NYT reports that auto industry reps have been quietly meeting with senior White House aides in recent days to prepare for the meeting.
Coal and nuclear: Per Utility Dive, "The Department of Energy is 'looking very closely' at using the Defense Production Act (DPA) to keep coal and nuclear plants from closing, Secretary of Energy Rick Perry told a House committee on Wednesday."
Why it matters: Perry's comments signal that he could be zeroing in on which policy lever DOE will try and pull next, to aid economically struggling coal-plant and nuclear operators.
4. Pipeline giant faces new climate pressure
Amy Harder reports...
Kinder Morgan shareholders approved two non-binding but symbolically important resolutions on climate change during the big pipeline company's annual meeting Wednesday.
Why it matters: These results are among the first of several high-profile votes expected this spring at numerous energy companies' annual meetings.
It's also the latest in a trend of investors increasingly calling on publicly held fossil-fuel companies to be more transparent about how policies to cut greenhouse gas emissions could impact their bottom lines despite Trump's retreat on the issue.
One level deeper: The two resolutions received majority support, though specific percentage won't be disclosed for another week or so.
One resolution calls on the company to issue a report detailing how its business would fare in a world that cuts greenhouse gas emissions roughly in line with the aspirations of the 2015 Paris climate accord.
The other one calls for an annual sustainability report.
For the record: Executive chairman Rich Kinder said the board will "carefully consider the proposals."
Go deeper: Investors stunned over oil producer's climate exemption.
5. Big in biz: Blackstone, Total, Alstom, Enbridge
Breaking record: Blackstone Group is targeting $4.5 billion for a third fund that will invest in energy projects globally, according to Bloomberg, which says the company "keeps breaking fundraising records as investors search for better returns and flee more expensive alternatives."
Natural gas trucking: French energy giant Total has agreed to buy a 25% stake in California-based Clean Energy Fuels for $83.4 million, per MarketWatch.
"There couldn't be a better endorsement for the future of natural-gas heavy-duty trucking in North America than for Total, one of the largest energy companies in the world, to step up with this investment," Clean Energy CEO Andrew J. Littlefair said.
Joint ventures: The Boston Business Journal writes that French transportation manufacturing group Alstom plans to exercise its option to exit its interests in three joint ventures in renewables, grid and nuclear with General Electric for $3 billion.
Debt reduction: In an effort to reduce its debt by $2.5 billion, Canadian pipeline operator Enbridge plans to sell its U.S. gas pipeline business, Midcoast Operating, and part of its renewable energy portfolio, Reuters reports.
An affiliate of private equity firm ArcLight Capital Partners is buying Midcoast for $1.12 billion, the report says.
6. Following up on nuclear and carbon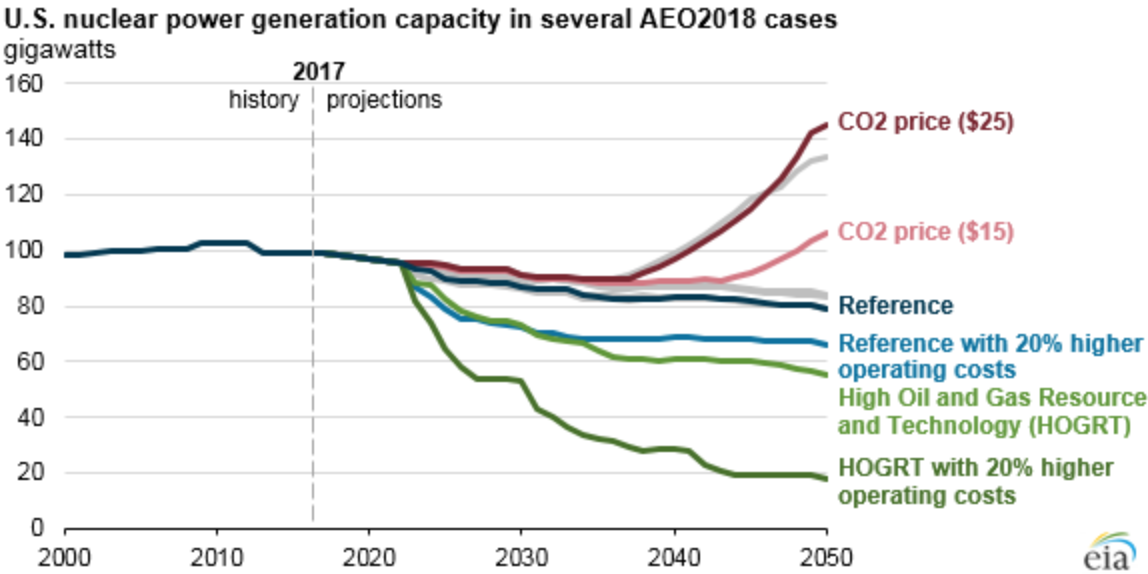 Possible futures: This Energy Information Administration report explores the amount of U.S. nuclear power slated to come offline in coming decades, and how various energy price, operating cost and carbon policies would influence the trajectory.
Why it matters: Check out the chart above. It shows how imposing a fee on carbon dioxide emissions, under EIA's modeling, would make nuclear power much more competitive and could even lead to new construction.
The context: The analysis arrives as some climate advocates are increasingly sounding the alarm that planned and potential plant retirements will badly undercut the goal of decarbonizing power generation.
One level deeper: EIA modeled various "sensitivity cases" including a carbon price that begins at $15 or $25 per ton and rises by 5% annually.
"With a $15 per ton CO2 fee, nuclear capacity increases to 106 GW in 2050; at $25 per ton, capacity increases to 145 GW in 2050," they conclude.
Worth noting: Legislation floated by Democratic Sens. Sheldon Whitehouse and Brian Schatz, two of the Senate's most outspoken climate advocates, would impose a tax that begins at $50 per ton.
Their bill is DOA, but some kind of carbon tax could resurface if Democrats regain control of Washington.