Good morning and welcome back to Generate, where today we're taking a tour of energy and climate news that ranges from Washington to the Gulf of Mexico and up to the Arctic. Please email tips and feedback to your well-traveled (not really) host at ben@axios.com. Let's look around . . .
https://www.axios.com/newsletters/axios-generate-eefa1b41-6b40-4ba3-b1b1-278b80fd2eed.html?chunk=0#story0
It's the lease you could do
It's easy to forget amid the onshore shale boom, but big, deep-pocketed energy companies are still interested in new drilling in the Gulf of Mexico.
Yesterday's Interior Department lease sale for tracts in the central Gulf—the most coveted part—drew nearly $275 million in winning bids for 163 tracts spanning around 914,000 acres.
Shell had the highest winning bid total by far at $56 million, followed by Statoil, Hess, Chevron and Exxon.
That's up from last year's central Gulf sale, which attracted $156 million in high bids, but nowhere near the salad days when oil prices were stronger. Sales in 2012 and 2013 drew well over $1 billion each.
Insight: Analysts from Wood Mackenzie made a few points in a post-game podcast . . .
The industry still has confidence in finding and economically producing oil in the deepwater Gulf.
Most of the bids were around producers' existing operations and infrastructure, but in addition to consolidating their positions, there was some frontier acreage added.
One surprise: Statoil's roughly $45 million in winning bids, given the buzz for months that the Norwegian oil giant might bail on the Gulf.
https://www.axios.com/newsletters/axios-generate-eefa1b41-6b40-4ba3-b1b1-278b80fd2eed.html?chunk=1#story1
The lights are on, but . . .
Lawmakers who will craft fiscal year 2018 spending plans for enviro and energy agencies will probably be stuck in low gear until the Trump administration fills out. Rep. Mike Simpson, who heads a subcommittee that writes DOE's spending plan, said it's been a "challenge" getting undersecretaries and staff in place.
Why it matters: The White House has floated aggressive budget cuts for message purposes, but the absence of a detailed plan and the lack of agency staff could keep the spending process from really getting down to specifics for a while. Sen. Lisa Murkowski, an Appropriations Committee member who oversees Interior and EPA, said new Interior Secretary Ryan Zinke, who she has met with in recent days, is also dealing with the lean times:
"He's told me that he has got the same problems. … It's getting these departments staffed up and getting the folks on the ground confirmed and up to speed."
Another wrinkle:
OMB Director Mick Mulvaney sent agency heads a March 17 memo warning that for now any testimony before Congress should be limited to what's in last week's "skinny" proposal. A more detailed plan is expected in May.
https://www.axios.com/newsletters/axios-generate-eefa1b41-6b40-4ba3-b1b1-278b80fd2eed.html?chunk=2#story2
The House Republicans picking climate science fights
Two gavel-wielding House Republicans are gearing up to challenge the scientific consensus on global warming.
On Wednesday, House Science Committee Chairman Lamar Smith announced a March 29 hearing on climate science that will include a pair of scientists who have broken with the vast majority of their colleagues on the issue. The Hill has a primer here.
Rep. John Shimkus, who heads an Energy and Commerce subcommittee on the environment, told reporters yesterday that he's planning a hearing, at some point, on the "endangerment finding." That's EPA's 2009 conclusion about the dangers of greenhouse gas pollution that underpins its Obama-era carbon regulations.
Why it matters:
Even as many Republicans frame their case against Obama's regulations around economic arguments and challenging Obama's interpretation of the Clean Air Act, a vocal contingent of the GOP is also keeping up their rebellion against mainstream climate science.
https://www.axios.com/newsletters/axios-generate-eefa1b41-6b40-4ba3-b1b1-278b80fd2eed.html?chunk=3#story3
The shrinking reach of Arctic sea ice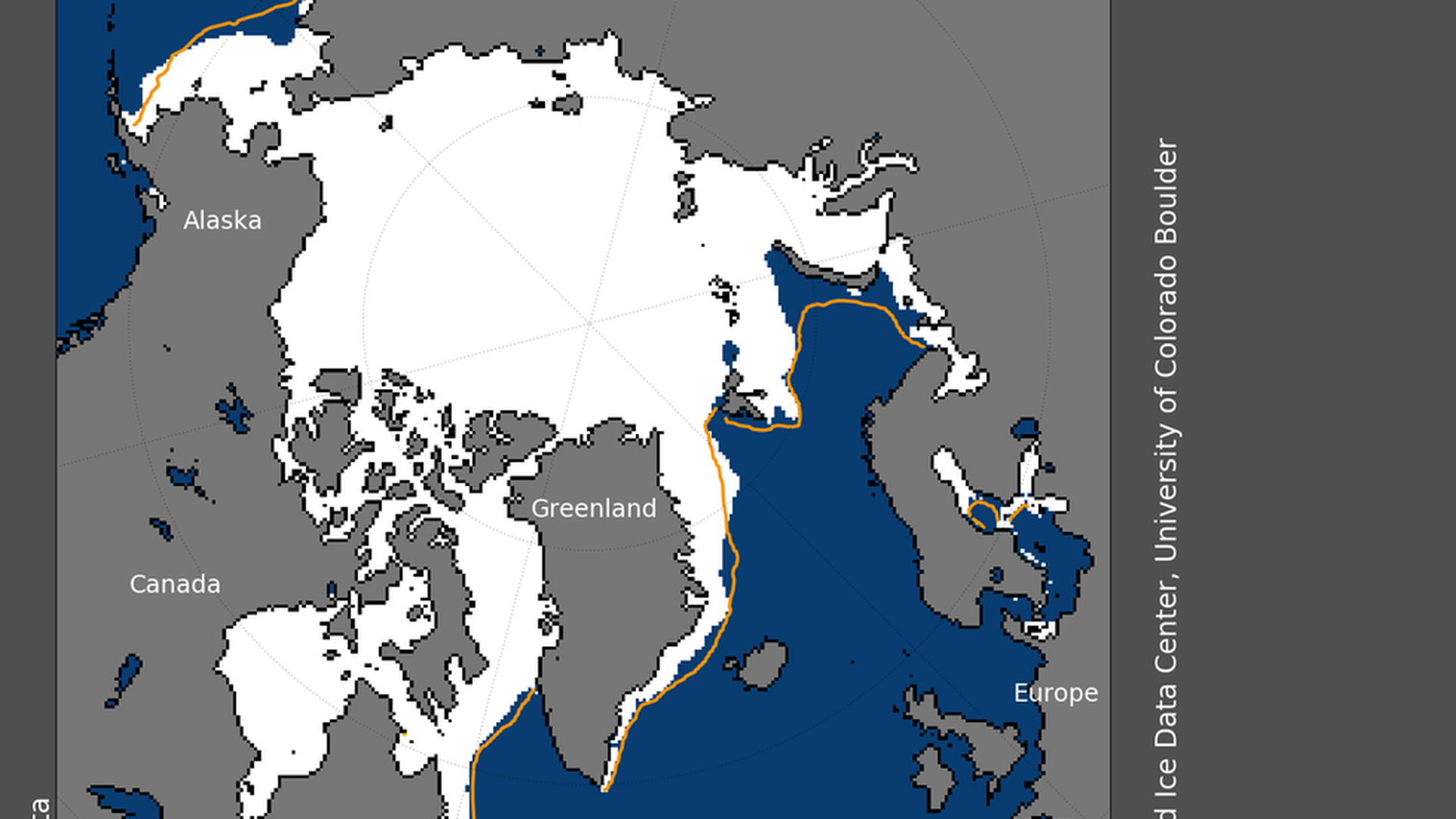 The winter reach of Arctic sea ice is at record lows for the third straight year, according to National Snow and Ice Data Center (NSIDC) analysis based on four decades of satellite records.
Why it matters: It's fresh evidence of climate change at a time of raging political battles over U.S. policy.
The maximum ice reach has been dropping an average of 2.8 percent per decade since 1979, according to NASA.
This year's maximum is 471,000 square miles below the 1981-2010 average and 37,000 square miles less than the previous low maximum in 2015, NSIDC said.
"This is just another exclamation point on the overall loss of Arctic sea ice coverage that we've been seeing. . . . We're heading for summers with no sea ice coverage at all," Mark Serreze, NSIDC's director, tells the New York Times.
The meager ice reach follows a very warm fall and winter in the Arctic Ocean that saw temperatures around 4.5 degrees Fahrenheit above average, and far warmer in some spots.
https://www.axios.com/newsletters/axios-generate-eefa1b41-6b40-4ba3-b1b1-278b80fd2eed.html?chunk=4#story4
Speed round
Ethanol advocates are adding lobbying muscle as fights over the future of the Renewable Fuel Standard intensify.
The biofuels producer Poet and the trade group Growth Energy both signed up Heather Podesta + Partners, new lobbying filings here and here show.
Bloomberg reports that environmentalists are carefully pouring over Trump's tweets and the phrasing of his executive orders for evidence of political motive or pre-cooked decisions about regulatory reviews.
Why it matters: Their piece notes that activists could use Trump's words in court battles over rules, and that lobbyists are urging the White House to be careful.
New Gallup polling shows a wide partisan gap in how people view the state of the environment.
https://www.axios.com/newsletters/axios-generate-eefa1b41-6b40-4ba3-b1b1-278b80fd2eed.html?chunk=5#story5
And finally . . .
Do climate change deniers deserve special legal protections? A Maine lawmaker says yes.
Via the Associated Press:
"Maine laws protect people from discrimination based on factors such as race, disabilities and sexual orientation, and a Republican lawmaker wants to add a person's beliefs about climate change to that list."