Axios Generate
July 31, 2019
Good morning, and welcome to a guest edition of Generate while Ben Geman is out of the office.
Today's Smart Brevity count: 1,231 words, < 5 min read.
Let's get to it.
1 big thing: Top Obama official to call for "Green Real Deal"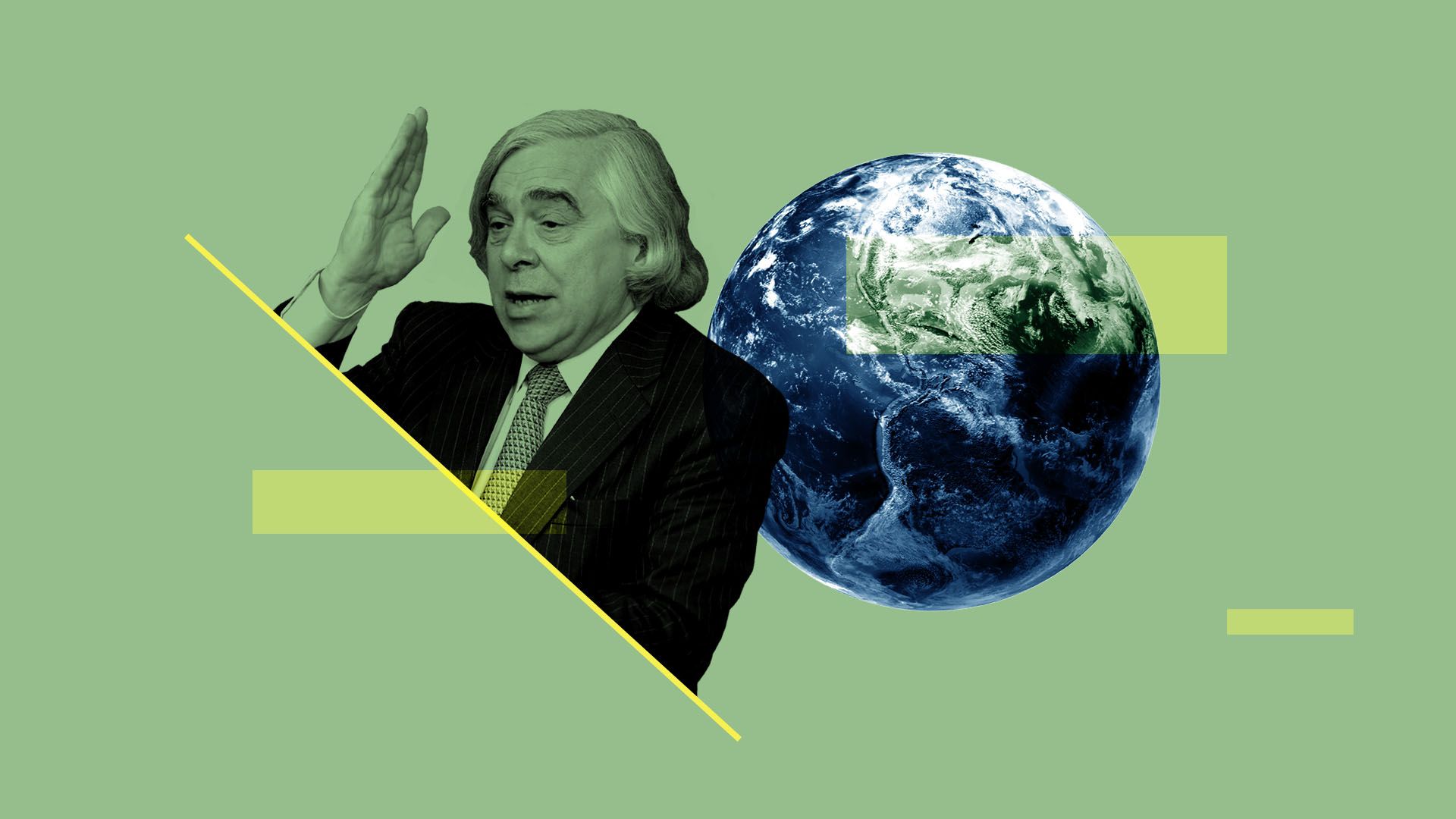 Former Energy Secretary Ernest Moniz is calling for a plan aimed at counterbalancing the Green New Deal, according to an exclusive interview with me yesterday.
Driving the news: Moniz, who was the energy secretary from 2013 to 2017 under President Obama, is delivering a speech today at a U.S. Chamber of Commerce event in D.C. touting energy innovation.
In what he's calling the "Green Real Deal," Moniz says building broad coalitions — including with big business — will be essential to drastically reducing greenhouse gas emissions in the next 30 years.
"If one is not pragmatic and pushes programs that are tough but at least achievable and if we can't pull together and recognize the needs of a broad coalition, we won't get there."
— Ernest Moniz, to Axios
Why it matters: Moniz, who now runs the think tank Energy Futures Initiative, is respected by many environmentalists and business leaders alike, so what he says could influence people across the political spectrum.
The other side: Backers of the Green New Deal, including Rep. Alexandria Ocasio-Cortez and numerous Democratic presidential candidates, blame big business for blocking action and are pushing broad progressive policies that are unlikely to get support from fossil fuel companies or trade groups like the U.S. Chamber of Commerce.
Between the lines: Moniz said speaking at the Chamber appealed to him because the powerful lobby group, long known for fighting climate-change policies, has "put out some strong statements recently about needing to move beyond the inaction phase."
But, Moniz added, he'll be sending a "very strong message that everybody, including the Chamber and their membership, has to walk the talk."
One level deeper: Today's speech is Moniz's first on this topic since he laid out the broad parameters in a CNBC opinion piece this spring. Some of what he's likely to promote includes...
A price on carbon dioxide emissions, which Moniz says is "a good thing" but not a panacea. He says it needs to be structured in a way that doesn't hurt the poorest people the most and doesn't replace policies that reduce emissions for certain sectors, especially transportation.
Support for technologies and fuel sources that are controversial among some Democrats and environmentalists, including natural gas and nuclear power.
What's next: Moniz will be speaking on this same topic in late September tied to a major UN climate summit in New York.
Go deeper: How California can meet its aggressive clean energy law
2. Debate takeaways: jobs and workers paramount
Climate change got a dose of divisive and wonky attention during the first night of the second Democratic primary debate Tuesday night.
Driving the news: On display was the party's widening rift between moderates and progressives over how to go about solving a problem all Democratic candidates agree is a big one.
The politicians sparred over clean-energy jobs and unions after CNN correspondent Dana Bash opened a segment on climate change noting it was one of the topics voters said they were most interested in.
What they're saying:
Former Rep. John Delaney and former Colorado Gov. John Hickenlooper criticized the Green New Deal, the latter calling the federal jobs guarantee component a "distraction," which prompted Rep. Alexandria Ocasio-Cortez to tweet that such a comment is "truly unsustainable + unrealistic."
Rep. Tim Ryan and Sen. Bernie Sanders sparred over who supported jobs and unions more.
Sen. Elizabeth Warren touted her $2 trillion plan to create clean-tech manufacturing jobs. "This will vitalize huge cities across this country and nobody wants to talk about it," she said.
Reality check: Promising an economic revival via a big climate policy is a harder political sell since the economy is doing pretty well. That's a big contrast to the 2008 presidential election where green jobs were paramount in both the Democratic and Republican candidate platforms as the economy was tanking.
What's next: Washington Gov. Jay Inslee tweeted that he'll make sure climate change is mentioned more in the debates tonight.
3. Big Oil CEOs to huddle during climate summit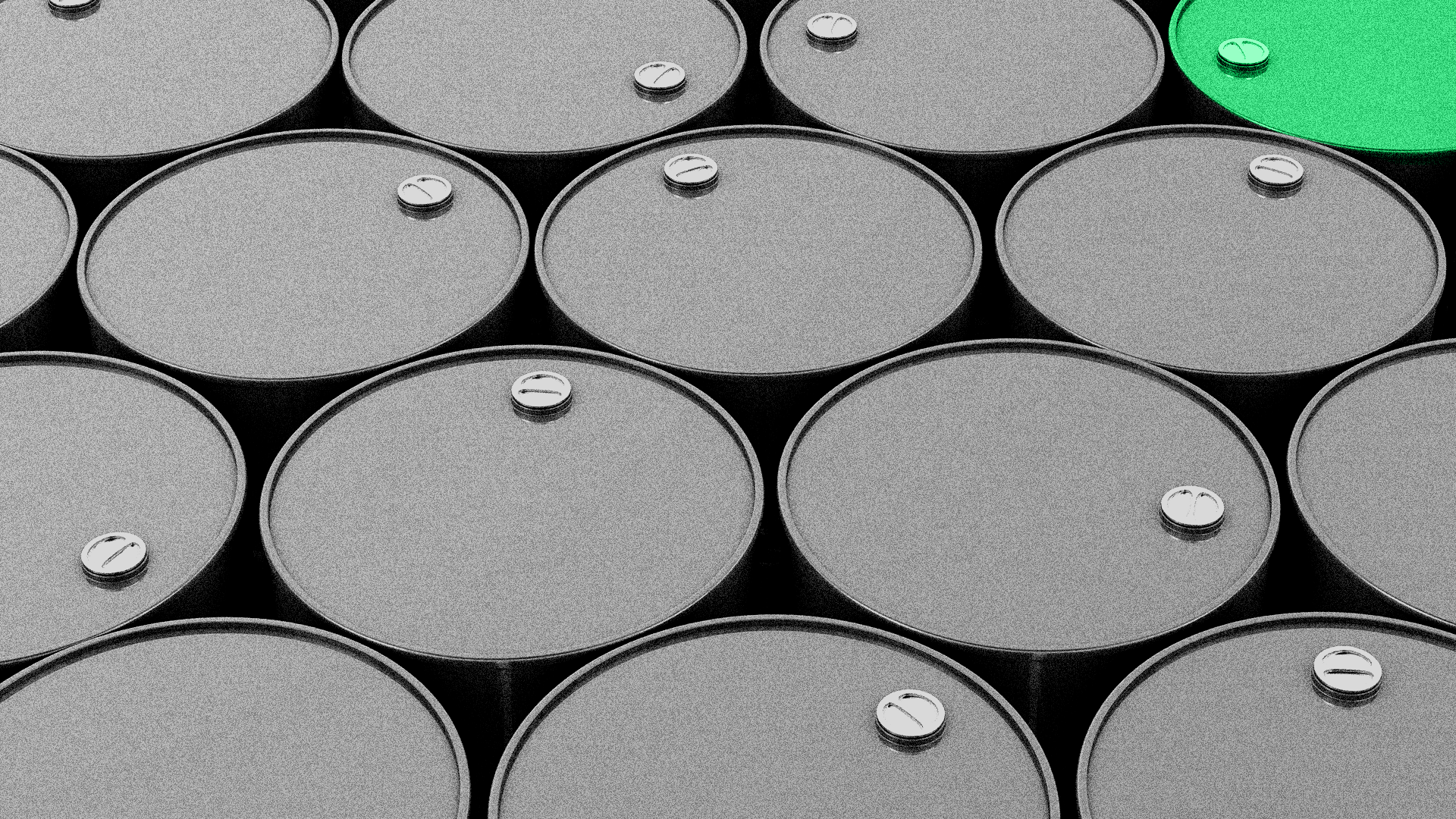 CEOs of the world's biggest oil companies will face critical questions from environmentalists at an invite-only forum Sept. 23 in New York City, on the sidelines of a major UN climate summit.
Why it matters: The burning of fossil fuels that oil and gas companies produce is a big reason Earth's temperature is rising, yet their products are also the foundation of the global economy.
Whether you love or hate them, the role these companies play is inherent to addressing climate change, particularly in the absence of U.S. presidential leadership on the issue.
Driving the news: Chevron CEO Michael Wirth is planning to attend for the first time, a spokesperson said. The CEOs of BP and Shell are also set to be there.
The group hosting the invite-only dialogue, the Oil and Gas Climate Initiative, is funded by 13 of the world's biggest oil and gas producers, with each of their CEOs invited to participate.
Flashback: This year's meeting is the second such one in the U.S. since the group launched five years ago. At last year's NY event, 11 CEOs showed up, with just one from the newly joined U.S. members: Vicki Hollub, CEO of Occidental.
On the record: An Occidental spokesperson declined to comment on whether Hollub will be there again. ExxonMobil, which joined the group last year too, also declined to comment on whether CEO Darren Woods will partake.
Go deeper:
4. Catch up fast: methane, climate science, EPA
Climate science: A State Department official who resigned after the White House blocked his testimony on climate change spoke out about it in a opinion piece in the New York Times.
Why it matters: It's the latest high-profile rebuke of the Trump administration's dismissal of climate change science.
Methane: The American Petroleum Institute yesterday released its first report after launching in 2017 a voluntary program for oil and gas producers to reduce emissions of methane, a potent greenhouse gas.
Where it stands: The group touts its high participation — 32 of the U.S.'s 40 biggest oil and gas producers — but the report doesn't specify to what degree emissions have been reduced from the program, per Washington Examiner.
EPA: In a Tuesday announcement, the agency cleared the way for Pebble Mine in Alaska to receive a federal permit needed by the controversial copper and gold mine after years of delay due to Obama-era actions, AP reports.
Between the lines: This topic is not as clearcut along partisan lines as a lot of big projects and environmental actions, so expect nuanced statements from lawmakers like Alaska Sen. Lisa Murkowski.
5. On my radar: Russia, BP, state AG's
Russia: Expect a close vote in today's Senate Foreign Relations hearing on legislation that would impose sanctions connected to Russian natural gas export pipelines, the nonpartisan research firm ClearView Energy Partners said in an analysis Tuesday.
Why it matters: With many Republicans supporting the bill, it could shape up to be a showdown between Trump and his own party and create uncertainty for companies involved in the project, including Shell.
BP: The British oil giant is planning to update investors on its "current low carbon activities and future ambitions" at an event in November, CEO Bob Dudley told analysts on an earnings call yesterday. A spokesperson declined to offer more details.
Why it matters: This is the latest concrete sign of oil companies increasingly embracing energy sources outside their core business, largely in response to activist investor pressure.
State AGs: Attorneys general in states like California and New York are somewhat succeeding in fighting Trump's energy and environmental agenda, per a new report by my Axios colleagues.
Why it matters: With the makeup of Congress right now, states have a lot more power than Democrats in Washington.
6. Quote of the day
"We are seeing increasing evidence that the so-called 'legacy' auto industry isn't exactly digging in its heels to defend internal combustion powertrains."
Who said it: Morgan Stanley analysts, in a research note circulated to clients and the media Tuesday.
Where it stands: The analysts point to 3 recent developments to reach that conclusion...
Volkswagen CEO Herbert Diess noting in a July 12 press conference his goal of getting to zero the current 1% of global carbon dioxide emissions his company's cars cause.
Ford touting the strength of its forthcoming all-electric F-150 pickup, America's best-selling vehicle.
4 automakers maneuvering around Trump to cut a deal with California on fuel efficiency standards.