Axios Generate
May 17, 2019
Good morning. How are you liking my guest hosting of Generate? What can I do better? Email me at [email protected]. Happy Friday!
1 big thing: OPEC's tough balancing act
OPEC is lowering its production to levels not seen in years to balance a global oil market rocked by geopolitics from all sides.
Driving the news: The above chart, from an International Energy Agency report released this week (h/t to Bloomberg's Javier Blas for highlighting it), shows how this year is an outlier compared to previous years when it comes to oil production from OPEC.
The big picture: America is now the world's largest oil producer, and that's making it harder for OPEC to balance the market, according to Bob McNally, president of consultancy Rapidan Energy Group.
Still, he said, the chart should be read not as OPEC getting pushed out by American oil, but instead the sheer volatility in the market.
"The oil market has rarely seen so much two-way risk. China, trade and macroeconomic weakness could send crude prices at least $15 lower and intensifying geopolitical disruption risks in the Middle East and Venezuela could propel them higher by a similar amount."
— Bob McNally
Where things stand:
Oil prices have been relatively stable so far this year, in the $60–$70 range per barrel, for both Brent in Europe and WTI in the U.S.
OPEC's share of global oil production has generally hovered between 36% — where it is today — and 41%, which is where it was in 2008, according to IEA data.
What's next: OPEC and Russian officials are meeting Sunday in Saudi Arabia to discuss geopolitical risks — including the attacks this week on Saudi oil infrastructure — and the oil market in preparation for another meeting in late June when production quotas expire, per S&P Global Platts.
What we're watching: Sarah Ladislaw, an expert at the Center for Strategic and International Studies, tells Axios...
"I expect they will talk about inventory levels and send signals that the markets are well supplied but they stand ready to put more supply on the market if they see a need."
"The question is what kind of messaging comes out about recent attacks on oil-related infrastructure in the region."
Meanwhile, a Saudi-led coalition conducted air strikes in Yemen on Thursday in response to the attacks earlier this week, Oil Price reports.

2. States with the most expensive gas prices
The average U.S. gasoline price sits at $2.86 per gallon, much lower than last year around this same time.
Why it matters: That is good for American drivers, of course, and it will also likely keep at bay President Trump's semi-regular tweets blaming OPEC for high oil prices. Trump wants low gas prices going into his re-election campaign.
The backdrop: A big drop in gasoline demand has, somewhat ironically, pushed pump prices down, AAA said this week, citing just released government data.
The drop in demand is likely due to recent bad weather in parts of the country, and AAA expects prices to rebound in the week leading up to Memorial Day.
Go deeper: Read the full piece to see the highest/lowest priced states.
3. With climate change, words matter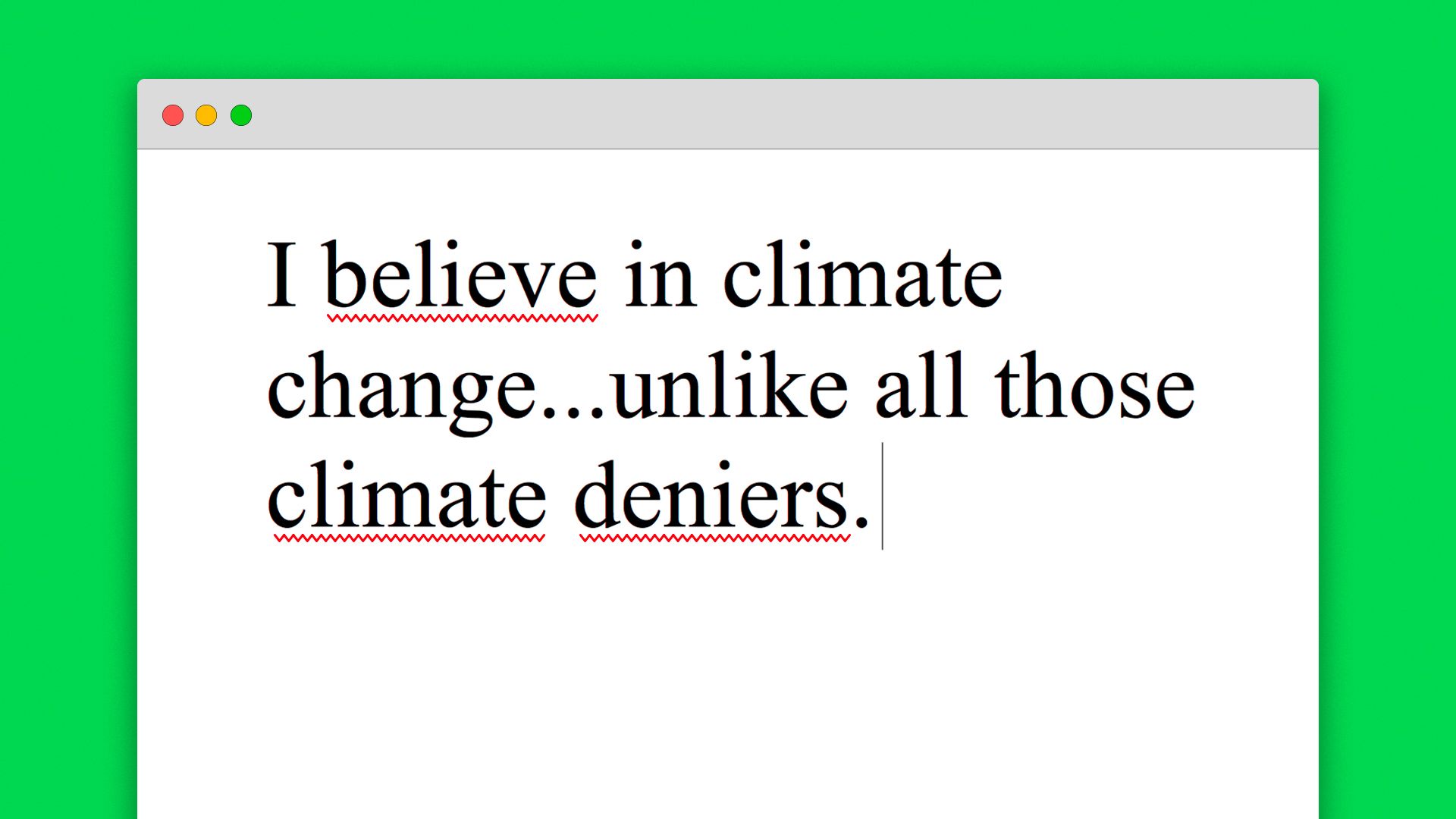 New research out this week on climate-change polling and an interview with a Republican lawmaker have underscored the importance of words when it comes to such a complicated and divisive topic.
Driving the news:
What they found: Researchers at the Annenberg Public Policy Center say the proportion of Americans who think climate change is driven by human activity ranges from 50%–71%, all simply based on how you ask the question.
Meanwhile, Rep. Tom Reed says the key to engaging his fellow Republicans on climate change is to use less divisive — and at times less specific — language.
Why it matters: While unconnected, these two bits of news show that words have an outsized impact in influencing people's understanding of the issue and their willingness to engage on it.
Details: The research found questions that don't allow a "I don't know" answer could inflate the level of acceptance, forcing people to pick an option that may not represent their positions.
Questions that ask respondents whether they agree with a statement may also inflate acceptance levels because people may feel compelled to agree — even if they don't.
What we're hearing:
"There's this whole debate of human contribution, and we spend hours — or even the precious minutes members [of Congress] have with each other — talking about that as opposed to: Can we agree that the weather is changing, the climate is changing, and can we agree we should use smart policies to promote resiliency?"
— Rep. Tom Reed
Go deeper: An energy and climate glossary for Trump (and everyone)
4. Green buildings for emerging markets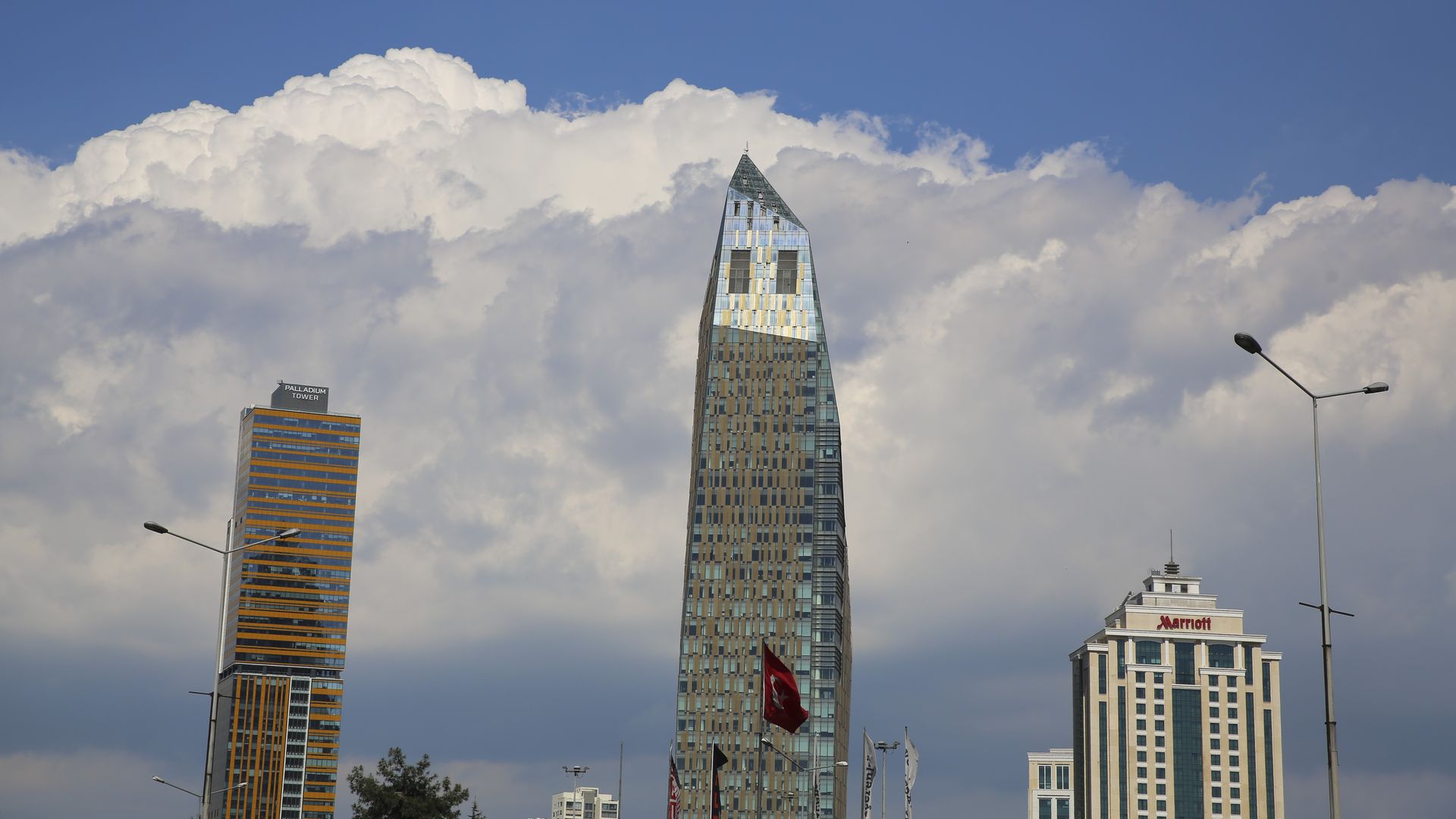 Axios Expert Voices contributor Alzbeta Klein writes ... While countries like the U.S. and EU member states have to backpedal their heavy carbon emissions, emerging markets could still leapfrog the most carbon-intensive approaches to urbanization.
Why it matters: 60% of the world's cities have yet to be built. Since buildings and building construction account for 36% of final global energy consumption and nearly 40% of total CO2 emissions, opting for green buildings in these new and more dense urban spaces would help meet global climate goals while sustaining economic growth.
How it works: Green buildings — from hospitals to hotels — have been shown to protect people and the environment while improving the bottom line. Increased resource efficiency means lower utility bills.
What's needed: Increasing both the supply of and demand for green buildings depends on several key factors...
The bottom line: The private sector, governments and financial institutions will likely have to come together to adopt standards capable of transforming real estate, especially in the emerging markets where these improvements could have the greatest impact.
Klein is the director for climate business at the International Finance Corporation, a member of the World Bank Group.
5. Lightning round: California, Wyoming, Down Under
California fightin': California's top regulator threatened a ban on gasoline engines amid a fight with the Trump administration over fuel standards. (Bloomberg)
Sign of the times: A solar trade association launches in Wyoming, America's biggest coal-producing state.
Young leaders: Young Swedish climate activist Greta Thunberg named one of TIME's "Next Generation Leaders." (Axios)
Sanctions snub: Iranian oil arrived via tanker to China, in an apparent violation of U.S. sanctions. (Reuters)
Pruitt penalties: EPA's Inspector General recommended on Thursday that nearly $124,000 be recovered for inappropriate travel expenses by former agency chief Scott Pruitt. (Axios)
Aussie lessons: With its national elections Saturday, voters have a stark choice on climate and energy policies. (The Conversation)
6. Study: Air pollution weakening Asian monsoon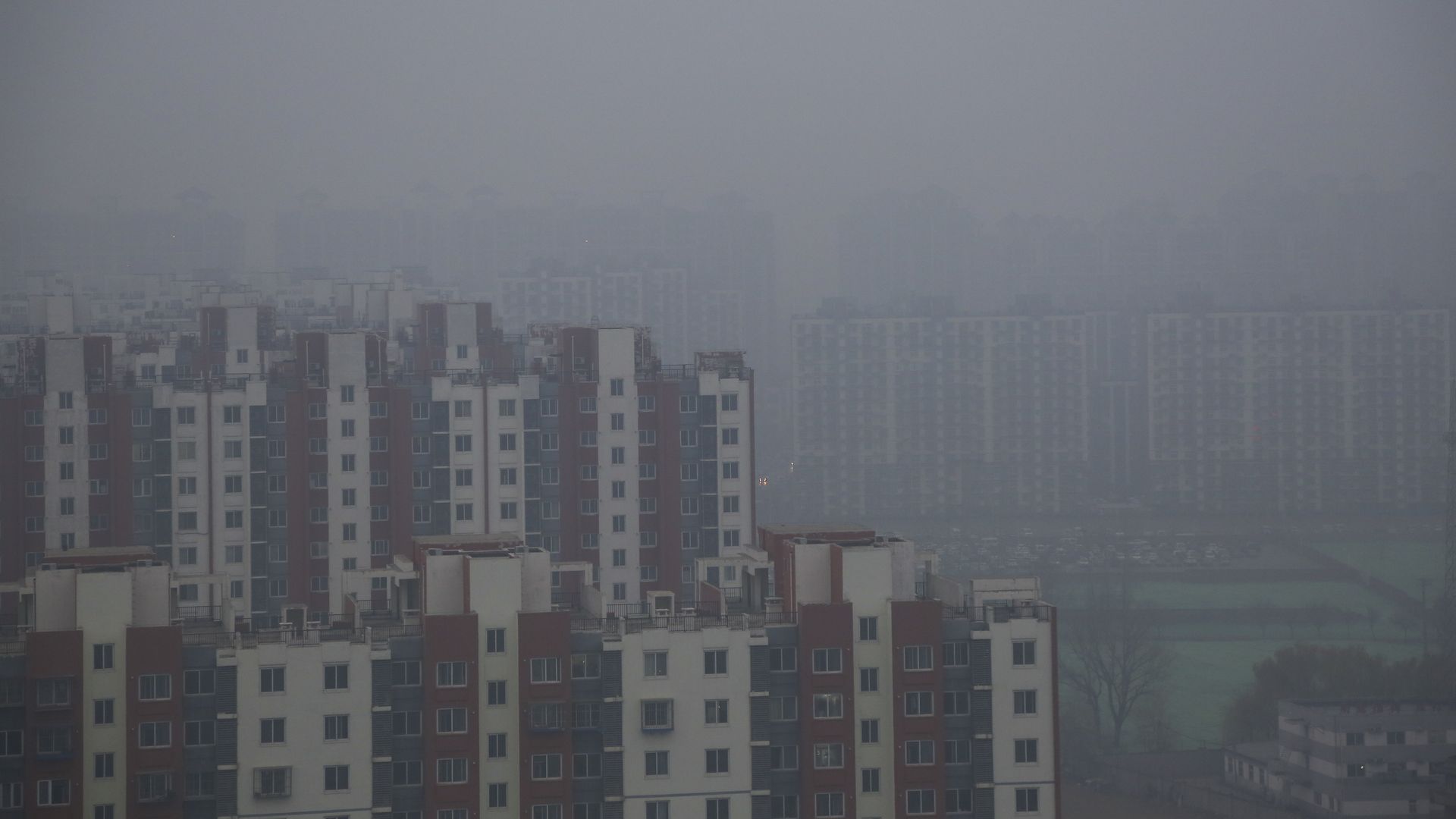 The Asian monsoon, which brings rains that sustain billions of people in India, China, Pakistan, Thailand and other countries, is seeing a weakening trend that's unprecedented in the past 448 years or more, according to a new study based in part on tree ring records, Axios' Andrew Freedman writes.
What's happening: The culprit, the study finds, is aerosol pollution from coal-fired power plants along with other sources.
Why it matters: The Asian monsoon, comprised of several regional climate cycles, is the natural irrigation system for much of Asia, from southern India to northwest China. It's one of the most important climate cycles in the world, driven by the contrast in temperatures between the land and sea.
If, as the new study shows, air pollution from coal-fired power plants and other sources is weakening the monsoon, it could imperil food security in a rapidly growing part of the world.
Go deeper: Read Andrew's full story.
Editor's note: The chart in the first story was corrected to show the measurements are in million barrels/day (not thousand) and Rep. Tom Reed's quote in the third story was changed to show he said "precious" and not "pressure."