Axios Generate
January 08, 2019
1 big thing: The climate news is sobering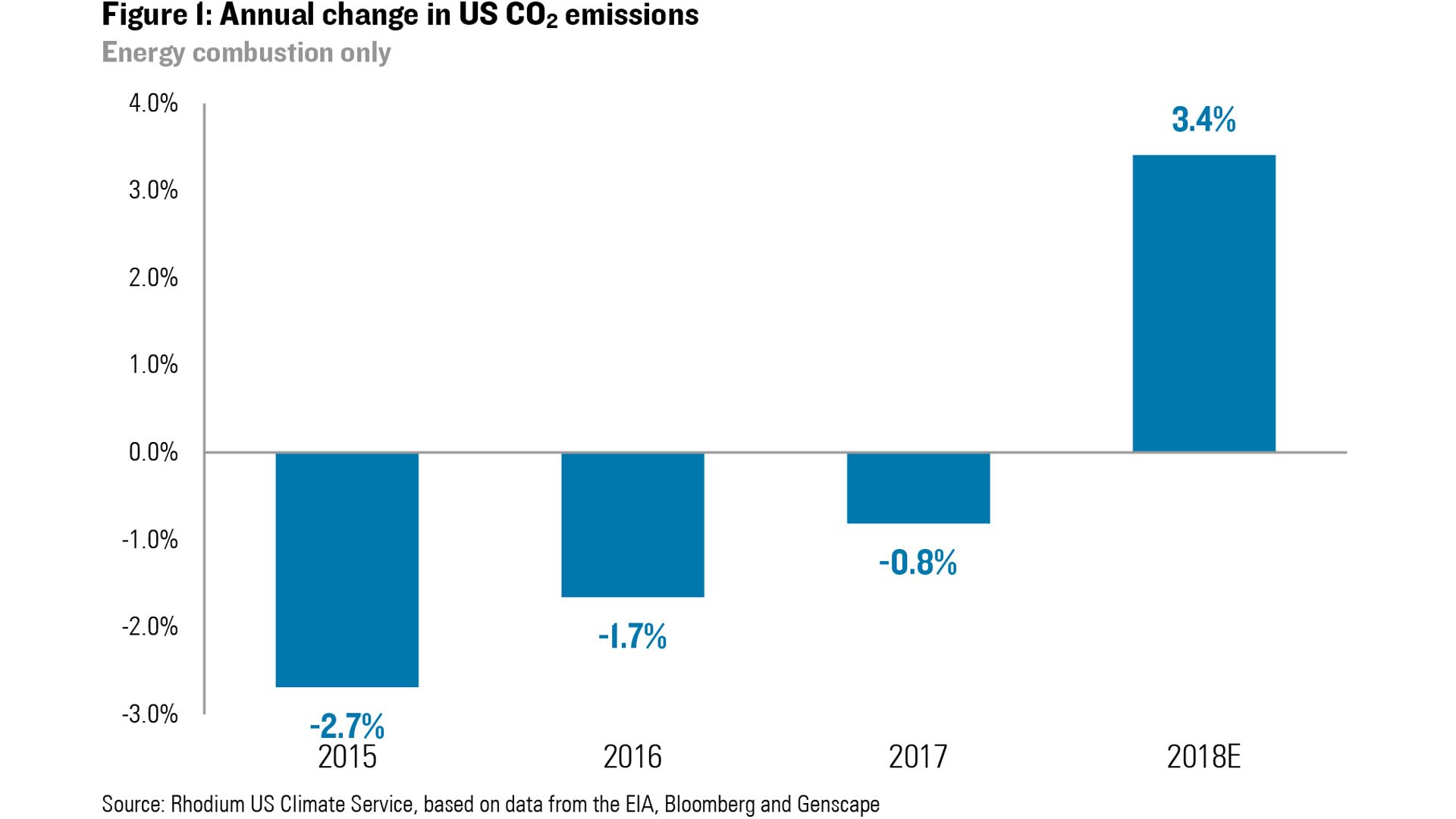 Two pieces of data provide fresh evidence of global warming's march and the struggle to rein in emissions that will make the problem far worse over time.
Driving the news: A new Rhodium Group analysis shows that U.S. carbon emissions from energy — which is the overwhelming cause of emissions — jumped by 3.4% last year, ending years of declines.
"This marks the second largest annual gain in more than two decades — surpassed only by 2010 when the economy bounced back from the Great Recession," the consultancy said of the preliminary data.
U.S. emissions have been generally declining for a decade, but last year's jump comes after the pace of emissions cuts has been decelerating (see chart above).
Meanwhile, the EU-funded Copernicus Climate Change Service (C3S) has concluded that 2018 was Earth's 4th-warmest on record, with the past 4 years serving as the planet's hottest seen since instrument records began in 1880 (and likely well before that).
Why it matters: Rhodium's study shows that the U.S. is falling further off the pace from its pledge to cut overall greenhouse gas emissions by 26%–28% below 2005 levels by 2025.
To hit that target, energy-related CO2 emissions would need to fall by an average of 2.6% annually by then, and even more if declines in other GHGs slow, according to Rhodium.
That would be more than twice the pace of cuts between 2005 and 2017, and "significantly faster than any seven-year average in US history," they say.
Details: Rhodium's study found that 2018 U.S. CO2 emissions were up in all major sectors: electricity, transportation, buildings and industry.
Power generation from coal — the most carbon-emitting fuel — fell again last year, but overall power demand rose and was met largely with gas, despite renewables' growth.
When it comes to transportation — now the biggest emissions source — gasoline demand dipped very slightly, but that was vastly outweighed by increases from trucking and aviation.
Buildings and industry had the biggest increases, with emissions from each sector rising by about 55 million metric tons. Some of the building emissions increase stems from a cold winter.
But more broadly, Rhodium notes that modest improvements in the efficiency of furnaces aren't offsetting the effect of population growth and increasing demand for building energy.
The big picture: Axios' Andrew Freedman notes that last year had a global average surface temperature that was 0.2°C colder than 2016, which was the warmest year in Copernicus' dataset, but more than 0.4°C above the 1981–2010 average. Scientists at C3S also find...
The average temperature of the last 5 years was 1.1°C, or 1.98°F, higher than the pre-industrial average.
This is significant since temperatures are edging closer to the 1.5°C aspirational warming target.
Read Andrew's full story here.
2. CES 2019: Hyundai and Exxon unveil new tech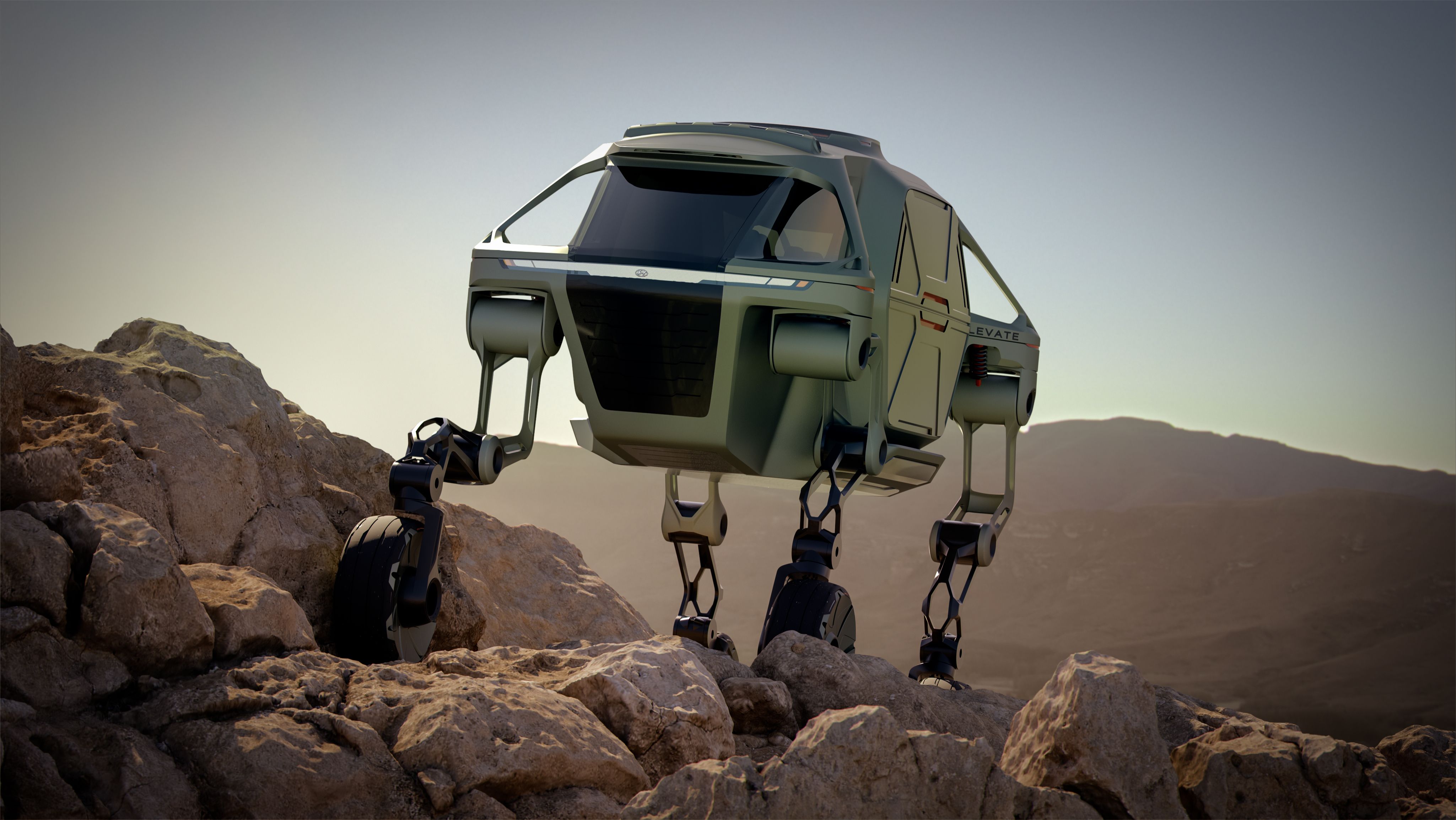 Electric cars (sort of): Hyundai used the big Consumer Electronics Show to unveil a video (and small model) of Elevate, a concept for a vehicle designed to traverse challenging terrain to help first-responders save people in natural disasters.
"Elevate is the first Ultimate Mobility Vehicle (UMV), blending technology found in electric cars and robots, which allows it to traverse terrain beyond the limitations of even the most capable off-road vehicle," the company said.
"The Elevate rides on an electric 'skateboard' platform, onto which the body is attached. This gives the concept a little extra flexibility, with bodies that can be removed and swapped out depending on the needs of the moment," CNET writes.
Energy: Exxon announced at CES that it has formed a partnership with IBM to "advance the potential use of quantum computing in developing next-generation energy and manufacturing technologies."
Exxon said it envisions several ways that IBM's quantum computing prowess could be applied to energy, such as optimizing power grids and help discover new materials for more efficient carbon capture.
Go deeper: What's happened at CES 2019 so far
3. Republican jumps from Congress to climate group
Former Pennsylvania Rep. Ryan Costello is joining a political advocacy campaign pushing a carbon tax in Washington where the money goes back to Americans, Amy writes.
What's new: Costello will be managing director of Americans for Carbon Dividends, a group launched last year that now has 2 big oil companies funding it.
Why it matters: The 42-year-old, who just left Congress after 2 terms, represents a younger mold of Republicans more willing to buck GOP orthodoxy on climate change.
While most elected Republicans still ignore or dismiss the topic, this move shows that cracks in that mindset are (slowly) growing.
But, but, but: Carbon tax proposals have extremely little political traction in Washington right now.
Where it stands: Costello announced his new gig in a Wall Street Journal opinion piece. It warns that unless Republicans shift on climate and other issues, their 2018 midterm losses "could be just the tip of the iceberg."
He can't lobby Congress for a year, but in the meantime he'll be building grassroots support for the policy outside of Washington and may "engage in some political campaign-related activity for the 2020 cycle," Costello said in an interview.
What's next: Ted Halstead, CEO of the group who also coordinates a connected initiative called the Climate Leadership Council, hopes to have up to seven senators from both parties introduce the plan in Congress by year's end.
The proposal, which also has backing from other former GOP politicians, sets a $40-per-ton price on carbon emissions that rises over time, with the proceeds returned to Americans via quarterly dividend checks.
Environmentalists have attacked 2 parts of the plan: preemption of some regulations and shielding oil companies from certain climate lawsuits.
4. SCOTUS turns back Exxon petition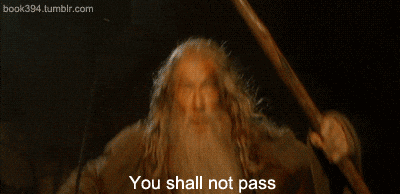 The Supreme Court on yesterday rejected ExxonMobil's bid to review the demand by the Massachusetts attorney general for internal documents about what the company knew about climate change over the course of decades.
Why it matters: The order, issued without comment, enables Attorney General Maura Healey to continue probing whether the oil giant misled investors and consumers about global warming and its effects on Exxon's business.
The big picture: The case is part of a broader legal effort by some Democratic state officials and investigative journalists to explore the oil industry's internal consideration of climate change.
New York's AG sued the company in October, alleging Exxon defrauded shareholders by downplaying the expected risk of future climate change policies on its business and assets.
What they're saying: "Today's #SCOTUS victory clears the way for our office to investigate Exxon's conduct toward consumers and investors. The public deserves answers from this company about what it knew about the impacts of burning fossil fuels, and when," Healey tweeted.
The other side: Exxon did not comment Monday on the Supreme Court's action.
In the now-rejected petition, Exxon said the Massachusetts Supreme Judicial Court's ruling last April that upheld the probe was a "breathtaking assertion of personal jurisdiction over a nonresident defendant."
The company has called the New York lawsuit "baseless allegations" based on "closed-door lobbying by special interests" and "political opportunism."
Go deeper: New York makes its move against Exxon
5. U.S. to Gates: Build your nuclear plant here
A top Trump administration official called on Bill Gates to work with the DOE on building an advanced nuclear reactor in America after the billionaire shelved plans to do so in China, Axios' Amy Harder reports.
Driving the news: Deputy Energy Secretary Dan Brouillette said, "We hope we can work with [Gates] and bring them back," in comments to reporters yesterday on another initiative.
Context: Gates had said late last year that his nuclear-energy company, TerraPower, won't be building a pilot project in China due to restrictions the Energy Department recently placed on technology deals with China.
The new DOE restrictions are aimed at preventing other nations from using nuclear technologies for military purposes.
What's happening now: Brouillette says the department has had "several conversations" with Gates on the matter and adds he's hopeful the U.S. government could streamline the permitting process to make it more likely Gates would pursue building the reactor in America.
"That was a concern of theirs and a reason they went to a different country," Brouillette says.
TerraPower had pursued plans to build a pilot reactor in China because that country has two things America doesn't — growing electricity demand and a long-term strategic energy plan — a top TerraPower executive said in late 2017.
For the record: A request for comment to Gates' office wasn't immediately returned.
6. Business notes: PG&E, shale, EV sales
Utilities: Ratings agency S&P Global cut California utility company Pacific Gas and Electric (PG&E) to "junk" status Tuesday morning and also shifted its Pacific Power and Gas subsidiary to "B" from "BBB-," the lowest tier of investment-grade ratings, Reuters reports.
The big picture: S&P said it would keep PG&E under review for a further downgrade, adding the company faces increasing political and regulatory pressure amid growing claims stemming from its possible role in deadly wildfires across the state and a growing debt pile that looms large as the company's stock price has fallen.
Oil-and-gas: Via the Wall Street Journal, the hedge fund Elliot Management is proposing to buy the shale producer QEP Resources for roughly $2 billion, "saying QEP's turnaround efforts haven't done enough to lift the oil-and-gas company's share price."
Electric auto sales: Via Inside EVs, total U.S. electric vehicle sales rose to 361,307 in 2018, up from slightly under 200,000 in 2017, growth dominated by Tesla.
"The Tesla Model 3 tops our chart by acres, with 139,782 estimated U.S. deliveries," writes Inside EVs, which carefully tracks EV sales by model and month. Overall, they estimate that Tesla models combined accounted for 191,627 sales in 2018.
However, they also note: "[The] numbers wouldn't be where they are today without the respectable sales of the Toyota Prius Prime, Chevrolet Volt, Honda Clarity Plug-In Hybrid, Chevrolet Bolt EV, and Nissan LEAF."
Go deeper: Greentech Media breaks down the numbers here.
7. The economic case for staying in Paris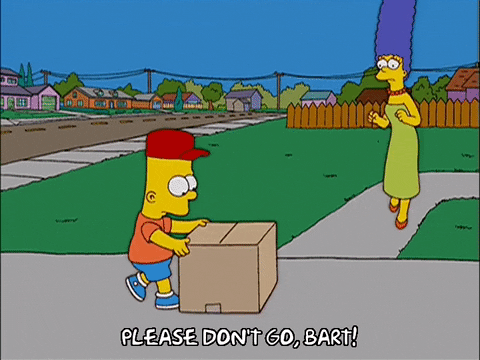 Nations who abandon the Paris agreement designed to tackle global climate change would ultimately be worse off economically despite some GDP benefits from reneging, according to a new analysis of the Paris climate deal from researchers with the Brookings Institution.
Why it matters: The study arrives at a fragile moment in global climate diplomacy, even as more research piles up about the dangers of failing to steeply cut emissions. The U.S. is preparing to abandon the deal and now Brazil's new far-right president is undercutting confidence in that country's green commitments.
What they did: The analysis models the macroeconomic effect on nations of participating in the deal compared to abandoning their pledges — both in terms of the "co-benefits" of reducing conventional pollutants and the effect of avoided CO2 emissions.
What they found: The authors ran simulations based on participating vs. abandoning pledges for China (now by far the world's largest emitter), the U.S., and Australia.
"We find that non-participation leads to economic gains for these countries relative to participating, illustrating the challenge of forging an international agreement with participation by all major emitters and fossil fuel producers," they found.
But, but, but: "[W]e also find that if we account for the monetized climate and domestic co-benefits of emissions reductions, those countries are worse off if they unilaterally withdraw from the Paris Agreement than if they participate."
The big picture: The study shows that the Paris agreement "significantly reduces" carbon emissions relative to a business-as-usual case. But it also further confirms how much existing pledges, called nationally determined contributions, are nonetheless insufficient. Per the report...
Global CO2 emissions would be lower than baseline by 13 billion metric tons by 2030. However, the Paris policy scenario suggests that global CO2 emissions would not decline in absolute terms relative to 2015 levels, let alone follow a path consistent with a 2°C stabilization scenario.