Axios Generate
September 21, 2021
🥞 Good morning! Today's Smart Brevity count is 1,396 words, 5.5 minutes.
📊 Data point of the day: $1 billion, the amount Jeff Bezos' 10-year, $10 billion climate philanthropy is steering into a new conservation effort. Go deeper
🎧 Listen to Andrew discuss the Biden administration's new heat wave policies on the Axios Today podcast.
🎸 This week marks 50 years since T. Rex released the glam rock classic "Electric Warrior," which provides today's intro tune...
1 big thing: Heat safeguards as the next climate frontier
With the country facing increasingly common and severe heat waves, the Biden administration announced Monday a series of actions to protect workers from potentially deadly heat exposure, Andrew writes.
These steps illustrate how present-day climate change-related extremes are prompting government actions.
Driving the news: The U.S. just had its hottest summer on record, with record-shattering, triple-digit temperatures causing as many as 600 excess deaths in the Pacific Northwest.
Temperature records were broken during the day and at night.
Overnight heat is especially deadly since it prevents the human body from recovering, and nationally, overnight temperatures hit their highest levels this summer.
Details: A key step the White House is taking is the start of a rule-making process at the Labor Department's Occupational Safety and Health Administration (OSHA) that may provide employers with detailed requirements to protect their workers.
The OSHA process comprises the first step toward developing a national heat work standard, the White House said in a summary.
The OSHA will also implement greater enforcement, including stepped-up heat-related inspections. Heat waves expose outdoor workers in particular to potentially deadly conditions, such as farmers and construction crews.
Other actions focus on the unequal burden in heat exposure, with poorer, historically redlined neighborhoods often seeing higher temperatures than wealthy areas of the same city.
Go deeper: Hard Truths: Race and Environment in America
2. Inside the UN's fraught climate huddle
A closed-door, head-of-state level meeting at the United Nations Monday with nearly two-dozen leaders and emissaries showcased the rifts between nations on core climate policy issues, Andrew writes.
Why it matters: These gaps must be narrowed during the next few weeks in order to avert a failed U.N. Climate Summit in Glasgow.
State of play: The meeting, called by U.N. Secretary-General António Guterres and British Prime Minister Boris Johnson, featured an unusually candid exchange of views between world leaders, a member of a climate negotiating team who observed the meeting told Axios.
Wealthy nations' failure to deliver on their 2009 pledge of $100 billion in annual financial assistance to the developing world — first promised in 2009, emerged as a major source of distrust and anger, the member said.
Jochen Flasbarth, Germany's deputy environment minister, told the AP the meeting was "very frank and outspoken — not polite."
Threat level: There are huge gaps remaining between the emissions cuts countries have pledged to make and what is needed in order to keep the Paris Agreement's 1.5°C (2.7°F) target viable.
The U.N. warned last week that if all current emissions pledges are fulfilled, the world would still warm by 2.7°C (4.9°F) above preindustrial levels by 2100.
What we're watching: President Biden is scheduled to speak at the U.N. at 10am ET, and he is expected to announce additional U.S. funding.
3. First look: Study sees renewables boosting Appalachia
A new analysis finds that greatly accelerating wind and solar power deployment would bring major economic benefits to rural areas, with Appalachia seeing especially strong gains, Ben writes.
Driving the news: The clean energy think tank RMI is out with new regional-level projections shared first with Axios and shown above.
They looked at estimated revenues under an aggressive buildout that would see the U.S. reach 90% zero-carbon power by 2035.
How it works: RMI estimated direct benefits over the life of renewables projects built from 2021-2030 from tax revenues, land lease payments, and jobs and wages from building, operating and maintaining the projects.
It did not model indirect economic benefits, such as manufacturing and revenues to nearby businesses.
Why it matters: Democrats hope to move big renewables policies on Capitol Hill, including expanded tax credits and a new system of financial carrots and sticks for utilities.
A huge question is whether Democratic West Virginia Sen. Joe Manchin will back the efforts, which require his vote in the 50-50 Senate.
RMI's analysis shows that Appalachia, including Manchin's state, would fare well under aggressive deployment scenarios.
Catch up fast: Those regional estimates update a report RMI released earlier this year about rural benefits from renewables deployment.
What's next: RMI plans to step up circulation of the report and the newer regional analyses.
"We think all lawmakers should look at this data as it challenges widely held beliefs about the energy transition," said John Coequyt, RMI's U.S. government affairs director, in an email.
4. IEA: Europe's gas crisis should not slow climate moves
The IEA is out with a statement this morning on the spike in European natural gas and electricity prices, Andrew writes.
European electricity prices have climbed to reach their highest levels in over a decade, the IEA states.
Why it matters: The IEA is cautioning that the crisis has many causes and should not deter a transition to cleaner energy sources.
What they're saying: "Recent increases in global natural gas prices are the result of multiple factors, and it is inaccurate and misleading to lay the responsibility at the door of the clean energy transition," said IEA executive director Fatih Birol.
5. Salesforce says it has reached net-zero emissions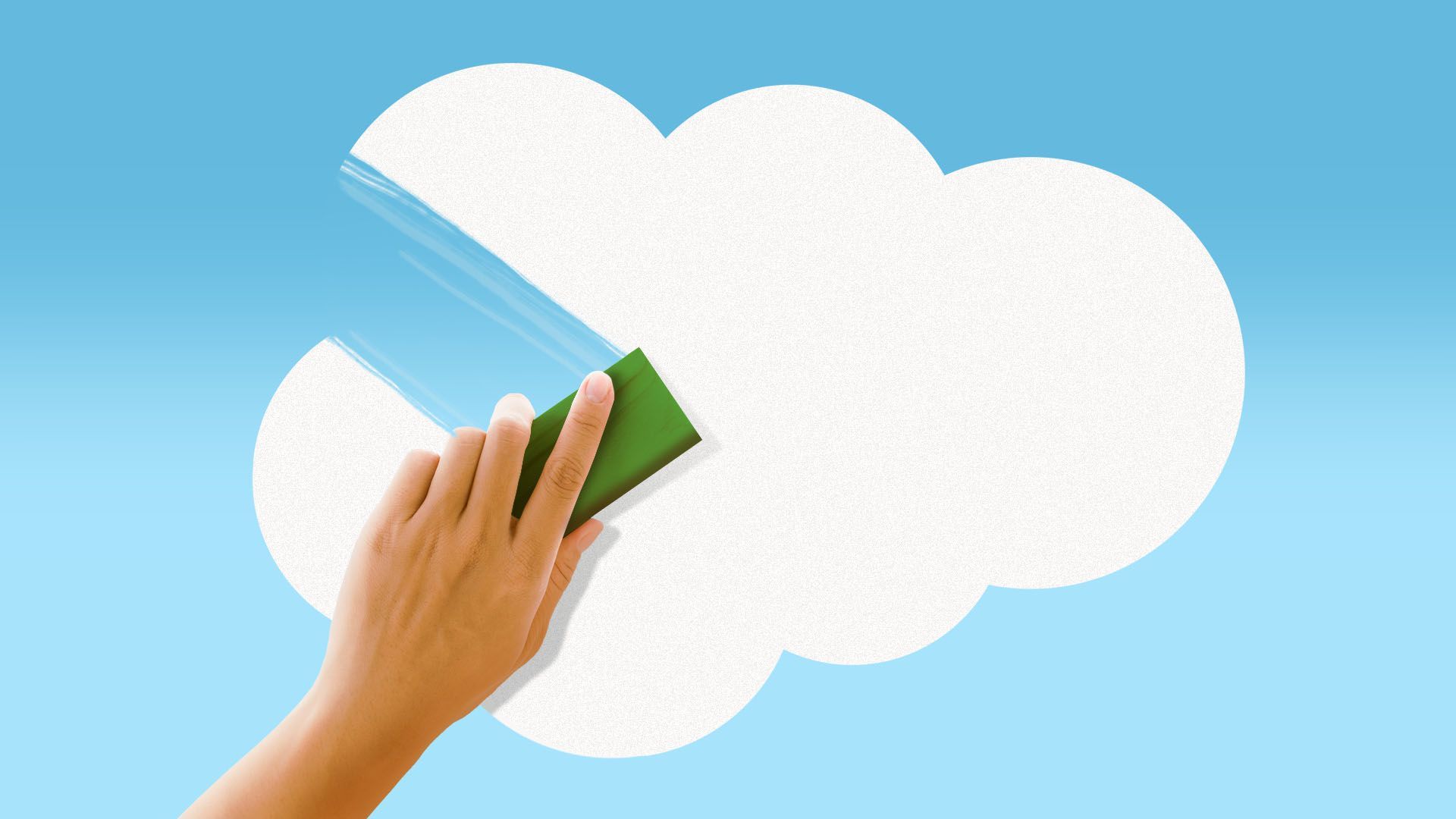 Salesforce, the customer relations management company that many readers may know for its Slack software, announced it has achieved net-zero emissions throughout its value chain, Andrew writes.
Driving the news: This includes the energy used by its customers, it says.
Salesforce has also hit its target of 100% renewable energy, Patrick Flynn, Salesforce's global head of sustainability, tells Axios.
The company is rolling out a suite of new sustainability tools for its customers to use to aggressively cut their emissions.
Yes, but: Net zero does not mean zero emissions, yet. Salesforce is on its way to nearly zeroing out greenhouse gas emissions by 2040, Flynn says.
For now, it is compensating for remaining emissions by buying renewable energy and purchasing what the company views as highly credible carbon credits, says Flynn. 
These consist of a portfolio that's heavy in natural climate solutions and avoidance credits, while other climate tech solutions become scalable. 
Over the long term, the company plans to use only carbon removal credits, Flynn says.
Of note: Salesforce is advocating for policies to reduce planet-warming emissions, which includes voicing support for provisions included in the congressional Democrats' infrastructure bills.
6. Making sense of Shell's Permian exit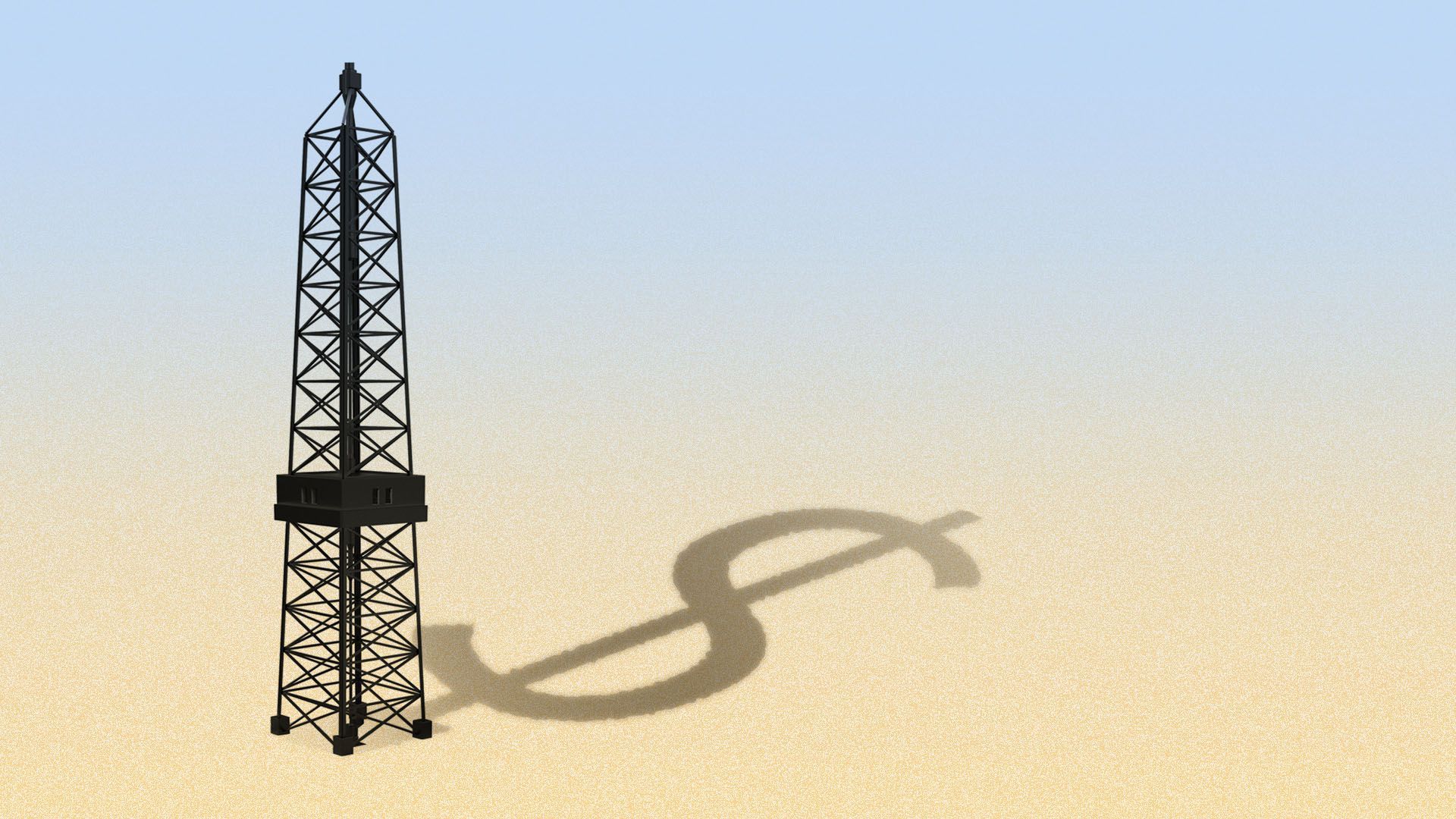 Royal Dutch Shell's sale of its Permian Basin assets to ConocoPhillips can't be untethered from how the industry is positioning itself as it faces pressure on climate change, Ben writes.
Catch up fast: The companies announced the $9.7 billion cash deal yesterday afternoon. ConocoPhillips will get 225,000 acres in Texas it expects will produce 200,000 barrels of oil equivalent per day in 2022.
The big picture: The deal comes as Shell, like other European majors, is moving to diversify its business into low-carbon sectors. The company says its oil production likely peaked in 2019.
"The shift in focus among the industry's largest players seems to be creating opportunities for Conoco, which remains more aligned with traditional oil and gas production," Andrew Dittmar, senior M&A analyst at Enverus, said in a note.
ConocoPhillips said in the deal announcement that it's also boosting its 2030 goals for cutting emissions intensity — that is, emissions per unit of output.
Northland Capital Markets analyst Subash Chandra tells the Wall Street Journal that environmental issues are becoming a more important part of oil patch deals.
"Shell doesn't want to sell to someone who is going to make them look bad on their ESG metrics even after the sale," he said.
The intrigue: "Shell has been under pressure to accelerate its strategy for the energy transition after a Dutch court ruled that the company must sharply reduce its CO2 emissions this decade," Argus Media notes of the May decision.
Yes, but: Bloomberg unpacks Shell's decision to send $7 billion of the proceeds from the Permian deal back to shareholders even as some European peers spend big on renewables projects.
1 windy thing: reimagining offshore turbines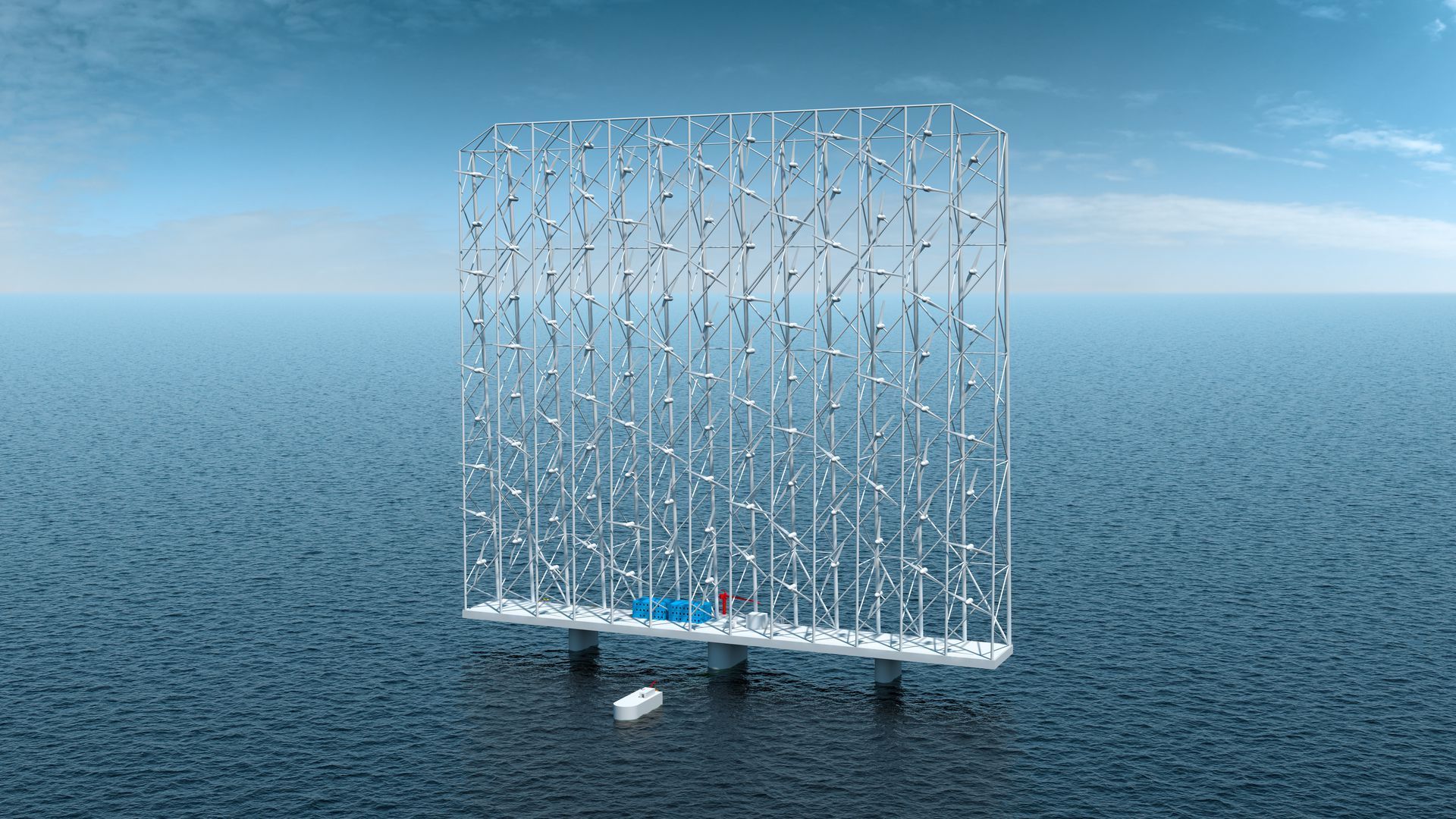 A Norwegian company has come up with a radically different design for offshore wind turbines that could help the world achieve its renewable energy goals, Axios' Joann Muller reports.
Why it matters: Wind power is cheap and efficient, but the strongest winds are far offshore, in deep waters, where it's difficult to drive a turbine into the seabed. Floating wind farms can be anchored farther into the ocean.
Details: Wind Catching Systems scrapped the traditional Dutch windmill design — a pole and three giant blades — in favor of a 1,000-foot-high, grid-like network of smaller turbines that spin faster, generating more energy.
One of its floating Wind Catchers can produce enough electricity to power 80,000 European homes, the company says.
🙏 Thanks so much for reading and please tell your friends to sign up for this newsletter for free! We'll see you tomorrow.