Good Monday morning! And welcome back to a jam-packed edition of Generate.
My latest Harder Line column has a big scoop about two separate lobbying pushes underway urging Congress to create new multi-billion dollar tax credits for virtually all coal and nuclear power plants across the country.
I'll preview that, and then Ben will get you up to speed on the rest of the news.
https://www.axios.com/newsletters/axios-generate-e6951328-056f-457b-afad-a35d70e700c1.html?chunk=0#story0
Exclusive: Coal and nuclear firms seek billions in new tax credits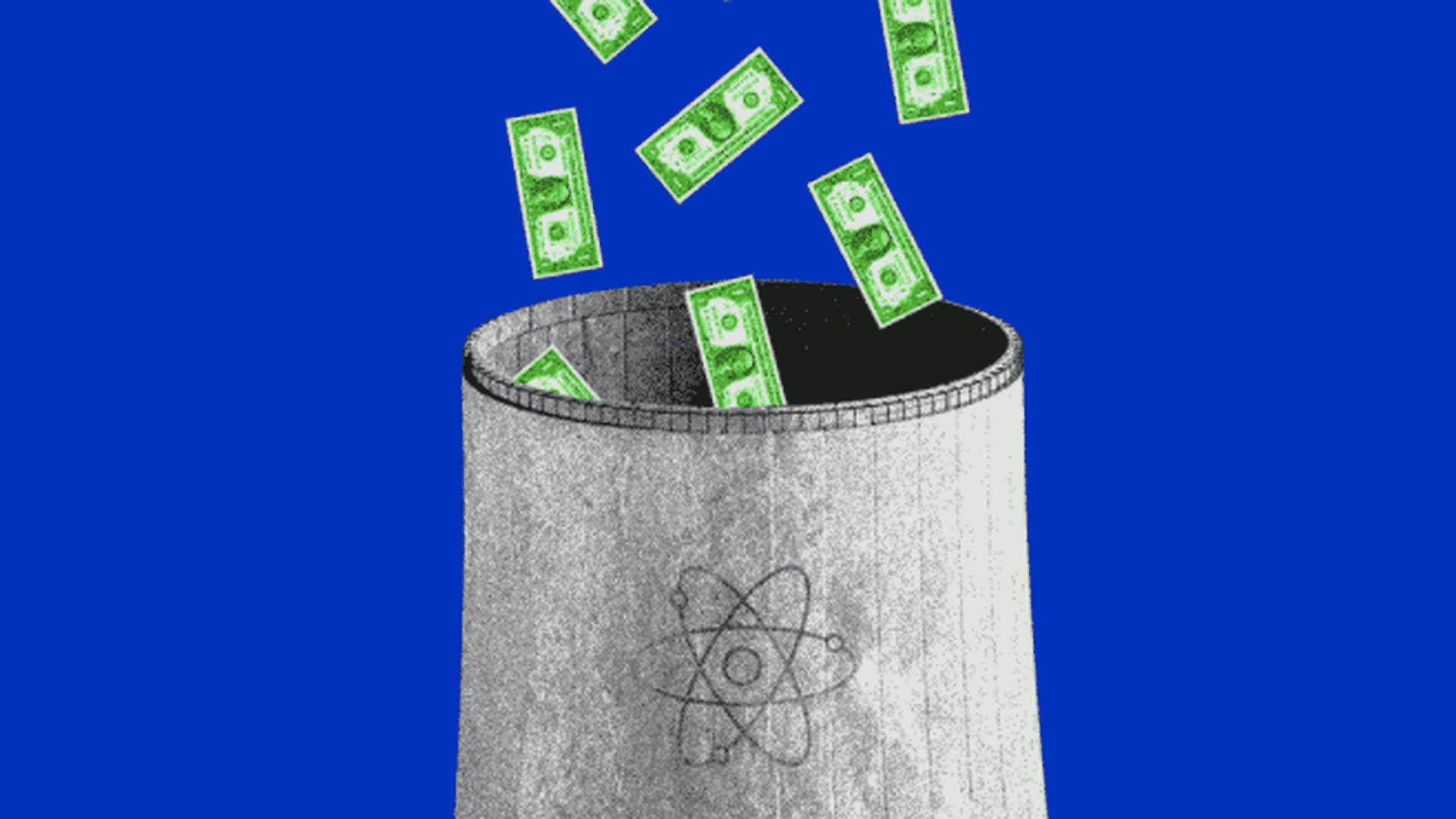 Two separate lobbying pushes are underway urging Congress to create new multi-billion dollar tax credits benefiting virtually all coal and nuclear power plants across the U.S. The price tags: up to $65 billion for coal and $4.8 billion for nuclear.
My thought bubble: The efforts show the aggressive lengths companies are going trying to survive in a hyper-competitive electricity market while also seeking to take advantage of President Trump's vows to boost coal and nuclear power, which has Republican backing in Congress. The tax credit proposals, which have not been publicly disclosed, face skepticism from others in the coal and nuclear industries and are sure to face criticism that they're handouts to legacy energy sources.
Read the rest, including all the gritty details of each proposal, in the Axios stream by clicking here.
https://www.axios.com/newsletters/axios-generate-e6951328-056f-457b-afad-a35d70e700c1.html?chunk=1#story1
Perry and Saudi leaders link arms despite OPEC-shale tussle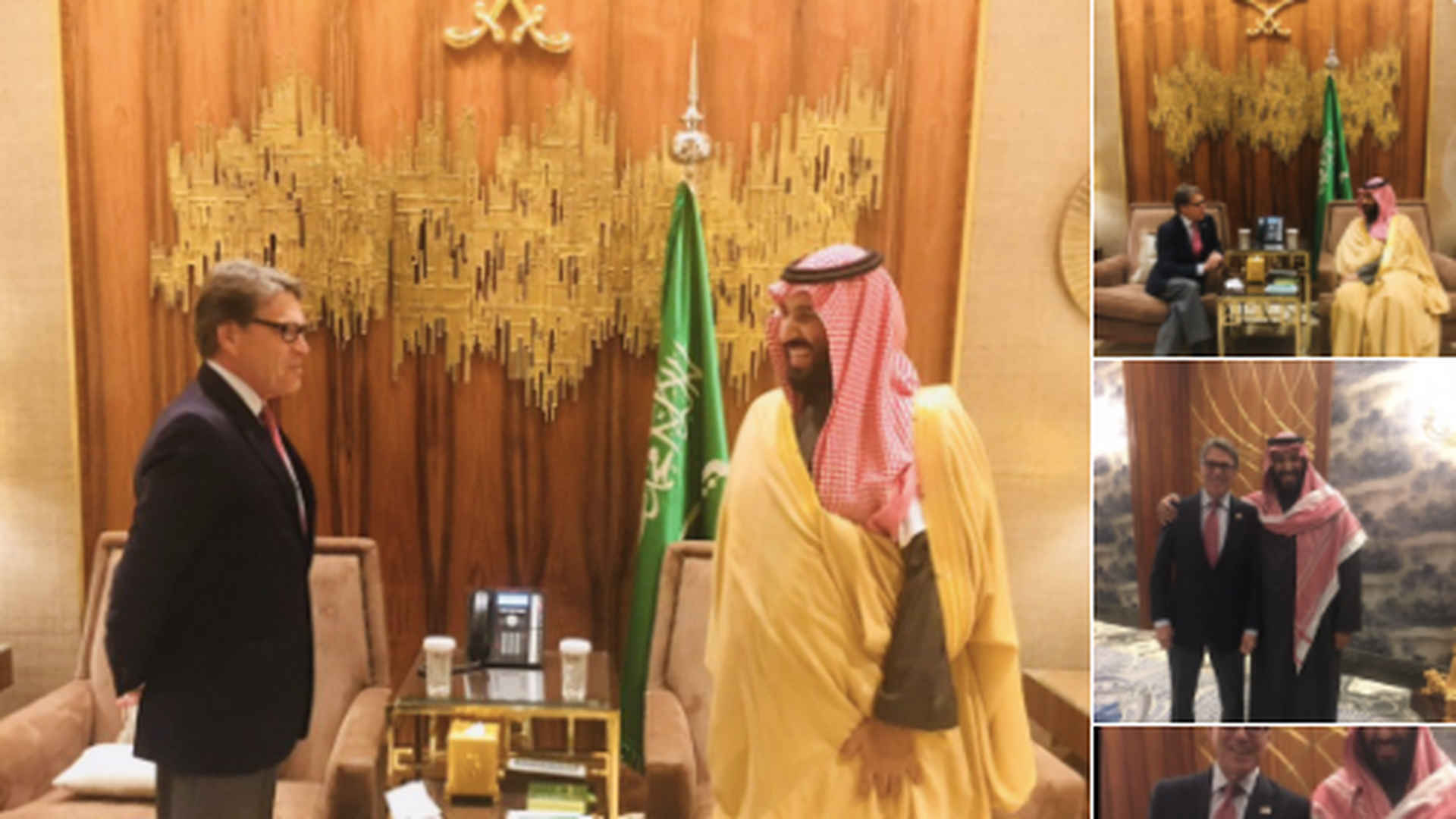 Energy secretary Rick Perry tweeted those photos above from his weekend meeting with Crown Prince Mohammed bin Salman (MBS), the heir to the Saudi throne. Perry met Monday morning with King Salman.
His trip also included meetings with Energy minister Khalid al-Falih, Aramco CEO Amin Nasser Falih, and various U.S. companies operating in the region.
Why it matters: Perry's meeting and sunny photo op with the ascendant crown prince underscores the ongoing U.S.-Saudi alliance despite the competition between U.S. shale production and OPEC, which is grappling with how to respond to the reemergence of the U.S. as a global powerhouse in crude markets.
What they're saying: According to Saudi state-run media, Perry and MBS discussed the "strategic partnership" in energy and other areas, and "joint investments between the two countries, especially in the petrochemical, infrastructure and energy sectors."
"The Crown Prince affirmed the kingdom's keenness to stabilize energy markets and supply them in a sustainable manner to serve the interests of energy producers and consumers," the Saudi Press Agency said.
Aramco IPO: It wasn't immediately clear Monday morning if Perry pitched Saudi officials on selecting a U.S. exchange for the massive IPO of Saudi Aramco. Trump, via Twitter and talks with the Saudi King, is pressing for the New York Stock Exchange.
Yes, but: There's competition. As we noted here, British Prime Minister Theresa May urged a London listing in her visit to Saudi Arabia late last month, while senior leaders from Hong Kong met with Saudi officials over the weekend.
Nuclear news: Via Reuters: "Saudi Arabia has invited U.S. firms to take part in developing its civilian nuclear power [program]," Falih said on Monday. He also added the kingdom was not interested in diverting nuclear technology to military use.
Climate and more: A DOE summary of Perry's multi-day trip notes that he signed a memorandum of understanding to enable more work with Saudi officials on carbon capture and several other topics.
"This MOU outlines a future alliance not only in supercritical carbon dioxide, but also in a range of clean fossil fuels and carbon management opportunities," Perry said in a statement.
https://www.axios.com/newsletters/axios-generate-e6951328-056f-457b-afad-a35d70e700c1.html?chunk=2#story2
Geothermal startup lands two solar vets for top roles
Staffing up: Dandelion, a residential geothermal energy startup with ties to Google, is announcing two major hires this morning. They are:
Ryan Hunter, the new vice president of operations. The solar industry veteran was most recently the senior vice president of installation operations at the residential solar firm Sungevity.
Brian Zimmerly, the new director of product engineering. He comes to Dandelion after serving as a senior engineer at Tesla, the electric vehicle and solar firm.
Why it matters: The moves signal the expansion of the company that over the summer spun out from X, the R&D incubator at Google's parent company Alphabet, which remains a shareholder in the geothermal firm. It represents a bet that there's a significant market for home-based geothermal energy for heating and cooling that can help to displace use of propane and fuel oil, which is prevalent in the Northeast.
More details: The New York-based company has begun installations with residential customers in upstate New York, with plans to expand its territory in the years ahead.
Quoted: Dandelion CEO Kathy Hannun explains in a statement why a solar background is important at the company:
"The geothermal industry today is very similar to where the solar industry was fifteen years ago – expensive and largely confined to the earliest adopters, but poised for mainstream adoption."
Go deeper: Greentech Media's Energy Gang podcast had a good segment in July about Dandelion's business model and prospects. It begins at around the 15:30 mark here.
https://www.axios.com/newsletters/axios-generate-e6951328-056f-457b-afad-a35d70e700c1.html?chunk=3#story3
What to watch in the tax battle
As the dust settles on the Senate's early Saturday morning vote, here's a few things to look for in conference...
ANWR: A decades-long push to allow oil exploration in Alaska's Arctic National Wildlife Refuge is on the brink of succeeding.
What's next: Your Generate host sees very little chance that the ANWR provisions will be jettisoned in a House-Senate conference, so the fate of the legislative drilling effort rises or falls on the overall tax negotiations.
Axios' Jonathan Swan wrote last night that "None of my best sources — inside or out of Republican leadership — think there's much of a chance the GOP tax effort collapses."
If the tax bill is signed into law, look for the long ANWR fight to enter a new phase as environmentalists look to slow leasing and development with court battles, among other efforts.
Renewables and EVs: The renewables and electric car sectors will battle House provisions that kill an EV credit and cut the value of the wind energy production tax credit. Renewables groups are also very worried about a Senate provision called "Base Erosion Anti Abuse Tax" (BASE) that they say would thwart their ability to monetize renewable tax credits (a recent letter to lawmakers about this is here).
More BASE: "Anti-base erosion language in the Senate tax bill, as currently written, would impose a 100% surcharge on overseas companies' purchases of solar ITCs and PTCs in the tax equity market. The provision, which would appear to apply retroactively to existing credits, could significantly dampen financing for wind and solar infrastructure," the firm Clearview Energy Partners said in a note Monday morning.
Corporate concerns: This Wall Street Journal story notes that corporate interests including coal magnate Bob Murray are upset over the Senate bill's Alternative Minimum Tax provisions and how they would complicate companies' ability to use other credits, notably the R&D credit.
Oil-and-gas: Via the New York Times and others, a late add to the Senate bill would give new opportunities to certain oil-and-gas firms to benefit from major deductions for so-called pass-through entities.
https://www.axios.com/newsletters/axios-generate-e6951328-056f-457b-afad-a35d70e700c1.html?chunk=4#story4
Congress this week: EPA chief and nominees
EPA chief in the spotlight: EPA administrator Scott Pruitt will appear Thursday before a House Energy and Commerce subcommittee for a broad hearing on EPA's mission.
Why it matters: It will be Pruitt's first public testimony before Congress since his confirmation, and follows a tumultuous 10 months in which he has moved to dismantle a suite of Obama-era rules on climate change and more.
Nominees in focus: Trump's picks for senior Energy and Interior Department positions will appear before the Senate Energy and Natural Resources Committee on Tuesday, including Linda Capuano, the choice to run the federal Energy Information Administration.
Why it matters: EIA produces closely watched, market-moving oil market information, not to mention a wealth of other statistical info and long-term projections used by analysts, lawmakers and journalists.
What Capuano will say: "The rapidity with which technology is changing everything from the production of oil and gas to the integration of distributed generation, including storage technologies and microgrids, is a challenge for EIA that I am eager to embrace," she says in prepared remarks posted ahead of the hearing.
https://www.axios.com/newsletters/axios-generate-e6951328-056f-457b-afad-a35d70e700c1.html?chunk=5#story5
On our radar: solar trade, methane, biofuels meeting
Climate: The American Petroleum Institute is set to formally announce early this week its program to cut emissions of methane, a potent greenhouse gas, from oil and natural gas wells, as we told you in one of Amy's Harder Line columns in late October.
Why it matters: API's official entry into this space shows how mainstream and significant methane emissions and climate change more broadly are becoming within the oil and natural gas industry.
Solar battle flares: On Wednesday, the office of the U.S. Trade Representative will hold a public hearing on potential import tariffs on solar panels and other remedies in response to findings by a separate body — the U.S. International Trade Commission — that cheap imports are harming domestic manufacturers.
Why it matters: The hearing is the latest and among the final chances for both sides of the dispute to make public appeals ahead of a White House decision in the coming months.
Quick take: The wider solar industry, which says tariffs would hike project costs enough to slow solar's growth, faces an uphill battle to prevent restrictions by a White House eager to take aggressive actions against China.
Biofuels buzz: A number of K Street sources say that Trump is slated to meet with Sen. Ted Cruz and several top administration officials on Thursday to discuss the Renewable Fuel Standard. The White House and Cruz's office did not comment Sunday
Why it matters: Cruz, who spearheaded a late October letter to the White House asking for a meeting, and other refining industry allies say the federal biofuels mandate imposes costly burdens on the oil industry.
Go deeper: Reuters reported a few days ago that a meeting was in the offing at some point and would include refining industry representatives, though one source tells Axios the meeting is with lawmakers only. The meeting "could set the stage for negotiations over possible legislation to overhaul" the ethanol blending mandate, their story notes.