Axios Generate
July 29, 2020
Good morning. Today's Smart Brevity count: 1,264 words, < 5 minutes.
🚨 Situational awareness: Amazon CEO Jeff Bezos is slated to tout his company's climate change work when Big Tech executives appear at today's House hearing, his prepared testimony shows.
Plus, Facebook CEO Mark Zuckerberg could face questions about spread of climate misinformation on the platform, E&E News reports.
🎵 And 50 years ago, the great Stevie Wonder was about to reach #1 on Billboard's R&B charts with today's classic intro tune...
1 big thing: Trump hits oil patch as "dominance" agenda teeters
President Trump will tout his policy of "restoring energy dominance" in Texas oil country today, but market forces, OPEC and a raging pandemic are complicating his plans.
Driving the news: Trump's swing through the state today includes a visit to a Double Eagle Energy oil rig in Midland, a speech on energy in Midland, and a fundraiser in Odessa.
Why it matters: Texas, long a red state, is looking very competitive heading into November. The oil-and-gas sector's big downturn — and layoffs accompanying it — is something of a political wildcard.
The big picture: The collapse in demand has battered the oil industry, with production down sharply from record levels at the beginning of the year and bankruptcies piling up.
The U.S. oil price recovery from April's record depths has been stuck for nearly two months in the $40-per-barrel range, and the pandemic's persistence is limiting the pace of demand revival.
What they're saying: Brendan Steinhauser, a Texas-based GOP political strategist, tells me that the oil sector's downturn adds to Trump's problems there.
One reason is the financial downturn affects the total amount of political giving. "Lots of money in GOP politics comes from oil-and-gas and related industries," he said.
And the economic pain from the industry's woes is affecting Trump voters, including blue-collar, rural voters with a two-year degree or less, he said.
"They are the ones getting hit. They have lost their jobs, or they are in danger of losing their jobs."
What we're watching: Whether Trump makes the case that White House moves, including his role in helping to broker the OPEC+ production-cutting pact in April, have helped the sector.
And whether he'll echo lines from his campaign operation that Joe Biden would hurt the industry with his climate agenda.
But Steinhauser is skeptical about the political efficacy of targeting Biden, noting that voters understand that the downturn stems from the pandemic.
"Very few people are well versed in Joe Biden's energy and environmental plans, and part of that is because he is not an incumbent, he is not the president," he says.
Yes, but: As this Bloomberg story notes, there's still a lot of oil-sector money flowing to the GOP.
The intrigue: Oil prices are up this morning, with WTI trading around $41.34. But a note from Rystad Energy this week says the market could face new headwinds as OPEC+ eases some output curbs starting next month.
"OPEC's experiment to increase production from August could backfire as we are still nowhere near out of the woods yet in terms of oil demand. The overall liquids market will flip back into a mini-supply glut and a swing into deficit will not happen again until December 2020," Rystad's Bjørnar Tonhaugen writes.
Go deeper: U.S. shale producers, slammed by oil price crash, seen posting worst quarter since 2016 (Reuters)
Bonus: Coal's U.S. decline
While Trump's visit to Texas centers on oil, federal data puts the coal sector's ongoing woes into stark relief too.
Why it matters: The Trump administration's pro-coal moves haven't revived the sector that's been hindered for years by cheap natural gas, stagnant power demand and the rise of renewables.
Driving the news: U.S. coal production in 2019 fell to its lowest level since 1978, and it's declining further this year, per a new Energy Information Administration primer.
2. Legacy energy sectors brace for Biden
The oil-and-gas sector is primarily pro-Trump, but the industry's posture toward Joe Biden stops short of existential dread.
Driving the news: That's one takeaway from this in-depth New York Times piece about how incumbent fossil fuel industries see Biden, whose climate plan calls for deep emissions cuts, partly via more EVs, mass transit and renewables.
Threat level: The oil industry is "relieved by what the plan did not include, chiefly a ban on hydraulic fracturing, the approach that has turbocharged domestic production of oil and gas over the past dozen years," NYT reports.
Biden's plan would thwart new oil-and-gas development on federal lands and waters, but does not call for ending fracking (which would take congressional action anyway).
What they're saying: Here's a little more from the NYT on the view from the energy sector overall...
"Some executives were particularly enthusiastic that Mr. Biden wanted the federal government to invest in carbon capture and sequestration, which entails preventing emissions of greenhouse gases from reaching the atmosphere and thus allowing industry to continue burning fossil fuels for decades."
"In a sign of his all-inclusive, eclectic approach to energy, Mr. Biden is also proposing to use advanced nuclear reactors to produce electricity."
Yes, but: "Coal executives are downright hostile toward Mr. Biden," the piece notes.
3. Catch up fast: EVs, microgrids, Occidental
Electric cars: "Carmakers need to take radical steps to lower the price of electric vehicles by cutting costs across offices, dealerships and suppliers, according to the chief executive of Peugeot owner PSA." (Financial Times)
Grid tech: "The coronavirus pandemic has thrown a wrench into U.S. microgrid development and may delay project origination and timelines over the next year, according to Wood Mackenzie's latest review and forecast." (Greentech Media)
Deals: "Occidental Petroleum Corp. is in talks about a potential sale of energy assets in Africa and the Middle East to Indonesia's state-owned PT Pertamina, people with knowledge of the matter said." (Bloomberg)
4. Cheap oil shelves carbon capture project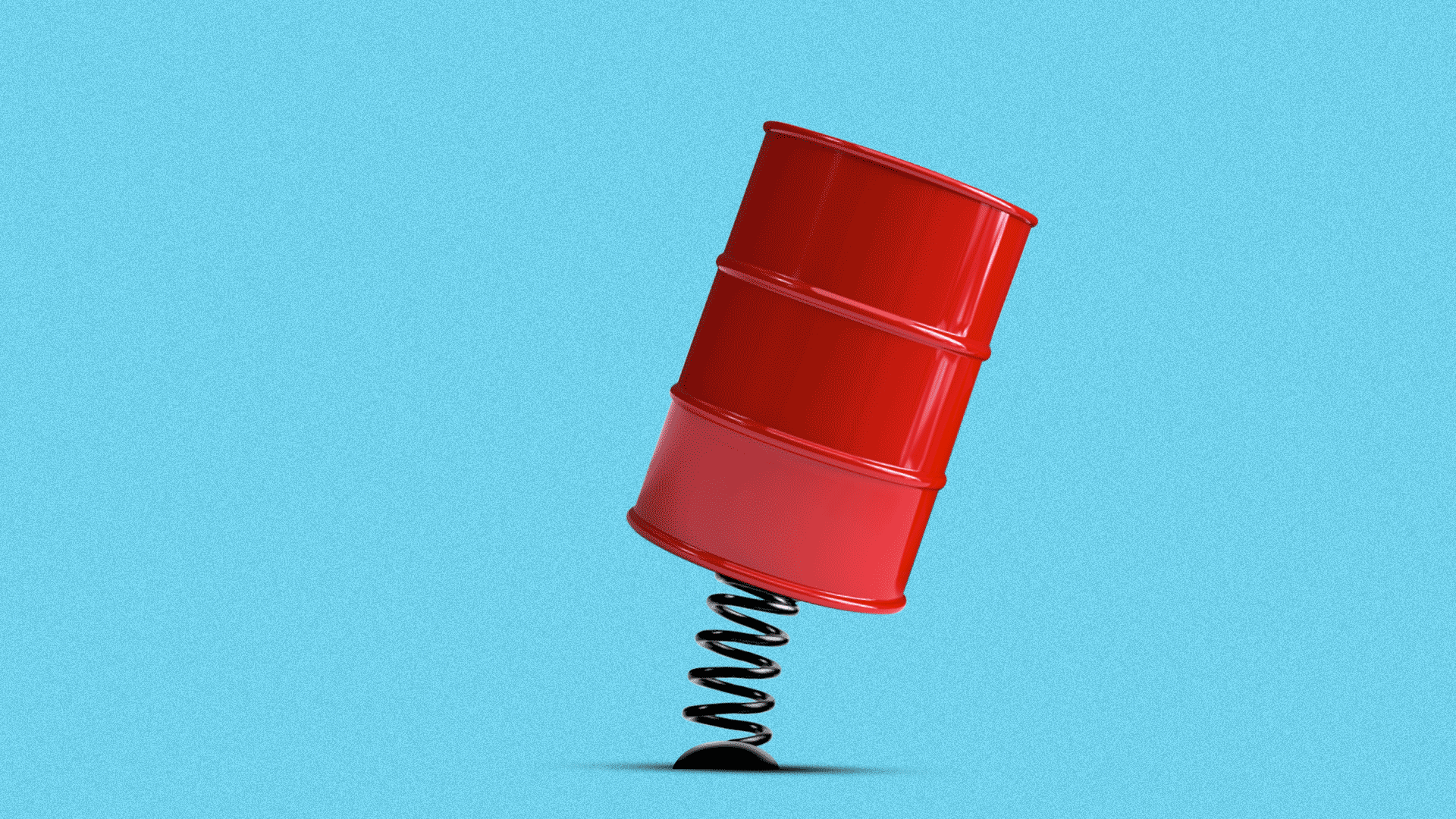 Axios' Amy Harder writes: A Texas carbon capture project hailed as a key solution to climate change has been "mothballed" over low oil prices, E&E News reported on Tuesday evening. 
Our thought bubble: It's emblematic of the complex relationship between climate policies and oil prices, which collapsed along with oil demand during the pandemic.
How it works: The Petra Nova project, visited in 2018 for this column, captured a small share of the carbon dioxide emissions from an adjoining coal plant, which were then used to extract oil out of the ground through a process called enhanced oil recovery. That process is expensive, so oil prices need to be higher than where they are now to sustain it financially.
Between the lines: Two schools of thought persist about the relationship between climate policies and oil prices. 
Oil (and natural gas) prices need to be high to force behavior change on behalf of businesses and consumers.
Oil and gas prices should be low to allow the political room for all sides to compromise on big policy. 
But, but, but: There are problems with those two schools of thought.
High oil prices often compel politicians into imminent crisis mode (Price manipulation! Investigate OPEC!), so they're not thinking about longer-term climate policies.
If prices are too low, it makes it harder for more expensive technology — whether that's carbon capture or electric cars — to compete with fossil fuels. We're seeing this play out now with Petra Nova.
What we're watching: A spokesperson for the company behind the project, NRG Energy, says it will come back online when the "economics improve" (code for when oil prices go back up, which is not a given anytime soon).
Go deeper: The oily path to combating climate change
5. 1 fun thing: Meet "eBussy"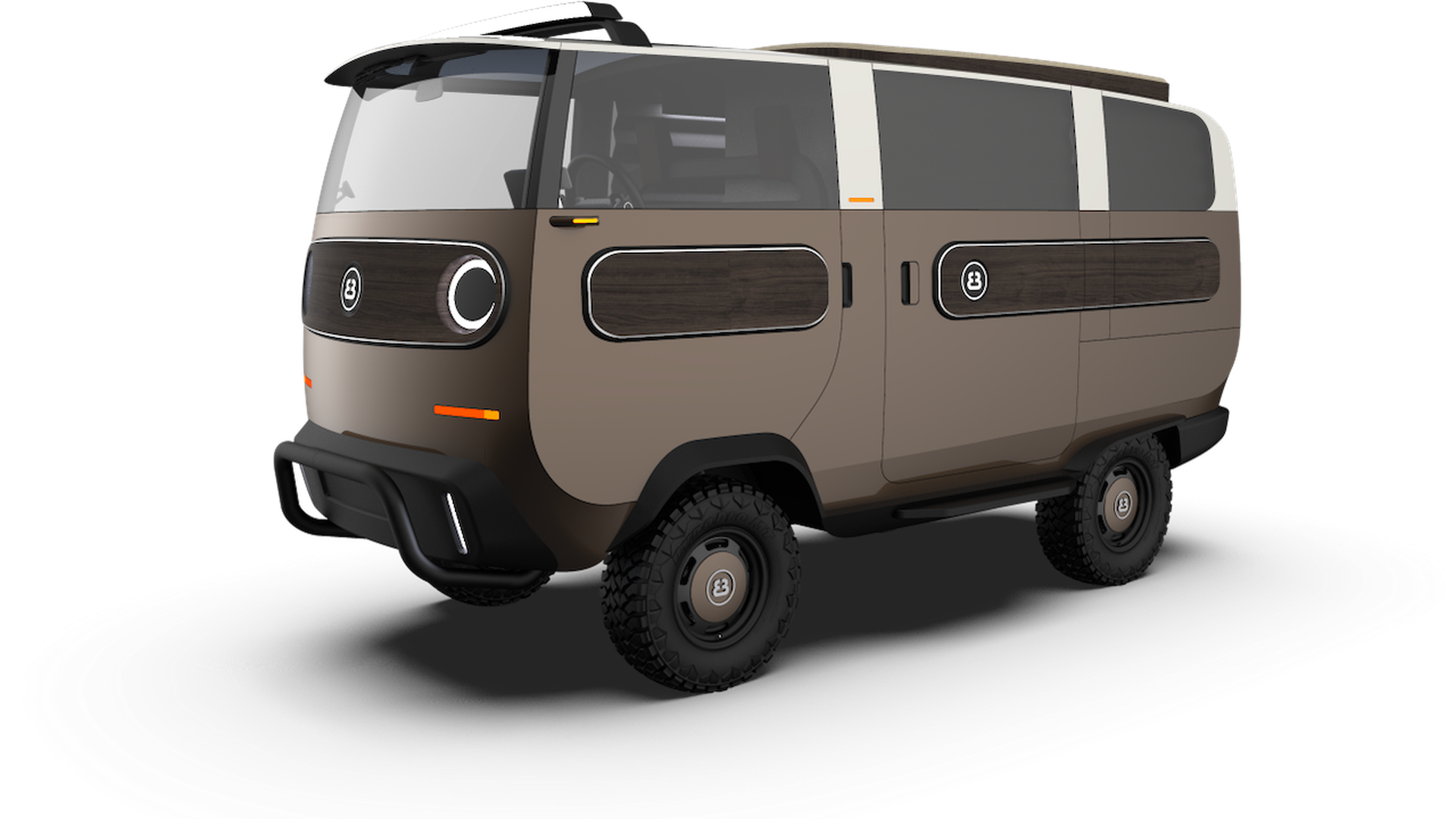 The German startup Electric Brands has opened up reservations for eBussy, a small electric [insert vehicle type of your choosing here].
Driving the news: The modular eBussy comes with an "off road" or "city" chassis, and there's a whole bunch of variants, including a van, camper, pickup, flatbed, even a dump truck.
What's next: The company says they'll be available in Europe starting next year. "Here's to hoping they'll spread the joy and sell these in the United States, too," Jesus Garcia writes in The Drive.
By the numbers: The base model ("Freedom") starts at roughly $18,500 while the most expensive, the off-road camper (shown above), starts at roughly $34,000.
They all come with a 10 kilowatt-hour battery pack that provides about 124 miles of range, but you can upgrade to a 30 kWh unit that goes up to 373 miles. Solar panels on the vehicles can extend things a bit more.