Axios Generate
December 03, 2021
🍺 Happy Friday! Today's Smart Brevity count is 1,194 words, 4.5 minutes.
🎶 45 years ago the incomparable Stevie Wonder was atop Billboard's album charts with "Songs in the Key of Life," which provides today's intro tune...
1 big thing: OPEC in the age of Omicron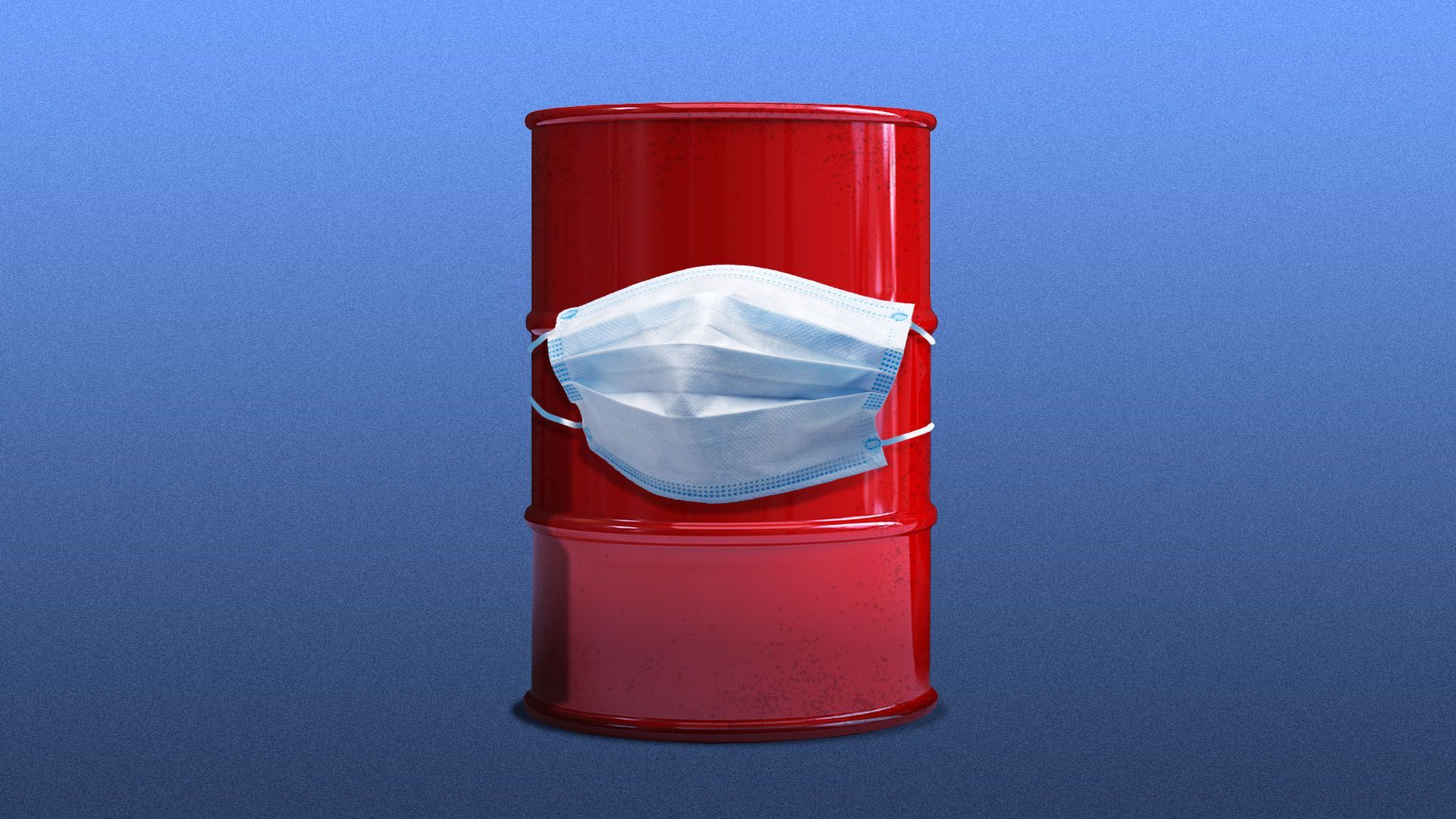 The OPEC+ decision to forge ahead with output hikes next month can't be untethered from U.S. politics or uncertainty about the Omicron variant, Ben writes.
Catch up fast: OPEC, Russia and allied producers met virtually Thursday and stuck with plans to increase production by 400,000 barrels per day in January.
But in an unusual move, the group has technically held the meeting open to enable them to revisit the decision on the fly.
Why it matters: The production increase — if it holds — is likely to help keep crude prices in the lower range they've been at lately after October saw Brent crude rise above $85 per barrel (it's at almost $72 this morning).
That should bring down gasoline prices that have already fallen slightly in recent days.
What they're saying: "The pandemic has demonstrated that it can strangle oil demand at will. OPEC is smart to prime its membership for the possibility of a U-turn," Rice University energy expert Jim Krane tells Axios via email.
"But a change in strategy right away might've unduly upset the Biden administration and made the Saudis look a bit tone-deaf," Krane adds.
"It would've also signaled that the Saudis and Russians were keen to protect the $70-$80 price band, which would probably unleash a whole bunch of U.S. shale production."
Between the lines: The decision comes despite the White House move to release oil from strategic stockpiles and analysts estimates that markets will soften next year.
RBC Capital Markets analysts called the OPEC+ decision a "victory" for the Biden administration, which has called for more output and has been scrambling to contain the political fallout from elevated gasoline prices.
They write in a note that "non-market factors likely played a role" and that there may be "geopolitical pay off coming" for Saudi Arabia, perhaps via more assistance against missile and drone attacks coming from Yemen.
The intrigue: Another read of the decision is that OPEC+, while hedging its bets, doesn't see Omicron as a rerun of the way COVID throttled demand in 2020.
"I see OPEC+'s decision to stick with its planned output increase as a signal of the group's optimism in the global economy and oil demand in 2022," oil analyst Ellen Wald tells Axios via email.
"They are looking past the financial noise associated with fear and panic over the omicron variant and new travel restrictions to larger economic signals," she said.
Bonus: a wild stretch in oil markets
There have been plenty of whiplash moments in oil markets lately as traders weigh the economic recovery, threats from the Omicron variant and White House plans to release oil from strategic reserves, Ben writes.
Driving the news: Prices are heading back up this morning, with Brent crude at roughly $72.
The big picture: Rystad Energy analyst Louise Dickson, in a note, said news about vaccine efficacy against Omicron is helping to pull prices upward. But Dickson also cautions:
"Once the Omicron variant is discovered in China, its zero tolerance COVID-19 policy could put a rapid halt to oil products demand, potentially sending oil much closer to $60 per barrel Brent than $70 Brent."
2. Hedging against extreme weather events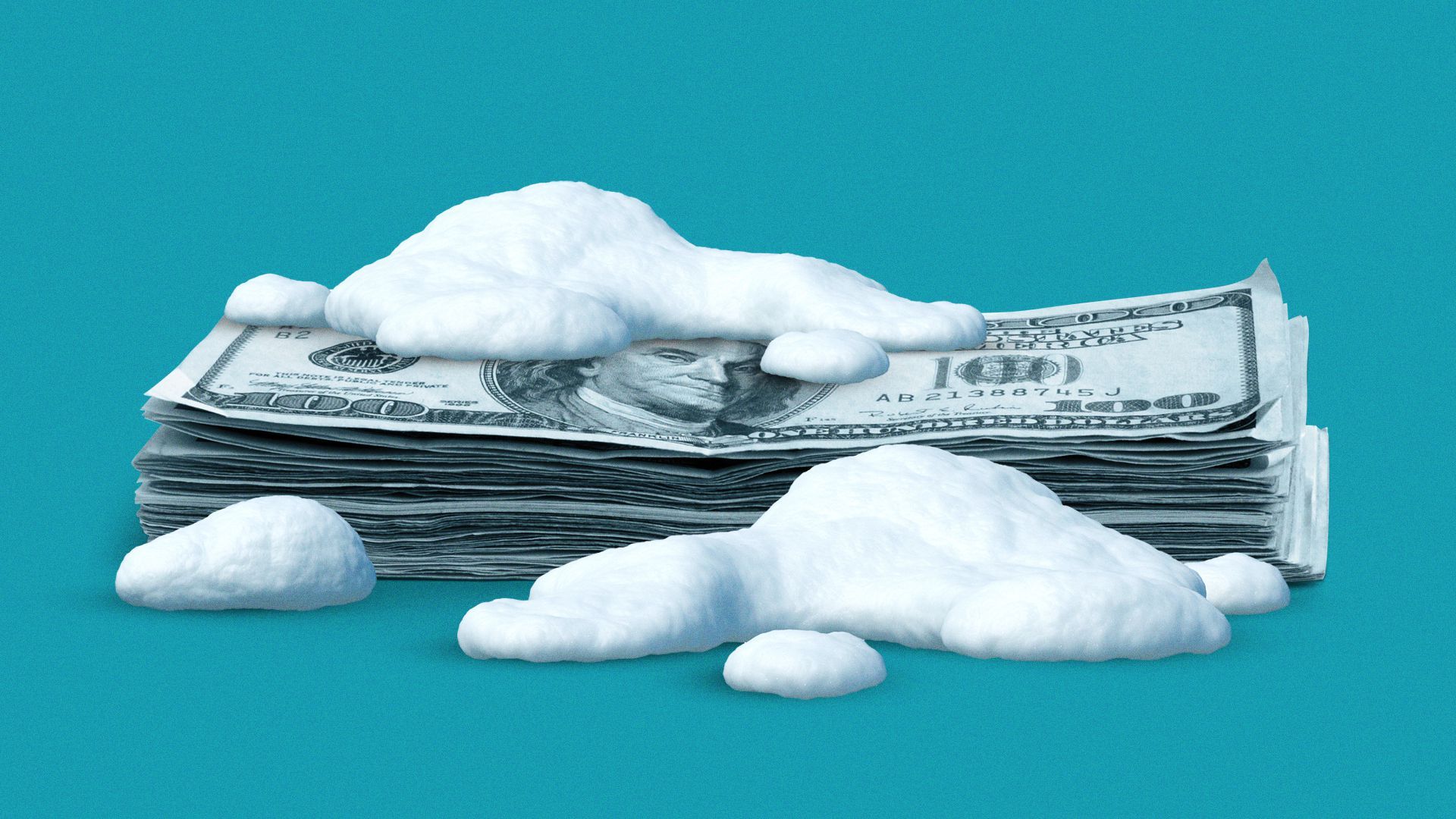 Your home or business insurance could soon come with innovative options for extreme weather thanks in part to platforms developed by climate risk management companies like The Demex Group, Andrew writes.
The company uses a combination of meteorological know-how, risk analysis, software development and relationships with insurers to help distribute the monetary risk that extreme weather events pose.
The big picture: Such events, particularly temperature and precipitation extremes, are worsening due to human-caused climate change. Transferring that risk from business owners, and spreading it across the insurance industry, could be a way to help manage a riskier future.
Driving the news: Yesterday, The Demex Group announced it had raised $9 million in Series A funding. Last month, it also rolled out a unique partnership with Vave, an insurance API service platform. Under the partnership, the companies will offer extreme temperature insurance to commercial properties nationwide.
The product is designed to provide up to $1,000 of cash immediately when the temperature hits a certain threshold, according to a statement, giving business owners a bridge to cover the gap before traditional insurance might reimburse for physical damage.
What they're saying: "What we have found is that there's a sort of a gap period where when the event occurs, it takes a little while to get the insurance money flowing," Stephen Bennett, chief climate officer at The Demex Group, told Axios.
Bennett said the company is working to offer similar products for precipitation, heat and other extreme events.
3. Catch up fast: Shell, Toyota, British Airways
Oil-and-gas: "Royal Dutch Shell has withdrawn from a contentious oil project in Britain's North Sea that had become a battleground for environmental groups keen to stop the UK developing new oil and gas reserves." (Financial Times)
Electric cars: "Toyota Motor Corp will launch an all-electric small sedan in China late next year, having turned to local partner BYD for key technology to finally make an affordable yet roomy runaround." (Reuters)
Sustainable jet fuel: "British Airways said Thursday it will become the first airline in the world to use sustainable aviation fuel produced in the U.K., following an agreement with Phillips 66 Ltd." (MarketWatch)
4. Nord Stream 2 lobbyist maxes out with Senate Dems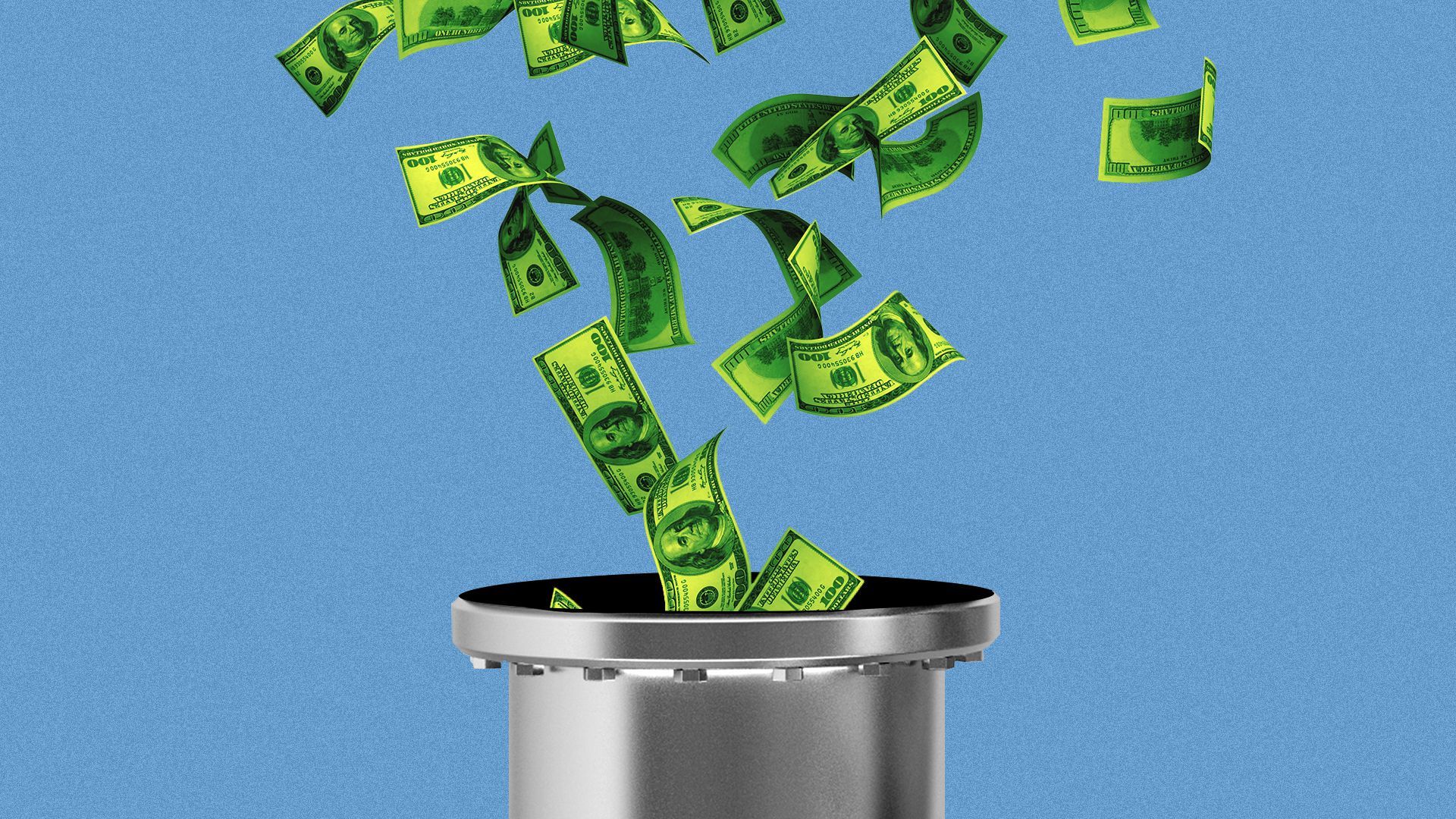 Axios' Alayna Treene and Lachlan Markay report: A major Democratic donor and Nord Stream 2 lobbyist has made maximum campaign contributions this year to Senate Majority Leader Chuck Schumer and vulnerable Senate Democrats, records show.
Why it matters: If pressure from the White House to vote against reimposing sanctions on the Russia-backed natural gas pipeline weren't enough, Democrats who back such legislation also will be at loggerheads with one of their party's top fundraisers.
Driving the news: Vincent Roberti, a former Connecticut state representative, has given the legal maximum of $5,800 to Sens. Catherine Cortez Masto (D-Nev.), Richard Blumenthal (D-Conn.) and Patty Murray (Wash.).
He's also given $2,900 — the maximum primary contribution — to Sen. Maggie Hassan (D-N.H).
Both Cortez Masto and Hassan face competitive reelection fights next year.
Roberti's firm, Roberti Global, has been paid $8.5 million for its Nord Stream 2 lobbying work, according to lobbying disclosure records.
5. How cars can become little power plants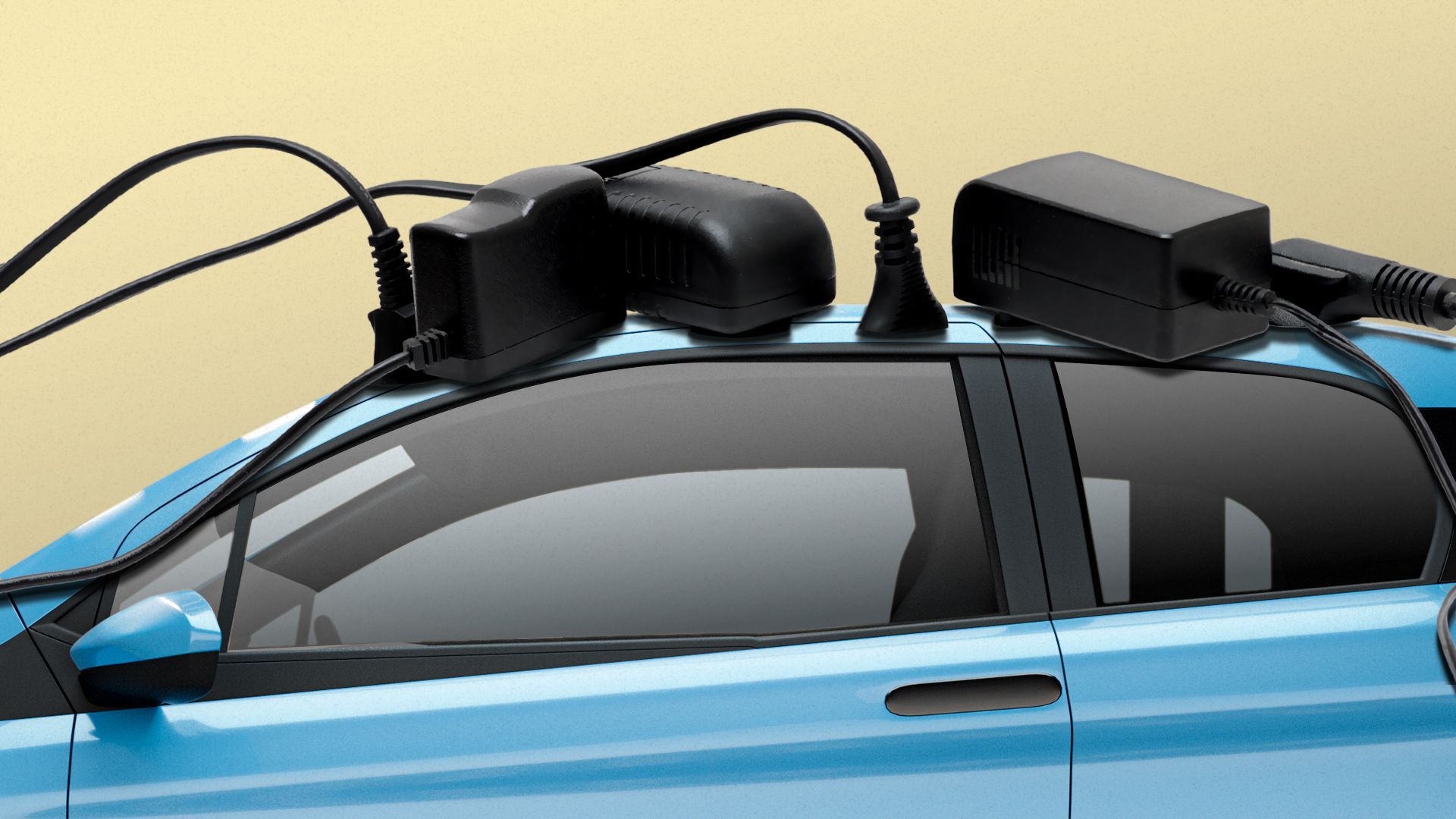 That electric car parked in your driveway may soon be more than a fun, emissions-free ride. When lashed together in the cloud with other EVs in your neighborhood, it could help utilities manage electricity demand in your community, Axios' Joann Muller reports.
Why it matters: Massive growth in EV adoption — which is widely expected — means that more car owners will be plugging in at home, putting pressure on electric grids but creating power-sharing opportunities too.
Emerging smart-charging technologies aim to build in more flexibility so grid upgrades aren't needed and EV owners will have all the juice they need.
What's happening: EV owners can earn rebates and cash rewards from smart-charging programs by letting utilities control when their car is charged based on overall electricity demand.
In Texas, for example, about 1,000 EV owners participate in a project with the Electric Reliability Council of Texas (ERCOT).
Together, those cars serve as a cloud-based "virtual power plant" that ERCOT can use to suck or store energy during demand peaks and valleys.