Axios Generate
April 28, 2021
Good morning. Today's Smart Brevity count is 1,235 words, 4.7 minutes.
🚨 Join me and Axios' Hope King today at 12:30pm ET for a discussion on climate change and White House policy. 
Guests are Special Assistant to President Joe Biden Melanie Nakagawa and Christiana Figueres, formerly the top U.N. climate official. Register here.
🎶 And exactly 35 years ago, the late and brilliant Prince was #1 on the Billboard charts with today's intro tune...
1 big thing: The intensifying battle for Exxon's future
A very public battle is raging over how ExxonMobil should face questions about long-term oil demand and prepare for a carbon-constrained world.
Driving the news: Investment group Engine No. 1, which is nominating board members it says are equipped to deal with these dynamics, this week gained new support.
Two huge pension funds — California Public Employees' Retirement System and the New York State Common Retirement Fund — have thrown their weight behind it.
It adds to prior backing from the California State Teachers' Retirement System, so now, per Pensions & Investments, the country's three largest pension funds back the effort.
Why it matters: The unusually high-profile shareholder battle is something of a microcosm (I'm feeling high school-y today) of larger questions about the future of Big Oil.
But it's also specific to Exxon, one of the world's most powerful companies, which has not sought to diversify as widely as its European peers (though oil-and-gas remains the dominant business for all of them).
What they're saying: Engine No. 1, in an 81-page presentation posted this week, says Exxon has "significantly underperformed and has failed to adjust its strategy to enhance long-term value."
The slide deck argues that Exxon has long been lagging its Big Oil peers by multiple metrics of investor returns.
The other side: Exxon, which has seen significant share price recovery over the last six months, has been striking back against the claims that it's poorly positioned and underperforming.
Exxon yesterday posted its own detailed slide deck laying out the case for why its strategy will provide long-term value.
It's the latest of recent moves including new board additions and vowing new emissions intensity cuts.
The presentation delves into its investments in carbon capture while arguing that Exxon is well-poised to deliver strong returns in oil-and-gas, which it notes will remain immense markets for decades despite low-carbon energy growth.
And one of its new board members, Jeff Ubben, defended Exxon's climate strategy in an interview with the Financial Times.
What's next: It comes to a head at Exxon's May 26 shareholder meeting.
Reuters reports that the hedge fund D.E. Shaw, which has pushed Exxon to change its approach, now intends to vote with the company.
2. White House begins transmission push but needs help
The Biden administration is looking to jumpstart the construction of new transmission lines by offering up to $8.3 billion in loans and, separately, issuing new guidelines to help state officials with siting.
Driving the news: The Energy Department yesterday invited applications for up to $5 billion in loans for projects like high-voltage systems; transmission for offshore wind; and systems that follow rail and highway routes.
It's separately offering up to $3.25 billion from the Western Area Power Administration.
Meanwhile, the Transportation Department released details for how its offices should work with states on siting for transmission, renewable energy projects, EV charging and more.
Why it matters: The major build-out of renewables generation the White House hopes to accelerate will need new infrastructure to carry and integrate those electrons.
But getting transmission built is notoriously hard, and jurisdiction is fragmented both federally and between the federal government and states.
Yes, but: While Tuesday's announcements are using existing finances and authorities, the White House is also asking Congress to help.
The White House infrastructure proposal calls for steps including the creation of a new tax credit for developing high-voltage transmission.
* * *
Speaking of Beltway news, a couple of other items of note:
Today the Senate is expected to vote to undo a Trump administration policy that thwarted EPA controls on methane emissions from oil-and-gas development.
The Congressional Review Act resolution, which cannot be filibustered, is expected to pass with some crossover GOP votes.
Why it matters: Methane is a powerful planet-warming gas. The Associated Press has more.
Meanwhile, the Senate yesterday confirmed Janet McCabe to be the No. 2 official at EPA. The Hill has more.
3. One headwind for EVs: People ditching them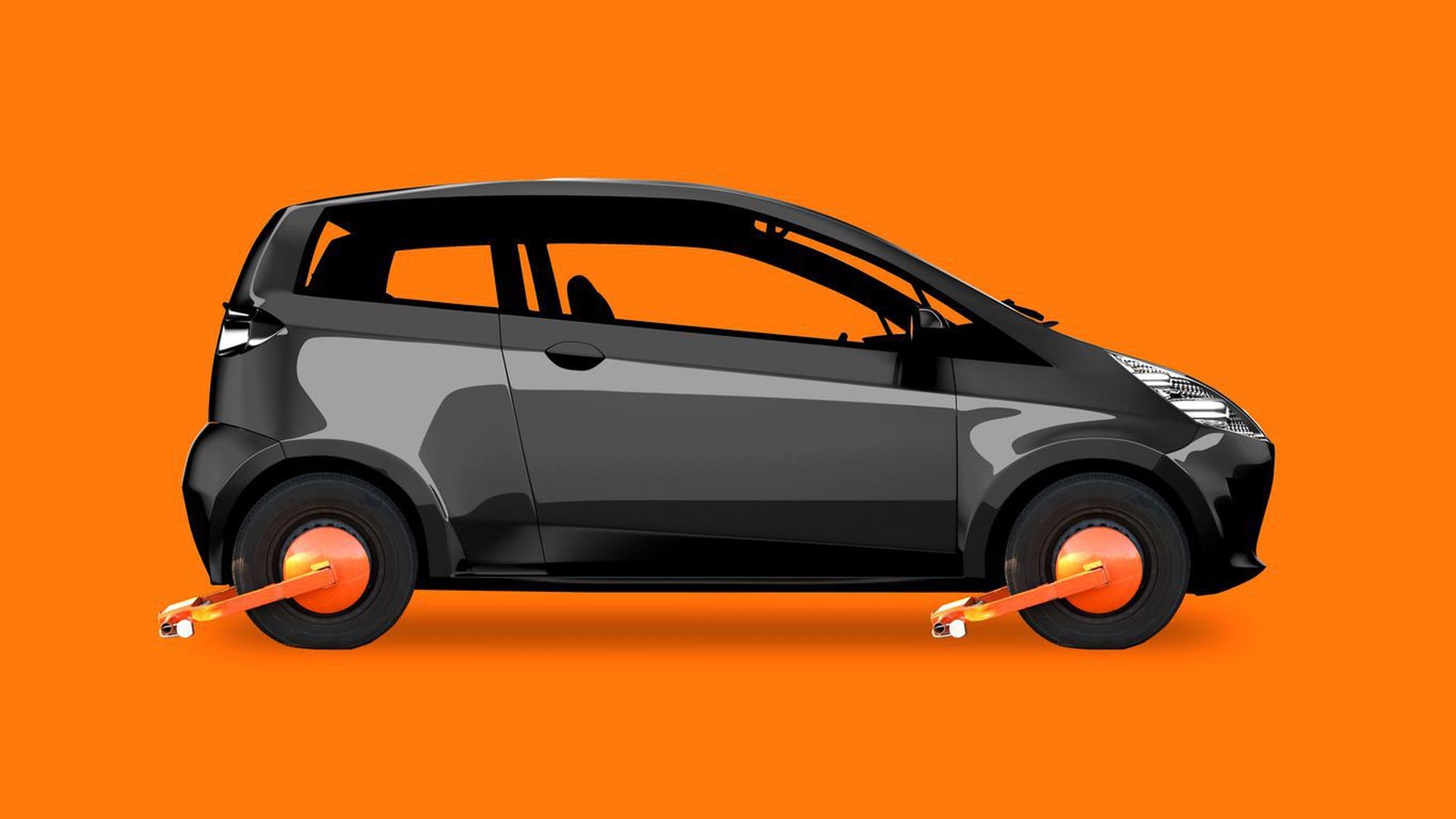 New peer-reviewed analysis in Nature Energy shows that roughly one-fifth of electric car owners in California are switching back to internal combustion vehicles.
Why it matters: While most stick with the tech, the paper nonetheless reveals a barrier to widespread adoption.
The findings come as officials in California and other states and nations hope to eventually phase out gas-powered cars.
That's "more difficult to achieve" if EV owners are switching back, University of California-Davis authors note.
How it works: It's based on surveys of owners of plug-in hybrid electric vehicles (PHEVs) and full battery electric vehicles (BEVs).
The "discontinuance" rate is 20.1% for PHEV owners and 18.1% for BEV owners.
Owners bought them from 2012-2018, and discontinued use in 2015-2019.
Tesla has the lowest rate of discontinuance at 11%.
The big picture: Discontinuance is correlated with having fewer household cars and dissatisfaction with charging convenience.
Other factors are more particular to vehicle type. For BEVs, they include a lack of level-2 charging at home.
For PHEVs, which can switch to gasoline power, it's correlated with factors including "not being male" and "not living in a detached house."
Yes, but: There are limitations on the data. One is that surveys of people interested in sharing their EV experience could even under-sample discontinuance.
One big question: That's whether today's and future discontinuance rates might be lower as EV models arrive and charging access expands.
But lead author Scott Hardman said they didn't see changes over time in the 2015-2019 period examined.
He also noted workplace and public charging did not have a "significant relationship" with the decisions.
"I would hope that discontinuance will decrease over time as more models become available, prices start to fall, etc. However we do not have evidence to show that," he said via email.
🚗 Bonus EV news: Ford's new battery plans
Ford Motor Co. is investing $185 million to create a battery R&D lab in Michigan — an initial step toward potential large-scale manufacturing in the future.
Why it matters: It signals Ford's growing push into EVs and comes as major automakers face questions about supply chains and costs as demand for batteries grows.
As The Verge points out, automakers including GM and Volkswagen are moving to build new battery factories
How it works: Ford says the 200,000-square-foot lab will have pilot-scale equipment for component design and testing new manufacturing techniques.
Go deeper: Ford Plans to Manufacture Its Own Batteries for Electric Vehicles (Wall Street Journal)
4. Catch up fast: Shale, climate, spill, meat
Companies: "Chesapeake Energy Corp. is searching for its next chief executive officer after the sudden departure of Doug Lawler less than three months on from the company's exit from bankruptcy and as speculation swirls about shale-industry consolidation." (Bloomberg)
Methane: "Moving quickly to cut emissions of methane, a potent greenhouse gas produced by everything from livestock farming to fossil fuel extraction, could slow the rate of the Earth's warming as much as 30 percent, new research has found." (Washington Post)
Environment: "Clean-up crews worked on Wednesday to contain an oil spill in the Yellow Sea near the Chinese port city of Qingdao, a day after a collision between a tanker carrying around a million barrels of bitumen mix and a bulk vessel in thick fog." (Reuters)
Recipes: "Epicurious will no longer publish beef recipes in what is being called a "pro-planet" shift, the popular digital food magazine has announced." (Axios)
5. Quote of the day
"You want a guy to have the president's phone number. Kerry has the phone number."
—
Tom Vallely, a friend of special climate envoy John Kerry
The context: Vallely's quoted in this new Foreign Policy piece on Kerry's climate efforts (and the decades that preceded his current role).
Why it matters: Kerry's closeness to Biden could help climate maintain its prominent role in White House efforts to date.