Good Monday morning! 
I'll be in the windy city Tuesday evening to moderate a debate on fracking at the University of Chicago. If you're in town, RSVP here. If not, it'll be livestreamed here.
Now to the news: My latest column cuts through the noise and takes a hard look at why and how President Trump should rewrite former President Obama's fuel-efficiency standards. I'll share a bit of that, and then Ben will get you up to speed on the rest of the news.
https://www.axios.com/newsletters/axios-generate-dea02bd7-2082-40df-8a47-dd08bee85cec.html?chunk=0#story0
1 big thing: Trump should redo fuel standards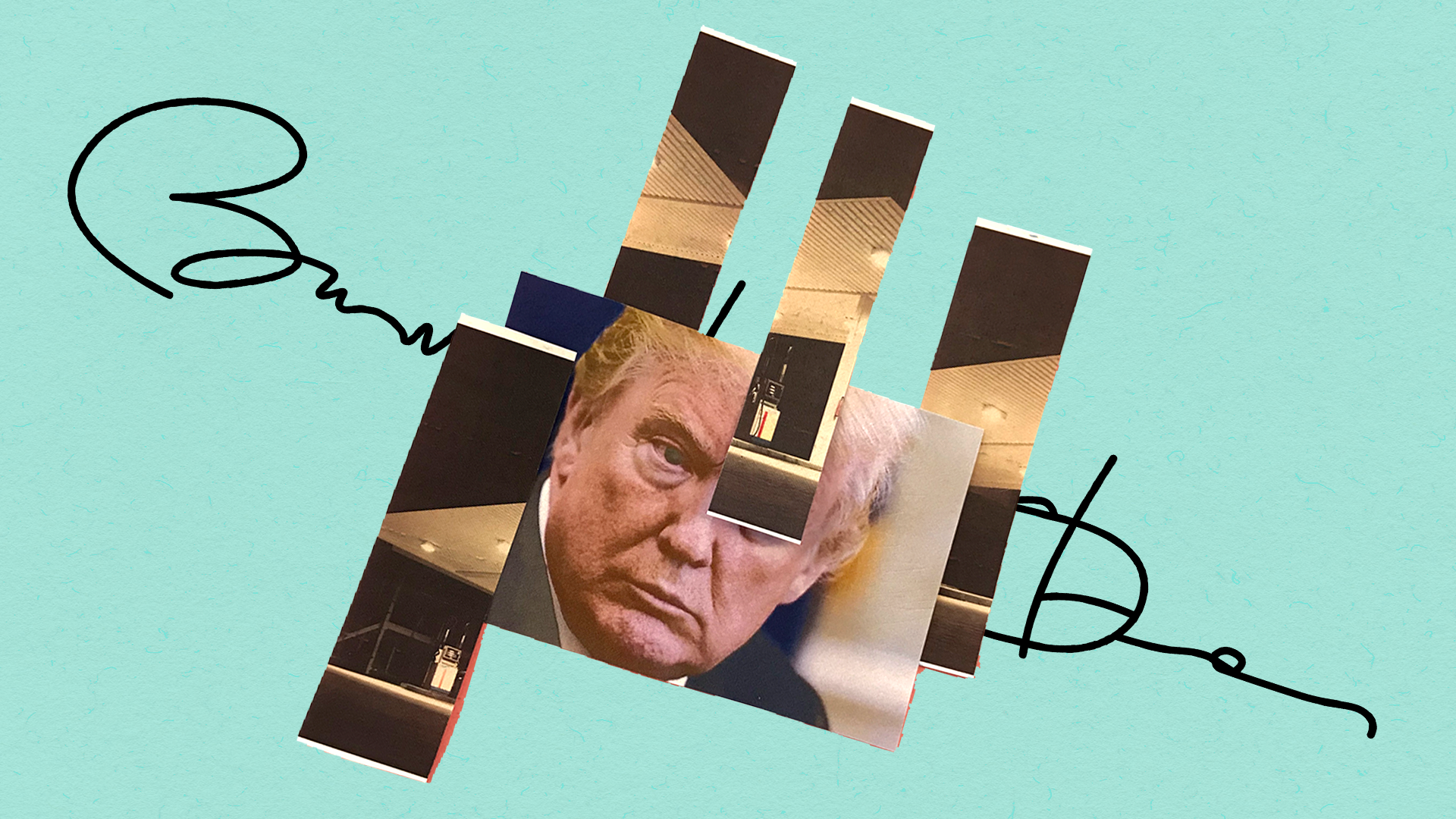 Illustration: Rebecca Zisser/Axios
Of all the environmental regulations Trump is rolling back, the ones that makes the most sense to rewrite — but not repeal — are the fuel-efficiency standards Obama issued in 2012.
The bottom line: That's the conclusion of independent experts, and it's driven by two significant changes we've seen since 2012: lower gasoline prices and the politics of a rushed Obama administration regulatory review.
Gasoline prices have dropped and revived Americans' longstanding preference for pickup trucks and SUVs over smaller, more fuel-efficient cars.
The Obama administration also cut short a technical review of the standard in November 2016 after Trump's surprise election victory.
The catch: It's not clear that the Trump administration is actually willing to find a middle ground. That's why critics of EPA Administrator Scott Pruitt, even those who concede some changes may be necessary, are skeptical he would do anything less than a wholescale rollback.
"If you had a government that you thought was seriously trying to cope with a difficult conflict between environmental aspiration and economic goals, you'd really listen. Why should we listen? He rolls back everything. That's what he does. This is not a person one can give the benefit of the doubt to based on his behavior so far."
— William Reilly, EPA administrator under former GOP President George H. W. Bush
What's next: A senior EPA official told me the agency, along with the Transportation Department, is going to issue multiple standard options in the coming months for public comment. The options will range from a near full-scale repeal to a minor rollback, the official said.
https://www.axios.com/newsletters/axios-generate-dea02bd7-2082-40df-8a47-dd08bee85cec.html?chunk=1#story1
2. Oil prices ease after Syria strike
State of the market: Crude prices moved generally downward Monday after last week's upswing as traders view the attacks on Syria as a limited affair.
A senior BNP Paribas analyst tells Reuters that the market "has had a sigh of relief in the sense that there is no escalation, either diplomatically, or on the ground, following the intervention by the U.S., France and the UK."
In trading Monday, prices for WTI crude had slipped to $66.70 and Brent crude had dropped to $71.84.
***
Oil sands: Canadian Prime Minister Justin Trudeau vowed Sunday to ensure construction of a disputed pipeline to bring oil sands crude westward from Alberta, which would bolster access to Asia.
Per AP, "Trudeau...has instructed his finance minister to begin talks with Kinder Morgan to 'remove the uncertainty' hanging over the controversial Trans Mountain pipeline expansion project that would nearly triple the flow of oil from Canada's oil sands to the Pacific Coast."
He's also prepping legislation that makes clear the federal government can approve the project that has drawn opposition from leaders in British Columbia, they report.
Saudi Aramco: ICYMI Friday, Bloomberg somehow got a look at Saudi Aramco's super-duper closely held financial data, and it shows massive profits but also challenges as the company preps for its (delayed) initial public offering.
Analysts at Bloomberg and elsewhere say the data underscores how Saudi officials are quite unlikely to achieve their hoped-for valuation.
"The figures, though good, still imply a valuation that falls short of what Saudi officials are after," Robin Mills, head of consultancy Qamar Energy, tells the Financial Times. "If they are still hung up on the $2 [trillion] number, it's never going to work."
https://www.axios.com/newsletters/axios-generate-dea02bd7-2082-40df-8a47-dd08bee85cec.html?chunk=2#story2
3. Elon Musk keeps raising the stakes
Tesla's first-quarter earnings call in a couple weeks just got even more interesting, thanks to the latest comments by CEO Elon Musk...
Profit pledge: On Friday Musk shot back via Twitter at The Economist over their story headlined "Tesla is heading for a cash crunch," which cited analyst predictions that Tesla will need to raise more money from capital markets.
"Tesla will be profitable & cash flow+ in Q3 & Q4, so obv no need to raise money," Musk tweeted.
Why this matters: It's a bold claim because profitable quarters have been extraordinarily rare in the company's history.
Production pledge: Musk's widely circulated CBS News interview Friday included this claim: "We'll probably have, I don't know, a three or four-fold increase in Model 3 output in the second quarter."
Why this matters: Musk's comment signals confidence that the recent increase in production — which cracked 2,000 per week at the end of the second quarter — can be maintained and significantly improved. It comes after Goldman Sachs analysts argued that the rate is not sustainable.
Oops: Musk admitted to CBS that automated production fueled Model 3 delays, and he was more direct on Twitter, stating, "Yes, excessive automation at Tesla was a mistake... my mistake. Humans are underrated."
Bottom line: Musk isn't letting a string of setbacks temper his bold promises, even though more failures to deliver could shake investor confidence.
Go deeper: Via the Wall Street Journal, "How Tesla's Elon Musk Makes a Strategy Out of Defiance."
https://www.axios.com/newsletters/axios-generate-dea02bd7-2082-40df-8a47-dd08bee85cec.html?chunk=3#story3
4. Reconsidering the "bellwether" lease sale flop
Not so bad: A top official in Obama's Interior Department has an interesting new essay arguing that last month's Gulf of Mexico lease sale wasn't really the flop that it seemed, despite the low bidding totals.
"The extent to which the lease sale was portrayed as a disappointment appears more a factor of the Administration's amped-up rhetoric as opposed to anything surprising or negative about the actual results," writes Tommy Beaudreau in the piece for Columbia University's Center on Global Energy Policy.
One level deeper: Lots of coverage (including pieces by your Generate host) focused on the small percentage of tracts receiving bids and the bidding totals that were vastly lower than many prior sales.
Yes, but: Beaudreau makes several points about the sale...
The industry has just recently begun emerging from a low-price cycle that sapped capital investment.
The industry has been "laser-focused" on cutting costs and is now more disciplined and less free-spending.
It must be viewed in light of heightened competition from lower-cost areas with shorter development timelines, notably onshore shale.
For all these reasons, industry has moved away from bidding speculatively, instead focusing on prospective areas near existing infrastructure.
When those circumstances exist, companies still open their wallets in the Gulf — 9 blocs received bids higher than $2 million, and the highest single bid was over $7 million.
https://www.axios.com/newsletters/axios-generate-dea02bd7-2082-40df-8a47-dd08bee85cec.html?chunk=4#story4
5. Quote of the day
"If you want to get reform through a bureaucracy, you need someone who knows where all the bodies are buried, they know how the procedure of that agency works, and can come in and actually make the agency cough up the deregulation they want to do."
— Washington Post columnist Megan McArdle
The context: That's McArdle, speaking on the latest episode of the KCRW program Left, Right & Center, sizing up why Pruitt has struggled to unwind Obama-era regulations despite his aggressive attempts.
One level deeper: McArdle says she has a "deep skepticism of the right's idea that what you need is a bureaucratic outsider, someone who is going to come in and really make waves and not be hostage to these old forces."
Yes, but: If Pruitt survives his current scandals, his initiatives will get a boost from the arrival of just-confirmed Deputy Administrator Andrew Wheeler, a longtime Beltway insider who worked at the agency and in Congress.
We explored what Wheeler's confirmation means here.
https://www.axios.com/newsletters/axios-generate-dea02bd7-2082-40df-8a47-dd08bee85cec.html?chunk=5#story5
6. On our radar this week
EPA: The agency's inspector general is slated to release an interim report today on embattled Pruitt's use of special hiring authority under the Safe Drinking Water Act, which critics say he has abused.
Shale: The latest edition of the Energy Information Administration's monthly Drilling Productivity report drops later today. It has all kinds of data about the trajectory of oil-and-gas production from shale regions.
FERC: A House Energy and Commerce subcommittee will hear from all 5 members of the Federal Energy Regulatory Commission at an oversight hearing on Tuesday. On Thursday, FERC will hold its monthly meeting.
Climate change: Tomorrow the Center for Strategic and International Studies hosts an event with Jonathan Pershing, who was a top State Department climate official Obama and is now the program director of environment at the William and Flora Hewlett Foundation.