Axios Generate
March 16, 2021
Welcome back! Today's Smart Brevity count is 1,133 words, 4 minutes.
🚨ICYMI: The Senate confirmed Deb Haaland as Interior secretary yesterday. The first-ever Native American cabinet secretary faces a suite of tricky energy decisions. Go deeper.
🎶 And 45 years ago today the late Marvin Gaye released the album "I Want You," which provides today's intro tune...
1 big thing: The mad scramble for electric vehicle batteries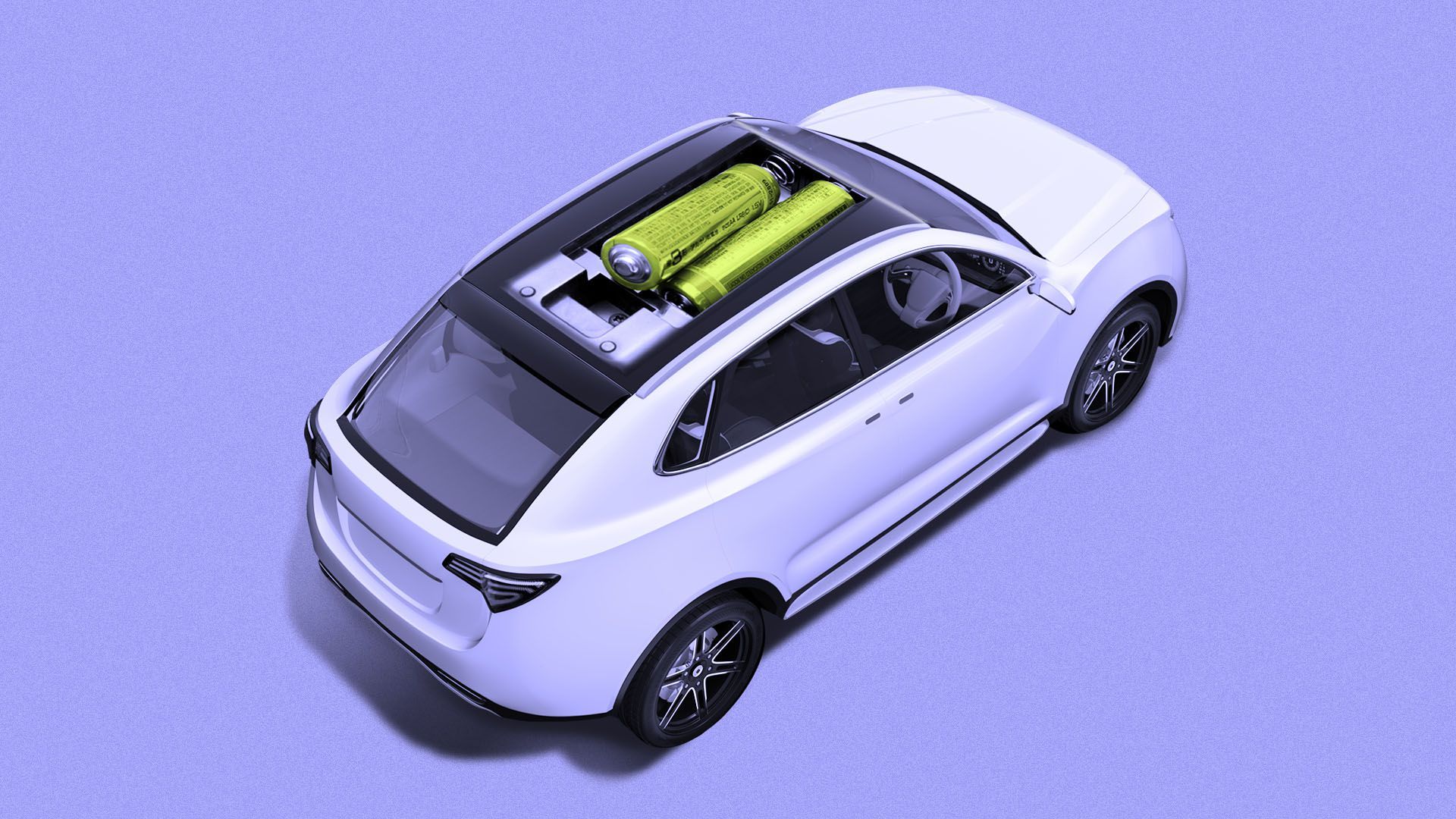 Axios' Joann Muller reports that as the auto industry ramps up production of electric vehicles, some big carmakers aren't taking any chances on securing the necessary batteries: They plan to make their own cells.
Why it matters: Efforts to rapidly improve battery technology and make EVs more affordable could be hampered by a shortage of raw materials like lithium, cobalt and nickel. Many automakers are racing to lock up supply chains — and in some cases, to produce batteries themselves.
Driving the news: Volkswagen, the world's second-largest automaker, took the boldest step yet with a plan announced Monday to build six giant battery factories in Europe by 2030.
Together, the six plants could provide up to 240 gigawatt-hours of battery capacity — 12% more than the entire world consumed in 2020, according to Benchmark Mineral Intelligence.
That's enough capacity just in Europe to build 4 million to 4.5 million electric vehicles, depending on the size of the cars' battery packs, Benchmark says.
The effort will cost about $29 billion and would make VW (along with partner Northvolt) the world's second-largest cell producer after China's CATL, according to BloombergNEF.
The big picture: It marks an important shift by automakers to bring battery cell production in-house, Benchmark managing director Simon Moores tells Axios.
Most automakers, even Tesla, the leading EV company, assemble battery packs from cells imported from Asia.
But with demand expected to soar as more EVs come to market, manufacturers are taking steps to ensure they'll have needed supply.
"Captive battery capacity is now king in the world of electric vehicles," Moores said.
What's happening: VW's hardly alone.
Chinese carmaker Geely plans to spend almost $5 billion to build a new 42 gigawatt-hour battery plant in southern China.
GM and South Korean partner LG Chem are investing $2.3 billion to build a 30 gigawatt-hour factory in Ohio, and are scouting a second location.
Tesla kicked off the scramble last fall by announcing it would build its own cells and would produce a staggering 3 terawatt-hours (3,000 gigawatt-hours) a year by 2030.
What's next: The focus is turning to how quickly the world can scale the raw materials and chemicals that feed all those battery plants, according to Moores.
VW's six plants alone would consume more than 60% of the lithium produced globally in 2020, Benchmark estimates.
2. U.S. solar had a record year in 2020
Additions of new U.S. solar generating capacity broke new records last year despite the COVID-19 pandemic slowing some types of projects, per new industry data.
Why it matters: It shows a surge in growth thanks to increasing cost competitiveness, but also how solar continues to benefit from supportive state and federal policies.
What's next: On the latter point, the analysis takes stock of last year's two-year extension of eligibility for federal tax incentives for building new projects.
That extension, part of last year's huge year-end spending and tax deal, boosted their projected 2021-2025 deployment by 17%.
However, as you can see above, deployment surges for years thereafter in the decade's second half, according to the report from the Solar Energy Industries Association and Wood Mackenzie.
By the numbers: 2020 saw the installation of 19.2 gigawatts of new U.S. capacity, representing 43% of all new power generating capacity additions, they said.
Looking forward, the report forecasts that 324 gigawatts will be added over the course of this decade.
"This growth will be spread across all market segments as distributed solar customers, utilities, states, and corporations push to decarbonize the grid," it states.
3. SEC inches closer to new climate disclosure regs
The Securities and Exchange Commission is formally asking for input about how companies should disclose climate-related risks in filings with the regulators.
Why it matters: It's the latest sign the commission is moving toward the creation of new requirements that go beyond efforts to breathe life into existing 2010 guidance to companies.
How it works: The document asks for information in areas like what kinds of risks can be quantified and measured; what types of emissions metrics companies should provide; whether to have different reporting standards for different industries and more.
What they're saying: Steven Rothstein of the sustainable investment advocacy group Ceres said the recent moves and comments by the SEC's acting chairwoman, Allison Herren Lee, show that the commission is taking climate more seriously.
"While we obviously do not speak for the SEC, their public comments and the other actions seem to be leading to some form of mandatory climate disclosure," said Rothstein, who is managing director of Ceres' Accelerator for Sustainable Capital Markets.
The big picture: Lee announced the solicitation in remarks yesterday on environmental, social and governance matters.
Speaking at an event hosted by the liberal Center for American Progress, she said the "supposed distinction" between what's "good" and what's profitable is "increasingly diminished."
The New York Times has more.
4. Oil demand is bouncing back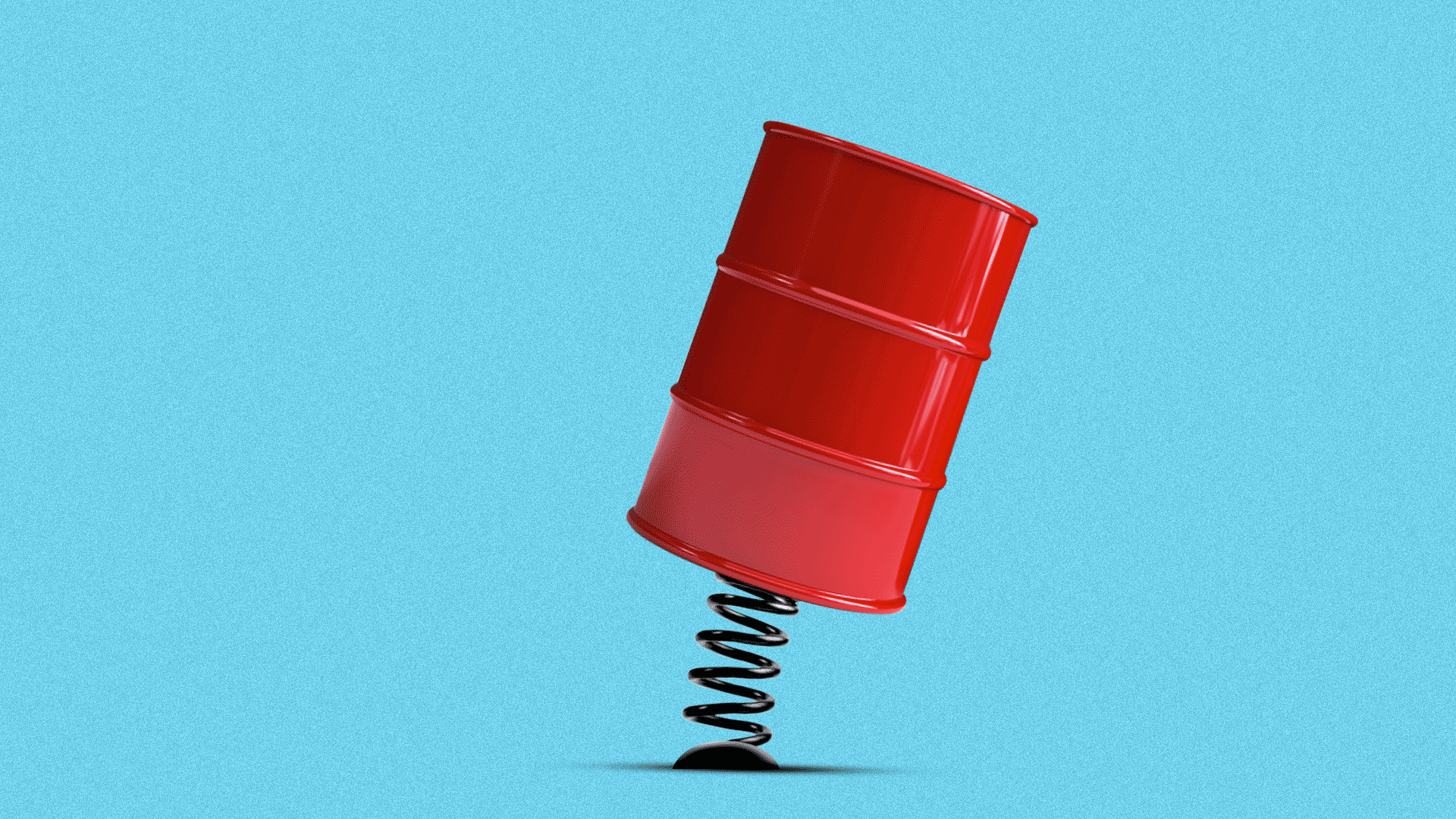 Bloomberg reports that there's fresh evidence U.S. oil demand is coming back from the pandemic and "this time it looks like it's here to stay."
The big picture: Via its piece...
"Retail gasoline sales rose last week to just 1% below year-ago levels, just before regional lockdowns brought fuel consumption to a crawl, Patrick DeHaan, head of petroleum analysis at GasBuddy said on Twitter."
"Gasoline's recovery comes on top of a diesel rebound that started last fall as consumers began to rely on home-delivery services like Amazon.com Inc. more than ever."
And on the jet fuel side of things, Axios' markets editor Dion Rabouin reports: TSA officers screened more than 1.35 million people at airports on Friday, the highest number of passengers on a single day since March 15, 2020.
5. Senior Shell official joins Goldman Sachs board
Banking giant Goldman Sachs is nominating Jessica Uhl, Royal Dutch Shell's chief financial officer, for an independent seat on its board.
Why it matters: Goldman called Uhl well-positioned to provide insight on a range of topics including "the management of climate risk."
And Bloomberg's Javier Blas notes that if elected she'll be the "top Big Oil executive inside Wall Street."
The big picture: Uhl's likely addition comes as banking giants are increasingly making new climate pledges.
This month Goldman said it's "aligning" its financing with a 2050 net-zero pathway and plans to set interim targets by year's end.
In late 2019 Goldman said it would no longer directly finance coal and Arctic oil projects.
Shell last month laid out its strategy for becoming a "net zero" business by 2050.
The other side: Environmentalists, while pushing finance and oil giants to do more on climate, doubt these industries' pace and follow through.
"Goldman Sachs can talk a big game on climate, but appointing a long-time Shell executive to the board makes a mockery of the incremental steps the bank has taken so far," Ben Cushing, the Sierra Club's financial advocacy campaign manager, tells Axios.
6. Catch up fast: Human rights, Texas, SPACs
Solar: "The leader of the AFL-CIO, the largest U.S. labor federation, is calling on the Biden administration and Congress to stop imports of solar products from China's Xinjiang region over human rights concerns." (Reuters)
Power: "The Texas Senate passed a bill Monday that could pave the way for electricity providers to recoup billions in potentially erroneous overcharges during last month's series of winter storms that crippled the Texas power grid." (Austin American-Statesman)
Batteries: "Two months after showcasing its first-generation 5-minute-charge battery, Israeli company StoreDot is in negotiations to merge with a Wall Street SPAC at a $3.5 billion valuation." (CTech)