Good morning! A couple of quick notes before we dive in. In case you missed it, I recommend reading my Axios colleague Amy Harder's latest column, which provides an inside look at how the fossil fuel industry is navigating the Trump era behind closed doors.
And while I'm in the recommendations game, the Axios science stream has launched and it's already stuffed with informative content. Axios is also launching a weekly science newsletter, which you can sign up for here. Ok, here we go . . .
Upton speaks on Paris climate pact, coal and energy bills
Rep. Fred Upton, the Michigan Republican who chairs the energy subcommittee of the powerful Energy and Commerce Committee, is the latest guest on the Columbia Energy Exchange podcast. Here are a few takeaways:
Paris: He's not calling for the U.S. to abandon the Paris climate accord, a move the White House is considering. Upton notes that it doesn't impose binding emissions requirements.
"I don't have a problem with that, because there was no mandate that was there, it was a goal," he said when asked whether the U.S. should stay.
Infrastructure: The package that lawmakers and the White House are expected to work on (at some point) should have a substantial energy title, he said.
Upton, who spent three terms as chairman of the full panel, envisions it focusing on protecting grid infrastructure and cybersecurity.
Energy Department: He expects a DOE reauthorization bill to emerge in the late summer or early fall. "I think that will be a pretty big item on our agenda," Upton said.
Coal: Asked if he sees a comeback for coal, once the dominant source of U.S. electricity, Upton replied: "I don't."
But he noted, "we're not turning it off like that, [snaps fingers]," and predicts it will stay in the "neighborhood" of its current share. Coal provides roughly a third of the nation's power.
Reasons to be worried about cleantech venture capital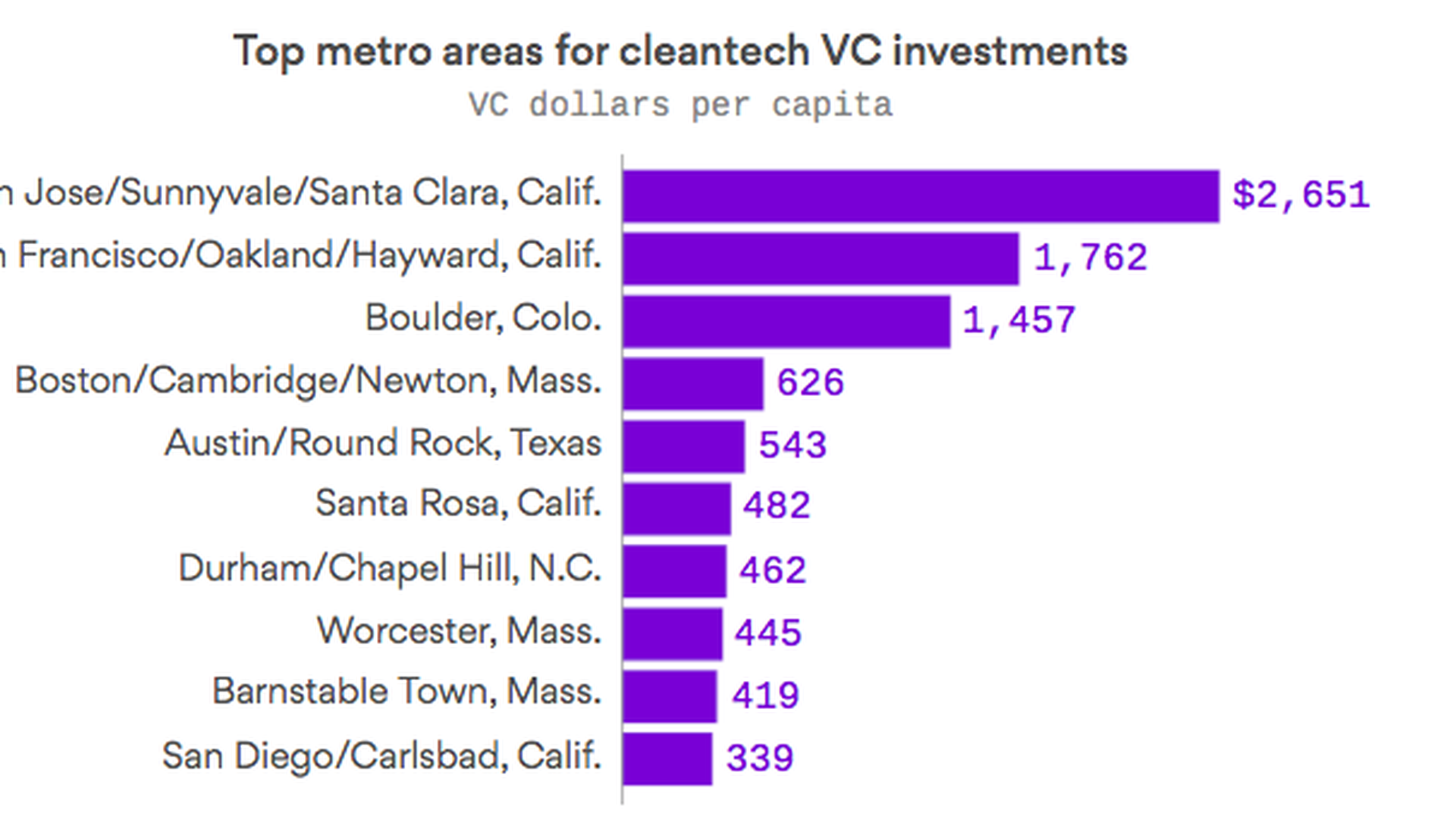 Trends in venture capital funding decisions are hindering the commercialization of the next wave of green energy technologies, according to a new Brookings Institution analysis.
Why it matters: Despite the urgency of climate change, the cleantech VC funding woes — especially for early-stage companies — will get worse if President Donald Trump succeeds in gutting Energy Department initiatives, the authors say.
Here are some of the headwinds Brookings identifies...
VC funding on cleantech companies fell from $7.5 billion in 2011 to $5.2 billion last year, and there were almost 200 fewer deals in 2016.
VC cleantech investment is concentrated in a few regions (check out the chart above), leaving other areas "starved for participation." Taken in tandem with a prior Brookings analysis on the wide geographic distribution of cleantech patents, report co-author Mark Muro tells Axios that the relatively narrow concentration of VC dollars suggests that promising climate-friendly ideas aren't getting VC money.
The vast majority of VC funding goes to more mature companies, while there's a declining slice of the pie over the last decade for riskier, early stage companies trying to create "radically" better climate-friendly tech. That means, the report states, "fewer novel and potentially game-changing technologies are getting past the early stage."Read more here.
Oil report signals OPEC's challenge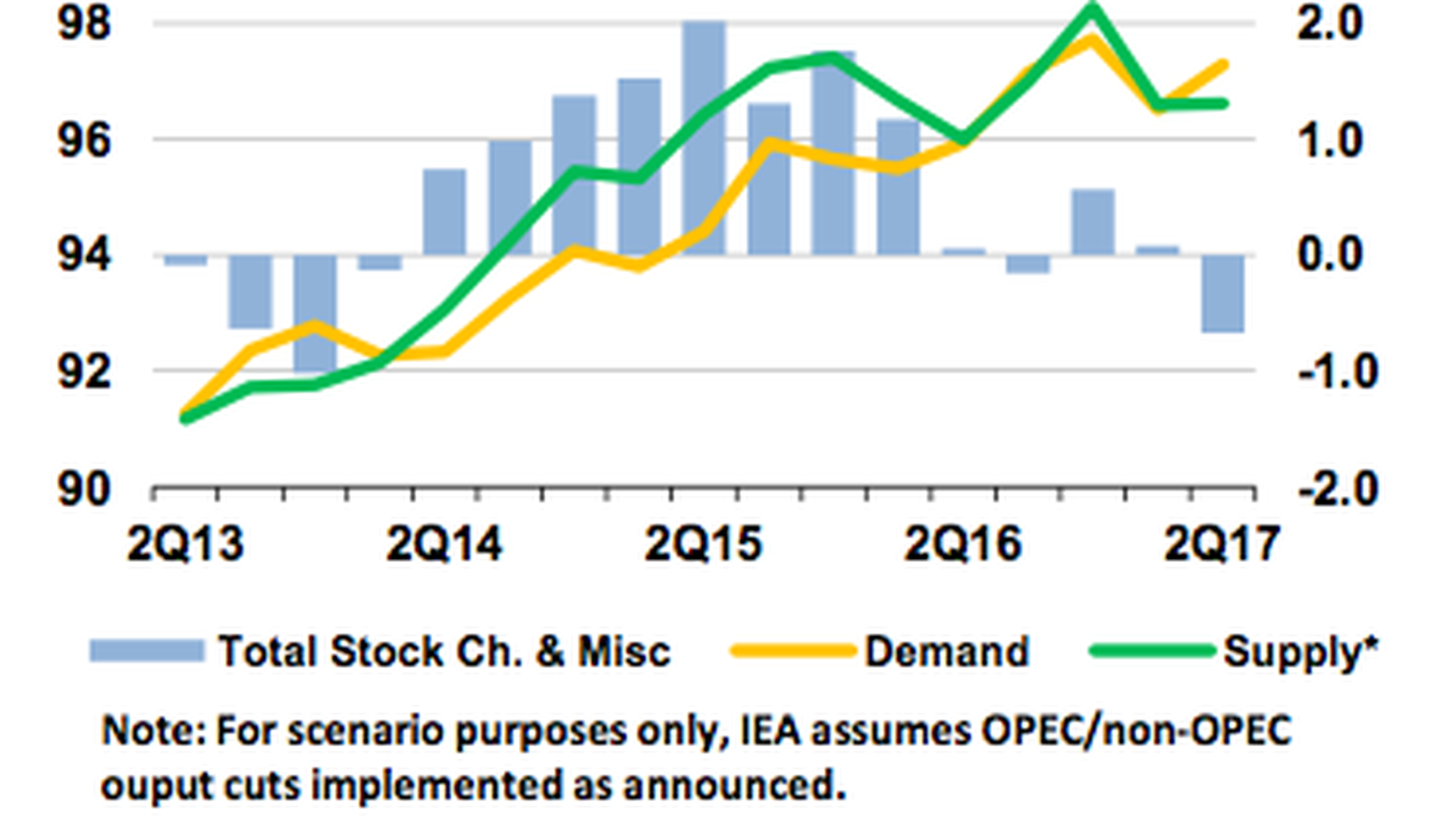 Out this morning: The International Energy Agency's latest monthly oil markets report. A summary is here.
The bottom line: Oil markets were "almost balanced" in the first quarter of the year and the trend toward balance is "accelerating."
Coming up fast: The latest report arrives ahead of OPEC's hotly anticipated May 25 meeting, where the cartel and other producers including Russia are believed likely to extend the six-month, production-cutting deal that began in January.
But that said: Simply extending the cuts would not bring global inventories down to the five-year average level that OPEC is seeking, "suggesting that much work remains to be done in the second half of 2017 to drain them further," the IEA said.
Go deeper:
Reuters has a detailed look at the IEA data
here
.
Glacier National Park could be glacier-free in 15 years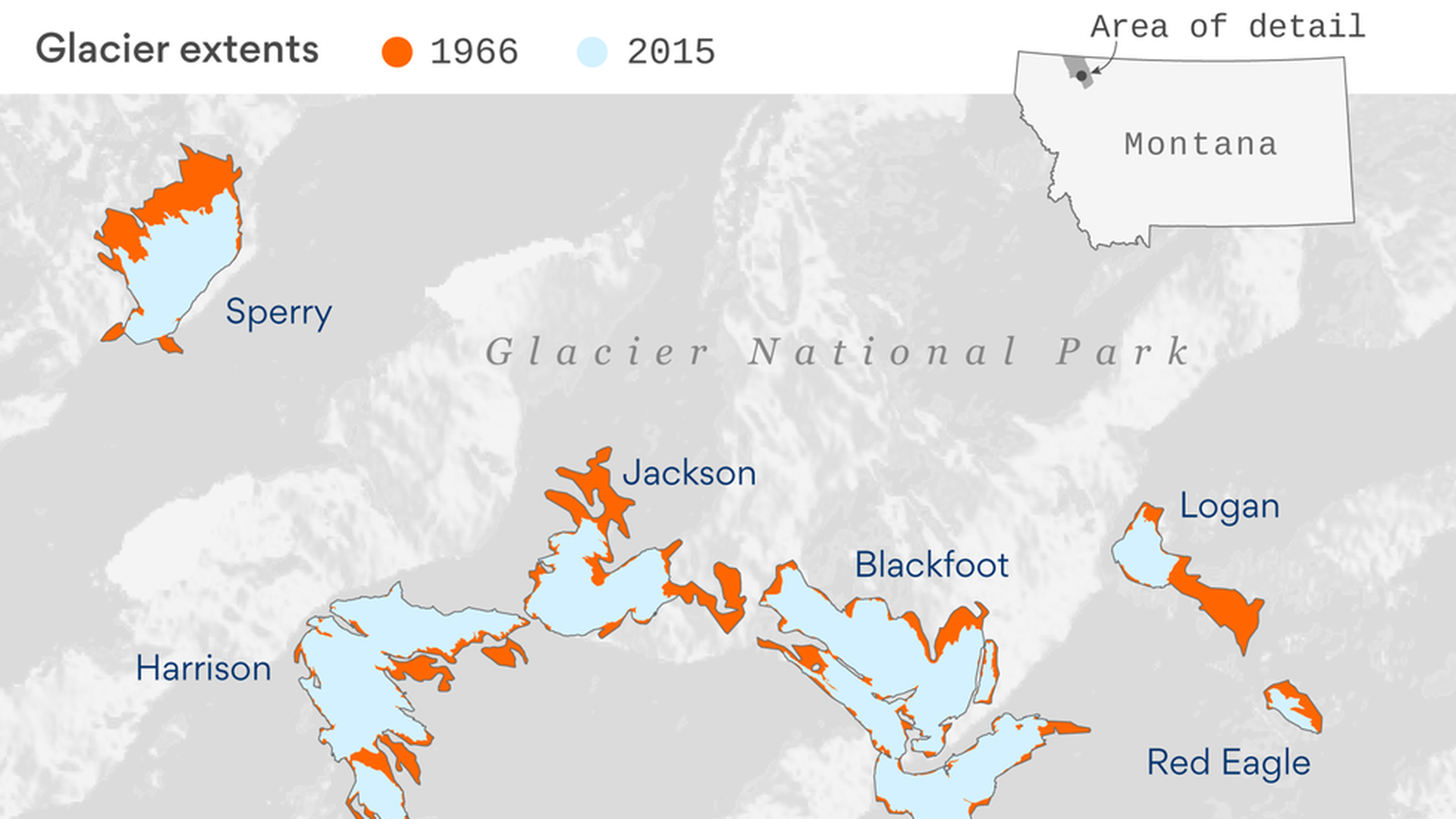 My colleagues Alison Snyder and Lazaro Gamio have an important story and visual (see above) over in the killer new Axios science stream. Take it away...
Over the past 50 years, the 39 remaining glaciers in Glacier National Park area have shrunk by an average of 39% — and as much as 85% , according to a study released by the U.S. Geological Survey. The map above shows how six of the park's iconic ice masses changed between 1966 and 2015.
Why it matters: The park says there won't be any active glaciers in 15 years if the current trend continues. Melting of the 7000-year-old glaciers could affect runoff into rivers and streams and, in turn, wildlife, as well as tourism.
Study: Fracking boom did not lead to greater marriage rates
A departure from the usual Generate fare: A new National Bureau of Economic Research paper uses data from the U.S. fracking surge to explore social science trends. Here's what my colleague Christopher Matthews wrote...
The issue: The decline in marriage rates among less-educated Americans has been a trend of concern for both the left and the right in recent years. Progressives have generally seen this data as the result of a lack of economic opportunity, while conservatives have argued the reverse: that economic inequality is being driven by a decline in cultural affinity for marriage.
The research: The study published Monday argues against the first interpretation, showing that between 1997 and 2012, areas that experienced fracking booms — and therefore increased wages and economic opportunity for the less-educated — experienced a spike in births but not marriage rates.
Why it matters: Though there is some evidence that falling working-class marriage rates were in part caused by shrinking economic opportunity, these results poke a hole in notion that better job opportunities will necessarily lead to more marriage.
On my screen
Tesla: SolarCity founder Lyndon Rive, whose company Tesla acquired last year, told Reuters that he's leaving Tesla next month.
"In an interview, the former SolarCity chief executive said he wanted to start a new company next year and spend more time with his family. Rive had been serving as head of sales and services for Tesla's energy division since last year," Reuters reports.
EVs: Via Bloomberg, the head of the mining and trading company Glencore says electric vehicle adoption will happen faster than expected, boosting demand for minerals like copper and lithium in coming decades.
Congress: The Hill reports on the brewing Senate battle over Trump's nominees to the Federal Energy Regulatory Commission.
China: CNN looks at the climate and energy dimensions of China's big One Belt, One Road trade and infrastructure initiative.
Solar:
Greentech Media
dives into
the Solar Energy Industries Association's battle plan against a petition for steep import duties in solar cells and and a floor price on imported modules.
One silly thing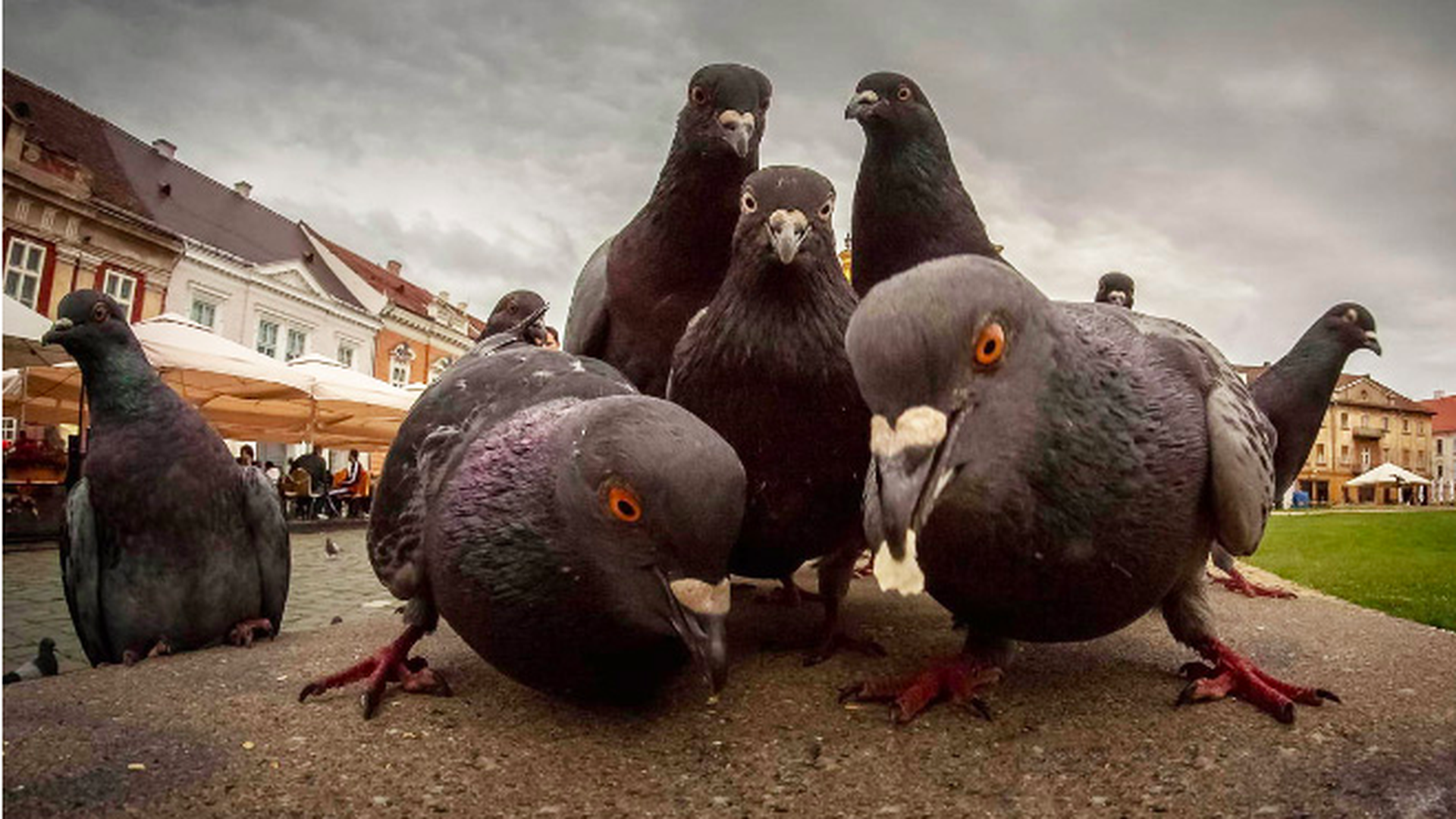 The title kind of speaks for itself: "Animals That Look Like They're About To Drop The Hottest Albums Ever."
More images here.
Thanks for reading! Tips and feedback welcome at ben@axios.com. We'll see you back here tomorrow.