Good morning and welcome back! Two quick programming notes: Generate will be off for the Thanksgiving break and returns Monday, Nov. 27. Have a great holiday!
And once we're back, I'll be moderating a timely discussion that Securing America's Future Energy is hosting on Tuesday, Nov. 28, called "Oil's Coming Decade of Disorder." The Washington, D.C., event will explore how underinvestment in new supply, geopolitical risk and other forces affect market stability. You can register here.
Oh, and happy birthday to Talking Heads and Tom Tom Club co-founder Tina Weymouth. Let's have some fun, natural fun . . .
https://www.axios.com/newsletters/axios-generate-d980253c-87ee-4231-8f04-44ce80c4db5f.html?chunk=0#story0
California gov and oil exec talk offshore wind
My Axios colleague Amy Harder reports that California Gov. Jerry Brown met earlier this month with top executives at Norway-based Statoil to discuss the company's pursuit of wind power off the Golden State's coastlines.
Why it matters: It's a glimpse into the future: Statoil is among the most aggressive oil companies pursuing green investments to hedge against a lower-carbon economy, and California is the most aggressive state pursuing actions to cut carbon emissions. Just one offshore wind farm exists in the U.S., off Rhode Island.
Brown met with Bjørn Otto Sverdrup, Statoil's top sustainability officer, in Oslo, Norway, on Nov. 9 en route to the Bonn climate conference, where Brown spoke out several times urging U.S. action on climate despite President Trump's retreat on the issue.
Go deeper: Amy has more in the Axios stream here.
https://www.axios.com/newsletters/axios-generate-d980253c-87ee-4231-8f04-44ce80c4db5f.html?chunk=1#story1
On my screen: oil markets, lobbying, Alaska
More art than science: An interesting new Dallas Fed note looks at how global petroleum data is compiled and sometimes substantially revised over time — and what it means for oil markets.
Bottom line: Producing accurate crude oil inventory data derived from production and consumption estimates is a tricky thing for the U.S. Energy Information Administration and the International Energy Agency, and sometimes the initial reports aren't quite right.
One reason it matters: "Often, initially released production and consumption data are revised. These changes frequently send conflicting signals of surplus or shortage, potentially contributing to inefficient pricing," the authors state.
Prices: Reuters reports that U.S. crude oil prices reached their highest levels since July of 2015 Wednesday after "faults on a major pipeline dented Canadian deliveries to the United States, where crude inventories were also reported to be falling."
Alaskan gas: Via NBC affiliate KTUU, more information is emerging about plans by Chinese and Alaskan officials to create a major LNG project. From their story:
"Tuesday, Gov. Bill Walker and Alaska Gasline Development Corp. President Keith Meyer outlined how the parties will work together on LNG marketing, financing and an investment model with results expected by 2018...Under the agreement, Meyer said Sinopec will get 75 percent of capacity and China would provide 75 percent of the financing."
Keystone XL: The Financial Times reports on the hurdles still facing the proposed Keystone XL oil sands pipeline — and why one of them is a fish called the pallid sturgeon.
Latest in lobbying: A few new filings of note in the handy Lobbying Disclosure Act database . . .
https://www.axios.com/newsletters/axios-generate-d980253c-87ee-4231-8f04-44ce80c4db5f.html?chunk=2#story2
Good listens for your holiday travel: finance, markets, renewables
Here's a half-dozen energy-themed podcasts for that could make a long drive (or whatever you do over the break) a little more interesting...
Inside view: The latest episode of CleanCapital's Experts Only podcast is an interview with Green Strategies president Roger Ballentine, who was a top climate official in the Bill Clinton White House. He chats about the intersection between tech, finance and policy.
Blockchain decoded: This episode of the Energy Transition Show looks at how the digital transaction technology can help bring about an increasingly connected ecosystem of energy-using machines and locations — and why it matters in a world of increasing renewables penetration.
Here's a snippet of the comments from energy expert Molly Webb on the potential for a wide range of energy transactions to occur and be verified outside of traditional centralized systems...
"We imagine a world in which electric vehicles, the assets in commercial and industrial sites, or in buildings or in homes are all sort of able to shape their load in response to intermittent renewables, and I think that requires the kind of evolution that blockchain allows."
Investing : A recent episode of the Exchanges at Goldman Sachs podcast unpacks the world of "impact" investing, how it has evolved and how it overlaps with energy and climate change.
Shale supply and speed: This recent edition of Platts Capitol Crude chats with former EIA chief Richard Newell about his research into how the shale oil's rise has enabled U.S. production to respond more quickly to price changes — production changes on the order of hundreds of thousands of barrels per day can happen in one year that once would have taken several to occur.
But those changes don't mean the U.S. is can become a "swing producer" that can quickly bring a million barrels or more per day into the global market.
"Simply due to the time it takes to go from drilling a well to first production from a well, which...is about four months on average, that's simply too long to be considered a swing producer, it's too long to respond to the kind of short-term disruptions that one usually looks to swing production to compensate for," Newell notes.
EPA: The Climate Lede from E&E News chatted briefly with EPA administrator Scott Pruitt.
Renewables, part 1: The Columbia Energy Exchange chats with solar expert Varun Sivaram about the potential for new trade penalties on solar panel imports.
Renewables, part 2: This episode of Greentech Media's Interchange podcast looks at what big increases in wind and solar deployment mean for wholesale power markets.
https://www.axios.com/newsletters/axios-generate-d980253c-87ee-4231-8f04-44ce80c4db5f.html?chunk=3#story3
Who is representing the U.S. on ozone
Amy reports...
Judith Garber, a career diplomat in an acting position at the State Department, is set to lead the Trump administration's delegation to a meeting this week in Montreal discussing an amendment to the 30-year-old treaty protecting the Earth's ozone layer, according to an administration official.
Why it matters: By not sending a higher level official, it shows the continued low priority the administration places on environmental and climate change issues. Garber, a 30-year career diplomat, also led the administration's delegation to the recent climate talks in Bonn, Germany, after a higher level official bowed out at the last-minute due to a family emergency.
The big picture: The meetings this week in Montreal are about a recent amendment to the Montreal Protocol, a global treaty created 30 years ago to fix the hole in the Earth's ozone layer (and now it's achieving its goal).
World leaders, led by the Obama administration, agreed in October 2016 to the Kigali amendment, which would phase down emissions of powerful greenhouse gases in refrigerants called hydrofluorocarbons (HFCs). HFCs are used in many appliances from air conditioners to refrigerators.
Click here for the rest of the story in the Axios stream.
https://www.axios.com/newsletters/axios-generate-d980253c-87ee-4231-8f04-44ce80c4db5f.html?chunk=4#story4
Holiday driving costs rise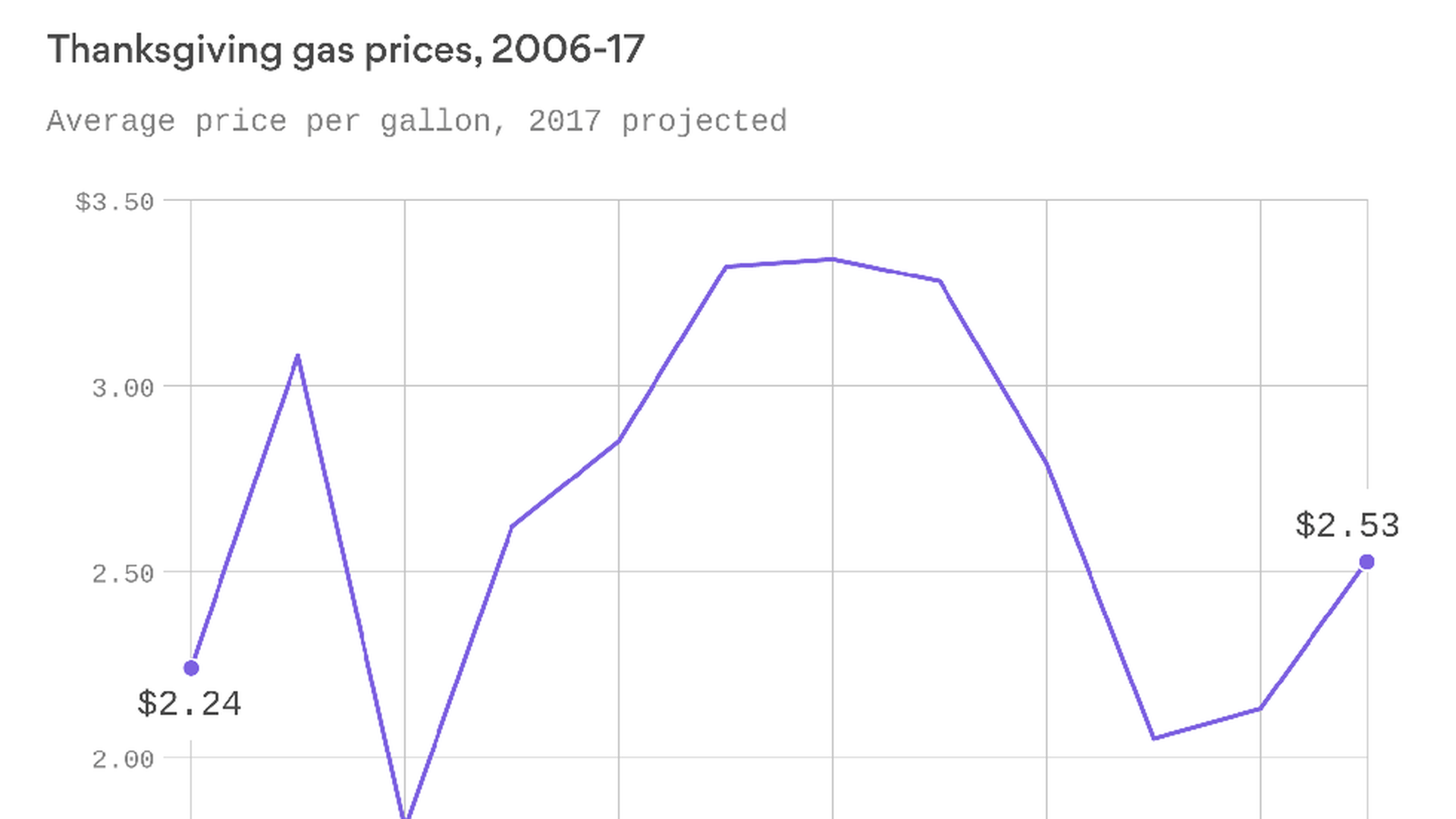 Holiday road: GasBuddy is out with a look at average Thanksgiving gasoline prices in recent years.
This year will bring the highest cost since the $2.79 average in 2014, but Thanksgiving pump prices are still well below where they were five years ago ($3.44).
They have more travel data and advice here.