Axios Generate
May 03, 2023
🐪 Halfway there! Today's newsletter has a Smart Brevity count of 1,235 words, 4.5 minutes.
🛢️Situational awareness: U.S. crude oil prices have dropped below $70 per barrel, the lowest level since March.
"The warning signs are there that investors are extremely anxious about the global economic prospects," OANDA analyst Craig Erlam said in a note.
🎶 This week in 1969, Sly and the Family Stone dropped the album "Stand!," which has today's intro tune...
1 big thing: A jog before COP28 sprint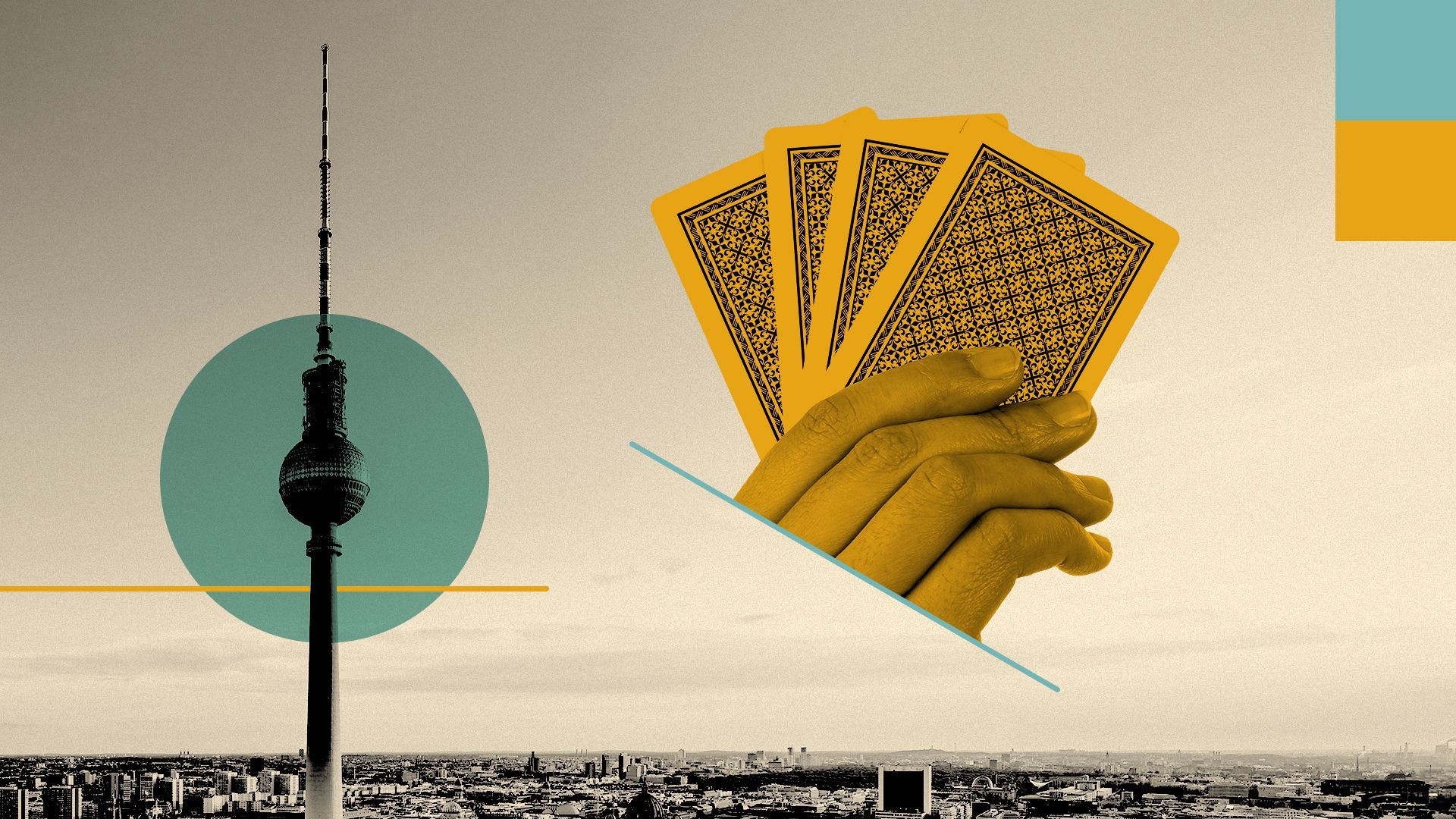 At a gathering of representatives from 40 nations in Berlin, early jockeying for negotiating positions is already proving insightful ahead of the next United Nations climate summit in Dubai later this year, Andrew writes.
Why it matters: At the Petersberg Climate Dialogue, a forum held at the German Foreign Ministry, key players in climate talks are laying out their priorities.
They are also getting to know Sultan Al Jaber, the United Arab Emirates' president designate of COP28.
The big picture: The Petersberg dialogue kicks off an accelerating pace of meetings to set the agenda for COP28, which begins on Nov. 30.
The informal setting is designed to allow for the free exchange of views, with more discussions to come Wednesday.
Zoom in: After facing staunch resistance to calls for a fossil fuel phaseout during the climate talks in Glasgow and Sharm El-Sheikh, Germany and the European Union are aiming to unite the world around goals to triple the use of renewable energy sources.
The intrigue: For his part, Al Jaber — the UAE's longtime climate envoy as well as head of its state-run oil and gas company, ADNOC — signaled his focus is on reducing fossil fuel emissions, rather than production.
"We know that the energies used today will continue to be part of the global energy mix for the foreseeable future," he said.
While his selection as COP president has been a source of some criticism, it could also be an asset, according to Rachel Kyte, a veteran climate diplomat and dean of the Fletcher School at Tufts University; and Laurence Tubiana, CEO of the European Climate Foundation.
What they're saying: "The UAE can pull off a modern-day energy diplomacy 'Nixon goes to China' moment" at COP28, they wrote in Foreign Policy.
Unlike past COP presidents, Jaber's credibility with the oil and gas industry provides an opportunity to convince CEOs that a faster transition away from fossil fuels needs to take place, they wrote.
The bottom line: "It's a high risk-high reward COP: At this stage of the climate crisis, the outcome is high ambition or abject failure," Kyte and Tubiana added.
2. Ford's earnings highlight the costly path to EV profits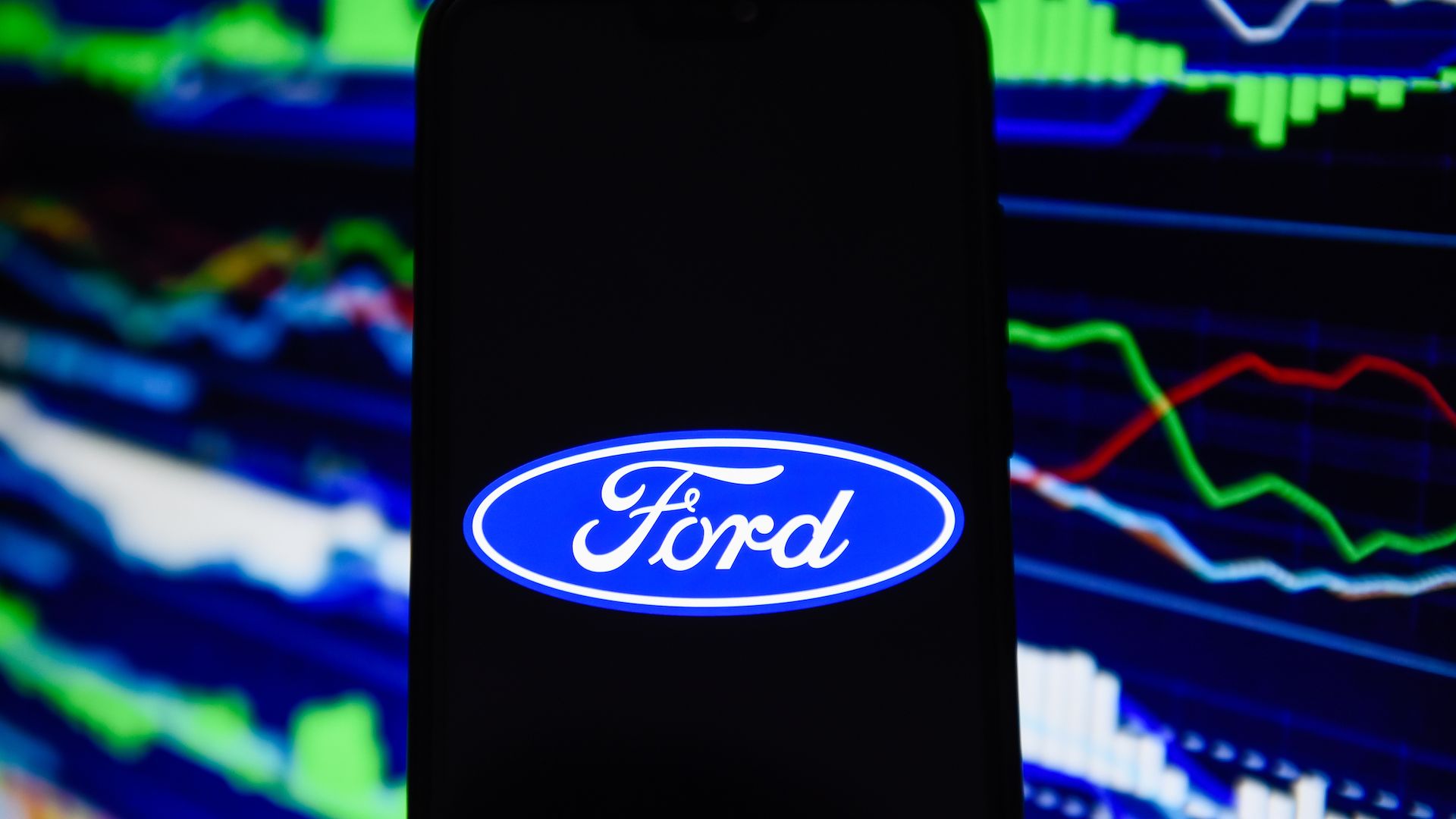 The road to the electric future will likely be colored red for giant automakers, at least for a while, Ben writes.
Driving the news: Ford Motor Co. posted an overall $1.8 billion Q1 profit Tuesday, but Ford Model e — its electric vehicle division — had $722 million in losses.
Why it matters: Legacy automakers are making huge investments in the EV transition.
But for now, that's subsidized by their lucrative sales of gas-powered SUVs, pickups and other vehicles.
For instance, Morgan Stanley analysts note over 95% of GM's revenues are "currently internal combustion derived."
Zoom in: Ford's report said that Ford Model e "operates like a startup."
The bottom line: "Ford has already revealed it's planning to lose billions of dollars during the transition to battery-operated vehicles," the Detroit Free Press reports.
3. Charted: The rise of electric school buses
School buses with a plug are a tiny share of the nationwide fleet, but growing fast, Ben writes.
Why it matters: Electrifying U.S. bus fleets cuts CO2 emissions and reduces kids' exposure to harmful diesel pollution.
State of play: A World Resources Institute analysis finds almost 1,400 buses either in operation, delivered or ordered as of December.
The total number of "committed" — a wider category that captures specific funding and agreements — is over 5,600.
It's a tricky thing to track, so check out their description.
The big picture: WRI tells Axios there are roughly 480,000 school buses nationwide.
But federal cash via the 2021 bipartisan infrastructure law is speeding adoption.
Zoom in: The legislation provides $5 billion over five years for electric, propane or compressed natural gas buses.
"Committed" electric buses spiked after EPA last year awarded the first tranche of $965 million.
Last week, EPA announced an additional $465 million.
The bottom line: It's still a niche thing, but that's changing.
4. A new climate venture fund with Facebook roots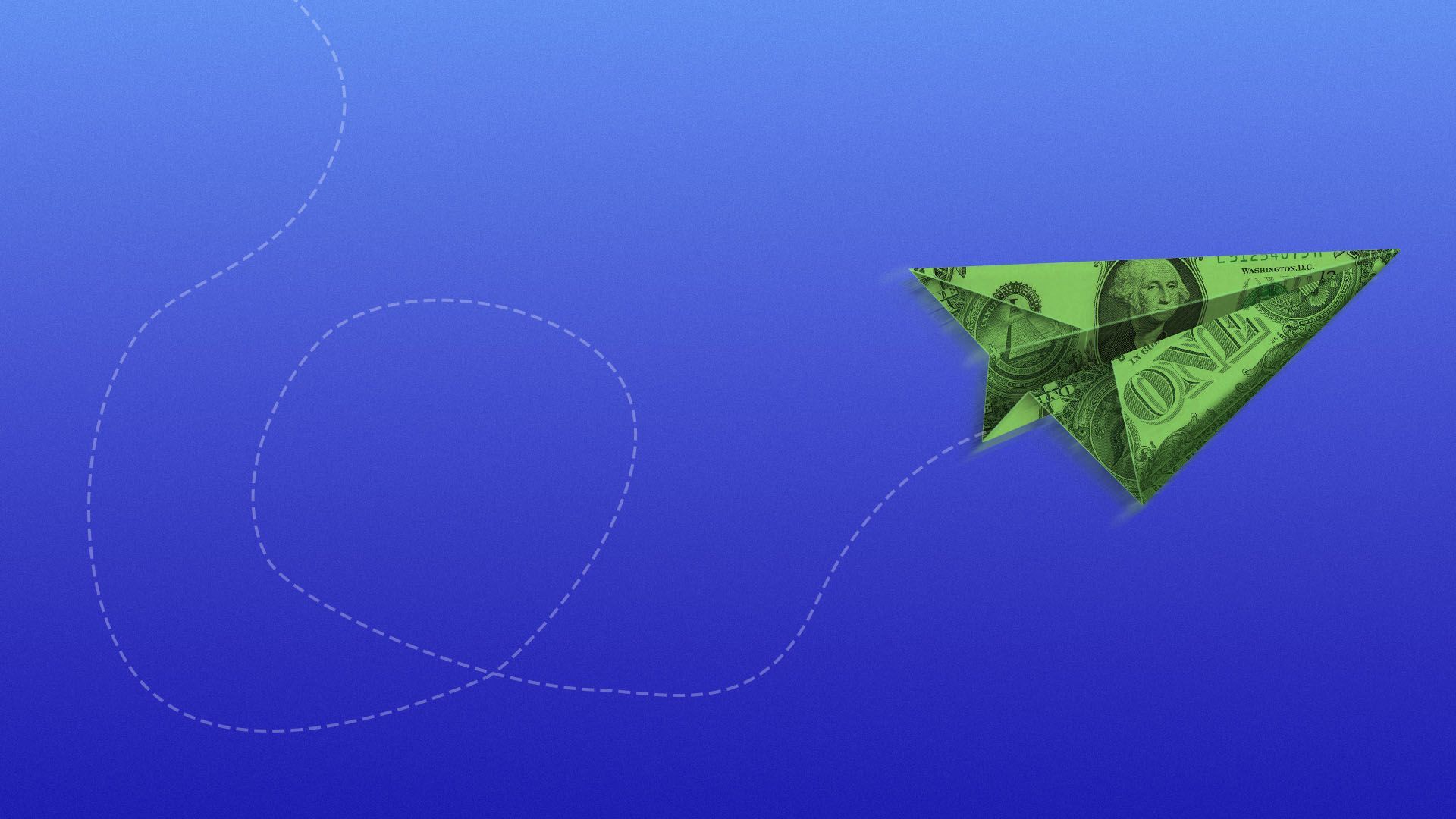 Mike Schroepfer, former CTO of Facebook parent Meta, unveiled a climate venture fund called Gigascale Capital, Ben writes.
Driving the news: The firm will back early stage startup through Series A startups with "potential to reach massive gigaton or gigawatt scale."
It formalizes and expands Schroepfer's angel investing in recent years.
Zoom in: The fund's other two partners are venture capital and climate tech veterans. They are former Prelude Ventures general partner Victoria Beasley and Evaline Tsai, most recently with Fine Structure Ventures.
What we don't know: The fund's size, which was not disclosed.
The intrigue: Tuesday's announcement emphasized that the partners have complementary backgrounds.
Beasley brings experience in founding and operating companies and has an MBA.
Tsai's background includes a Ph.D. in chemical engineering and biotechnology, in addition to her investing work.
Schroepfer knows from scaling companies, having been at what's now Meta from 2008-2022 (he's still a "senior fellow").
The bottom line: It's a fund to watch.
5. More tech finance notes: Planes, oil, diversity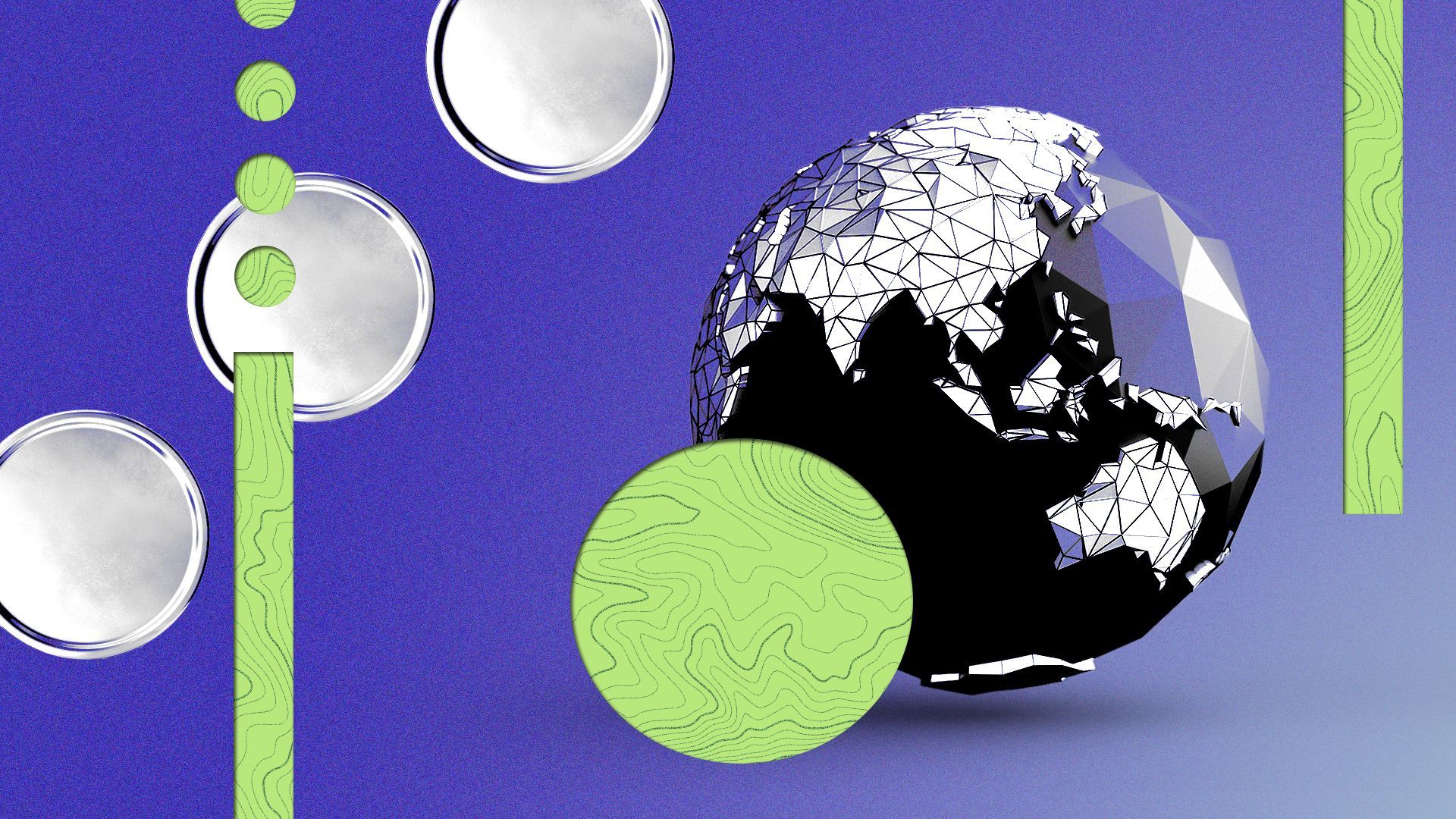 🛩️ Lilium, a firm developing electric vertical takeoff and landing (eVTOL) jets, announced a planned $250 million capital raise, Ben writes.
Why it matters: The German company said the money will provide most of the capital needed to achieve new manned flights next year. The planned 2024 flight will enable "substantial pre-delivery payments."
The big picture: Lilium has an order pipeline of 640 jets, per a recent shareholder letter.
🛢️ The venture arm of the Oil & Gas Climate Initiative — a consortium of 12 industry giants — is pursuing up to $750 million for a second fund, Axios Pro Climate Deals' Alan Neuhauser reports.
Why it matters: The fund will largely target investments in physical assets instead of software, joining a growing number of hardware-focused climate investment vehicles.
Go deeper: Subscribe to Axios Pro Climate Deals for the full story — and tons of other vital coverage and scoops every day.
💵 The prominent VC firm Energy Impact Partners announced the close of its Elevate Future Fund at $112 million, Ben writes.
Why it matters: The Elevate fund, first unveiled in 2021, aims to help diversify the clean tech startup sector.
The big picture: Communities of color are underrepresented in the space. And with steep global carbon cuts needed, finding a broader pool of talent matters for everyone.
6. WMO issues an El Niño heads-up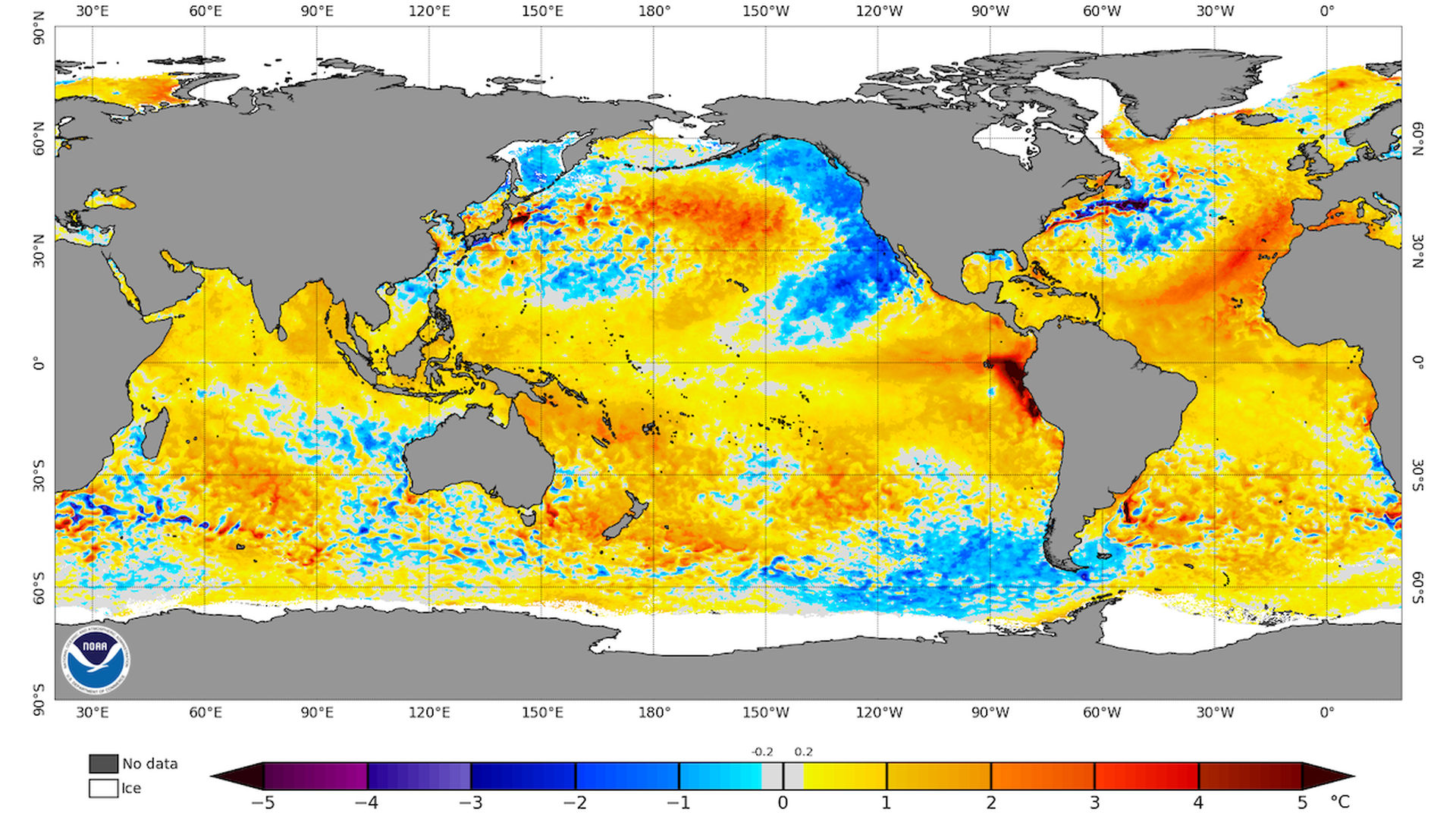 The World Meteorological Organization, a U.N. agency, warned this morning that the world should "Prepare for El Niño" to begin between May and September, Andrew writes.
Why it matters: The WMO synthesizes forecasts from weather agencies around the world, including NOAA in the U.S. and Bureau of Meteorology in Australia. Its assessment therefore carries more weight than that of a single country's weather bureau.
Driving the news: According to the WMO, there is a 60% chance that El Niño conditions will develop through July, increasing to 80% between July and September.
Zoom in: El Niño events feature unusually warm ocean waters in the equatorial tropical Pacific Ocean, and they alter weather patterns worldwide.
They act as temporary accelerants to human-caused global warming, likely leading to a new record warm year globally in 2023 or 2024.
For more than two months, global average sea surface temperatures have been running at their highest levels since reliable instrument records began in about 1958, but very likely since at least 2,000 years ago, climate scientist Michael Mann of the University of Pennsylvania said via email.
📬 Did a friend send you this newsletter? Welcome, please sign up.
🙏 Thanks to Gail Hughes and Javier E. David for edits to today's edition.