Good morning and welcome back! A couple quick notes:
This morning at our latest Axios News Shaper event, Mike Allen chats with GOP Sen. Susan Collins, House Democratic Whip Steny Hoyer, and Rep. Adam Schiff, the top Democrat on the House Intelligence Committee. There's lots to talk about, and you can follow along on social media using #Axios360.
And on this day 46 years ago, Al Green released the album Let's Stay Together, so we'll get to the news with the classic title cut . . .
https://www.axios.com/newsletters/axios-generate-d4196b88-8905-446d-a7dc-2cab88a0d377.html?chunk=0#story0
SOTU: Fact-checking Trump on energy
My Axios colleague Amy Harder takes stock of last night's big speech by President Trump...
We have ended the war on American energy, Trump says.
What it's really like: There is no war on American energy generally speaking. America's natural gas and oil production rose to record or near-record levels, respectively, under former President Obama. That was largely regardless of him, not because of him, but it rose nonetheless.
We have ended the war on clean coal, Trump says.
What it's really like: There is a war on coal, but it's being waged mostly by natural gas, another component of Trump's energy dominance agenda. The EPA, under Obama, had a hand in it, but it was secondary. Coal production has ticked up slightly, but the overall trend is still slight and gradual decline.
Trump appears to use the words "clean coal" to describe coal in general, which is not clean. Don't confuse his use with what others consider clean coal — usually referring to technology that allows coal to be burned cleaner by capturing the carbon from a facility and storing it instead of emitting it.
Click here for the rest of the story in the Axios stream.
https://www.axios.com/newsletters/axios-generate-d4196b88-8905-446d-a7dc-2cab88a0d377.html?chunk=1#story1
This chart is a sign of the times
Where the action is: The chart above is reconstructed from this new Energy Information Administration report on the rise of hydraulic fracturing and horizontal drilling in the U.S. — the methods that have allowed production of huge oil and gas resources from shale formations.
Why it matters: The steep upward and downward slopes on that graphic show how the marriage of horizontal drilling and fracking have utterly remade the U.S. energy landscape.
This is now helping to reshape global crude oil and natural gas markets and geopolitics.
U.S. oil production is expected to surpass 10 million barrels per day in the near future, roaring past the benchmark set briefly in 1970, and setting a record for annual production. Over 6 million of those barrels now come from shale.
Eyes peeled: EIA will report estimates later this morning on U.S. crude production for the week ending Jan. 26. The estimated tally for the week that ended Jan. 19 was roughly 9.9 million.
https://www.axios.com/newsletters/axios-generate-d4196b88-8905-446d-a7dc-2cab88a0d377.html?chunk=2#story2
Big oil earnings preview and more petro-notes
Earnings season for the world's largest oil companies is arriving as Royal Dutch Shell reports fourth-quarter results tomorrow and Exxon and Chevron follow suit on Friday.
The big questions: Bloomberg has an informative guide to the issues facing companies, including what to do with the higher revenues coming from the oil price rally.
"Will more money go to shareholders in the form of dividend increases and buybacks, or will spending pick up? The supermajors slashed expenditures during the downturn and focused on efficiency. Some analysts are worried the companies will waver from their hard-earned financial discipline now that they are once again flush with cash," Bloomberg writes.
Listen deeper: The consultancy Wood Mackenzie previews the earnings season in this brief new podcast episode.
Speaking of Exxon: On Tuesday the company detailed plans to triple oil-and-gas production in the booming Permian basin region to reach over 600,000 barrels per day of oil-equivalent by 2025.
Crude oil production specifically is forecast to grow five-fold, per Exxon.
S&P Global Platts breaks it down here.
https://www.axios.com/newsletters/axios-generate-d4196b88-8905-446d-a7dc-2cab88a0d377.html?chunk=3#story3
Research corner: energy efficiency
Counterintuitive: An interesting post over at the Energy Institute at Haas at UC-Berkeley finds that there are unexpectedly large, unrealized energy savings in factories.
It's more than what UC-Berkeley economist Catherine Wolfram expected from profit-making industries when she began research into the topic with the company Lightapp that provides remote-sensing energy use tracking.
So why is there so much energy wasted? She writes:
"It's possible, for example, that current approaches to measuring energy efficiency savings have led to policies that emphasize things, like new lightbulbs, HVAC equipment or machinery. ... [I]t's much easier to apply an engineering estimate to a new lightbulb than a bunch of adjustments that industrial facilities may or may not make to their existing equipment."
Why it matters: "Given that most climate mitigation plans rely heavily on energy efficiency, it's essential to figure this out," she notes.
* * *
What the kids are doing: The NYT explores new research published in Joule on how consumer lifestyle changes are affecting energy consumption — especially among young people.
The most recent data is already kind of old, but in 2012 the behavior changes shaved national energy use by 1.8%.
The biggest shift has occurred among 18-24-year-olds.
"[T]he spread of technologies enabling Americans to spend more time working remotely, shopping online — and, yes, watching Netflix and chilling — has a side benefit of reducing energy use, and, by extension, greenhouse gas emissions," NYT writes.
https://www.axios.com/newsletters/axios-generate-d4196b88-8905-446d-a7dc-2cab88a0d377.html?chunk=4#story4
EV things on my screen
BP seed money: BP Venture is investing $5 million in the electric vehicle charging company FreeWire Technologies, with plans to install the U.S.-based company's units at some BP stations in the U.S. and Europe this year.
Why it matters: It's a small amount of cash by the standards of a global oil powerhouse, but the move signals how some big oil-and-gas companies are expanding their renewables and EV-related portfolios.
In the EV space in particular, Shell made a more aggressive move last year when it bought the major European EV charging company NewMotion.
Go deeper: Amy looked closely at BP's alternative energy strategy here.
Volvo: Autocar has some details about Volvo's first EV offering that's going to into production next year, a version of its 40.2 concept, a "coupé-like hatchback."
Why it matters: Volvo has pledged an aggressive shift away from internal combustion-only vehicles, vowing last year that new car models from 2019 onward would be hybrids or electrics.
Mercedes-Benz: Business Insider looks at the company's plans for EV and battery production. The company plans to offer hybrid or electric versions of its entire portfolio by 2022.
"While other brands have announced ambitious plans related to electric vehicles, Mercedes' intention to build its own batteries signals the brand's seriousness in becoming a major player in the electric market," they report.
Trucks: Fortune has the latest from one of the companies getting into the electrified trucking game . . .
"Nikola Motor will build a $1 billion hydrogen-electric semi truck factory in a suburb of Phoenix as the company pushes forward with its plan to deliver 'the iPhone of trucking' to an industry that has historically centered on diesel vehicles," they report.
https://www.axios.com/newsletters/axios-generate-d4196b88-8905-446d-a7dc-2cab88a0d377.html?chunk=5#story5
From Amy's notebook: Pruitt before the panel
Amy has some takeaways from EPA administrator Scott Pruitt's appearance before the Senate's environment committee on Tuesday...
1. Pruitt says he didn't remember predicting in a 2016 interview that Donald Trump would abuse the Constitution more than Obama did if elected president.
Be smart: Pruitt joins a long list of conservative politicians who criticized candidate Trump during the campaign, but went on to pledge their support to the president following his election.
2. He is still considering some sort of public debate about climate-change science, but Pruitt didn't provide many details beyond that.
Reality check: Most scientists agree human activity is the driving cause of a warmer planet over the last century. The debate should exist around what policies governments should impose to address the associated risks.
3. He wouldn't say whether he would seek to review a scientific finding on climate change that Obama's EPA issued in 2009.
Reality check: Trump's EPA is working to write a pared-down rule cutting carbon emissions from power plants, a subtle indication the agency isn't going to touch the finding, which legally underpins that rule.
4. Pruitt indicates he doesn't support California's fuel-efficiency standards driving stronger federal standards by saying federalism "doesn't mean one state has the ability to dictate the rest of the country."
Yes, but: He's said things like this before, and the big auto companies don't want him to revoke that waiver, as it would create a regulatory mess for them.
https://www.axios.com/newsletters/axios-generate-d4196b88-8905-446d-a7dc-2cab88a0d377.html?chunk=6#story6
Davos energy topics revisited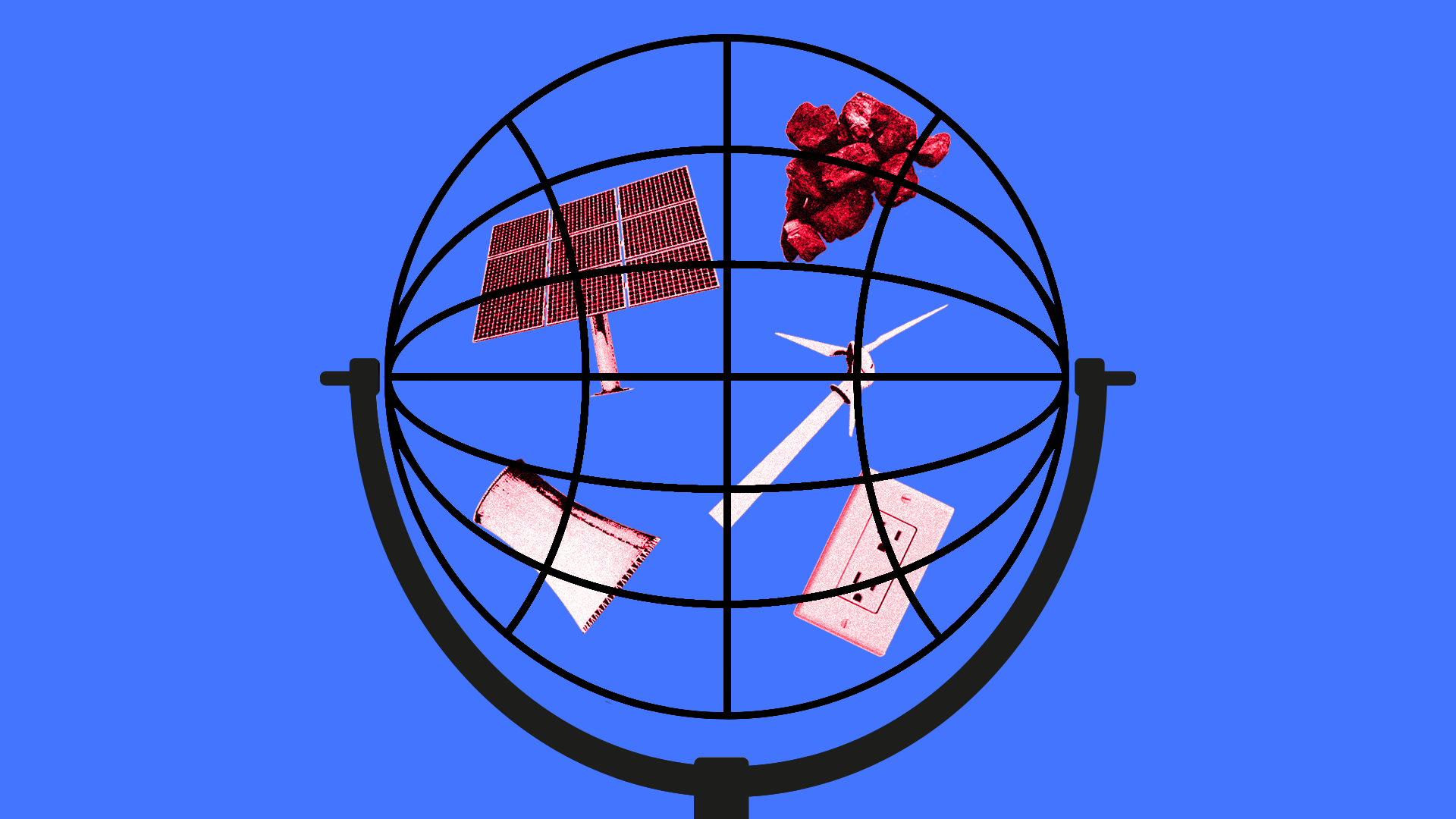 Illustration: Rebecca Zisser / Axios
In our Expert Voices section, Columbia University's Jason Bordoff explains what he heard people talking about the most at the World Economic Forum in Davos, Switzerland...
Tech in focus: Rapid declines in battery and renewable costs were celebrated, as was the disruptive potential of AI, machine learning and blockchain — enabling technologies like distributed microgrids and connected homes as well as innovations in oil-and-gas trading.
Shale: With U.S. oil production about to exceed 10 million barrels per day, the highest in its history, the re-emergence of the U.S. as an energy superpower is a new dynamic in energy markets and a concern for Saudi Arabia, Russia and other producers struggling to prop up prices by cutting output.
One big question: Electric and autonomous vehicles and shared mobility will shake up transportation, but there's no consensus on how quickly they might cause oil demand to decline, given that passenger cars represent only 25% of oil use. Per the International Energy Agency, petrochemicals will provide the strongest lift to oil demand (barring a backlash against rising ocean pollution that stigmatizes plastics).
Yes, but: Despite the optimism, serious concerns remain.