https://www.axios.com/newsletters/axios-generate-d402fef5-54e1-4c39-b0f3-982d116dbde5.html?chunk=0#story0
Climate divisions on display in Bonn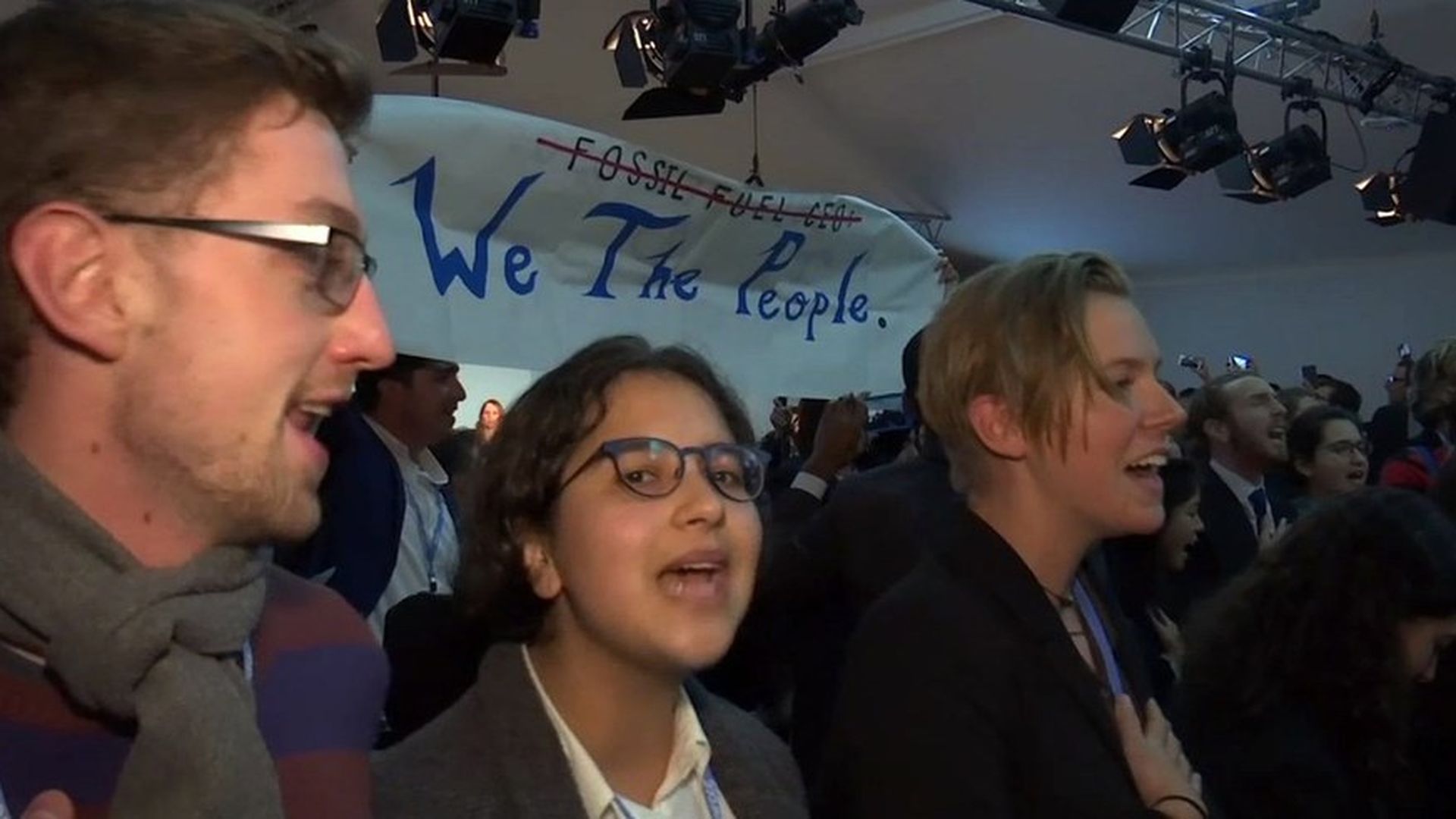 My colleague Amy Harder has an important dispatch from the UN climate talks in Bonn, Germany. She reports there are stark divisions revolving around the question of whether cleaner fossil fuels and nuclear power should help the world combat climate change.
Here's more of her item...
Driving the news: Trump administration officials and panelists, speaking at its only official event at this conference, argued the two resources need support. Meanwhile, hundreds of rowdy protesters insisted coal is incompatible to addressing climate change, called out the administration for revoking environmental regulations, and said renewable energy was the only path forward.
Why it matters: Studies by some of the most well-respected and objective institutions, including the UN and the International Energy Agency, say nuclear power and technology that captures carbon emissions from coal plants are essential to cutting emissions in a cost-effective way to the level scientists say we must. That's on top of huge advancements in renewable energy, energy efficiency and other technologies.
Quick take: The Trump administration should be given credit for breaking into the echo chamber that conferences like this often foster. At least three of the panelists invited emphasized that point, including a former Obama energy adviser, despite continued protests during the roughly 1.5 hour-event. Most of the protesters in the room focused on coal, though throughout the conference there were also anti-nuclear energy protests.
Go deeper: Click here for the rest of the story and here for more from Amy yesterday.
https://www.axios.com/newsletters/axios-generate-d402fef5-54e1-4c39-b0f3-982d116dbde5.html?chunk=1#story1
One wild chart: shale's current trajectory compared to Saudi oil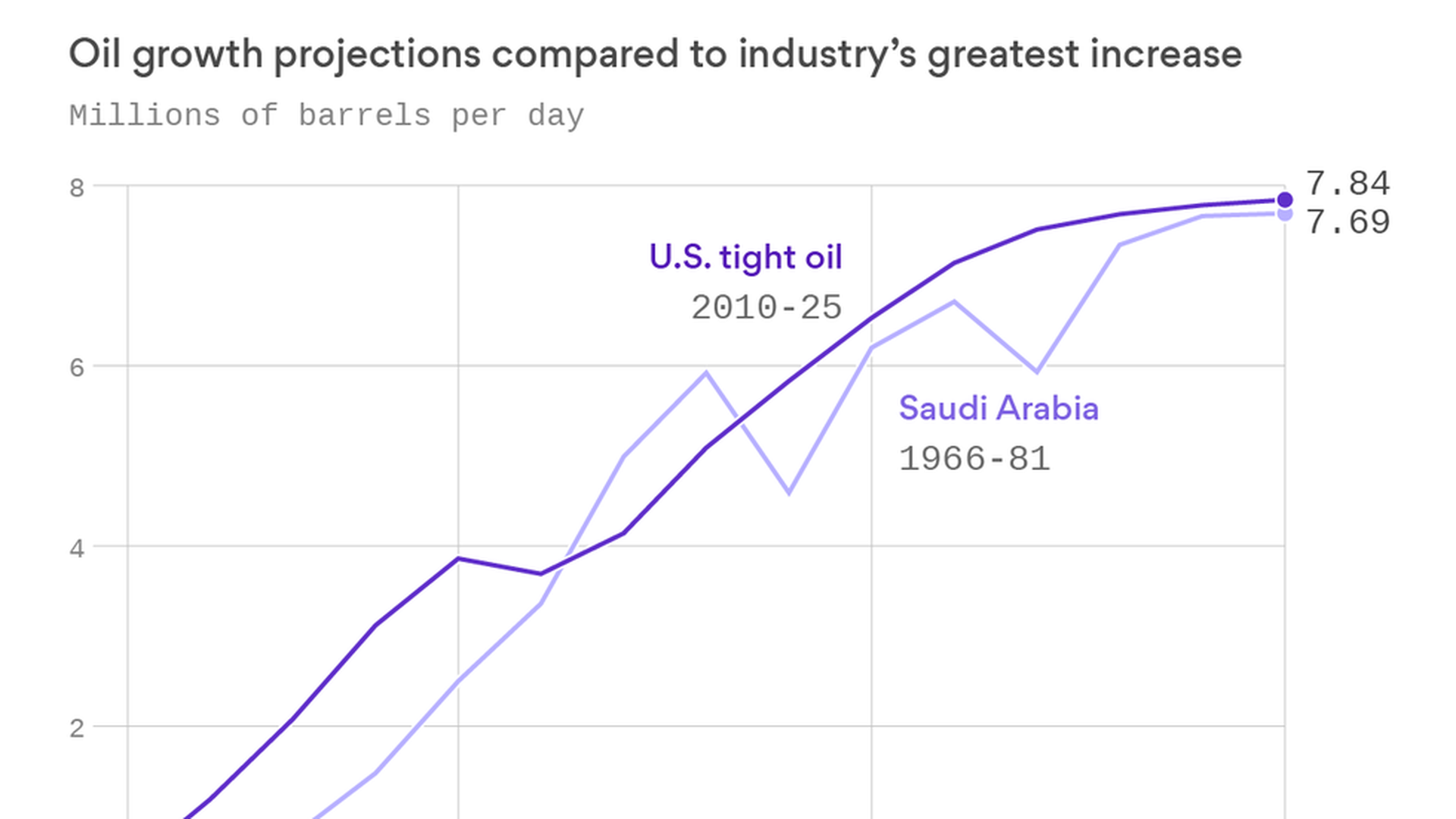 History in the making: Here's one way to think about the scope of the U.S. shale oil boom — by 2025 it could rival Saudi Arabia's ramp up decades ago as "the greatest increase seen over a sustained period in the industry's history," according to the IEA.
Their new World Energy Outlook released last night seeks to put the U.S. oil and natural gas boom in historical context.
Check out the chart above: The baseline forecast for an eight million barrels per day rise in U.S. shale oil production from 2010-2025 "would match the largest sustained rise in production ever seen in an individual country, which was in Saudi Arabia from the late 1960s to the 1980s."
Why it matters: The comparison puts the growing leverage of the U.S. in global crude oil markets into stark relief and helps explain why Saudi Arabia and other OPEC producers are struggling with how to adapt to the re-emergence of the U.S. as a key petro-state.
Don't forget about gas: "For natural gas...the rise in US shale gas projected from 2008 to 2023 would exceed the growth in gas output in the Soviet Union between 1974 and 1989: this was the period when the gigantic gas finds of Western Siberia, Urengoy and Yamburg, were developed for the domestic market and for export to Europe."
Big picture: The U.S. is already a net exporter of natural gas, and is poised to become the world's largest LNG exporter by the mid-2020s, IEA forecasts. The U.S. is poised to become a net oil exporter by the late 2020s. Bloomberg looks at the IEA's projections for the U.S. here.
https://www.axios.com/newsletters/axios-generate-d402fef5-54e1-4c39-b0f3-982d116dbde5.html?chunk=2#story2
Takeaways from the IEA's World Energy Outlook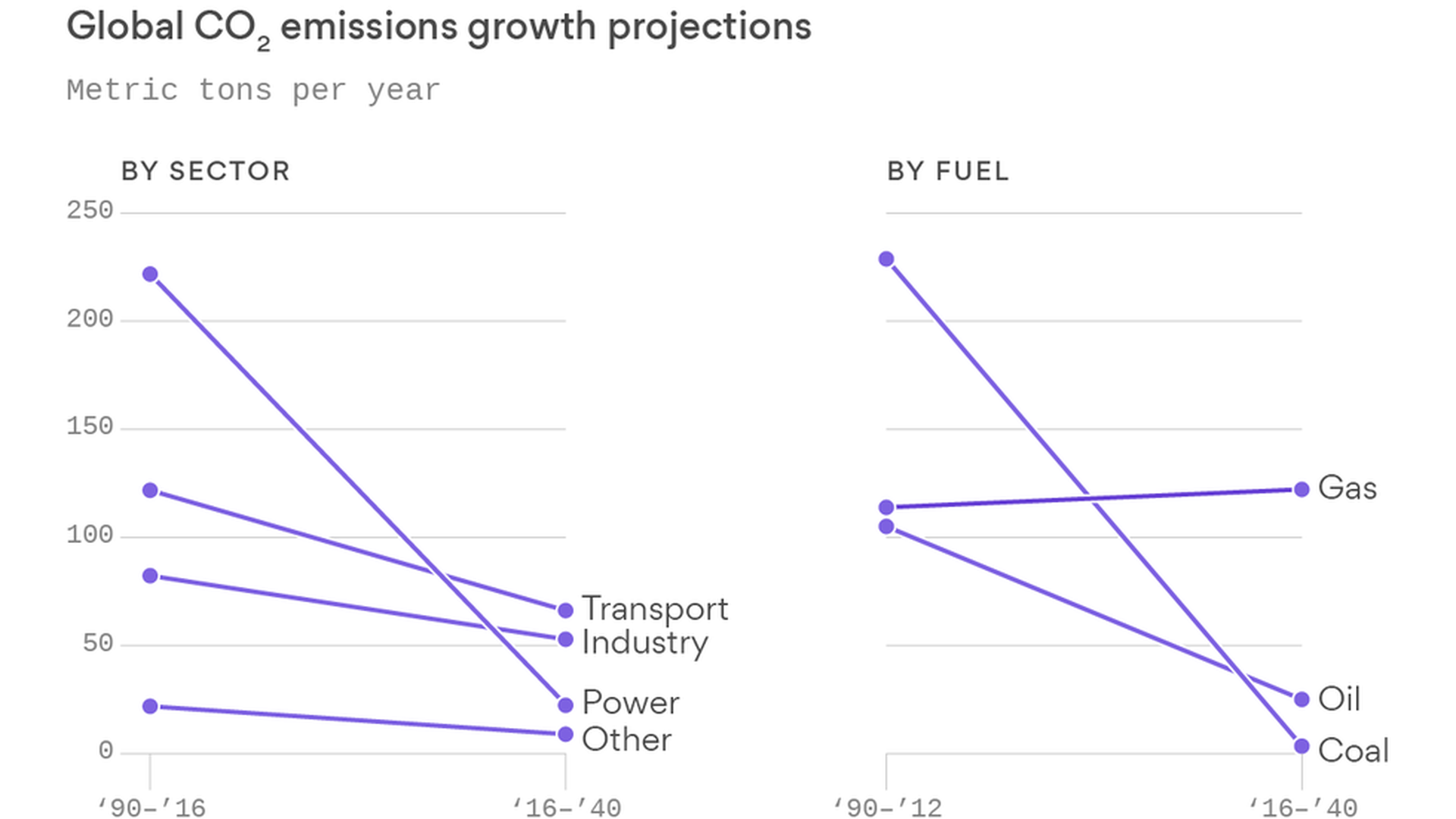 Here's a few more takeaways from the IEA's World Energy Outlook 2017...
Growth: Total global energy demand rises more slowly than in the past but still increases by 30% between now and 2040 under the New Policies model, which looks at nations' existing and officially announced policies.
Climate change: Global carbon emissions from energy (which is the main source) increase slightly between now and 2040 in the New Policies scenario.
Why it matters: It shows that absent more aggressive efforts to curb greenhouse gases, the world will fail badly to achieve the steep emissions cuts needed to hold the eventual rise in global temperatures to 2 degrees celsius above preindustrial levels — the goal of the Paris agreement aiming to avoid some of the most dangerous climatic changes.
A changing mix: Check out the chart above. It shows the sources of past and future emissions growth and in the process illustrates the seismic shifts underway in global energy.
Emissions growth from coal is headed sharply downward as demand stagnates, thanks to renewables and gas playing a more prominent role in the global electricity and industry mix. That's why gas, while emitting much lower carbon than coal on a per-unit basis, becomes a bigger source of incremental emissions growth.
Oil becomes a more prominent source of relative emissions growth, thanks to persistent demand for transport and petrochemical production.
A few more topline conclusions...
No oil peak: Global demand for oil keeps rising in the New Policies scenario, albeit slowing down after the mid-2020s, reaching almost 105 million barrels per day in 2040.
Greater auto efficiency and the rise of electric vehicles is more than offset by oil demand from petrochemical production, trucking, aviation and shipping.
Renewables rise: Renewables meet 40% of the growth of energy demand, signaling the huge changes underway in the electricity sector as gas, wind, and solar have gained as coal stagnates.
"Renewables capture two-thirds of global investment in power plants as they become, for many countries, the least-cost source of new generation," IEA notes.
Don't forget: Standard disclaimers apply here because, well, it's the future we're talking about. And indeed IEA looks at multiple pathways, including a "sustainable development" scenario that's far more climate-friendly, which we touched on in the Axios stream last night.
Go deeper: Read the detailed executive summary here.
https://www.axios.com/newsletters/axios-generate-d402fef5-54e1-4c39-b0f3-982d116dbde5.html?chunk=3#story3
How oil's stranglehold may be eroded
A new report from IHS Markit looks at the combination of the rise of electric vehicles, autonomy and "mobility as a service" trends such as ride-sharing — factors that will erode oil's stranglehold on transportation fuels by 2040.
One possible future: Add it all up and you have a "convergence of technological, political, and economic forces could fundamentally alter the automotive ecosystem." They summarize some of the findings in a blog post, and here are a few key points...
"By 2040, oil will still be a big business but will have lost its monopoly as a transport fuel. Gasoline and diesel demand from cars will peak in the mid-2020s, although the growth of hybrid vehicles, which will still have a gasoline engine, will temper the demand slowdown."
"More stringent fuel economy and emission standards, rather than EVs, will have the most significant impact on slowing oil demand."
By 2040, vehicle miles traveled will have grown 65% to 11 billion miles per year in China, India, Europe and the U.S. (the major markets they analyzed for the report).
Again, no peak: But given the various factors affecting global oil demand, their baseline scenario forecasts a "plateau" in global oil demand by 2040 at around 115 million barrels per day, but not a peak per se.
Why it matters: The report is another data point as policymakers and analysts try and gauge the future of oil demand and mobility.
Yes, but: Their outlook for EV's is more pessimistic than what another consultancy, Bloomberg New Energy Finance, has predicted. IHS sees EVs accounting for over 30% of new vehicle sales in the big markets they looked at.
In contrast, BNEF sees electric vehicles comprising 54% of new vehicle sales in 2040.
Go deeper: The Houston Chronicle has a detailed piece on the new report here.
https://www.axios.com/newsletters/axios-generate-d402fef5-54e1-4c39-b0f3-982d116dbde5.html?chunk=4#story4
On my screen: GE's future, oil's present, and more Bonn tensions
At a crossroads: Via CNBC, the shape GE's energy business units could change a lot. They report:
"The company intends to remain in the business of supplying power plants with equipment and services, an industry it dominates alongside German rival Siemens. But GE could exit the oil and gas industry, and its role in renewable energy remains somewhat uncertain."
Latest in oil: The IEA's latest monthly oil market reports warns that the recent price increases fueled by geopolitical tensions in the Middle East and lower production in some areas may not have created a new $60 per barrel baseline for prices.
They note a downward revision in demand next year and other factors. In their words:
Does that mean the market has found a "new normal" where the accepted floor might have moved from $50/bbl to $60/bbl? This might be a tempting view, assuming supply disturbances will continue and tensions in the Middle East will not ease.
However, if these problems do prove to be temporary, a fresh look at the fundamentals confirms the view we expressed last month that the market balance in 2018 does not look as tight as some would like, and there is not in fact a "new normal".
Reuters has more here.
Other tensions in Bonn: Bloomberg reports on a "schism" between the posture of U.S. diplomats and Trump administration political appointees at the UN climate talks in Bonn.
The State Department team is continuing work on more nuts and bolts topics of the Paris deal — like the particulars of emissions reporting and verification — while political appointees push a broader pro-fossil fuels message.
From the Bloomberg piece:
"While Trump has announced he wants the U.S. to leave the 2015 Paris climate pact, that will take four years under the agreement, and its negotiators — led by Tom Shannon, a career State diplomat, and Trigg Talley, a longtime climate negotiator — have been working in Bonn to push some of the same issues that Obama had pushed."