Axios Generate
April 20, 2018
Happy Friday!
A note to Chicago-area readers: Register here to join Mike Allen's Monday conversation with Mayor Rahm Emanuel about innovation and automation.
Tomorrow marks the 1980 release of Pete Townshend's Empty Glass, so he's got today's intro tune...
1 big thing: Trump bursts into OPEC fray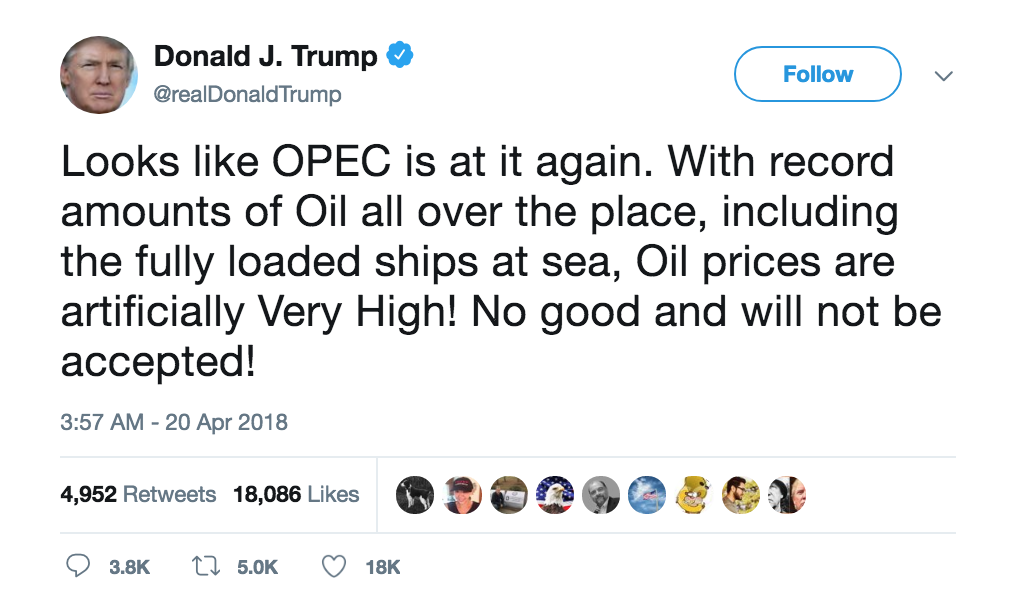 President Trump this morning via Twitter lambasts OPEC for making oil prices "artificially Very High" — a tweet which hit shortly after a monitoring committee OPEC meeting today and likely in a reaction to oil prices trading at their highest level in three years.
Reactions from OPEC, via reporters covering the meeting (lightly edited):
Energy Intelligence Group's Amena Bakr: "UAE oil min says in response to Trump quote: OPEC is just doing its job of rebalancing the market."
Bloomberg News' Javier Blas: "'There is not such a thing as artificial prices', says SaudiArabia energy minister Khalid Al-Falih in response to Trump's tweet."
S&P Global Platts' Herman Wang: "Oil inventories are still above where they were before the downturn, Saudi energy minister Khalid Al-Falih says. 'The inventory drawdown needs to continue' but 'we are not decided yet on precisely what is the target'."
Why it matters: Trump's tweet, while vague, appears to show the president directly attacking OPEC's work with Russia to limit production as the cartel seeks to tame the global crude oil glut. Trump's comments arrive after a Reuters report said Saudi Arabia is aiming to get prices up to $80–$100 per barrel.
2. Breaking today: Banking giant HSBC quits coal
New pledge: HSBC, one of the world's biggest banks, announced Friday that it will no longer finance construction of new coal-fired power plants, expanding on earlier restrictions laid out in 2011.
The bank also said it will no longer support new oil-and-gas projects in the Arctic and new Canadian oil sands projects.
Why it matters: The Financial Times, which first reported the news, sums it up well: "[T]he move by Europe's biggest bank underlines the mounting pressure from investors and regulators for lenders to step up their response to climate change."
Quoted: "We recognise the need to reduce emissions rapidly to achieve the target set in the 2015 Paris Agreement to limit global temperature rises to well below 2 degrees Celsius and our responsibility to support the communities in which we operate," Daniel Klier, the bank's global head of strategy and sustainable finance, said in a statement.
Yes, but: HSBC said Bangladesh, Indonesia and Vietnam would be exempted from the coal policy in cases where "no reasonable alternative" is available, a carve-out designed to "balance local humanitarian needs with the need to transition to a low carbon economy."
Go deeper: Read HSBC's updated energy policy document here.
3. Trump's solar tariffs are stoking competition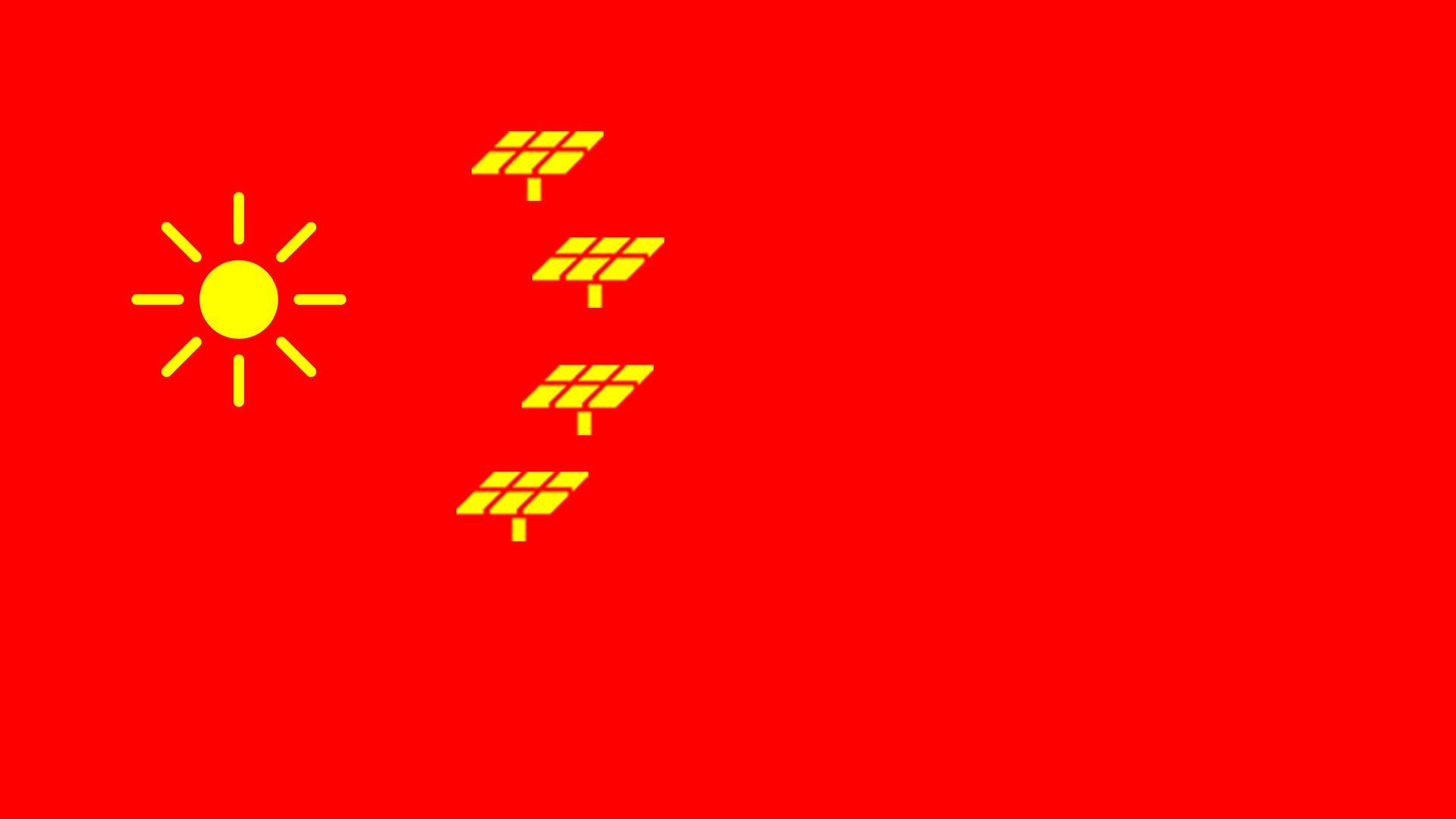 My colleague Amy Harder reports that competition in the global solar industry is ramping up in the wake of Trump imposing tariffs on panel imports earlier this year.
Why it matters: Before the administration issued the tariffs, most of the American solar industry predicted it would hurt U.S. solar jobs, many of which are based on installing cheap solar panels from places like China.
On the record: Two interviews with top executives at American and Chinese solar companies offer a glimpse at their positioning to thrive amid the tariffs. Here's an excerpt from her discussion with Tom Werner, CEO of SunPower, which is based in California but majority owned by French oil and gas company Total:
Q. SunPower just announced it's acquiring SolarWorld, one of the solar manufacturers that petitioned for the tariffs. Couldn't one argue the tariffs are having the intended effect, to encourage U.S.-based manufacturing?
"I'll answer that and say yes. This [SolarWorld purchase] is catalyzed by the tariffs and by the administration's desire for American solar manufacturing. It was my concession and SunPower board agreed with me, that it was appropriate for us to take a leadership position and swim with the current with the administration."
Q. Are you worried Chinese companies are going to innovate or circumvent to blunt the impacts of these tariffs on their panel products, as they have done in the past?
"Only the paranoid survive. SunPower is very paranoid. We need to run like hell and innovate."
Click here for the whole story in the Axios stream.
4. Latest in policy: FERC, coal, EPA
Gas pipelines: Yesterday the Federal Energy Regulatory Commission began its hotly anticipated review of the nearly 20-year-old process that governs natural gas pipeline approvals.
"Commissioners said Thursday they will assess whether FERC is properly weighing the impact of greenhouse gas emissions released by the products shipped through pipelines," reports the Washington Examiner.
Coal and nukes: Bloomberg broke the news yesterday that Trump administration officials could invoke sweeping powers under the 68-year-old Defense Production Act to keep economically distressed coal-fired and nuclear power plants online.
Thought bubble, via Amy Harder: The consideration of using the Truman-era law highlights how few reasonable policy levers the Trump administration has at its disposal to stem the economic tide going against struggling coal and nuclear plants.
Scott Pruitt saga: Per NYT, "Some of the most reliable conservatives in Congress are starting to speak out against Scott Pruitt, the chief of the Environmental Protection Agency who is now facing a barrage of ethics and spending questions."
Looking forward: Pruitt will step directly into the spotlight next week. On Thursday he's scheduled to testify before House Energy and Commerce and Appropriations panels.
5. The stakes of China's green regulatory shakeup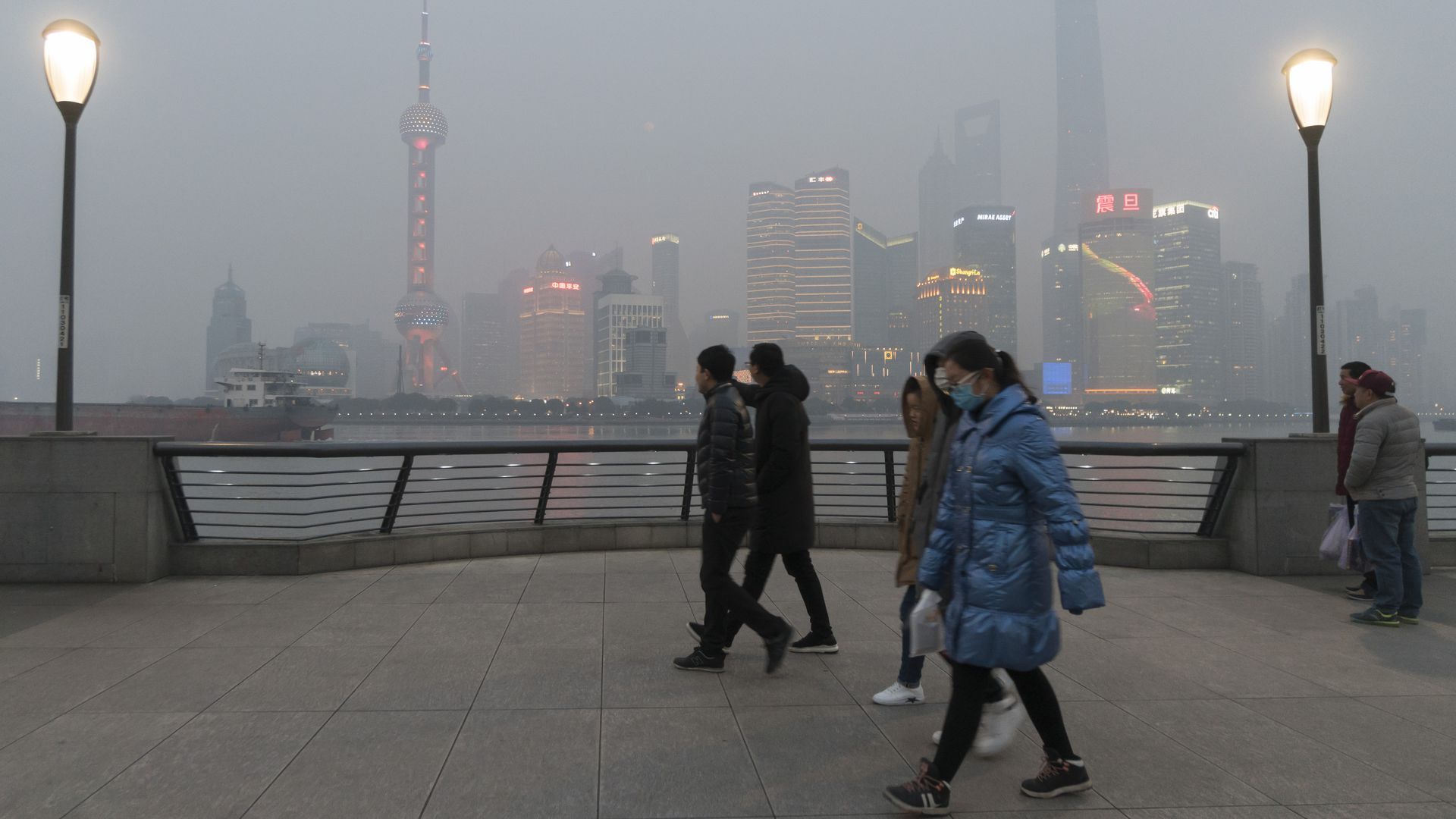 Over in our Expert Voices section, University of Chicago's Dali Yang sizes up a major move by China's government. Here's an excerpt...
What's happening: This week China formally inaugurated its new Ministry of Ecology and Environment (MEE) to replace the Ministry of Environmental Protection. The MEE consolidates regulatory functions that were spread over seven or eight different ministries and administrations.
Why it matters: The fragmentation of regulatory authority is a major reason China has struggled to combat the severe environmental degradation that has attended its rapid economic rise. The consolidation, part of a larger government reorganization announced in March, aims to address that deficiency by making the Chinese government more coherent and effective.
The MEE will have authority over all types of pollution: surface and underground, urban and rural, onshore and offshore. It will also take over the responsibility for carbon dioxide emissions and have direct oversight of local authorities.
Yes, but: Despite its more centralized authority, the MEE will still have to contend with a broader political environment characterized by comparatively weak laws and inadequate legal institutions.
6. Two things about methane emissions
New tally: Analysts from the think tank Resources For the Future have a new look at a regulation Trump wants to kill — Interior Department rules to cut emissions of the potent greenhouse gas methane from oil-and-gas development on federal lands.
The bottom line: The effect of killing or keeping the rule rests on whether the social cost of methane (SC-CH4) — a metric of damages expected from additional pollution — is tallied domestically or globally.
Trump's Interior is using a domestic tally; the Obama-era rule looked worldwide.
By the numbers: "Using a domestic SC-CH4, repealing the rule results in net benefits of $495 million to $860 million. With a global SC-CH4, repeal results in net costs of $814 million to $1.2 billion," states a summary of the research.
* * *
Unpacking BP's pledge: A post over at the Environmental Defense Fund examines BP's pledge to curb methane releases from their projects. The company's wider report this week on climate efforts sets a methane intensity target of 0.2%.
The big picture: Oil majors are promoting gas to help address climate change, thanks to its smaller CO2 output than other fossil fuels. But methane emissions erode some of that advantage.
"Cutting methane emissions...helps strengthen the case for natural gas as a lower-carbon energy source," Paul Jefferiss, BP's head of policy, tells EDF.
What's next: "As better technology and further information become available, BP would consider adopting new, equipment-specific emission factors," he said.
7. This document is a sign of the times
Newly public: The bankrupt power company FirstEnergy Solutions has brought on lobbying powerhouse Akin Gump, according to a newly posted filing.
Why it matters: FES has been in the news a lot because they...
Recently filed for Chapter 11 protection.
Announced plans to shutter 3 nuclear power plants by 2021.
Asked the DOE to use emergency powers to keep coal-fired and nuclear plants in the PJM Interconnection operating.
Yes, but: The exact scope of Akin Gump's lobbying isn't clear. The filing says they're working on "issues related" to the bankruptcy and "potential deactivation of power plant." Akin Gump lobbyists and FES did not comment.
8. More lobbying notes
A few recent registrations of note...
Oil-and-gas: Marathon Oil has brought on Faegre Baker Daniels Consulting.
Mining: Coal giant Peabody Energy has retained Capitol Tax Partners for work on the effect of the tax overhaul on international companies.
Mining: Teck American brought on Venable for work on "legislation impacting the mining industry and trade agreements."
Ozone layer and climate: The Alliance for Responsible Atmospheric Policy has tapped the CGCN Group for work on ratification of the Kigali Amendment to the Montreal Protocol.
Tech: Planet Technologies has tapped Kelley Drye & Warren for work on energy policy.
* * *
Watch this space: Q1 lobbying expenditure reports are just rolling in, so I'll report on some of the highlights next week when more show up.