Axios Generate
March 14, 2023
🚀 Off we go! Today's newsletter has a Smart Brevity count of 1,297 words, 5 minutes.
🔮 Axios is hosting our 2nd annual What's Next Summit on March 29 in Washington, D.C. spotlighting trends and people breaking boundaries. Check out our lineup and register for the livestream.
🎶 On this date in 1984, singer-songwriter Joe Jackson released the album "Body and Soul," which provides today's intro tune...
1 big thing: Meet "eCTOL," the new thing in electric planes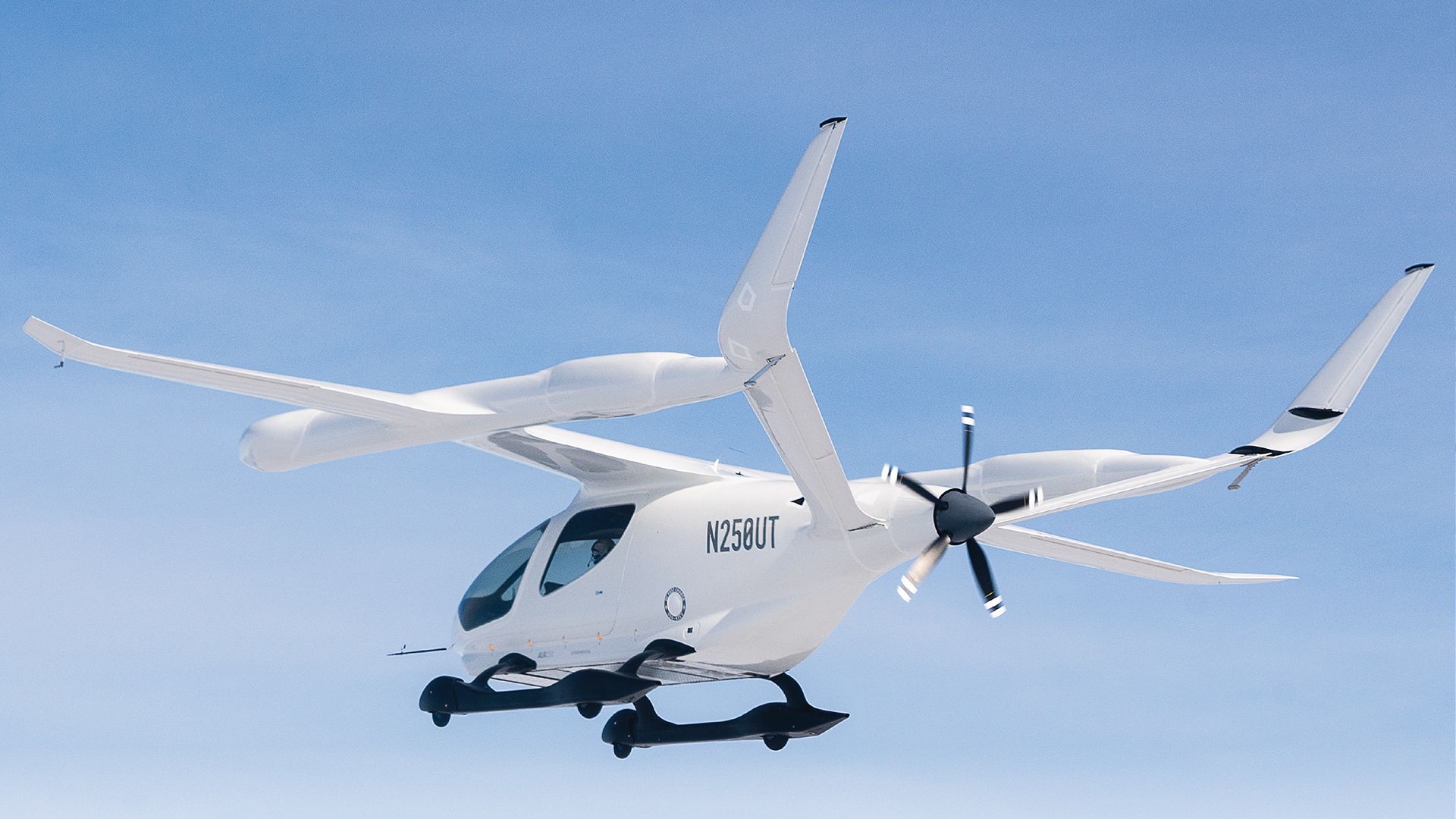 BETA Technologies, an electric aviation company that has an electric vertical takeoff and landing (eVTOL) aircraft in flight testing, announced sales of a less futuristic battery-powered model on Tuesday, Andrew writes.
Driving the news: The company is pursuing certification of an electric conventional takeoff and landing aircraft, or eCTOL, which uses airport runways, at the same time that it works on eVTOL technology.
Why it matters: The move amounts to a shakeup in the highly competitive electric aviation space. BETA is offering carriers an extensively tested near-term cargo or small passenger solution they can put into existing use cases and while improving their sustainability.
The big picture: BETA founder and CEO Kyle Clark tells Axios the company is responding to customer demand by pursuing the eCTOL route.
It is also well on its way to federal certification of the aircraft, called the CX 300.
Its airframe, battery pack and avionics are identical to the eVTOL aircraft, known as the ALIA-250, but it lacks the tilt rotors.
By removing the rotors and flying conventionally, Clark said, "You get longer range and more payload, a less expensive aircraft and a clear certification path."
The FAA has had test pilots go through BETA's training course and fly the plane, providing feedback and potentially speeding the plane's journey to certification, Clark said. Air Force test pilots have flown it as well.
Zoom in: So far, the eCTOL plane has flown a total of 22,000 miles and completed a 386-mile flight during two years of human-crewed testing, according to the company. It was initially built to level flight performance of the ALIA, Clark said.
The CX 300 has several committed customers, including the biotech firm United Therapeutics, whose founder is one of BETA's financial backers.
Air New Zealand has committed to ordering three eCTOL aircraft, with an option for 20 more.
In addition, Bristow, which provides vertical flight solutions, has placed a deposit-backed order for 50 eCTOL aircraft, plus its firm order for five eVTOL planes, BETA revealed.
The intrigue: BETA's customers can use the company's fast charging network rolling out at airports across the U.S. to support the electric transition.
The chargers can power either of the aircraft models as well as electric vehicles.
Instead of spending $500 to $700 for fuel to power a turbine aircraft, airlines could spend about $20 to recharge the CX 300 and fly to the next stop, Clark said.
Between the lines: The certification process for both planes is happening in parallel.
BETA aims to roll out the CX 300 to commercial customers in 2025, and it already has its military certification.
The bottom line: Clark said that with the CX 300, BETA is bringing a sustainable aviation solution to market sooner at a time of "insatiable" interest.
2. The political fallout of Biden's Willow decision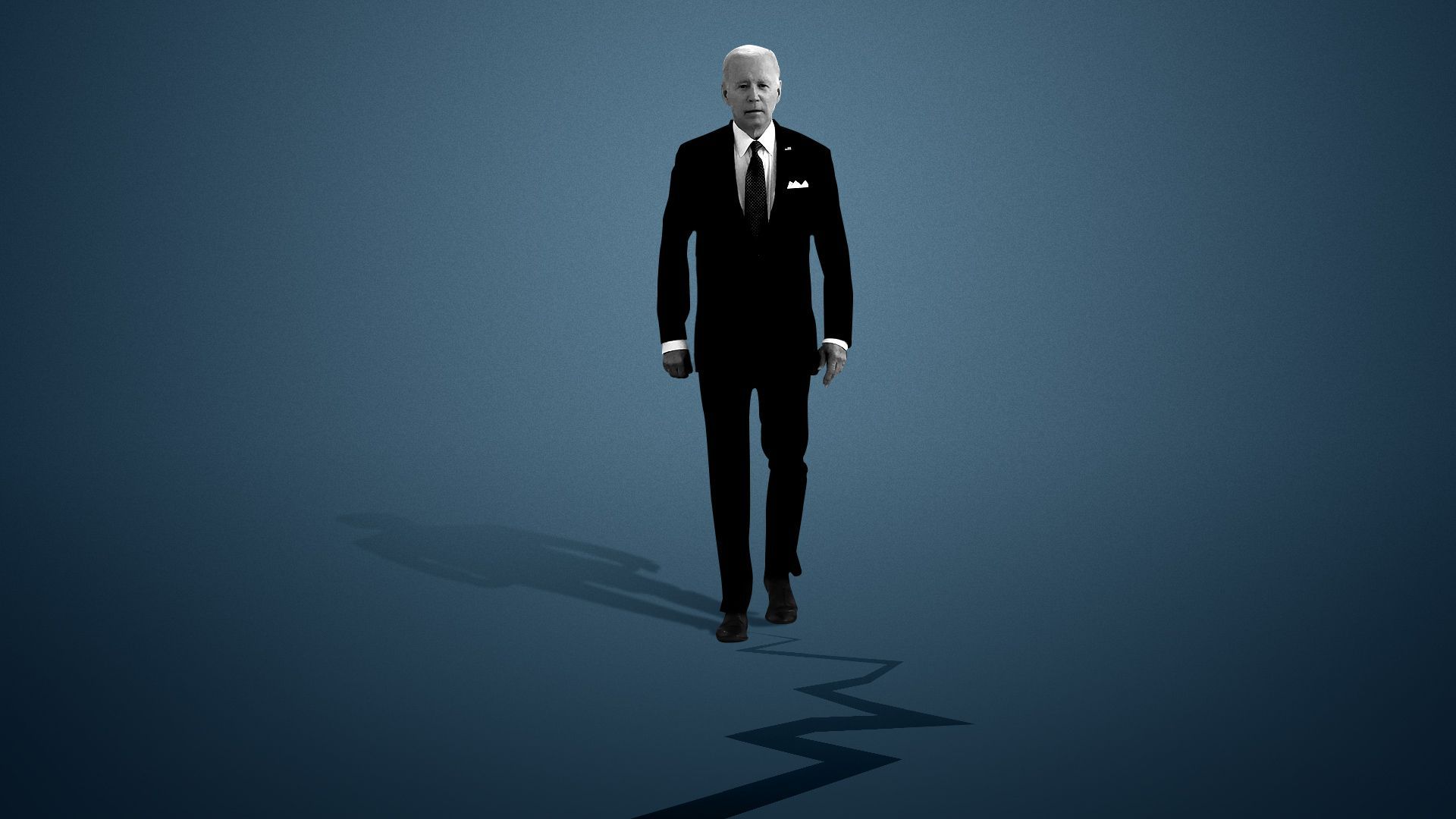 The Biden administration is scrambling to show its approval of ConocoPhillips' big Willow oil project in Alaska isn't a break with its climate work, Ben writes.
The big picture: The decision Monday to greenlight Willow has created the biggest rupture between the White House and climate groups of President Biden's tenure.
Some activists are also warning the decision could sap enthusiasm among young, climate-focused voters.
Driving the news: Last night, Interior Secretary Deb Haaland posted a video touting new protections elsewhere in the Arctic.
She called Willow a "difficult and complex issue that was inherited" and noted the project is on leases issued by previous administrations. "We had limited decision space," she said, noting that Interior scaled back the project.
An administration official made similar points in remarks circulated to reporters last night.
The official said the Willow action came "under considerable legal constraints" and "won't stop us from achieving the ambitious clean energy goals President Biden has set."
Quick take: Democratic-aligned green groups like the League of Conservation Voters bashed the decision, but they'll support Biden in 2024 and pour resources into his reelection effort.
But whether Willow could affect turnout of a non-trivial number of young voters who prioritize climate is unknown.
The Sunrise Movement said the decision "abandons millions of young people ahead of 2024."
On the other hand, several unions have praised the decision as a job creator.
Zoom in: Politico has a deeper look at the politics of Willow.
3. Volkswagen's ambitions and more EV notes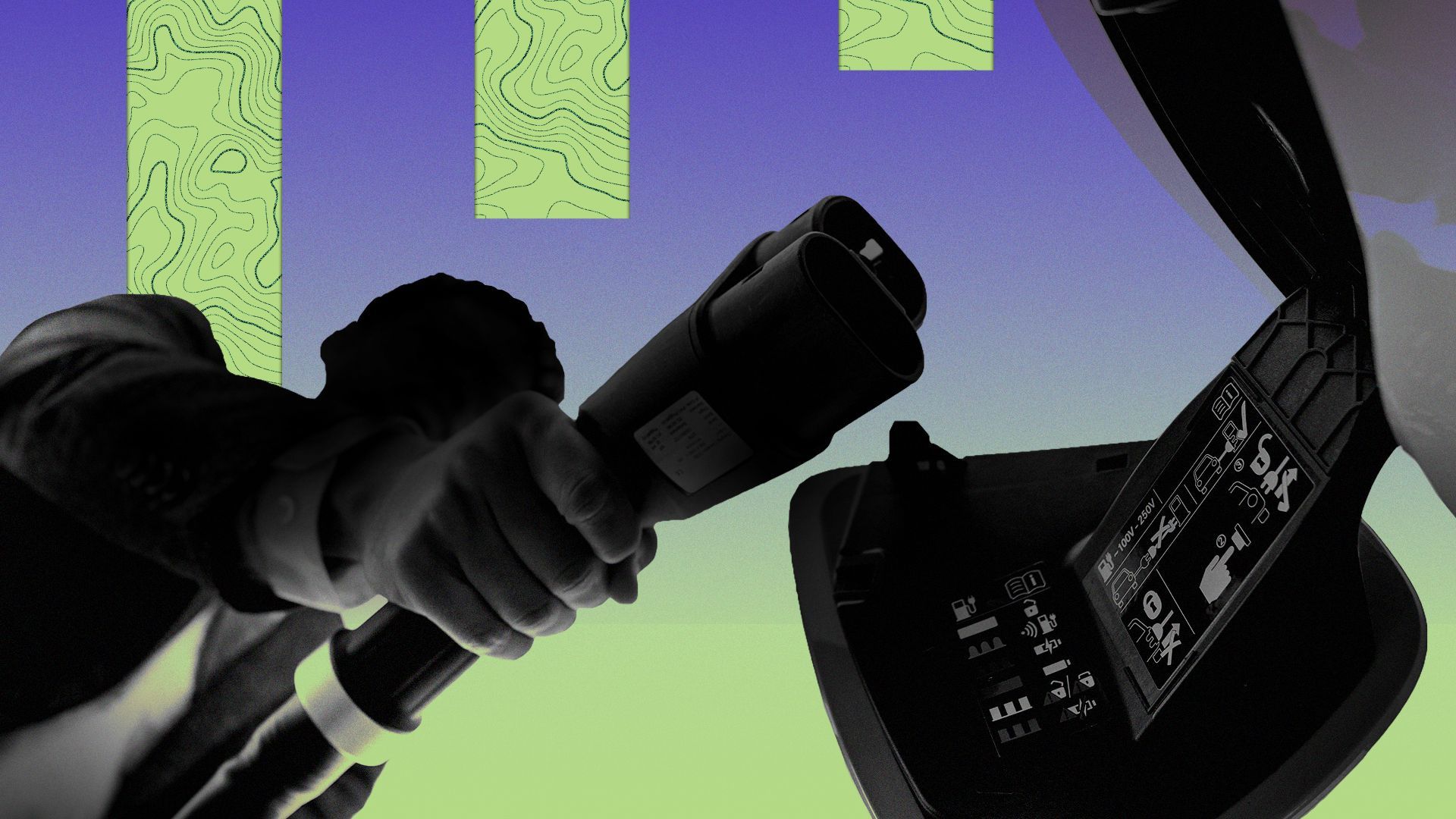 🇨🇦 Volkswagen is boosting EV investments and has selected a site in southern Ontario for its first big battery plant in North America, Ben writes.
Driving the news: VW said this morning it's investing $193 billion between 2023 and 2027 in its "most attractive profit pools," with 68% steered toward EV and digitization efforts.
Catch up fast: The battery plant announced Monday is slated to open in 2027, and the plan follows VW's recent announcement its Scout Motors unit will produce electric SUVs and trucks in South Carolina.
Why it matters: The U.S. climate law is increasingly drawing EV-related investments. Expanded consumer EV subsidies are tethered to battery component and vehicle manufacturing in North America.
💰 Arrival, a struggling electric van startup, secured a $300 million equity financing line via Westwood Capital as it looks to stabilize and launch production at its North Carolina factory next year.
The big picture: The company is among several EV startups to hit severe headwinds after going public during the SPAC frenzy.
🚐 "Rivian and Amazon are in discussions to adjust the exclusivity clause of their agreement for the EV maker's electric delivery trucks, a company spokeswoman said Monday," CNBC reports, confirming a WSJ story.
4. California storm poses "catastrophic" threat
The precipitation firehose of an atmospheric river is directed once again at California Tuesday, with a "high risk" of excessive rainfall and associated flooding, according to the National Weather Service, Andrew writes.
The big picture: The state has been hit by so many atmospheric river storms this winter into meteorological spring that these storms show up in seasonal maps, both of precipitation and temperature departures from average.
With California and much of the West stuck in a wet pattern, that region of the country was unusually cold.
Threat level: The storm is intensifying from Tuesday into Wednesday as it moves into California, bringing strong winds, heavy rains, and several more feet of high elevation snow.
The NWS is warning of "considerable to locally catastrophic flooding impacts" below 5,000 feet, with the heaviest rains moving south down the coast, into the southern Sierra Nevada foothills.
"Severe, widespread flash flooding is expected," the agency stated in an online forecast discussion. "Lives and property are in great danger from Tuesday into Wednesday."
Context: Climate change increases the odds and severity of heavy precipitation events, and is adding more moisture to atmospheric rivers.
5. The new flare-up over Biden's solar policy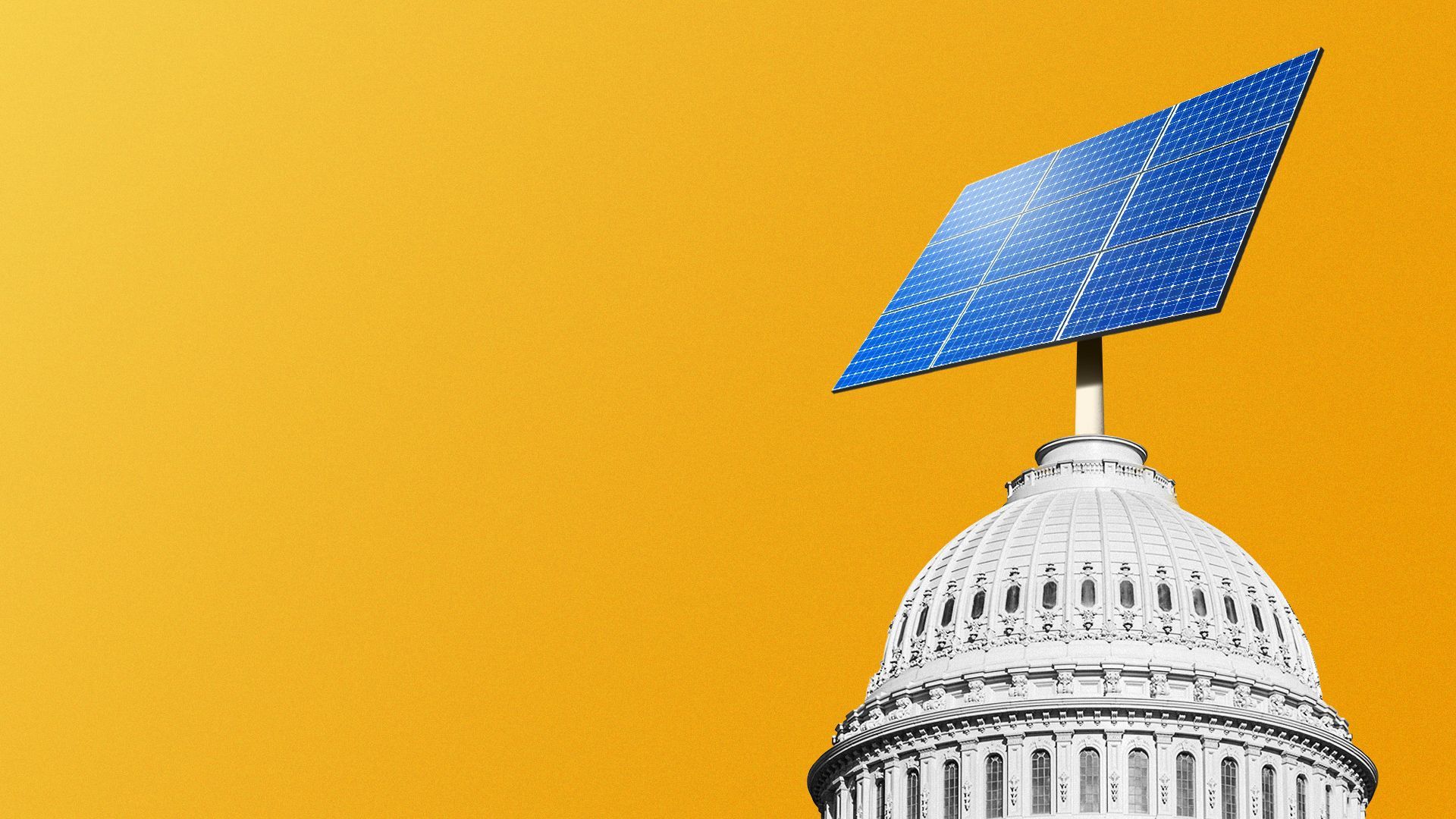 Senate Democrats are preparing to rehash a fight over solar panel tariffs they thought they had won last summer, when President Biden used his executive power to suspend tariffs on solar parts from Southeast Asia, Axios' Hans Nichols reports.
Why it matters: Last summer's showdown between solar panel importers and domestic producers pitted Democrats against each other and nearly froze solar panel projects across the country.
What we're watching: A bipartisan push in the House to use the Congressional Review Act to undo Biden's solar decision is threatening to reopen the wound.
A veto-proof CRA vote in both chambers would overrule Biden's decision and potentially prevent the president from achieving some of the climate goals he envisioned in his Inflation Reduction Act.
6. 💬 Quoted on SVB
"So many of my colleagues banked there. They were great partners. They understood what type of products we needed. They sponsored events. They were a thread woven into the clean tech community. We have lost something, and that is a gap that needs to be filled."
— Leah Ellis, CEO of low-carbon cement startup Sublime Systems,
via the Washington Post
That's Ellis on the collapse of Silicon Valley Bank, a key part of the climate tech ecosystem. She's hardly alone in her concerns.
📬 Did a friend send you this newsletter? Welcome, please sign up.
🙏 Thanks to Nick Aspinwall and David Nather for edits to today's edition.