Axios Generate
January 29, 2021
Friday is here! Today's Smart Brevity count: 1,196 words, 4½ minutes.
🎶And we're about to hit exactly 40 years since Blondie reached #1 on the Billboard charts with this week's final intro tune...
1 big thing: GM puts Trump in its rearview mirror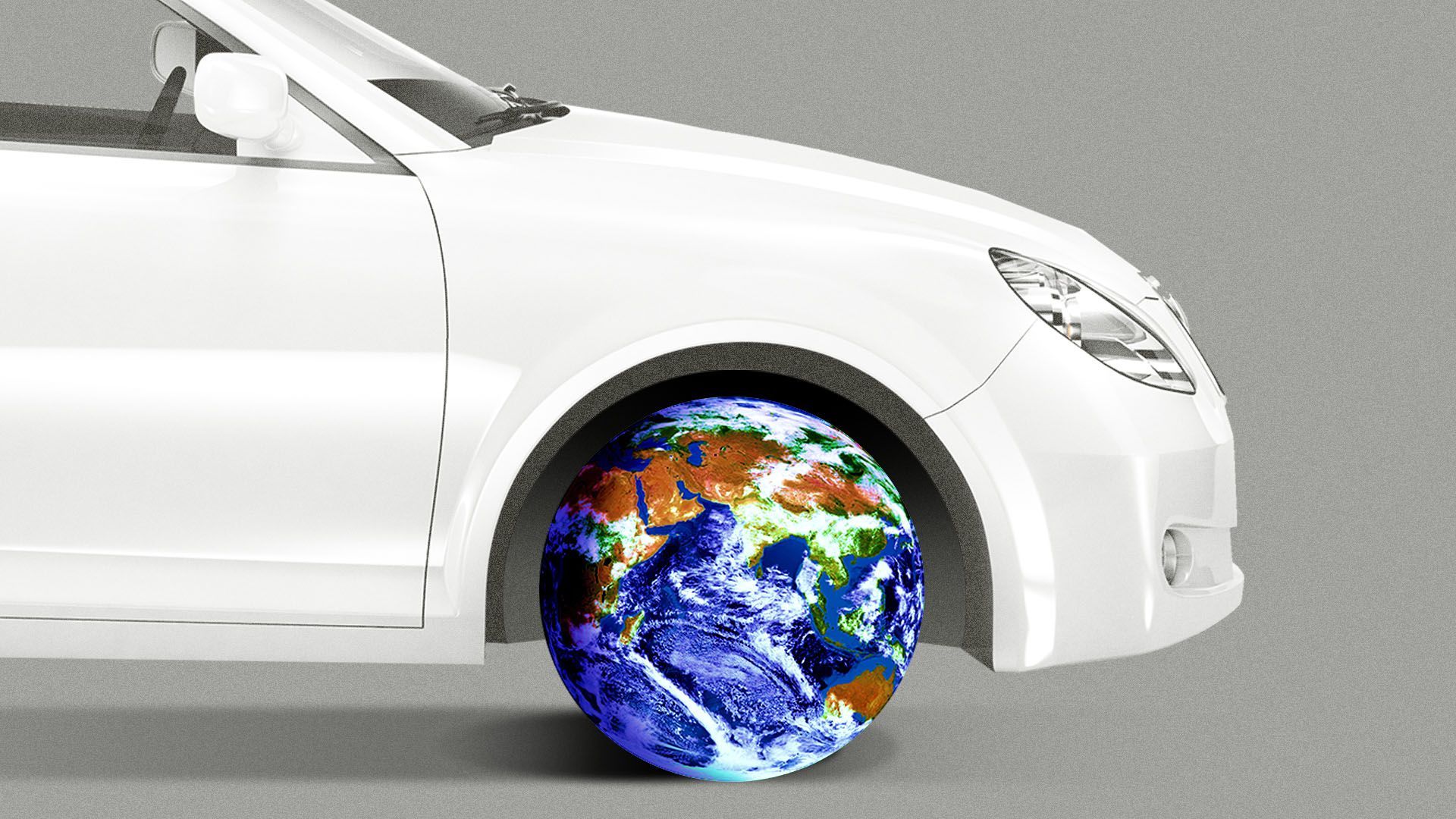 General Motors is racing to prepare itself for a president and a world that takes climate change more seriously — and putting the Trump era behind them in the process.
Driving the news: GM yesterday announced an ambitious plan to end global sales of internal combustion vehicles by 2035. It's part of their wider new pledge to be carbon neutral by 2040.
Why it matters: Pulling it off would require an utterly massive transformation of GM's fleet over 15 years.
Consider that last year, GM sold roughly 2.6 million vehicles in the U.S. — but sales of its Chevy Bolt EV totaled under 21,000.
They're planning to offer 30 all-electric models globally by the mid-2020s, but the 2035 target — if accomplished — would still mean a sea-change from even the evolution they see over the next half-decade.
And it's not a very Trump-y pledge — the former president was dismissive of global warming and sought to slow down vehicle emissions rules that were supportive of electric cars.
The big picture: GM was already greatly expanding its EV efforts during the Trump era, and its share price has been rising over the past year or so in the process.
But President Biden's election win and pro-EV posture create a less fraught environment for the automaker, which no longer has to tiptoe around Trump and his Twitter feed.
The Detroit News summed up GM's announcement yesterday by noting it "reflects a newly Democratic-controlled capital pivoting to an aggressive climate agenda."
Flashback: In another stark sign of the new regime, after the election, GM abandoned litigation aimed at thwarting California's effort to impose tougher standards than federal rules. The company had been siding with the Trump administration in the case.
The company, in a letter to environmental groups, said it was confident that Biden, California and the industry could sing from the same song sheet on national emissions rules.
"If Trump had won the election, I'd say there is a lesser chance of GM pulling out [of] the lawsuit as it's in the interest of any large automaker to find ways to work with the current presidential administration," Edmunds analyst Jessica Caldwell says.
Yes, but: It's too soon to say how much harmony is in store for GM and the Biden administration. That will become more apparent when Biden's regulators start unveiling specific rules around mileage and emissions standards.
And one environmentalist who has spent many years tracking industry moves says there's reason to be very skeptical of GM's new posture, given that they initially backed Trump's intent to weaken Obama-era standards.
"[H]ow can we trust GM and other automakers' promises when they repudiated their commitment to abide by the standards they negotiated with Obama?" asks Dan Becker of the Center for Biological Diversity.
Bonus chart: EV sales far surpass pandemic expectations
Speaking of EVs ... new International Energy Agency preliminary data shows that worldwide sales grew by an estimated 40% last year, exceeding the agency's expectations.
Why it matters: The increase occurred despite a drop on overall global vehicle sales.
"Backed by existing policy support and additional stimulus measures, the IEA preliminary estimate is that electric car sales worldwide climbed to over 3 million and reached a market share of over 4%," they write.
Reality check: "While impressive, the share of electric vehicles in total car sales is still only one-tenth that of conventional SUV sales," IEA analysts noted in their commentary alongside the data.
How it works: IEA sees a few reasons EV sales didn't fall sharply alongside conventional car sales, even though COVID-19 initially hindered both manufacturing and demand.
One was that policy support was strong, especially in Europe.
There were also continued declines in battery costs, more models coming to market, and enthusiasm among affluent car buyers less affected by the economic crisis.
What we're watching: The trajectory of U.S. sales in the years ahead, which were essentially flat year over year in the United States.
But more models are coming to showrooms, and Biden hopes to implement policies — ranging from tougher emissions rules to charging infrastructure support — that will expand deployment.
2. Breaking: Chevron posts loss under COVID-19 weight
Chevron posted another quarterly loss Friday in the latest sign of how the pandemic is still weighing on oil companies despite some price recovery during the second half of the year.
Driving the news: The oil giant reported a $665 million loss for the October-December period, but it shrinks to $11 million on an adjusted basis after considering charges on its acquisition of Noble Energy and "foreign currency effects."
The company is grappling with how the pandemic has sapped demand for motor and jet fuels.
Losses from its refined products division weighed on the results as the company cited lower margins on sales and lower sales volumes.
What they're saying: "2020 was a year like no other," CEO Mike Wirth said in a statement.
But he touted the company's moves to address the crisis with steep capital spending reductions and lower operating costs.
"We were well positioned when the pandemic and economic crisis hit, and we exited the year with a strong balance sheet," Wirth said.
Yes, but: Chevron's stock ticked down over 2% in trading this morning. "The California oil titan lost a penny per share during the fourth quarter, compared with the Bloomberg Consensus for a 7-cent profit," Bloomberg notes.
What's next: A fuller picture of how the pandemic is still affecting Big Oil will emerge next week when ExxonMobil, Shell and BP report their Q4 results.
3. A snapshot of the partisan climate divide
New Pew Research Center polling underscores the immense difference in how much Democrats are concerned about climate change compared to Republicans.
Driving the news: The chart above shows the five issue areas with the largest partisan gaps in Pew's survey of what U.S. adults want the federal government to prioritize this year.
Pew's survey this month asked respondents whether 19 different issue areas should be a "top priority" for the White House and Congress.
Respondents were not limited to choosing a single topic as a top priority.
The big picture: Overall, 38% said climate should be among the top priorities, ranking it 15 out of 19 topics polled, though there's some bunching within the margin of error.
The survey of 5,360 respondents has a margin of error of ±1.9%.
4. Catch up fast on policy: EPA, banks, Interior
Science: "A federal judge in Montana late Wednesday ruled against the Trump administration's attempt to fast-track a controversial rule about how the Environmental Protection Agency (EPA) considers scientific evidence, endangering its future under the Biden administration." (The Hill)
Finance: "A key bank regulator on Thursday halted a last-minute, Trump-era rule that would prevent big banks from denying loans and other services to entire industries like energy or private prisons, a regulation that had drawn ire not just from Democrats but from banks themselves." (Politico)
Location: "The Trump administration's decision to relocate most Bureau of Land Management headquarters staffers out West — a move designed to shift power away from the nation's capital — prompted more than 87 percent of the affected employees either to resign or retire rather than move." (Washington Post)
5. Number of the day: 959%
That's how much shares of the tiny oil-and-gas producer New Concept Energy shot up yesterday.
How it works: Bloomberg explains what's going on with the company that, per their story, produces just 70 barrels of oil-equivalent per day (not a typo)...
"New Concept Energy Inc. got a mention by retail traders on the WallStreetBets forum on Reddit on a day when brokerages including Robinhood Markets clamped down on trading in shares such as GameStop Corp. after some of the wildest stock swings the markets have seen in recent years."