Axios Generate
March 30, 2017
Good morning and welcome back to Generate, where we'll spend some time this morning taking stock of what Trump's climate policy upheaval means for U.S. and global efforts to stem emissions. Tips and feedback always welcome at [email protected]
Mind the gap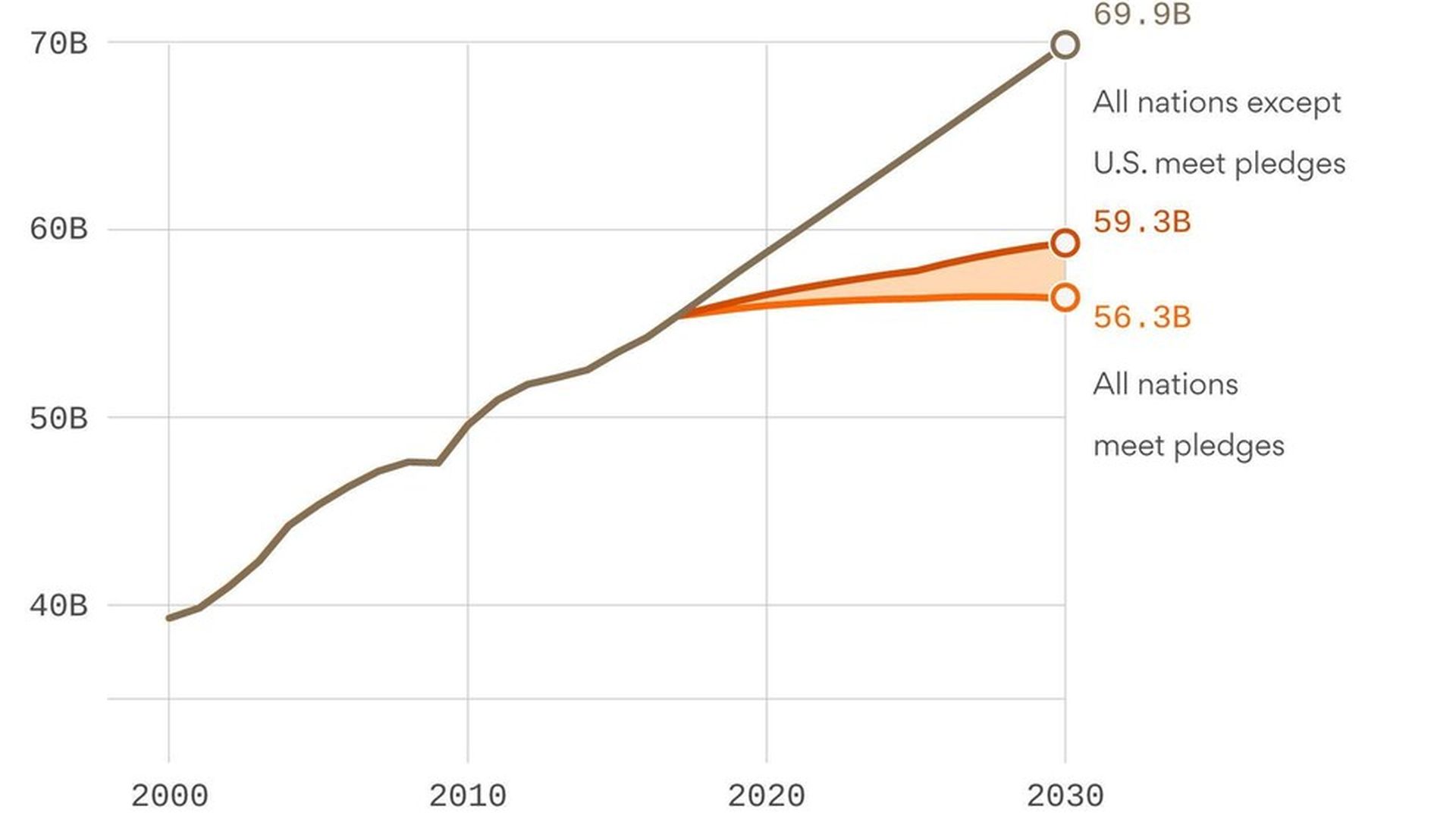 Two days after his big executive order, we're starting to get a better sense of what Trump's moves during his first two months to abandon Obama-era climate policies might mean in the battle against greenhouse gas emissions.
Trump's bid to reverse his predecessor's agenda, including stricter auto mileage rules and EPA's Clean Power Plan to cut carbon emissions from coal-fired power plants, will make it more difficult for the U.S. to meet its Paris accord pledge to cut emissions by 26-28 percent below 2005 levels by 2025.
What's the global impact? The chart above distills analysis from the group Climate Interactive. They have explored how close (or how far away) nations' pledges under the Paris accord will put the world from the path needed to hold the global temperature rise to 1.5 or 2 degrees Celsius above pre-industrial levels.
Why it matters: The chart shows that reversal of U.S. policies makes it less likely that global emissions will plateau over the next 15 years, and that puts the temperature targets further out of reach. That's because the Paris pledges to date still don't put the world on a path to stay within those temperature ceilings. Meeting the 1.5 degree target in particular would require emissions to be heading sharply downward by that time.
To be sure: Trump's actions hardly guarantee that the U.S. emissions trajectory will be hugely altered (more on that below). And he'll face legal (and political) challenges on some moves. Whether or not there are seismic shifts in federal policy, state-level policies, market forces and technological changes will play an important role in the trajectory of U.S. emissions.
Dueling futures for U.S. emissions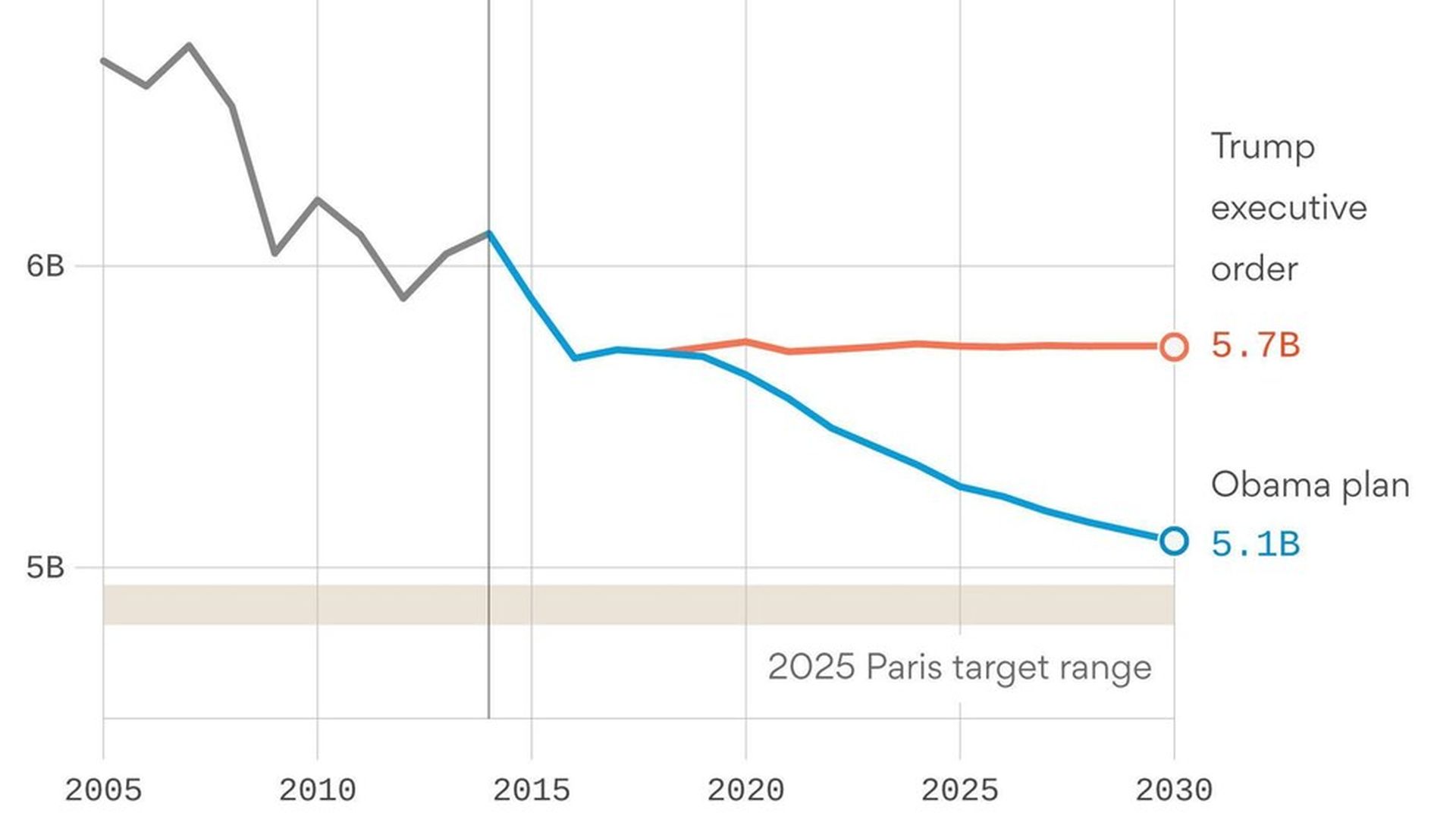 The chart above, using analysis from the Rhodium Group consultancy, seeks to model U.S. emissions under two dueling scenarios: the Obama-era climate policies and the Trump administration following through on his executive order policies.
Why it matters: They project a gap opening up in a couple years, and soon it knocks the U.S. well off the path toward meeting its target of cutting emissions by 26-28 percent below 2005 levels by 2025.
Rhodium, in a report earlier this week, said the gap could be even wider if Trump goes beyond what's in the executive order
Breaking even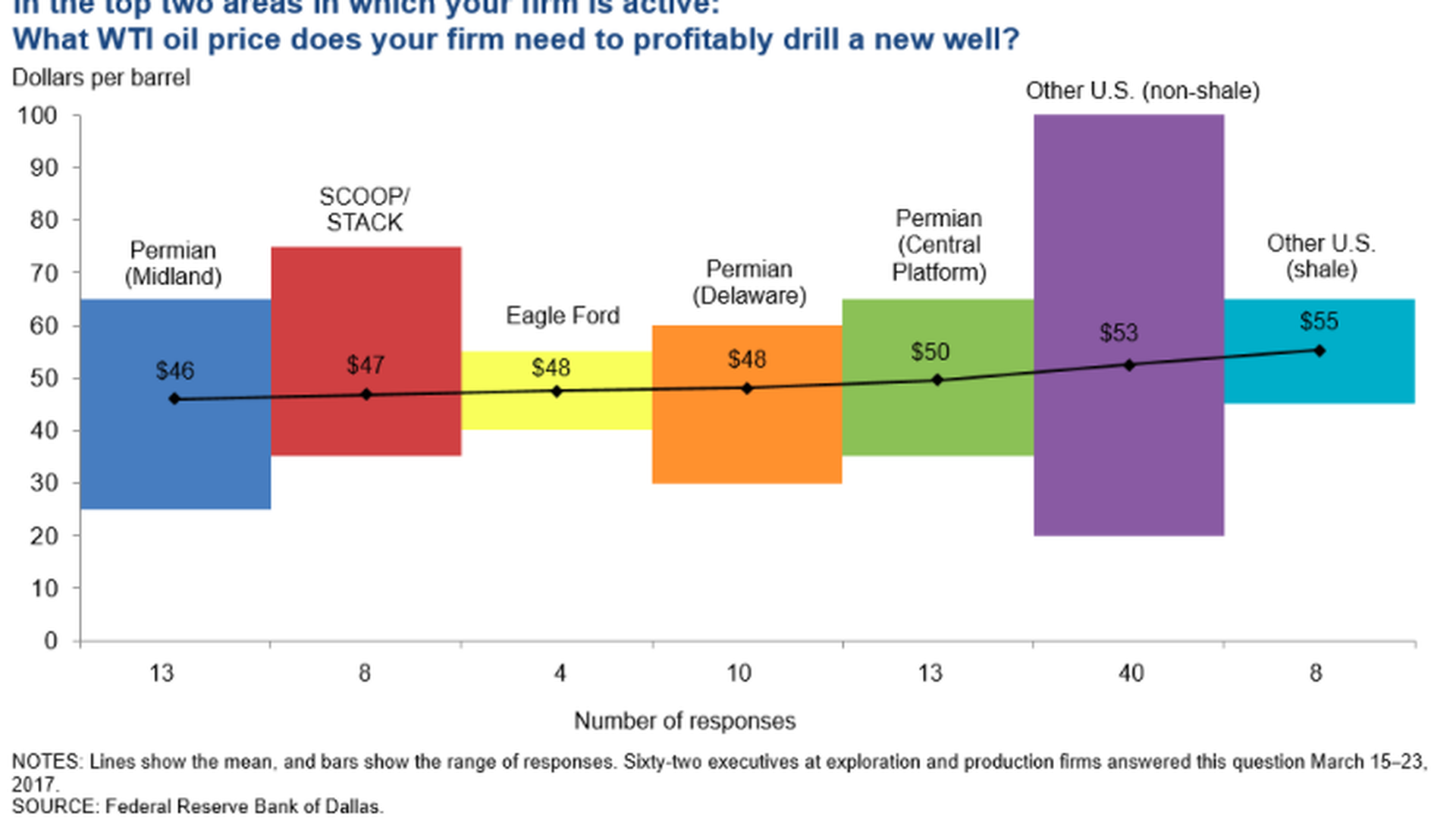 One reason why U.S. oil production is rising even amid modest prices is that falling operating costs — thanks to tech advances, lower service prices and more — are making wells more profitable.
A new survey of oil producers from the Federal Reserve Bank of Dallas illustrates the trend (and check out the chart above) for companies headquartered in Texas and parts of Louisiana and New Mexico.
"[F]irms need $50 per barrel on average to profitably drill a new well, down from $54 per barrel when the same question was asked last year. Average breakeven prices in the Permian Basin were down to $48 per barrel this year from $51 per barrel last year."
But it's not just onshore: The prominent consulting firm Wood Mackenzie says breakeven costs for deepwater projects have fallen too. CNBC has more here.
Zinke starts marching to Trump's beat at Interior
Interior secretary Ryan Zinke Wednesday took several steps to carry out the pieces of President Trump's executive order that deal with his agency.
Why it matters: The Interior boss made clear that he'll seek to promote fossil fuel development on the huge swaths of land that the federal government manages in western states.
He signed an order titled "American Energy Independence" that rescinds or reviews several of his predecessor's policies on resource and energy management, conservation and climate change.
Zinke broke with his Interior predecessors under Obama who had sought to make addressing climate change more central to the agency. "There's a distinct difference between the Department of Interior's role and Scott Pruitt's role over at EPA. We will keep within our authority on our side," he told reporters on a conference call.
A separate order he signed lifts the Obama-era freeze on new coal mining leases on federal lands. "The war on coal is over," Zinke said.
Another big oil company retreats from oil sands
Now it's really a trend. ConocoPhillips announced Wednesday that it's selling most of its Canadian oil sands assets (as well as some Canadian gas holdings) to Cenovus Energy in a $13.3 billion deal.
ConocoPhillips said the deal will help to "rapidly reduce debt" and lower the average production costs in its portfolio.
Joining the club: ConocoPhillips' deal comes after global oil giants Statoil and Shell have retreated from their oil sands positions in recent months, and Marathon Oil recently divested from the Alberta heavy oil projects too.
Reuters notes that international oil companies are pulling back from the region because "high costs and low crude prices have made it hard for large companies to make an acceptable return."
Development of the oil sands is increasingly consolidating into the hands of big Canadian companies.
GE chief says company moving on climate despite Trump
GE's CEO is reassuring his employees that President Trump's rollback of climate change regulations won't crater the market for low-emissions technologies.
"We believe climate change is real and the science is well accepted. Our customers, partners and countries are demanding technology that generates power while reducing emissions, improving energy efficiency and reducing cost," Jeff Immelt said in a post on his internal company blog obtained by Axios.
Why it matters: the post is a response to Trump policy from a corporate behemoth at a time when Trump is casting his moves as pro-business.
Immelt touts the Paris agreement and hopes the U.S. will continue to play a "constructive role" internationally, but said "industry must now lead and not depend on government." He added, "Companies must have their own 'foreign policy' and create technology and solutions that address local needs for our customers and society." Politico first reported on the post.
Thanks for reading! We'll leave things with a pithy observation from a former president, and please keep watching the Axios stream for coverage of tech, politics, energy and more. See you Friday.