Axios Generate
January 03, 2022
🥞 Welcome back and hello 2022! Today's Smart Brevity count is 1,248 words, 5 minutes.
🎶 This month marks 50 years since soul legend Al Green released the album "Let's Stay Together," which provides today's intro tune...
1 big thing: Wildfire hits tight-knit climate science community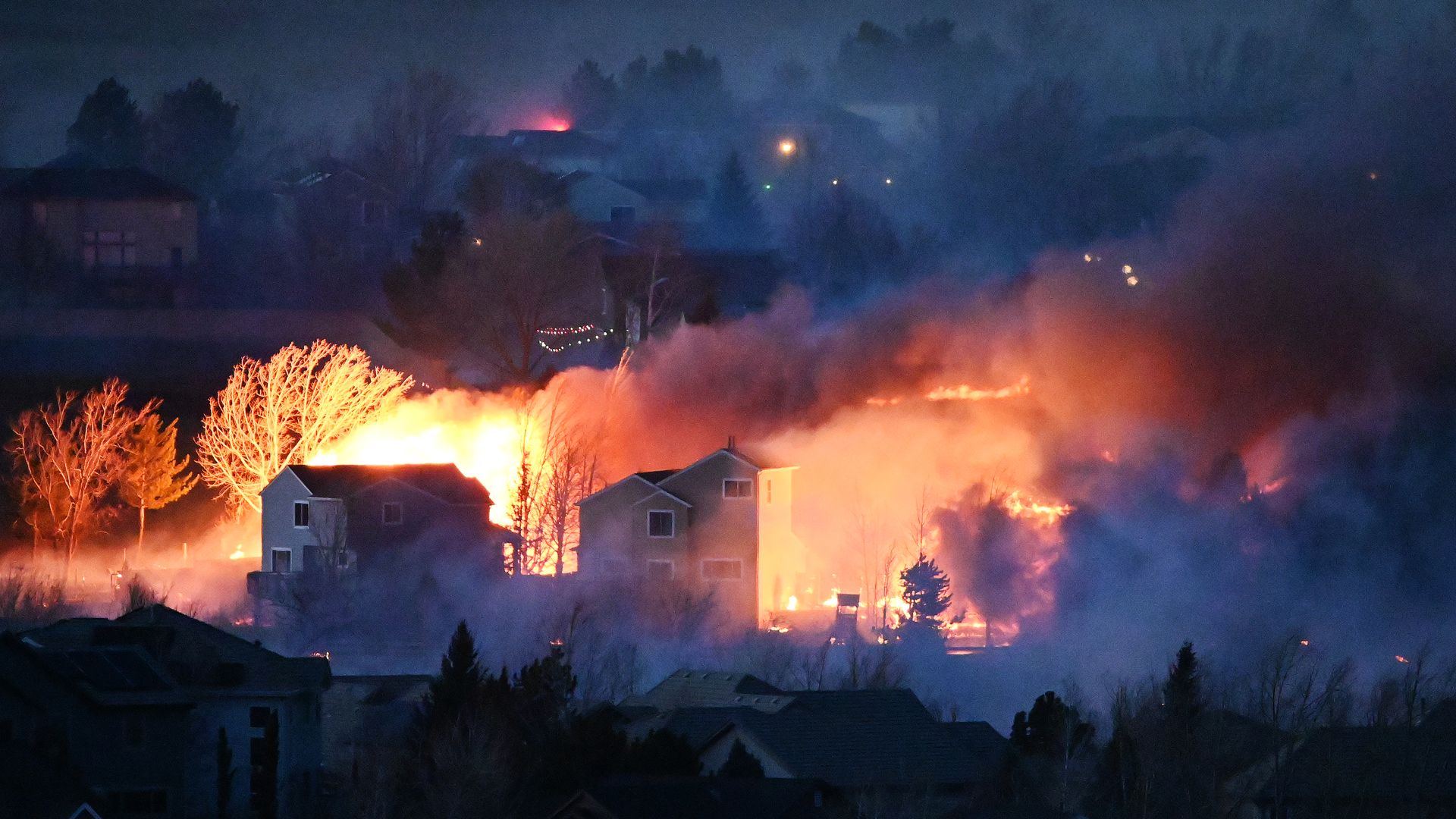 The wind-whipped firestorm that tore through parts of Boulder County, Colorado, on Thursday struck at the heart of one of America's top climate science and meteorology research hubs, Andrew writes.
Now some of the top minds who study how climate change is amplifying wildfire risks find themselves shaken and processing what they just witnessed.
Driving the news: The Marshall Fire destroyed as many as 1,000 homes after tearing through the communities of Superior, Louisville and Broomfield.
The big picture: Boulder is home to multiple NOAA labs as well as the National Center for Atmospheric Research, the University of Colorado and other specialized labs. There are also climate intelligence firms and satellite companies located there, such as Maxar.
Researchers told Axios that tinderbox dry conditions, exacerbated by climate change, primed the environment for a devastating grassfire.
Context: Merritt Turetsky, who studies wildfires at the University of Colorado, said she was not surprised to hear reports of small grassfires breaking out in the high winds that were buffeting her home Thursday.
It wasn't until she saw satellite and radar images that she realized how dire the situation was.
"Climate change led to a perfectly built stack of fuels in the fireplace, ready and waiting to be burned. All it needed was a spark and someone/something to blow on it," she said.
She spent the day glued to social media and reaching out to friends and colleagues in harms' way.
Meanwhile, Russ Schumacher, whose colleague lost their home in the blaze, also said climate change played a key role.
Schumacher, who serves as Colorado's state climatologist, noted that wildfire risk indexes were off the charts for this time of year. Even still, he said, "I think it's fair to say that the idea that we'd have our most destructive fire ever in late December was not on anyone's mind."
"The event this week will require everyone to expand their imaginations even further of what can happen here in Colorado," he said.
"It's increasingly clear that a warmer climate is enabling fast-growing fires in situations or times of year that wouldn't have supported them as readily in the past," he said.
What they did: This fire struck a community unusually well-equipped to track the blaze in real-time.
Karen Kosiba of the Center for Severe Weather Research helped to deploy a "Doppler on Wheels" (DOW) unit — a truck carrying a highly sensitive radar dish — to scan the smoke plume.
The data her team gathered could prove valuable to fire scientists.
Accustomed to deploying to tornado outbreaks and landfalling hurricanes, Kosiba said watching this event unfold was emotionally taxing.
"If we are there with a DOW, that's usually not a good thing," Kosiba said. "Usually, I am looking in from the outside. This time I was on the inside," watching parts of her community burn.
"I could see tufts of black smoke popping up and you just knew that was someone's house that just caught fire. I could see flames."
2. Big this week: Oil, Congress, EVs
OPEC+ meets tomorrow to weigh planned output increases amid the spread of the Omicron variant, Ben writes.
What's next: The alliance between OPEC, Russia and allied producers is expected to proceed with its planned output hike of 400,000 barrels per day next month, per Reuters and Bloomberg.
The big picture: Prices have been on a largely upward march in recent weeks after initially plunging when news of the variant emerged in November.
Why it matters: The rebound and likely output increase signal how traders and producers don't see Omicron creating huge headwinds for the demand recovery, despite disruptions including flight cancellations.
* * *
Electric vehicles: On Wednesday, Chevrolet will unveil the electric version of its popular Silverado pickup.
Later today, per Car and Driver, Mercedes will reveal its Vision EQXX luxury concept sedan.
"With a promise of more than 620 miles of range on a full charge of its battery pack, the Vision EQXX ought to give us a better idea of the brand's future EV plans," it reports.
Congress: The Senate is back in session and Democrats will gauge whether they can revive President Biden's stalled climate and social spending plan.
More on that below.
3. The push to salvage Biden's climate bill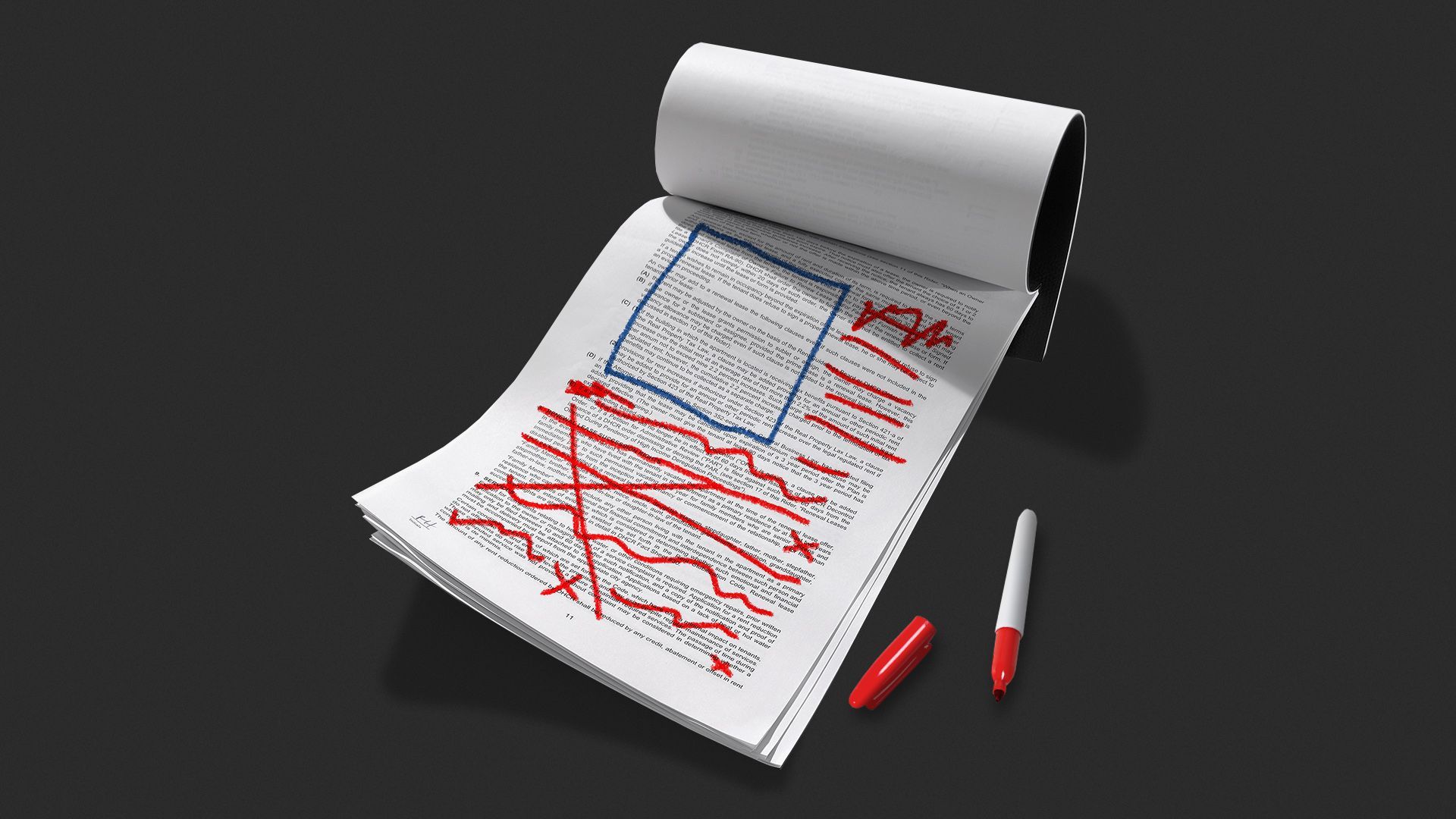 Axios' Hans Nichols reports: Sen. Joe Manchin (D-W.Va.) is open to reengaging on the climate and child care provisions in President Biden's Build Back Better agenda if the White House removes the enhanced child tax credit from the $1.75 trillion package — or dramatically lowers the income caps for eligible families.
Why it matters: The Democrats' plan, while in flux, has included around $550 billion in clean energy and climate investments that analysts see as critical to putting the U.S. on a path toward steep emissions cuts.
What we're watching: Tonight's Senate leadership meeting, which Manchin will attend, and tomorrow's weekly caucus lunch, Axios' Alayna Treene reports (though we'll see if winter weather changes things).
The lunch will be the first time all Senate Democrats are together in one room since Manchin made his opposition to the bill public last month.
Senate Majority Leader Chuck Schumer will use the occasion as the marker for whether to hold a vote to proceed on BBB or hold off to try to negotiate more, Senate leadership aides tell Alayna.
4. The pulse of U.S. oil producers
Companies in the heart of the U.S. oil patch plan to keep boosting production this year despite rising costs, Ben writes.
Driving the news: The Dallas Fed's fourth-quarter 2021 survey of oil-and-gas execs finds that "costs rose sharply for a third straight quarter."
However, most expect to keep boosting output as prices and demand have recovered from the pandemic.
Why it matters: The Dallas Fed's quarterly survey takes the pulse of companies in the region that includes the Permian Basin in Texas and New Mexico.
What they're saying: Anonymous comments take stock of the changing landscape.
"The political pressure forcing available capital away from the energy industry is a problem for everyone. Banks view lending to the energy industry as having a 'political risk,'" one respondent said.
The big picture: The U.S. Energy Information Administration estimates domestic crude production will average 11.8 million barrels per day (bpd) this year, exceeding 12 million bpd late in the year.
That remains below the pre-pandemic peak of around 13 million bpd.
5. Tesla's big year
Tesla reported fresh quarterly and full-year delivery records, underscoring how it's weathering the chip shortage hobbling the auto industry and signaling wider momentum for electric cars, Ben writes.
Driving the news: Tesla said Sunday that it delivered 308,600 cars worldwide in the fourth quarter and for all of 2021, beating analysts' estimates.
Tesla's stock is up about 7% this morning in premarket trading.
What they're saying: "This was a 'trophy case' quarter for [CEO Elon] Musk & Co. with massive momentum moving into 2022," Wedbush Securities analyst Dan Ives said in a note.
The big picture: It's the latest moment in a strong run for the automaker, which is now consistently profitable and reported a record $1.6 billion in Q3 net earnings.
Tesla's market value exceeded $1 trillion in October.
Yes, but: The Wall Street Journal notes Tesla has not completely avoided supply chain woes, and Tesla also suffered a setback with a big recall announced last week.
6. Quote of the day
"It is hard to see anything other than fossil CO₂ emissions growth in 2022."
— Glen Peters, research director of Norway's Center for International Climate Research,
via Twitter