Good morning. A quick reminder that I'll be moderating a timely discussion that Securing America's Future Energy is hosting on Tuesday, Nov. 28, called "Oil's Coming Decade of Disorder."
The Washington, D.C., event will explore how underinvestment in new supply, geopolitical risk and other forces affect market stability. You can register here.
Ok let's dive in . . .
https://www.axios.com/newsletters/axios-generate-cdef74c3-5754-46a2-9282-201d707c0488.html?chunk=0#story0
Tesla's semi truck has a very interesting battery
My colleague Steve LeVine looks at what may be different about the prototype heavy truck. Here's part of his story in the Axios stream...
Driving the news: When Elon Musk guaranteed that the new Tesla semi-truck would last 1 million miles without breaking down, experts assumed he was talking about the drive train, not the ultra-sensitive battery. But a person familiar with the truck tells Axios that he meant the battery, too.
Why it matters: A battery going that far would have multiple times the longevity of any commercial vehicle battery in use now or announced for release, and would help make Tesla's semi competitive with diesel-burning competitors (since the battery is estimated to cost $170,000 on top of the $100,000-plus cost of the truck itself).
Musk announced his truck with typical showmanship, but fleet owners who buy cargo trucks are not typically given to whims of cool and style.
"They decide on the total cost of ownership," John Rapaport, a co-founder of Repower Group, a consultant to truck fleet owners, tells Axios. "They are very sophisticated buyers. They understand how to model out all of the variables."
From there Steve's piece goes deep into why a battery that lasts only the usual number of charge-discharge cycles would make the economics of the truck dicey, and how Musk appears to have something different up his sleeve.
Click here for the rest.
https://www.axios.com/newsletters/axios-generate-cdef74c3-5754-46a2-9282-201d707c0488.html?chunk=1#story1
Latest in oil: Bracing for OPEC and ANWR decisions
Place your bets: With the high-stakes OPEC meeting in Vienna looming Nov. 30, RBC Capital Markets offers this prediction about the production-limiting agreement in a new note:
"While at a minimum we think OPEC will opt to roll the deal until the next June meeting and dispense with the current expiration date, in our view it is more likely than not that OPEC and its producer partners choose [to] extend the cut through 2018."
More OPEC: via Bloomberg, "OPEC has an Iraq problem: the group's second-biggest exporter is lurching between quota busting and production-crimping crisis, clouding the policy-making picture as ministers decide how long they need to extend output curbs."
Sums it up: "What you're seeing is another realignment of Saudi Arabia versus Iran throughout the Middle East and that just means more instability for the oil markets," Lipow Oil Associates president Andy Lipow tells CNBC.
Yes, they care: A big question surrounding the Capitol Hill battle over opening the Arctic National Wildlife Refuge to oil drilling is whether the industry is even all that interested in major new Alaskan projects, what with oil prices modest and plenty of opportunities in the lower 48.
But on the latest Platts Capitol Crude podcast, Christopher Guith of the U.S. Chamber of Commerce says companies are still into Alaska. "I have got several members who would absolutely participate in lease sales," he said of ANWR.
https://www.axios.com/newsletters/axios-generate-cdef74c3-5754-46a2-9282-201d707c0488.html?chunk=2#story2
What's next for Keystone XL
Keystone question: Yesterday's approval by Nebraska state regulators hardly means the project is a sure thing, but could make it more likely that TransCanada will build it.
Wood Mackenzie's Zachary Rogers said the outcome "greatly diminishes" the political risk facing the project, which is also getting a lift from recent market shifts that strengthen the need for heavy crude on the Gulf Coast.
He said in a note that "declining heavy oil production in Mexico and ongoing Venezuelan risk has recently tightened the heavy-crude market in the Gulf Coast."
Yes, but: Barclays, meanwhile, points out that the company did not score an outright win because regulators are demanding route adjustments that add new question marks to the project. From their research note:
"Given uncertainty as to what this implies in terms of project cost and timeline, as well as the high probability of additional legal delays, we think that, while the ruling is clearly a necessary step in the right direction, there will still be a lack of certainty surrounding the project for some time."
They predict the project will come online in late 2021.
TransCanada's take: The company's response stopped short of a firm commitment to actually building the pipeline that has been a flashpoint for energy and climate policy battles for nearly a decade.
"As a result of today's decision, we will conduct a careful review of the Public Service Commission's ruling while assessing how the decision would impact the cost and schedule of the project," CEO Russ Girling said in a statement.
Go deeper: The Globe and Mail has an in-depth look at the decision and the hurdles that remain for the project that would carry up to 830,000 barrels per day of crude oil from Alberta's oil sands into the U.S.
https://www.axios.com/newsletters/axios-generate-cdef74c3-5754-46a2-9282-201d707c0488.html?chunk=3#story3
Three big things with a ChargePoint exec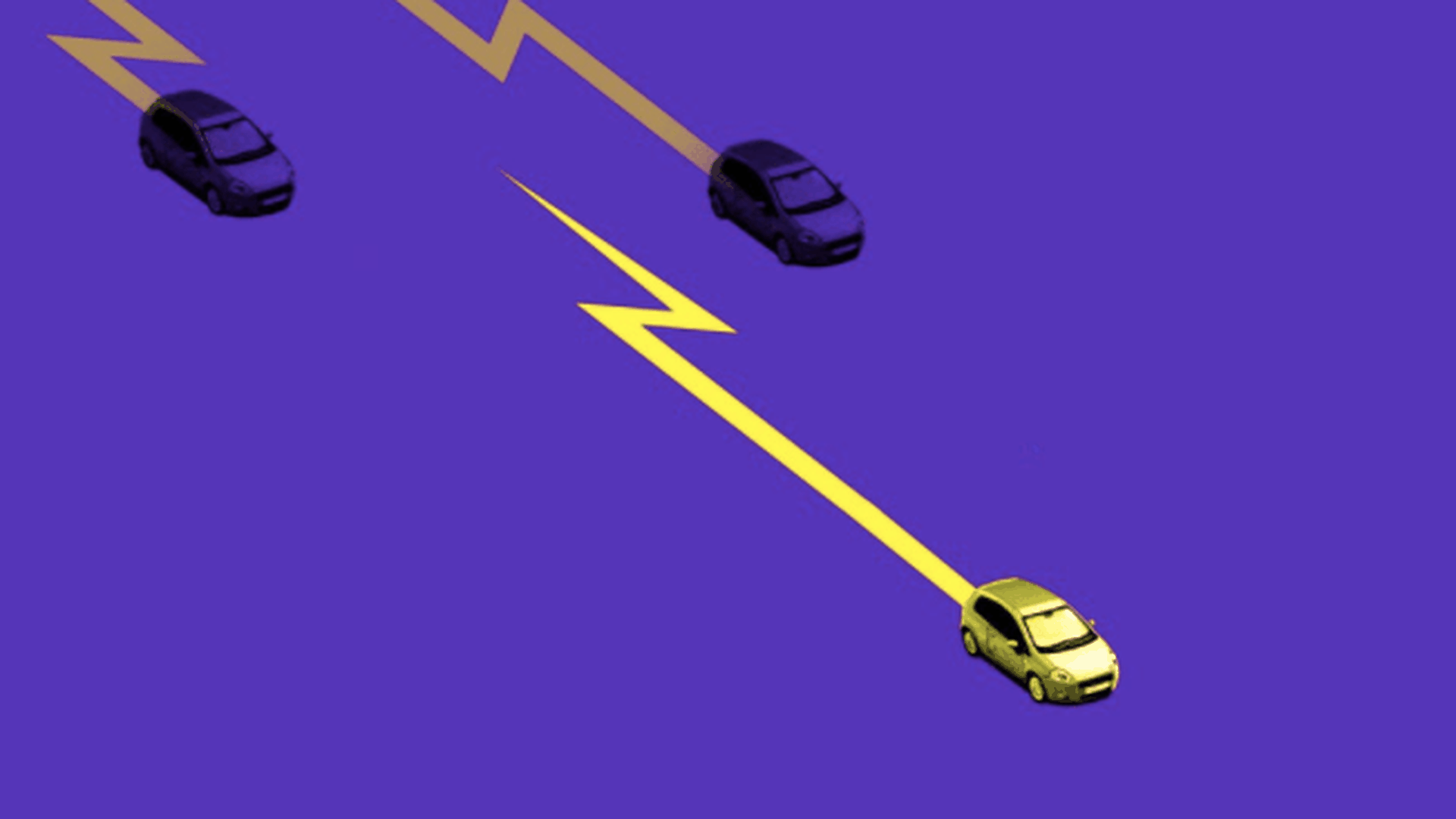 Let's get back to electric vehicles. I chatted recently with Anne Smart, the VP for public policy with ChargePoint, which boasts the world's largest network of EV charging stations. A few takeaways...
1. Use the "Environmental Mitigation Trust" money. Smart says a top ChargePoint priority right now is ensuring that states are aware of their opportunity to use a combined $2.7 billion from the federal settlement with VW over its diesel emissions scandal.
Money from the trust can be used for a variety of transportation-related electrification initiatives, including up to 15% for charging infrastructure specifically.
States must identify lead agencies by December 1 to oversee the efforts.
2. Man the battle stations against current tax plan. Smart said there's a broad and active group of players in EVs and related industries battling the provision in the House tax package that would end consumer tax credits for buying electric cars.
3. Spread the news on current availability. Two numbers that are key to widespread EV adoption are a $35,000 price point and 200 miles of range. Smart said EVs are at a "tipping point" with a suite of new offerings and announcements by automakers, but that the overall electrification sector needs to better expand awareness of what's out there — like the recent availability of the Chevy Bolt in all 50 states.
https://www.axios.com/newsletters/axios-generate-cdef74c3-5754-46a2-9282-201d707c0488.html?chunk=4#story4
Power sector news and notes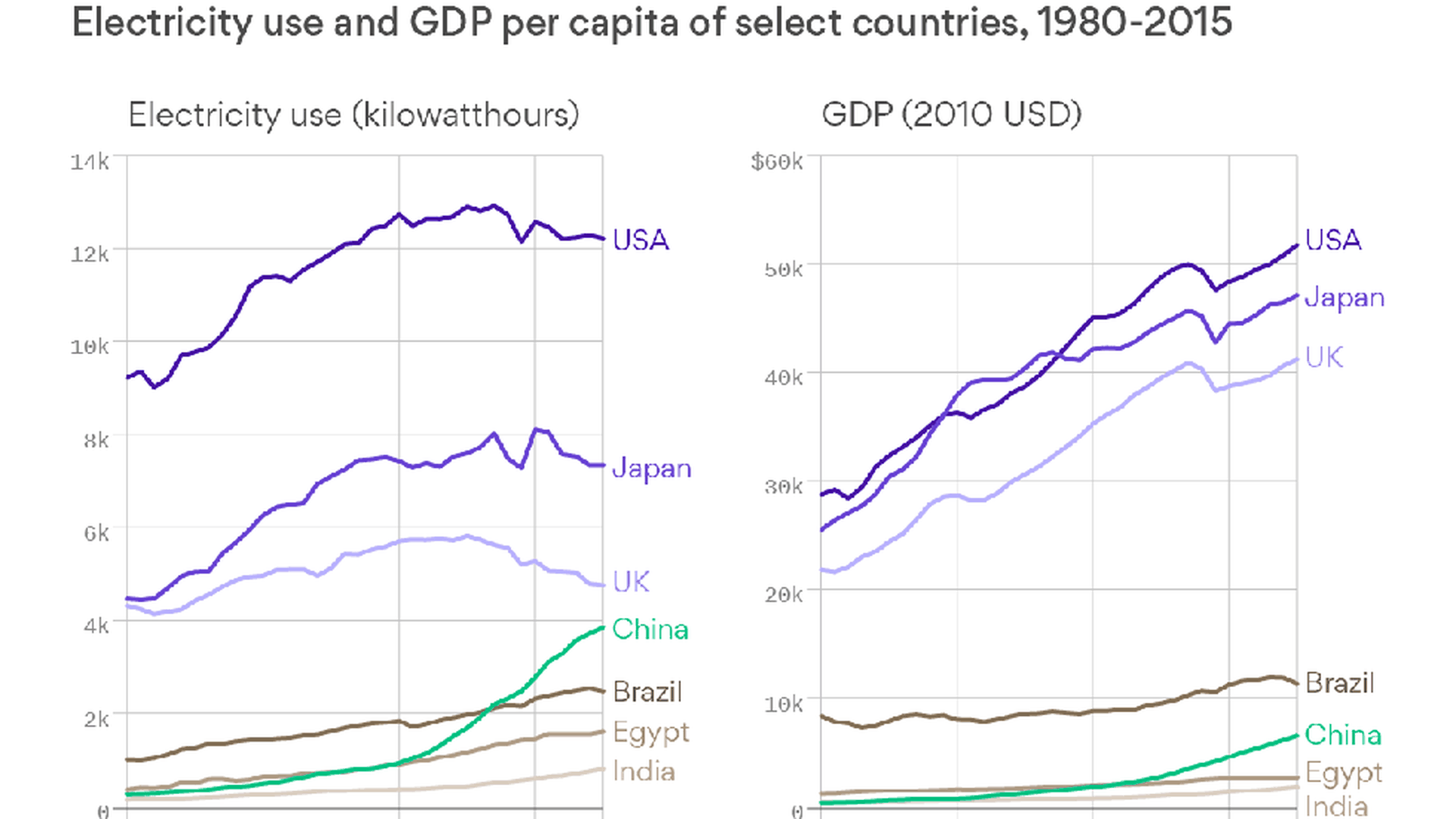 The great decoupling: A short Energy Information Administration analysis looks at how the link between power use and economic growth has been severed in some big countries, as the chart above shows.
One cause: The economies of major OECD nations like the U.S., U.K. and Japan have shifted away from manufacturing over time toward service-oriented output. "Service-based economies tend to use less electricity than economies with high levels of industrial activity, as commercial services are generally less energy-intensive compared with manufacturing," EIA notes.
Another cause: The manufacturing sectors have also become more technologically advanced and energy efficient.
Why it matters: Stagnant overall electricity growth in the U.S. has helped to shake up power markets as growing use of natural gas and renewables puts the squeeze on coal.
Latest in storage: A new Bloomberg New Energy Finance analysis projects that "the global energy storage market will double six times between 2016 and 2030, rising to a total of 125 gigawatts/305 gigawatt-hours."
Déjà vu: This is a similar trajectory to the remarkable expansion that the solar industry went through from 2000 to 2015.
Why it matters: Expansion of storage technology is an important way to help bring large amounts of intermittent renewables onto the grid.
Focus on India: Via The Financial Times this morning, "India will hit peak coal demand for its power sector within a decade, according to new analysis, helping the world hit its Paris climate targets but creating a problem for the country's biggest mining companies."
https://www.axios.com/newsletters/axios-generate-cdef74c3-5754-46a2-9282-201d707c0488.html?chunk=5#story5
Nuclear power's climate snubs
My colleague Amy Harder has a dispatch that follows up on her Monday Harder Line column on the left's struggle over nuclear power. Take it away...
Nuclear power provides 30% of the world's zero-carbon emitting electricity and the UN has concluded it's just as important as renewables to combating climate change.
Bottom line: Worries about nuclear safety and the storage of radioactive waste, in addition to economic challenges and the plummeting prices of wind and solar, has much of the world looking past nuclear energy as a solution to climate change.
Having recently returned from global climate meetings in Bonn, Germany, Amy recounts three stark examples showing this:
The UN reneged on having the World Nuclear Association sponsor an event on sustainable investing.
A Germany movie theater declined to show a screening of a pro-nuclear documentary.
A manufacturing company exec says his company is debating internally whether to include nuclear, on top of renewable energy, as part of its sustainability portfolio going forward (even though its French operations are considered clean due to the country's 75% reliance on nuclear).
https://www.axios.com/newsletters/axios-generate-cdef74c3-5754-46a2-9282-201d707c0488.html?chunk=6#story6
Dems press Mnuchin on Dodd-Frank provision