Axios Generate
June 21, 2022
👋 And we're back! Today's newsletter, edited by Mickey Meece, has a Smart Brevity count of 1,269 words, 5 minutes. 
📬 Did a friend send you this newsletter? Welcome, please sign up.
🎶 This week in 1998 Billy Bragg and Wilco released the stellar album "Mermaid Avenue," which provides today's intro tune...
1 big thing: Heat waves shatter records on two continents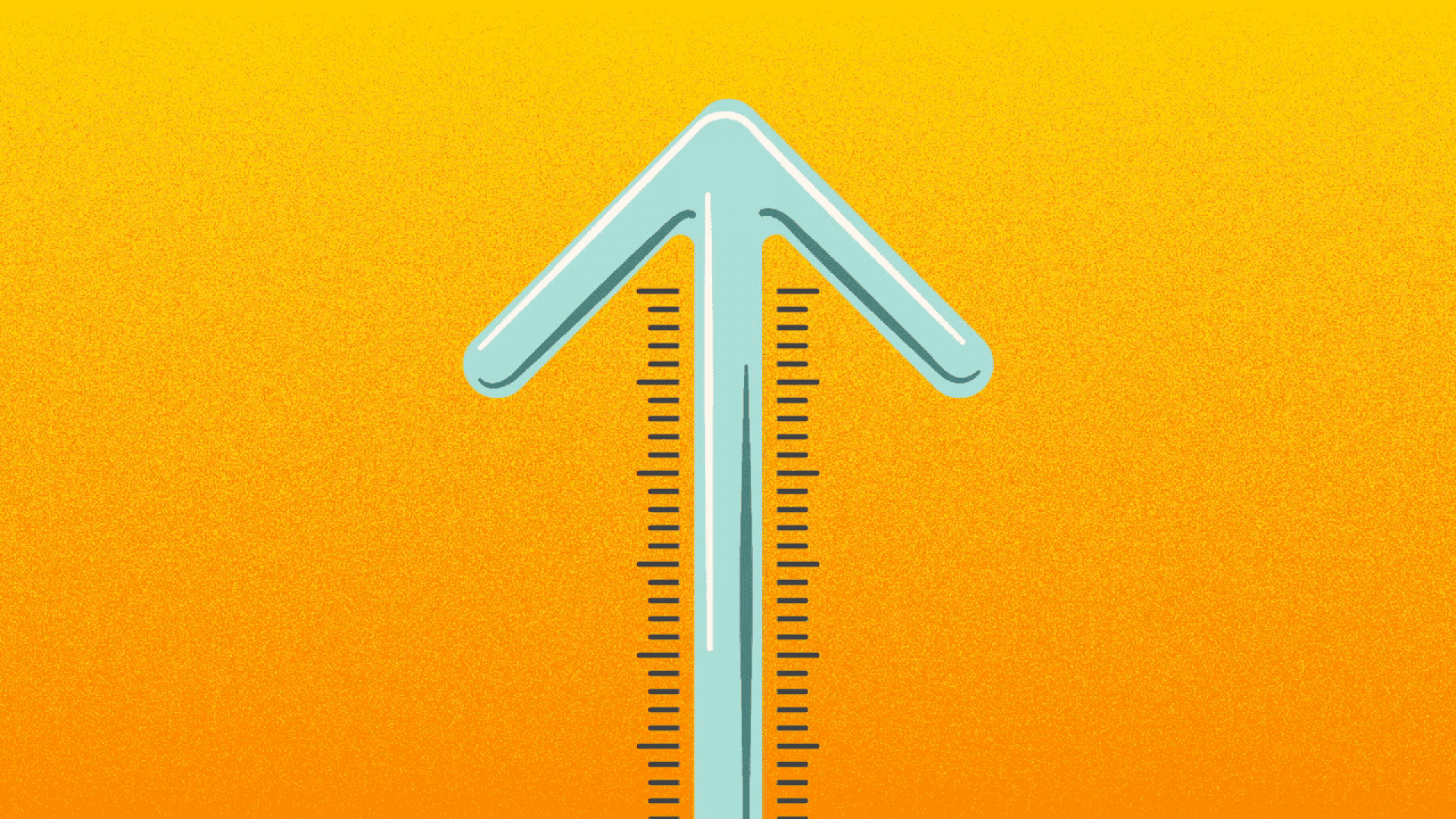 Two extraordinary heat waves sent temperatures soaring into uncharted territory in Europe and the U.S. prior to the summer solstice, setting new benchmarks for the month of June in several European countries, Andrew writes.
Why it matters: Meteorologists call the early season extreme heat "unsettling" and "unprecedented." These events are a clear warning sign of global warming's growing influence on the weather.
Heat waves are deceptively deadly, with heat illnesses striking vulnerable groups including the homeless, the elderly, and those who cannot afford air conditioning.
The big picture: The two continental heat waves are connected via a pattern of atmospheric waves, or contortions, in the jet stream. This is a river of fast-flowing air at high altitudes that flows from west to east in the northern hemisphere.
In Europe, hot air built up over north Africa beginning weeks ago. This air mass eventually made its way northward into Spain.
Aided by a wavy jet stream and a persistent area of low pressure centered west of Portugal, the heat then surged into France and on to Central Europe.
Across the U.S., the jet stream is contorted like a snake, with a heat dome currently centered in the middle of the country. Temperatures across the Midwest are forecast to reach the triple-digits Tuesday.
Zoom in: Human-caused global warming is altering the background conditions in which heat waves occur, and some studies show it is also affecting the jet stream itself.
By the numbers: Temperatures reached in Europe and the U.S. would be unusual even for midsummer.
Meanwhile, in the U.S., the heat has been relentless.
2,074: Number of warm temperature records set or tied in the Lower 48 states during the seven-day period ending on June 17, compared to just 444 cold records, according to NOAA.
Bonus: Extreme heat focus of climate change task force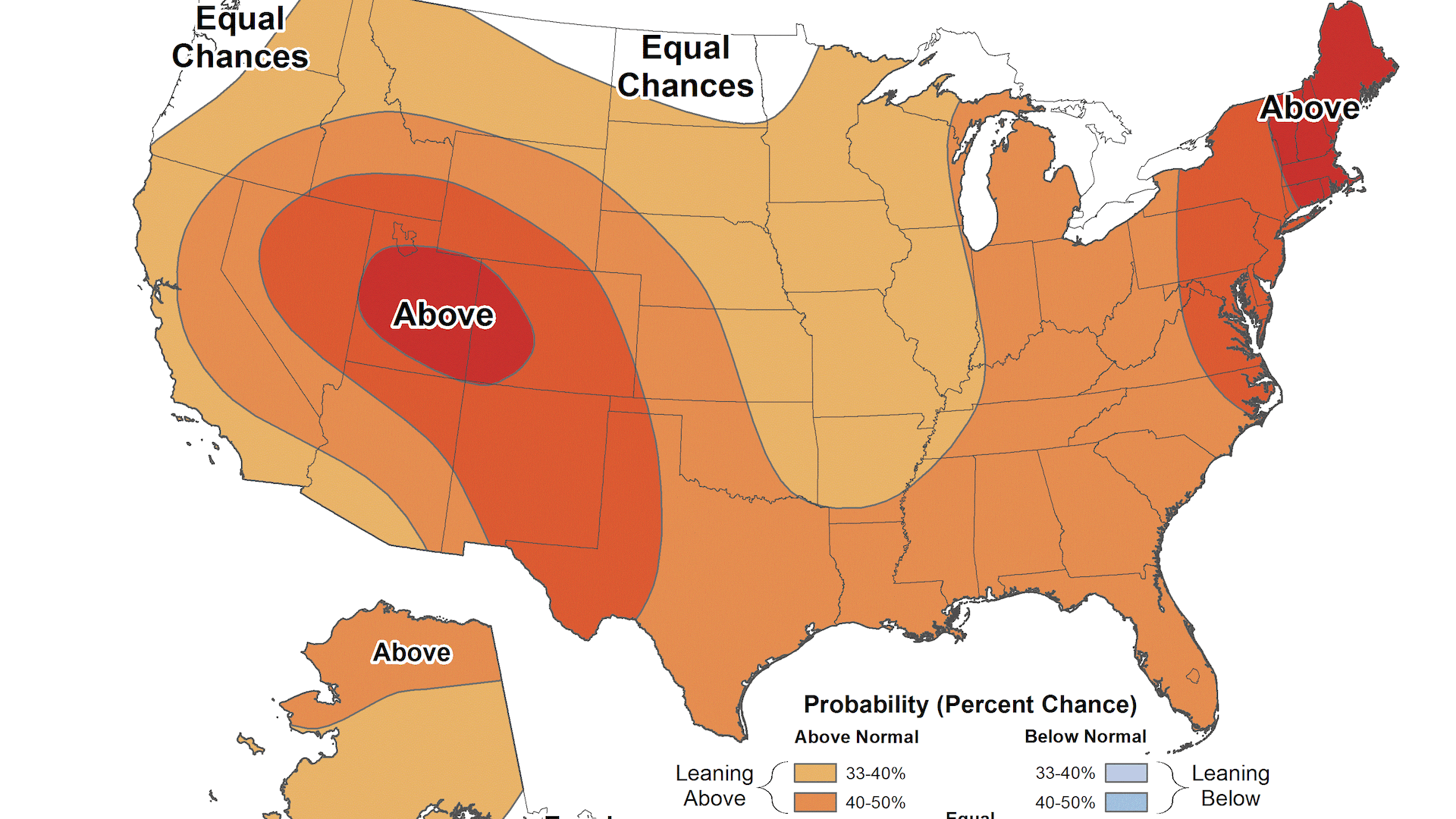 Today the National Climate Task Force, comprised of cabinet secretaries and other senior officials, will meet to discuss how the administration will try to protect those most at risk to extreme heat events, a White House official tells Andrew.
The big picture: The task force, chaired by Gina McCarthy, Biden's top domestic climate adviser, is convening based on predictions, which are already being proved correct, of a hotter than average summer for most of the country, particularly the Central States and the West.
The group will also focus on boosting the country's resilience to extreme weather events and long-term climate change, and lowering energy costs.
Particular extreme events likely to be discussed include wildfires, drought and flooding.
Read more: Extreme heat's health risks.
2. Coal's new momentum in Europe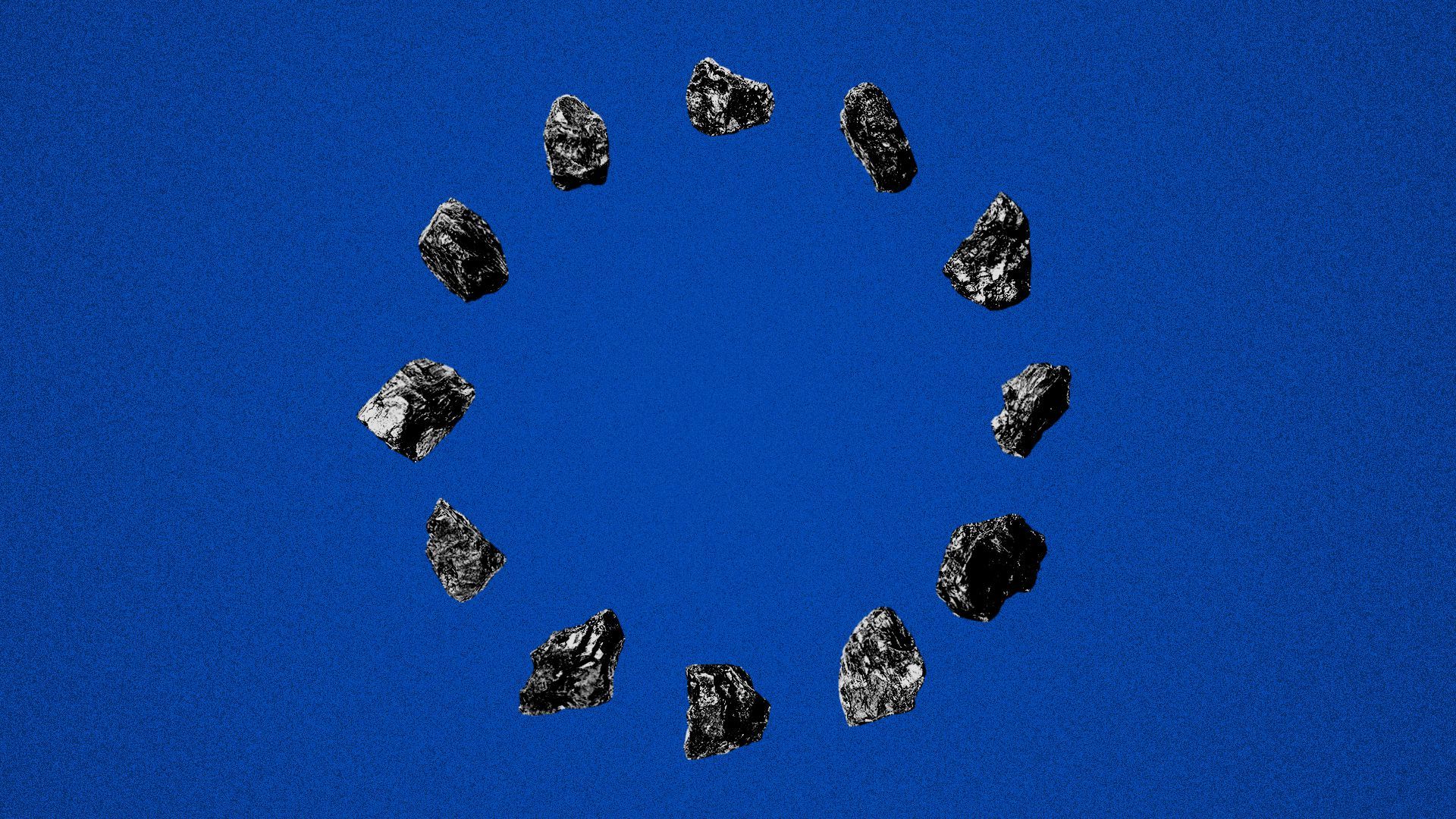 European countries are preparing to burn more coal as Russia restricts gas shipments and the EU tries to wean itself off Vladimir Putin-backed fossil fuel suppliers, Ben writes.
Why it matters: EU efforts to ditch Russian fuels could boost coal — the most carbon-emitting fuel — in the near term, even as EU officials aim to speed up clean energy in response to Putin's unprovoked war on Ukraine.
Driving the news: Germany, Europe's largest economy, announced over the weekend it will boost coal-fired power as officials look to increase gas storage ahead of winter.
The Netherlands said Monday it will "allow coal-fired power stations to operate at full capacity again in order to conserve gas," AP reports alongside other outlets.
Austria, per Reuters, announced a deal with the power company Verbund to enable a reserve gas plant to run on coal instead "should restricted gas supplies from Russia result in an energy emergency."
What they're saying: European Commission president Ursula von der Leyen is warning against delaying climate commitments, per a new interview with the FT.
"We have to make sure that we use this crisis to move forward and not to have a backsliding on the dirty fossil fuels."
3. 🏃🏽‍♀️Catch up fast: EVs, LNG, planes
Breaking: Battery recycling startup Redwood Materials is collaborating with Toyota to work on "full array of steps required for full circularity" for the auto giant's electric and hybrid vehicles, Ben writes.
Why it matters: As EVs grow more popular, recycling batteries is important for helping to tackle waste problems and the limit the fast-growing need for fresh raw materials.
What they're saying: They will initially focus on testing and recycling batteries from Toyota's hybrid cars, and then expand into "battery health screening and data management, remanufacturing, and battery material supply throughout North America," the companies said.
Of note: Redwood is founded by former Tesla battery chief JB Straubel.
Elsewhere in business...
💵 U.S. LNG exporter Venture Global and German energy giant EnBW this morning announced two 20-year deals totaling 1.5 million metric tons annually starting in 2026.
🤝 "Exxon Mobil Corp. is investing in a $29 billion project to boost Qatar's gas exports, joining others including ConocoPhillips, TotalEnergies SE of France and Italy's Eni SpA," Bloomberg reports.
✈️ "Qantas Airways and Airbus said on Sunday it would invest up to $200 million to accelerate the development of a sustainable aviation fuels (SAF) industry in Australia to help meet the airline's goal of lowering carbon emissions," Reuters reports.
4. The next phase of Biden's gas price struggle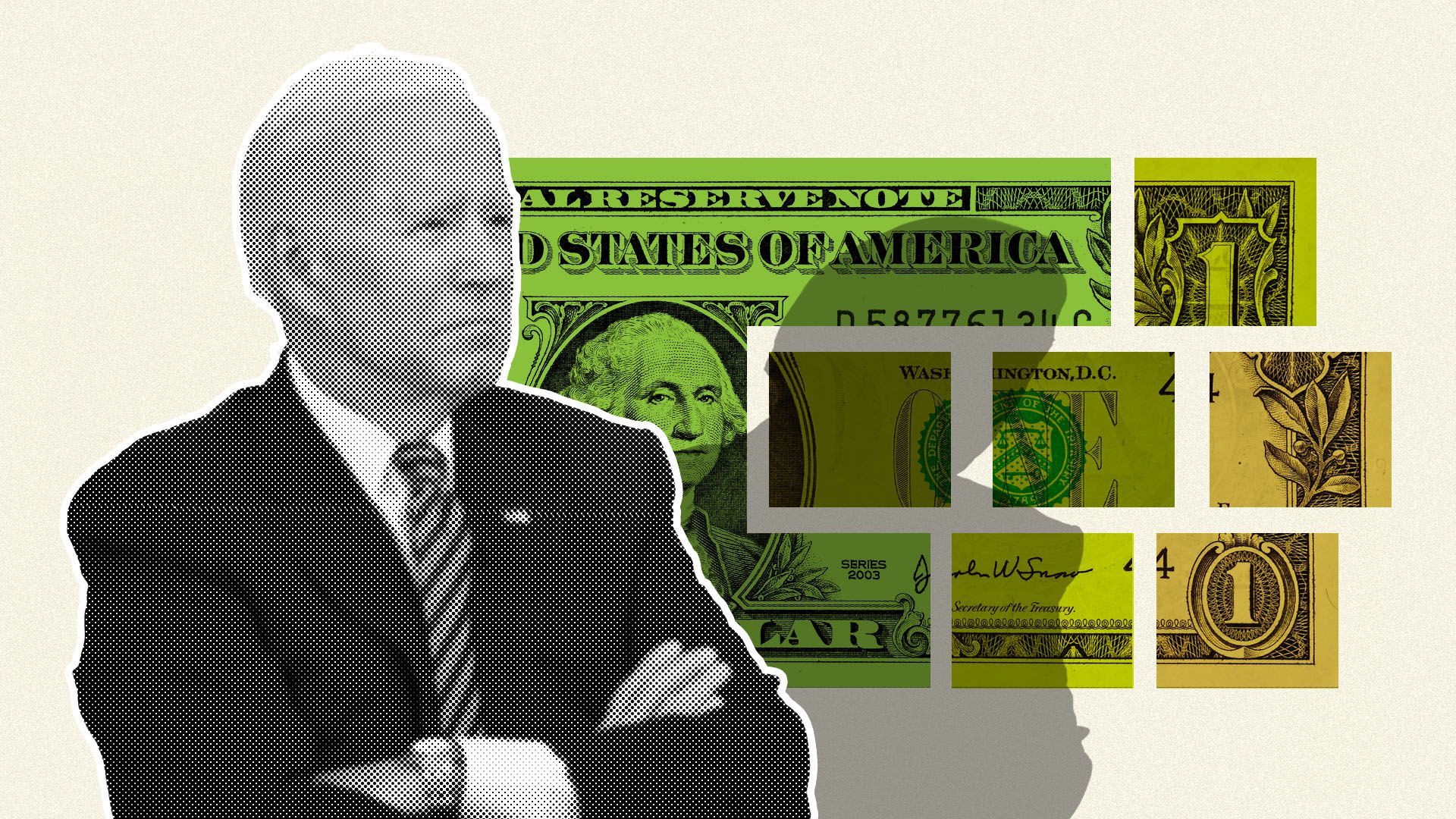 The Energy Department will convene a meeting with refiners this week as gas prices averaging near $5 per gallon stoke inflation and worsen Democrats' political peril, Ben writes.
What they're saying: It will explore "steps companies can take to increase refining capacity and output," and the administration wants the industry to bring "actionable, near-term solutions," a DOE spokesperson said.
CNBC reports the meeting is Thursday. The administration did not provide a schedule.
The intrigue: It's not clear whether there's much or any consensus. Last week industry groups, in a letter to the White House, said administration environmental policies discourage investment.
What we're watching: President Biden yesterday told reporters that he's weighing whether to support a temporary suspension of the 18.4 cent-per-gallon federal gasoline tax.
Biden hopes to have a decision by week's end, he told reporters in Delaware.
Yes, but: A gas tax holiday would require congressional action and Senate GOP leader Mitch McConnell has previously called the idea a "gimmick."
5. Charted: the big ESG divide
ESG is having a rocky moment, Axios Markets Weekend author Felix Salmon reports.
Why it matters: Investors will be crucial to meeting the Paris Agreement goals of limiting global temperature rise to 1.5°C or even weaker targets.
The intrigue: ESG is largely a European phenomenon at the moment, Felix notes.
Of the roughly $40 trillion invested in ESG funds globally, most comes from large European pension funds and insurance companies.
That's partly because, in the U.S., ESG has started to face political opposition.
Keep reading and please sign up for the Axios Business Suite of newsletters
6. Two moves in climate media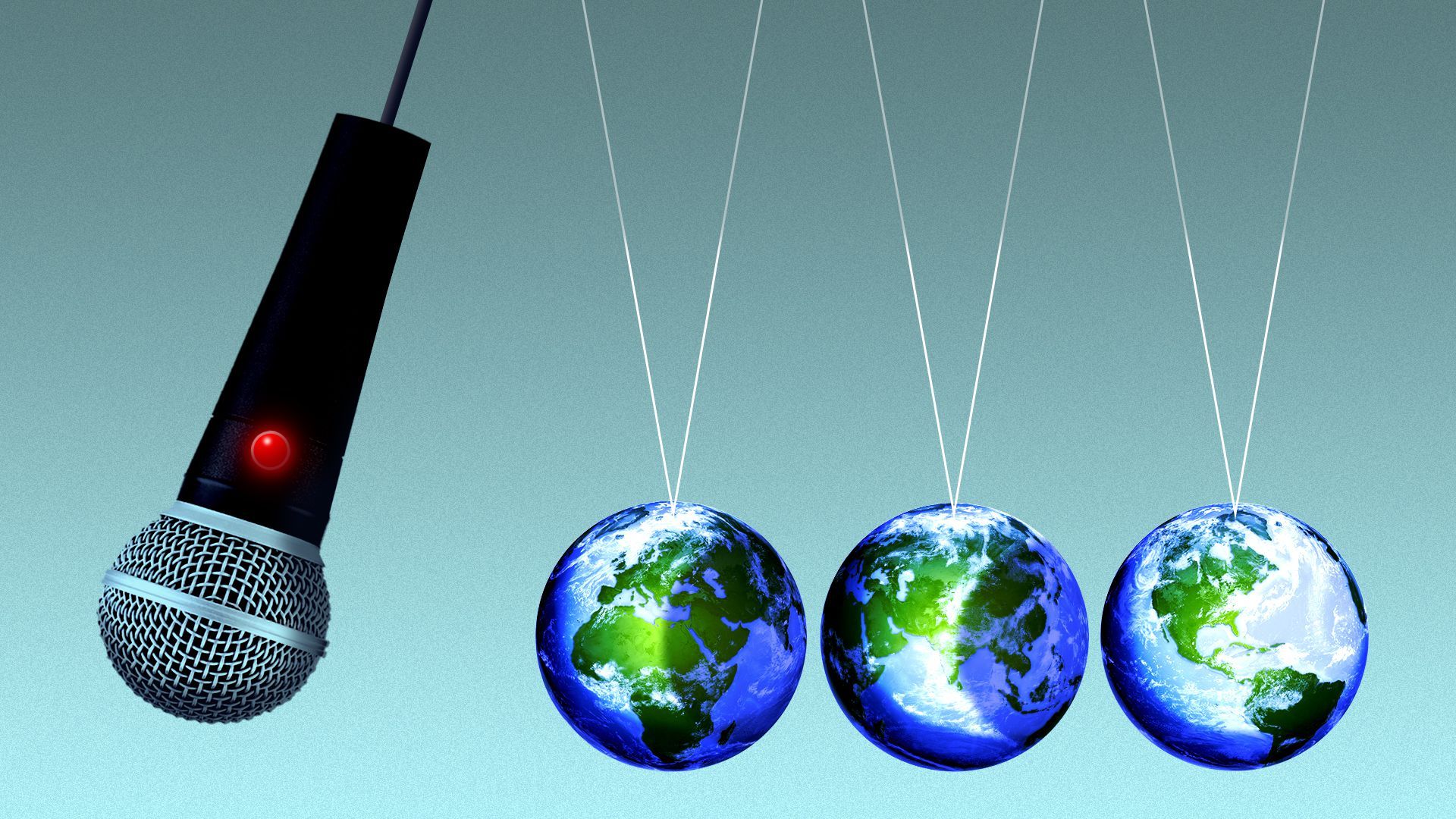 Bloomberg is launching multi-platform climate offerings with a streaming show hosted by actor Kal Penn and a podcast led by reporter Akshat Rathi, per the Hollywood Reporter.
🎧 Separately, climate-focused podcast company Post Script Media announced a $2 million seed funding round Tuesday led by Prelude Ventures.
It will use the funds to expand the Post Script team, led by Stephen Lacey and Scott Clavenna, and launch more podcasts on the intersection of climate and food, transport, finance, fashion and more.
🙏 Thanks for reading and we'll see you back here tomorrow.