Axios Generate
March 11, 2021
Good morning! Today's Smart Brevity count is 1,179 words, 4½ minutes.
🛢️ Situational awareness: "Royal Dutch Shell on Thursday announced Andrew Mackenzie, a former BHP CEO and BP veteran, as its next chairman who will help lead the energy company through a major shift away from oil and gas to low-carbon energy." (Reuters)
🎶 And a belated HBD to artist and producer Timothy Zachary Mosley, better known as Timbaland, whose wizardry is heard on today's intro tune...
1 big thing: Team Biden's fraught march into the policy weeds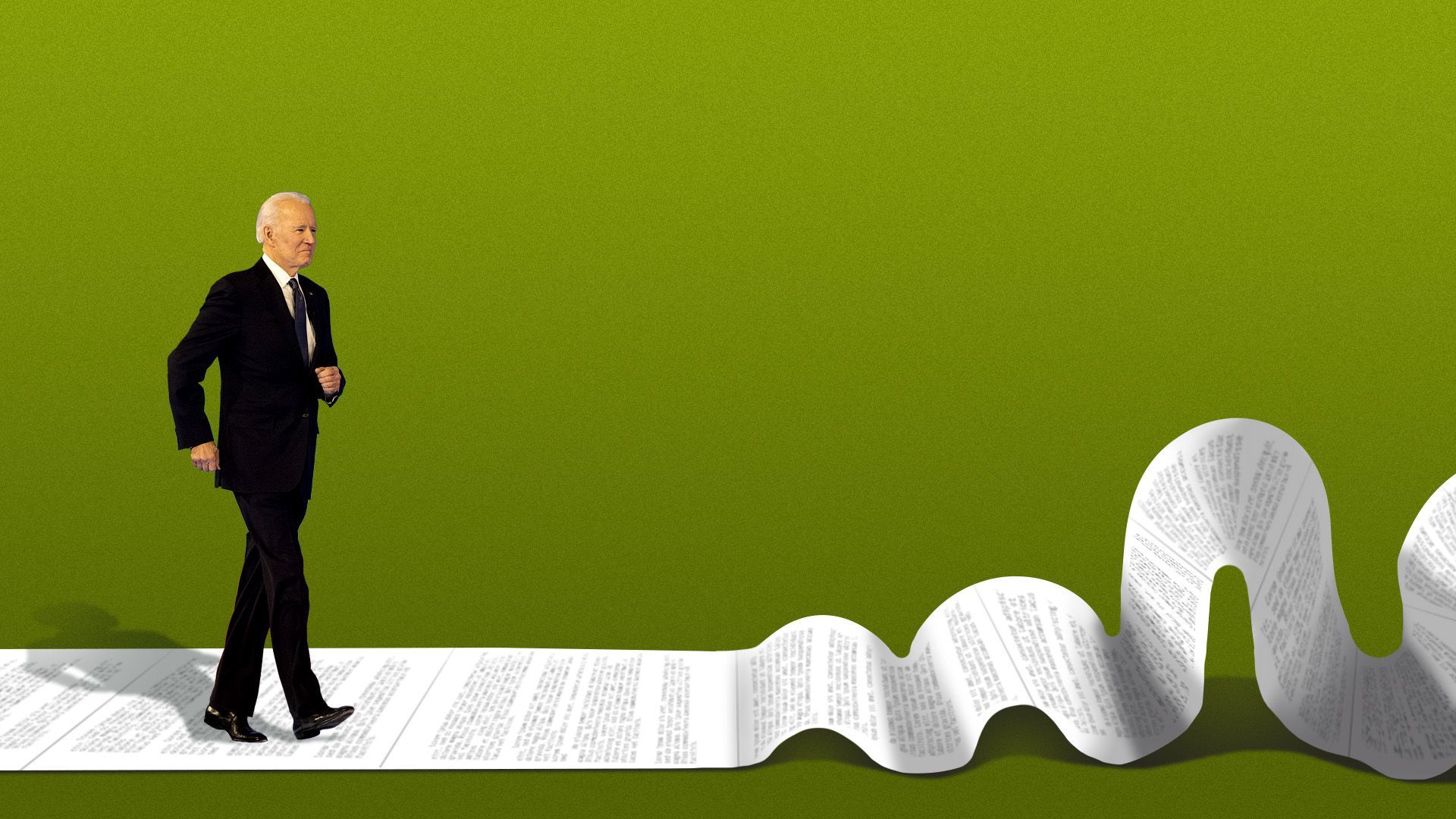 Something all but inevitable is on the horizon for the Biden administration's climate and energy team: Making at least some of its allies sad, mad, or both.
Driving the news: The Senate approved Michael Regan to head EPA yesterday and is on track to confirm Deb Haaland as Interior secretary next week.
To be sure, even with Cabinet leaders in place, a number of high level officials who will play big policy roles still need Senate confirmation.
But, with Regan and Haaland secured, this will mean most of the top echelon of Biden's energy and climate-related officials will soon be in place.
Plus, Biden plans to marshal the whole Cabinet in the service of climate goals.
Why it matters: These officials will now oversee granular policy formation in areas like vehicle and power plants emissions rules, weaving climate into trade and financial oversight, oil-and-gas leasing and permitting, and lots more.
And it's the specifics of policy — how aggressive to get, the trade offs, the weeds — that can ignite tensions within the Democratic coalition.
On Capitol Hill, lawmakers will turn in coming months to infrastructure plans likely to be stuffed with climate and energy provisions.
Quick take: The fledgling Biden administration's focus on climate change has drawn all kinds of huzzahs from advocates thus far — including the January executive order that's something of a founding document for the government-wide approach.
But breathing life into it will be harder as he balances the interests of establishment green groups, the climate movement's left flank that was more Bernie Sanders-aligned in the primaries, and labor unions (to name just three sets of actors).
What we're watching: Some of those tensions were already apparent when unions knocked Biden's cancellation of the Keystone XL pipeline.
That drama was telegraphed far in advance during the campaign, but there are more battles over pipelines and other policies to come.
Check out this in-depth Washington Post look at the balancing act Biden faces. It notes that tribal and climate activists also want Biden to thwart other pipelines as part of his wider climate and clean energy push.
"But some labor leaders want Biden to slow down, noting the pay disparity between jobs in fossil fuels and renewable energy," the paper reports.
Meanwhile, Politico reports that New Mexico's Democratic senators are "urging the Biden administration not to make permanent its pause on new oil and gas leases on federal lands."
And more broadly, via the Washington Examiner, a number of House Democrats are pushing Biden to reform oil-and-gas leasing on federal lands without ending it.
But the senators' letter comes as environmentalists want aggressive moves away from fossil fuels.
2. UN: Green pandemic recovery is falling short
Only 18% of pandemic economic recovery spending approved in 2020 among the world's 50 largest economies can be considered "green," per new analysis from the UN and the University of Oxford.
It falls to 2.5% when you combine recovery and shorter term rescue packages that together exceed $14 trillion.
Why it matters: The UN and other multilateral bodies have called on nations to use COVID-19 economic responses to back areas like low-carbon power, electric vehicles, efficient buildings and more.
But the new tally is the latest sign it's not happening on anything near the scale backers had hoped.
The big picture: It finds that $341 billion of the announced recovery packages are "green."
"Despite positive steps towards a sustainable COVID-19 recovery from a few leading nations, the world has so far fallen short of matching aspirations to build back better," co-author Brian O'Callaghan says.
"But opportunities to spend wisely on recovery are not yet over," adds O'Callaghan, who is lead researcher of Oxford's Economic Recovery Project.
Of note: The report does not include certain European Commission commitments not yet designated to specific member states, which would push the green totals higher.
What we're watching: In the U.S., Biden plans to push for low-carbon energy and climate-resilient infrastructure funding in a major package later this year, but the shape of that effort remains uncertain.
Go deeper: The world isn't building back better after the pandemic (Bloomberg)
3. The uneven plunge in oil industry jobs
Speaking of the pandemic, the drop in oil-and-gas industry jobs last year was distributed unevenly worldwide, per new analysis from the consultancy Rystad Energy.
The big picture: The chart above shows jobs losses in oil-and-gas production and midstream industry jobs, which involve storage, transport and other aspects.
How it works: Differences in industry structures, government policies and regional production economics explain the varying decline levels.
In China, the nationalized industry means fewer job cuts as "operators must instead optimize costs by curtailing new project investments and controlling production."
Staying on China for a moment, they note that it has twice as many exploration, production and drilling support workers as the U.S. despite producing just 25% as much oil and gas. That's partly due to "low technology adoption."
In the U.S., the world's largest producer, "staffing fell in 2020 to about 960,000 employees, down from around 1,080,000 in 2019."
But in Russia, a mammoth producer that rivals the U.S., job declines were the smallest among big producers in their analysis.
Their workforce shed 18,000 jobs last year from 2019's total of 1,242,500, Rystad said, citing "more resilient" operator spending.
4. The newest entry in the electric pickup race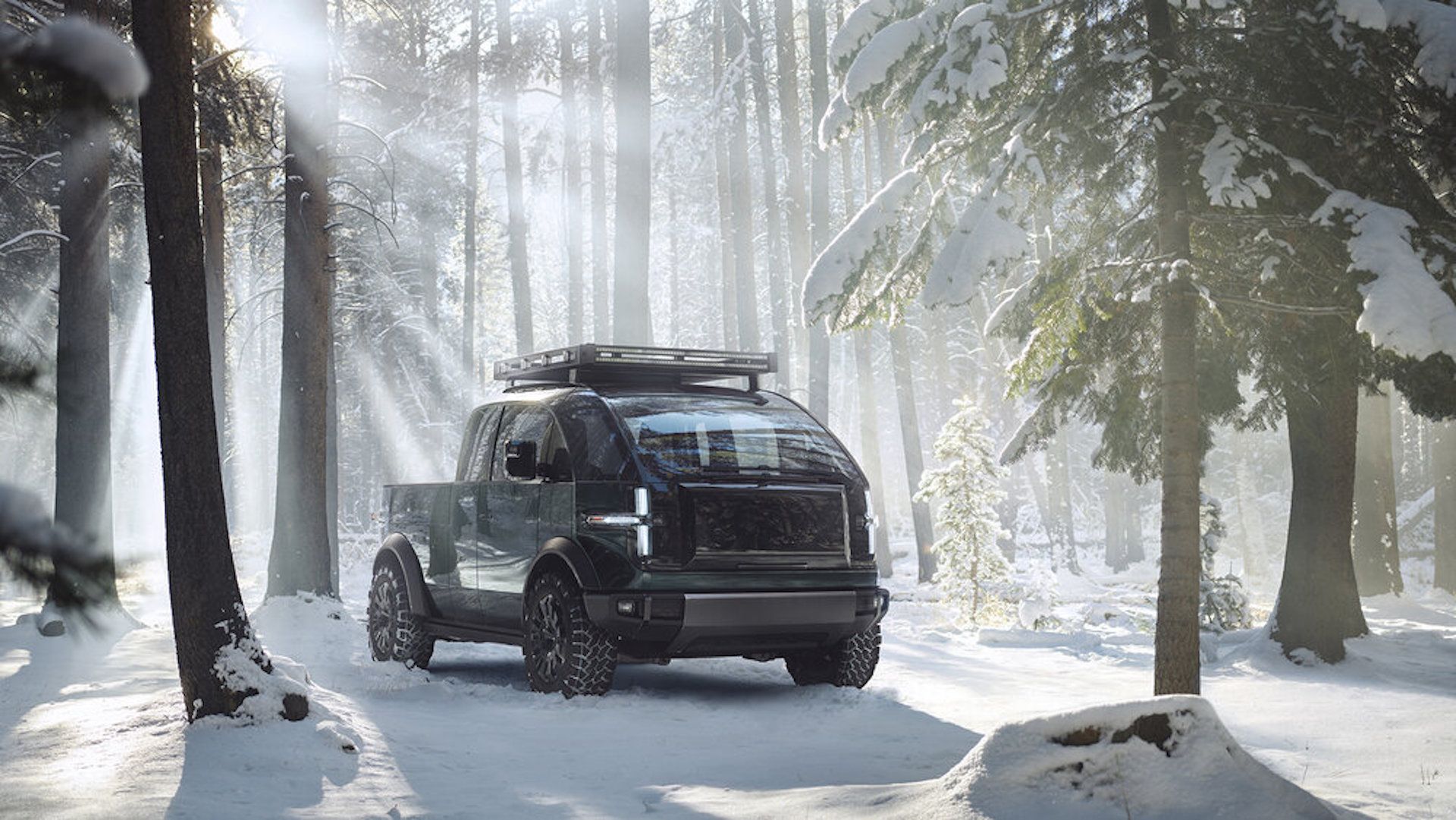 The electric vehicle startup Canoo, which went public in late 2020, is the latest company to gamble on consumer interest in battery-powered pickup trucks.
Driving the news: That image above is what the Los Angeles-based company hopes to begin delivering as early as 2023, with preorders opening in Q2 of this year.
It's designed with features that help it function as a work truck, such as fold-down workbenches and a charging port for tools.
But they're saying it's designed for "work [and] the weekend," and planned options include a roof rack and camper shell attachments.
"The toyish truck shows just how far Canoo is willing to push the design of the microbus-style vehicle it first debuted back in 2019," The Verge reports.
Why it matters: Pickups are an immensely popular consumer segment, so startups and legacy automakers alike see a chance to capture a piece of that market with electric versions.
By the numbers: Canoo says it's planning a vehicle with over 200 miles of range, with up to 600 horsepower and an 1,800 pound payload capacity. The truck bed is six feet and can be extended to eight feet.
What we don't know: The price.
5. Around the agencies: Labor and DOD
The Labor Department said it's not going to enforce a late Trump-era rule that limits private retirement plan managers' leeway to invest based on ESG — environmental, social and governance — factors.
Why it matters: The rule had drawn pushback from asset managers and sustainability advocates.
Ali Khawar, a senior official, said DOL plans stakeholder outreach to craft rules that "better recognize" the role ESG can plan in the evaluating investments "while continuing to uphold fundamental fiduciary obligations."
The Wall Street Journal has more.
Meanwhile, TechCrunch reports that the Department of Defense is "setting up a working group to focus on climate change."
"The new group will be led by Joe Bryan, who was appointed as a special assistant to the Secretary of Defense focused on climate earlier this year."