Axios Generate
August 03, 2022
🐪 Halfway there! Today's newsletter, edited by Mickey Meece, has a Smart Brevity count of 1,235 words, 5 minutes. 
📬 Did a friend send you this newsletter? Welcome, please sign up.
🎶 Today marks the 1973 release date of Stevie Wonder's album "Innervisions," one in a string of 1970s masterpieces that provides today's intro tune...
1 big thing: We may be misjudging climate catastrophe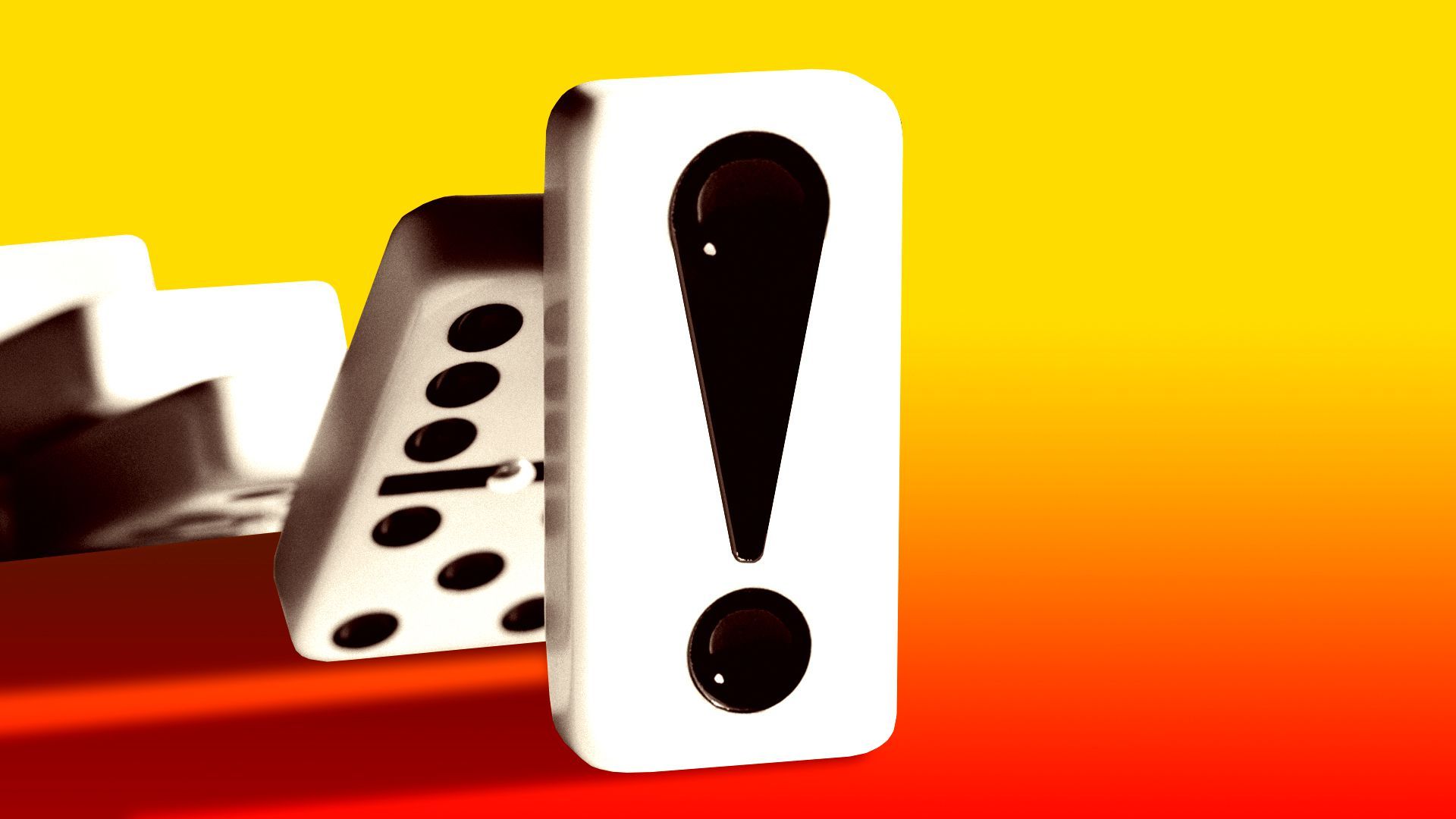 Political leaders and climate activists often say that human-caused climate change presents an existential threat to humanity, or could lead to a global catastrophe, but this is rarely defined, Andrew writes.
Driving the news: A group of top climate scientists has come forward to argue that more rigorous research is urgently needed into such worst-case scenarios, which they call a "climate endgame."
In a new perspective in the Proceedings of the National Academy of Sciences, 11 researchers from around the world put forward a research agenda into the consequences of global warming that reaches the higher end of plausible scenarios, amounting to 3°C (5.4°F) or greater, by the end of the century.
Zoom in: The article, which provides a detailed proposal for a research program, states, "There are ample reasons to suspect that climate change could result in a global catastrophe."
The authors, who include Hans Joachim Schellnhuber, a physicist who advised former German chancellor Angela Merkel on climate science, and Johan Rockström, see such research as having the potential to motivate society to act with greater urgency to limit warming to the Paris targets.
Threat level: The paper notes how the COVID-19 pandemic has revealed the risks of infrequent, high-impact global events that have knock-on effects throughout the global economy.
The paper provides a tour of the plausible ways in which climate change could tip society into more precarious, if not catastrophic, outcomes, from destabilizing the most fragile countries to causing physical and political "risk cascades" that can ripple around the world.
What they're saying: "This isn't about disaster voyeurism; it is about understanding plausible catastrophic risks so we can prevent them," lead author Luke Kemp, of the University of Cambridge, told Axios via email.
"We are not saying that we are all doomed," he said.
The intrigue: Gernot Wagner, a climate economist at Columbia Business School, who was not part of the author team, agrees that more research is needed.
"Even linear changes in underlying climate conditions can lead to socio-economic tipping points," he said.
He cited the example of the drought in Syria in 2007-2010, which helped spark the civil war there, spurring a refugee crisis that in turn led to a rightward shift in European politics.
"Cascading risks deserve quite a bit more attention," he said.
2. The oil patch chills out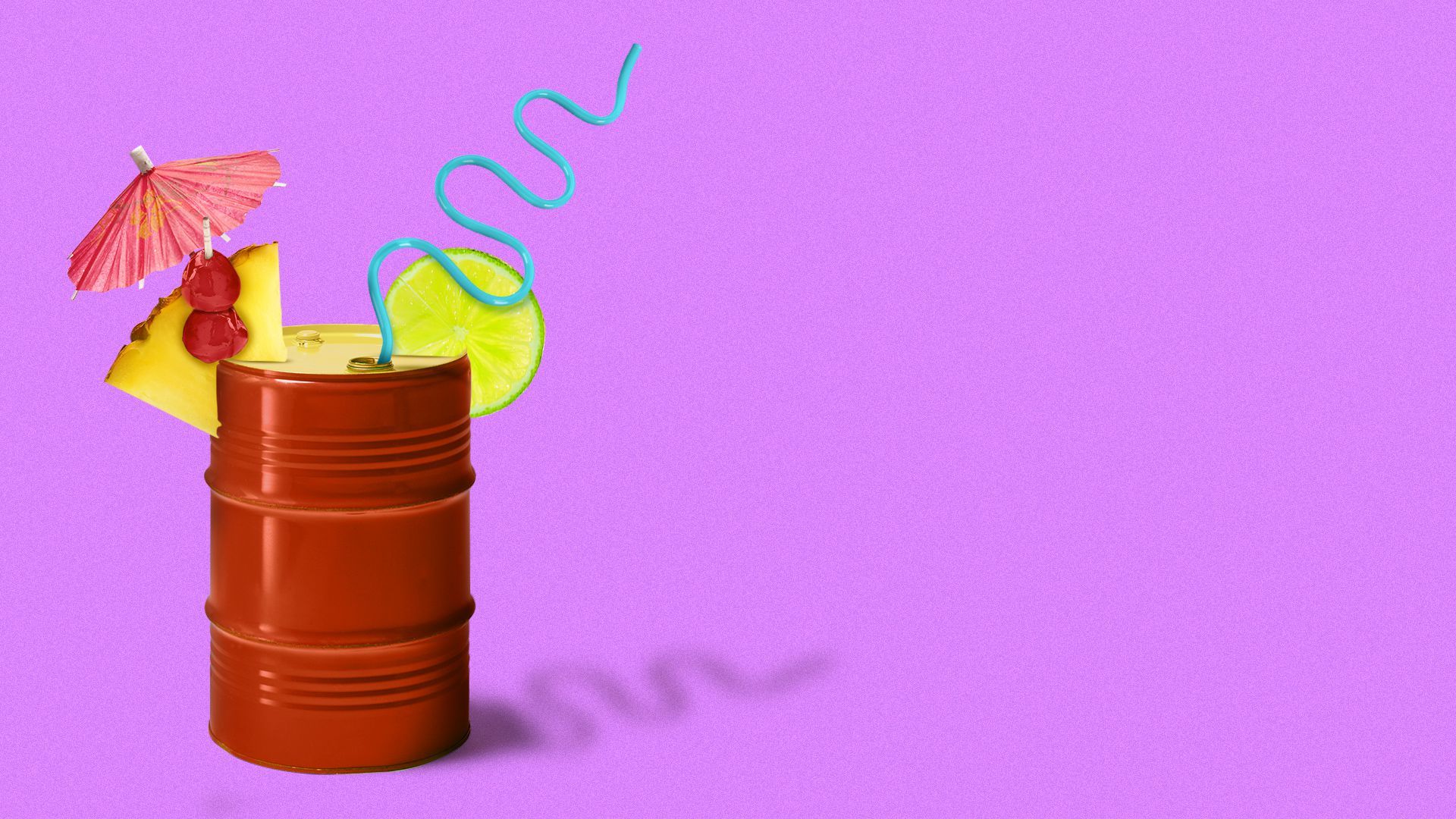 With energy prices high, producers still seem in no rush to jack up their output, Axios' Matt Phillips reports.
Why it matters: Increased production would help lower energy prices and ease inflation.
Driving the news: Fresh earnings reports from oil and gas explorers show production levels remain subdued despite gargantuan profits.
Devon Energy posted its best profit in almost 14 years Monday, as net income grew by more than 650% to $1.9 billion. (It boosted production by about 9%.)
Diamondback Energy's profits grew roughly 350% to a cool $1.4 billion. (Production was roughly flat.)
Last week U.S. energy giants Exxon and Chevron also reported explosive profits and modest upticks in production, as the WSJ wrote.
Bonus: Gasoline's big fall
Average U.S. gasoline prices have fallen by over 80 cents per gallon from their mid-June peak, Ben writes.
But prices remain elevated and far higher than when President Biden took office.
The big picture: Prices climbed in 2021 and this year as the economy revived from COVID and Russia's attack on Ukraine jolted commodity markets.
Republicans and industry groups say White House policies are slowing domestic oil production.
But analysts and companies cite multiple forces slowing output, notably investor demands.
3. Battery sourcing mandates complicate EV push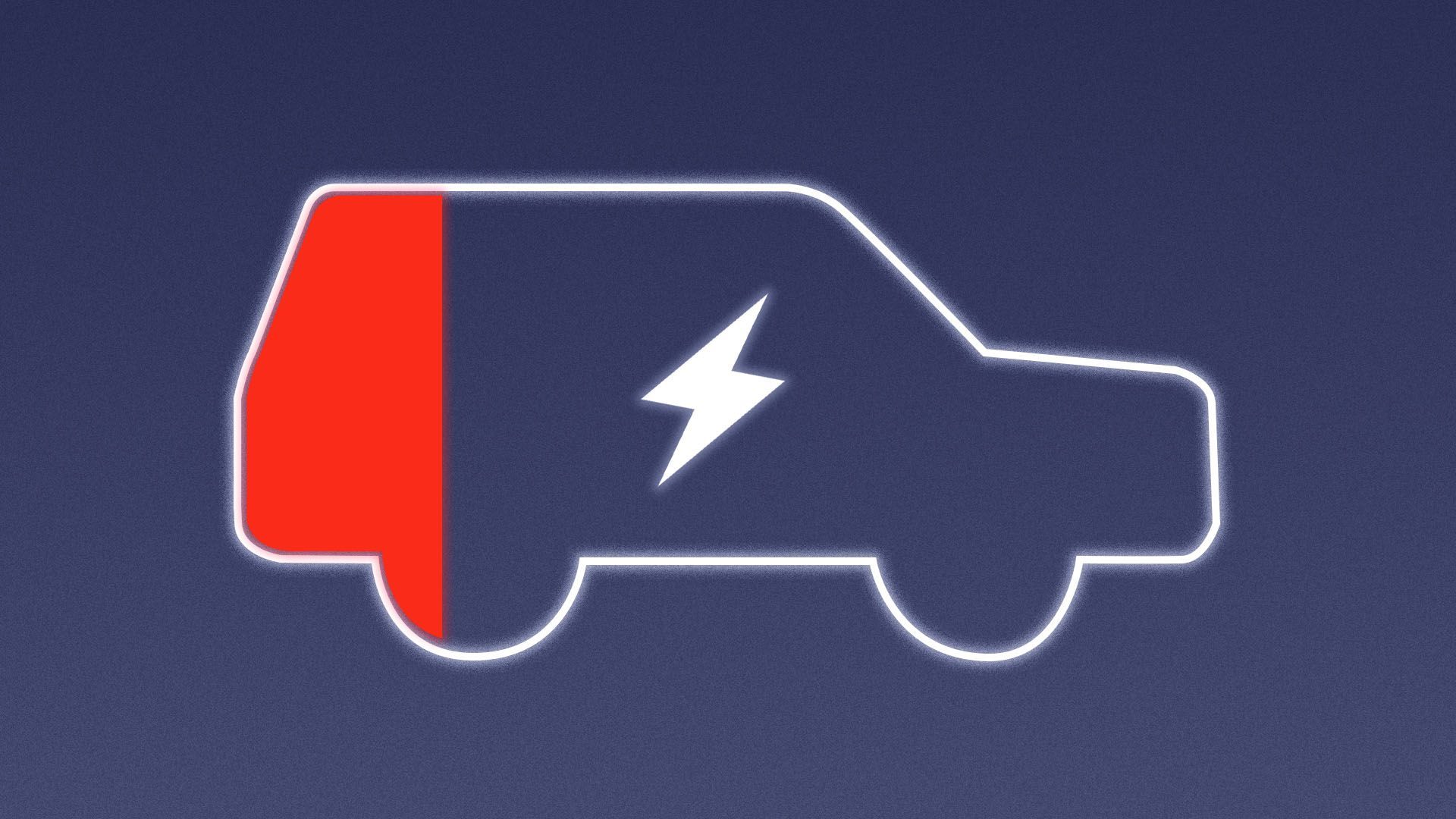 Strings attached to EV tax credits in Democrats' energy bill could limit automakers' ability to make cars that qualify for vastly expanded consumer incentives, Ben writes.
Catch up fast: The bill ties new vehicle credits to the sourcing of batteries and inputs from North America or countries with free trade deals with the U.S.
Eligible cars also can't use battery components from China, or critical minerals sourced or processed there.
What they're saying: Joe Britton of the Zero Emission Transportation Association said the overall bill — which contains lots of pro-EV provisions — is a big step forward.
But the industry would benefit from more time, say 12-18 months beyond what's currently provided, to meet the requirements.
That would be "enormously helpful for domestic manufacturers to pull their supply chains out of and away from China, but do it in a way that's attainable," Britton, the group's executive director, told Axios.
The intrigue: It includes funding and incentives to speed development of a larger domestic battery supply chain.
John Bozzella, CEO of the Alliance for Automotive Innovation, said companies are already moving in that direction, but it "doesn't happen overnight."
He said the automakers' group backs the push by Sen. Joe Manchin (D-W.Va.) to cut reliance on foreign materials.
But it's likely that "a significant number of consumers will not be able to take advantage of this credit in the early years when it is needed the most," under the current language, Bozzella said via email.
What we're watching: Several automakers are lobbying for more time to comply with mandates, but it's an uphill climb, Bloomberg reports.
Shout out E&E News, which was early on this story.
4. Senate climate deal includes NOAA spending boost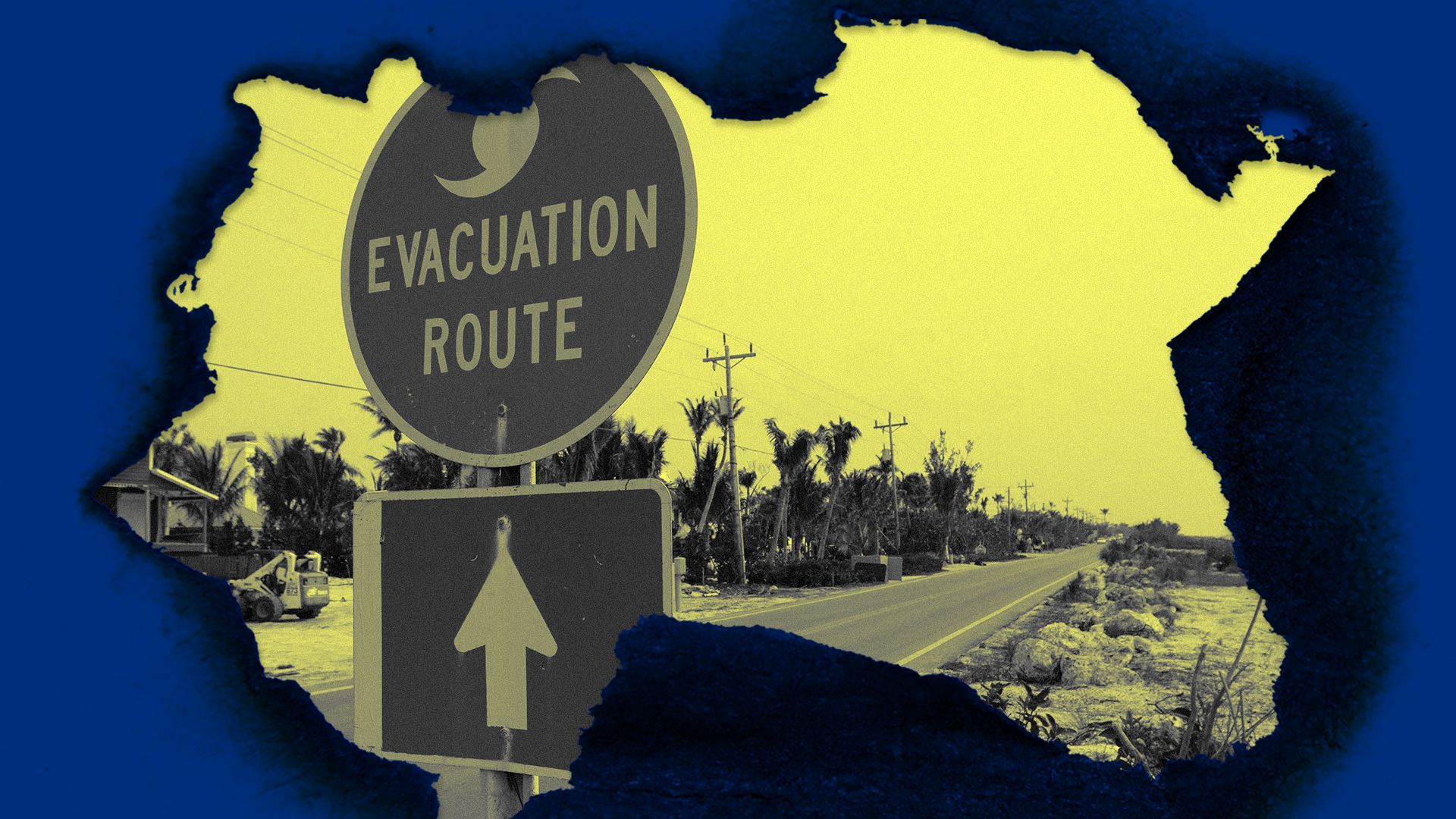 The fragile Senate climate deal would provide a funding infusion for the National Oceanic and Atmospheric Administration, including for its climate and weather forecasting capabilities, Andrew writes.
Why it matters: Accurate weather and climate forecasts are even more critical as extreme weather events become more severe due to human-caused global warming.
Context: NOAA's supercomputing capabilities lag behind other countries, like the European Union.
In addition, the agency's fleet of hurricane research aircraft, including one modified Gulfstream jet and two WP-3D Orion hurricane hunters, are in need of bolstering or replacement.
These aircraft gather critical data for improving forecast accuracy.
Zoom in: The bill would provide $490 million for weather forecasting and research. This would include...
$200 million for NOAA Oceanic and Atmospheric Research and forecasting for weather and climate.
$190 million for new NOAA supercomputing capacity.
$100 million for NOAA to acquire a G-550 hurricane hunter jet.
The intrigue: Sen. Maria Cantwell (D-Wash.), who chairs the Senate Commerce Committee that oversees NOAA, pushed for the agency funding.
Sen. Raphael Warnock (D-Ga.) secured funding for the G-550 reconnaissance jet that would give NOAA fleet redundancy.
What they're saying: In a statement to Axios, Cantwell called the provisions "the largest-ever one-time investment in weather forecasting."
"Improved weather forecasts save lives, jobs, and businesses by helping communities prepare better for extreme weather," Cantwell said.
5. 100 million under heat warnings in U.S. (again)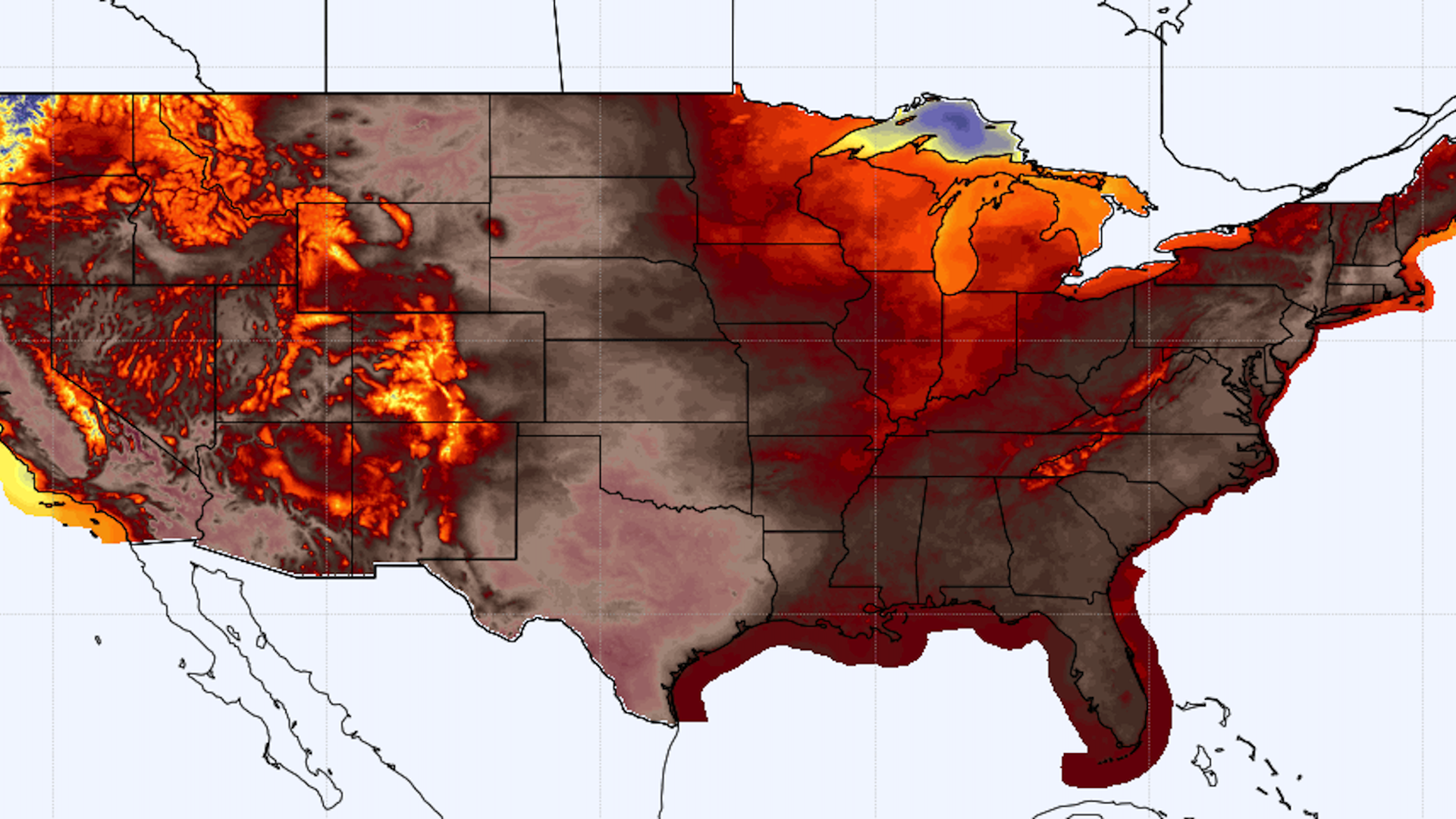 About 100 million Americans are under heat warnings and advisories in the U.S. on Wednesday, from the Midwest south to Texas, Andrew writes.
Another area of extreme heat is expected across the Mid-Atlantic and Northeast during the next few days.
Driving the news: The extreme heat is the latest in a series of heat waves that have affected the Lower 48 this summer, from the Pacific Northwest to the Mississippi Valley and the Northeast.
Dozens of locations had their warmest July, and August is starting off dangerously hot.
Why it matters: Climate change increases the odds, severity and duration of heat waves in the U.S. and around the world.
By the numbers: Noteworthy forecast highs today:
Chicago: 95°F
Oklahoma City: 103°F
Austin: 104°F
New York City: 92°F
St. Louis: 96°F
Threat level: In most of these locations, heat indices — which include humidity — are forecast to reach up to 110°F, posing a danger to anyone with prolonged outdoor exposure.
🙏Thanks for reading and see you back here tomorrow.