Axios Generate
October 30, 2020
Welcome back! Today's Smart Brevity count: 1,340 words, 5 minutes.
🚨"Ohio utility FirstEnergy Corp. said Thursday it was firing its CEO, after an internal review related to government investigations of the company's potential role in an alleged state bribery scandal." (WSJ)
🎸And tomorrow marks the 1971 release of Pink Floyd's album "Meddle," which provides today's beautiful intro tune...
1 big thing: Higher ed's expanding climate push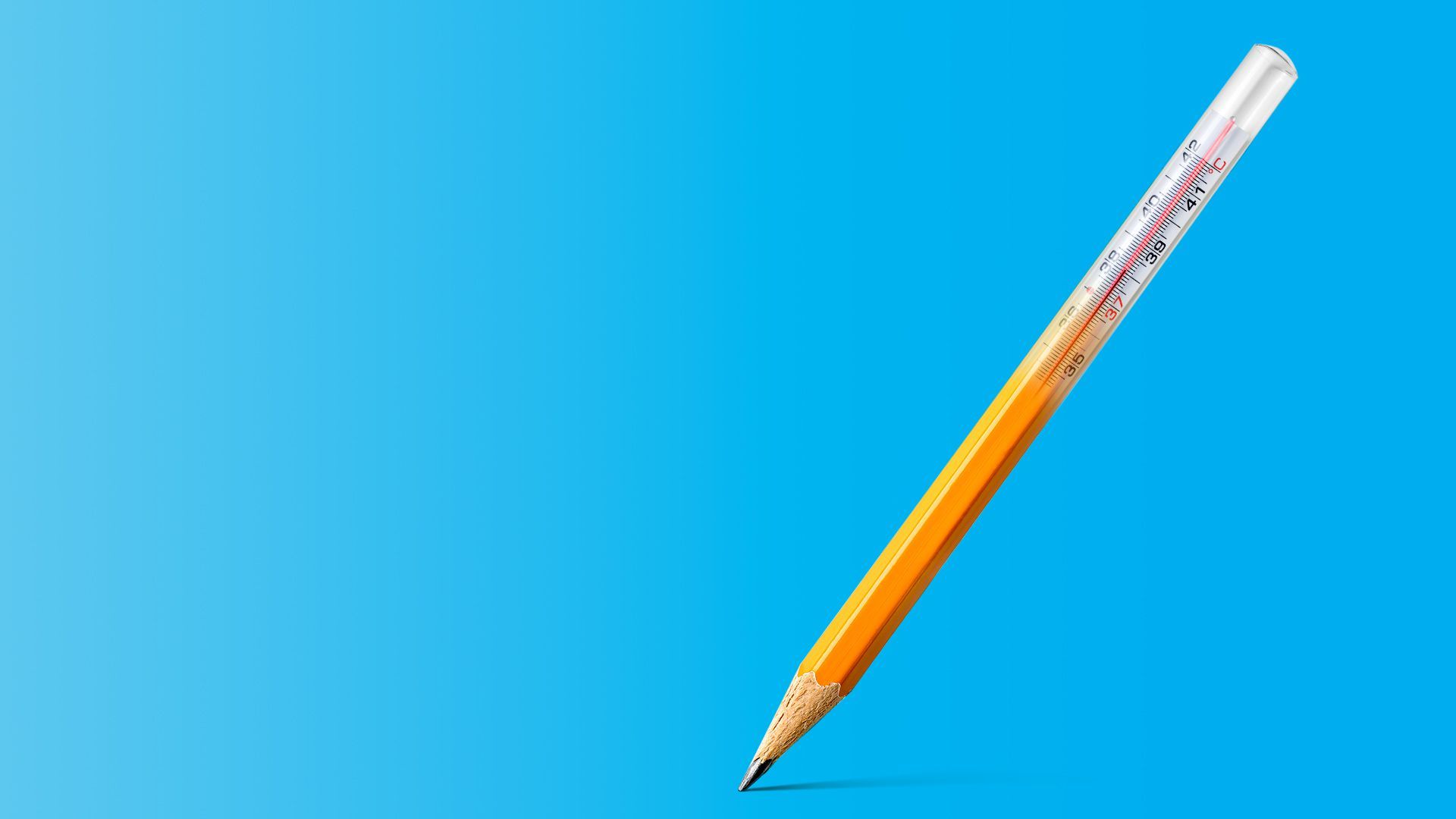 New or expanded climate initiatives are popping up at several universities, a sign of the topic's rising prominence and recognition of the threats and opportunities it creates.
Driving the news: Princeton University yesterday announced a "transformative gift" from the High Meadows Foundation, a philanthropy co-founded by an alum.
The money will expand the school's interdisciplinary environmental institute, with a focus on climate change, energy, biodiversity, food and water.
The amount was not disclosed, but spokesperson Ben Chang said, "the gift will ensure that environmental research at Princeton will be supported into the next half-century and beyond."
Where it stands: Here are a few more recent examples (and readers, please let me know of others).
Columbia University said in July that it's establishing the "Columbia Climate School."
Stanford in May said it's creating a new interdisciplinary climate and sustainability school.
Last week brought the announcement of the Climate Social Science Network headquartered at Brown University.
Why it matters: Climate and clean energy initiatives at colleges and universities are, to be sure, nothing new and many have been around a long time.
But the recent activity shows expanded campus focus as the effects of climate change are becoming increasingly apparent, and the world is nowhere near the steep emissions cuts that scientists say are needed to hold future warming in check.
It also signals the need to prepare students for jobs in clean tech and climate-related fields, and help researchers see the field through new lenses.
The various efforts are wide-ranging and span hard sciences and other fields. There's often an interdisciplinary structure to match how cross-cutting and multidimensional the problem is (it's fitting that I'm sounding a little dorm room-y here).
The big picture: Those are just a few schools rolling out new degree programs, bolstering in-house energy and climate think tanks and more in recent years.
For instance, last year the University of Dayton introduced new bachelor's programs in sustainability and this year the University of Miami launched a new master's program in urban sustainability and resilience.
Or take the Energy Policy Institute at the University of Chicago. In 2014, it had two full-time staff and three junior-level researchers, and now has over 60 staff and researchers, per Institute-supplied figures.
And that tally does not include staff working with the Climate Impact Lab, an initiative launched a few years ago with Rutgers, the University of California and the Rhodium Group.
2. ExxonMobil posts loss and plans big job cuts
ExxonMobil reported a $680 million quarterly loss this morning and announced plans for steep spending cuts, which comes just a day after it revealed plans for major layoffs.
Why it matters: The announcements signal how the company, which has made huge investments in supply expansions in recent years, is struggling to adjust to the sector's new reality.
By the numbers: The third consecutive quarterly loss is smaller than the $1.1 billion loss in Q2, but this morning's announcement nonetheless underscores the oil giant's tough path as the company revealed even deeper planned cost cuts.
Exxon also said it's now planning capital spending of $16 billion to $19 billion in 2021, down from $23 billion this year (which itself was a steep cut from pre-pandemic plans).
Driving the news: The result follows yesterday's announcement they will cut 1,900 U.S. staff as part of a wider global reduction of as many as 14,000, which is roughly 15% of their workforce, including contractors.
Reductions will come from retirements, layoffs and lower hiring. Reuters has more.
Where it stands: Chevron also reported a $201 million Q3 loss this morning, far smaller than the prior quarter's bleed but a stark contrast to its $2.6 billion profit in Q3 2019.
CEO Michael Wirth noted low commodity prices and pandemic-curtailed demand.
"We remain focused on what we can control — safe operations, capital discipline and cost management," he said in a statement.
Meanwhile, France-based giant Total SE posted a $202 million profit.
Bloomberg notes that Total is faring better during the pandemic than its rivals, but points out that headwinds remain.
"The company boasted of its resilience to oil at $40 in a week when prices slumped below that level as the second wave of the pandemic took hold," they report.
3. Top oil group takes "umbrage" at French LNG move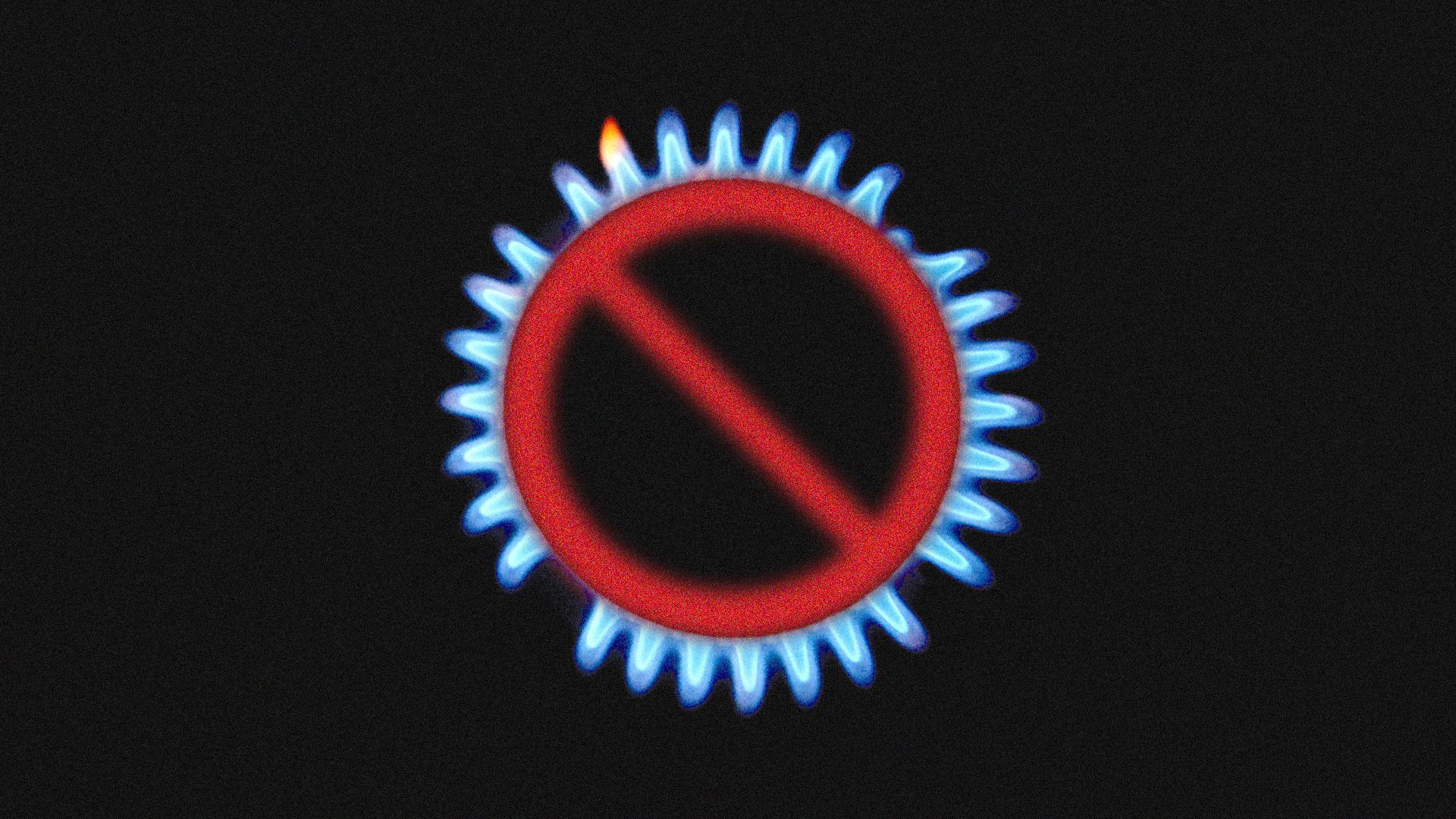 Axios' Amy Harder reports: The CEO of the American Petroleum Institute criticized the French government's move blocking a $7 billion deal to import U.S. liquefied natural gas over concerns about climate change.
Why it matters: The tension reflects intercontinental division over how aggressively governments and companies should tackle global warming, including the potent greenhouse gas methane.
The European Union just announced a strategy to cut down on methane emissions.
What they're saying: "We take great umbrage at that of course," Mike Sommers, CEO and president of API, says in his first comments on the matter.
"We do not think that gas or oil for that matter from other countries is any cleaner than what is produced in the United States," he said.
What happened: The French government told the power company Engie, which is partly government-owned, to hold off on an LNG deal with U.S. company NextDecade, a French site reported earlier this month (and Politico confirmed).
This particular LNG comes from gas produced in the Permian Basin spanning Texas and New Mexico, a region that's faced criticism for high levels of flaring (wasting) methane.
How it works: When burned, natural gas emits half as much carbon dioxide as coal, the electricity source it's often replacing abroad, which is why it has reduced emissions in the U.S. as it displaced coal. But it gets more complicated.
Companies often waste natural gas (and thus put methane into the air) when infrastructure is lacking or oil prices are too low.
It also takes a lot of energy to liquefy the gas for shipping and then reprocess once the gas gets to its destination, which raises the climate-change footprint.
API commissioned a report that found using American LNG instead of coal abroad reduces emissions, but other studies that take a broader look at the climate footprint of LNG suggest otherwise.
Go deeper: Natural gas is helping combat climate change — but not enough
4. Oil's stalled recovery is now in reverse
Oil prices slid to their lowest levels in roughly five months this week, showing how the global failure to contain the pandemic is retaining a tight grip on the market.
Where it stands: WTI is trading around $35.86 this morning, while the global benchmark Brent crude is at $37.62 as we sent this newsletter.
What they're saying: "Many nations with high oil consumption across the world are seeing infection levels that they didn't have even during the first wave," Rystad Energy analyst Paola Rodríguez-Masiu said in a note.
Multiple countries are reviving activity restrictions. "Demand will not fall as much as during the pandemic's first wave as the world is now better prepared, but is sure to take a hit," Rodríguez-Masiu added.
5. The case that stimulus is a binary climate choice
A new analysis making the case for "green" stimulus packages says policymakers face stark choices because "all fiscal policy is climate policy."
The big picture: "The choice facing policymakers is not 'climate-friendly' policies or 'climate-neutral' policies," argues the Roosevelt Institute, a progressive think tank.
"All stimulus policies have the potential to affect emissions levels, even if they do not directly relate to climate or emissions," it states.
Policies are either "climate forward" or will "entrench carbon-intensive industries and infrastructure," notes the analysis led by Rhiana Gunn-Wright, a prominent architect of the Green New Deal framework.
Why it matters: The Trump administration and Democrats have been haggling over the next COVID-19 response package. And Joe Biden, if he wins, will look to steer a major economic recovery measure through Congress.
This paper offers broad principles and specific ideas for how a recovery package can be implemented quickly, but also help "meet the scale of the current economic and environmental crises."
Examples include...
A big expansion of funding and eligibility for low-income energy and weatherization assistance.
Extended tax incentives for wind and solar project developers.
Funding for states and cities to "strengthen coastal and inland water infrastructure, including culverts, dams, levees, seawalls, and locks."
Go deeper: There's no such thing as climate-neutral stimulus (Bloomberg)
6. Catch up fast: offshore wind and litigation
Deals: "Wind turbine maker Vestas said on Thursday it would accelerate growth in offshore wind after announcing a $838 million deal to take full ownership of its joint venture with Mitsubishi Heavy Industries." (Reuters)
Big Oil: "A pioneering lawsuit filed by Rhode Island that seeks damages from the world's largest oil and gas companies for the impacts of climate change is set to proceed in state court after a federal appeals panel upheld a lower court's ruling." (Providence Journal)