Good morning and welcome back!
I don't need much prodding to recognize Dire Straits. So their weekend induction into the Rock & Roll Hall of Fame is reason enough to give them today's intro tune...
https://www.axios.com/newsletters/axios-generate-bba8e4a4-e00a-44c7-bf97-3ec7222bc27b.html?chunk=0#story0
One big thing: Oil industry climate fight expands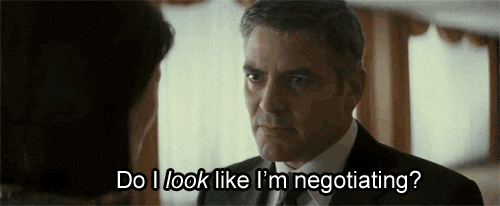 Giphy
Local officials in Colorado will announce litigation Tuesday against large oil companies over the effects of climate change, according to a report in the Boulder Daily Camera and a source familiar with the plan.
Why it matters: The litigation from Boulder and the San Miguel Counties and the city of Boulder signals that the current spate of climate lawsuits against big oil companies is moving beyond high-profile cases in California and New York, which have focused largely on damages from sea-level rise.
The big picture: More broadly, the world's fossil fuel behemoths are facing fresh challenges over global warming in the courthouse and from shareholders, even as they increasingly announce new climate efforts and expand investments in low-carbon energy.
Meanwhile: Shell is publicly urging shareholders to reject a shareholder resolution next month promoted by the group Follow This. The group is calling on the company to align its business with limiting the global temperature rise well below 2°C, which is the goal of the Paris agreement.
Shell CEO Ben van Beurden took on the resolution on a call with reporters yesterday where he touted the company's low-carbon initiatives.
"We'll be aligned with society's progress but we will not be tied to an approach that potentially moves too quickly or too slowly to this transition," van Beurden said, per Reuters.
Go deeper: Click here for more in the Axios stream.
https://www.axios.com/newsletters/axios-generate-bba8e4a4-e00a-44c7-bf97-3ec7222bc27b.html?chunk=1#story1
2. Tesla temporarily halts Model 3 production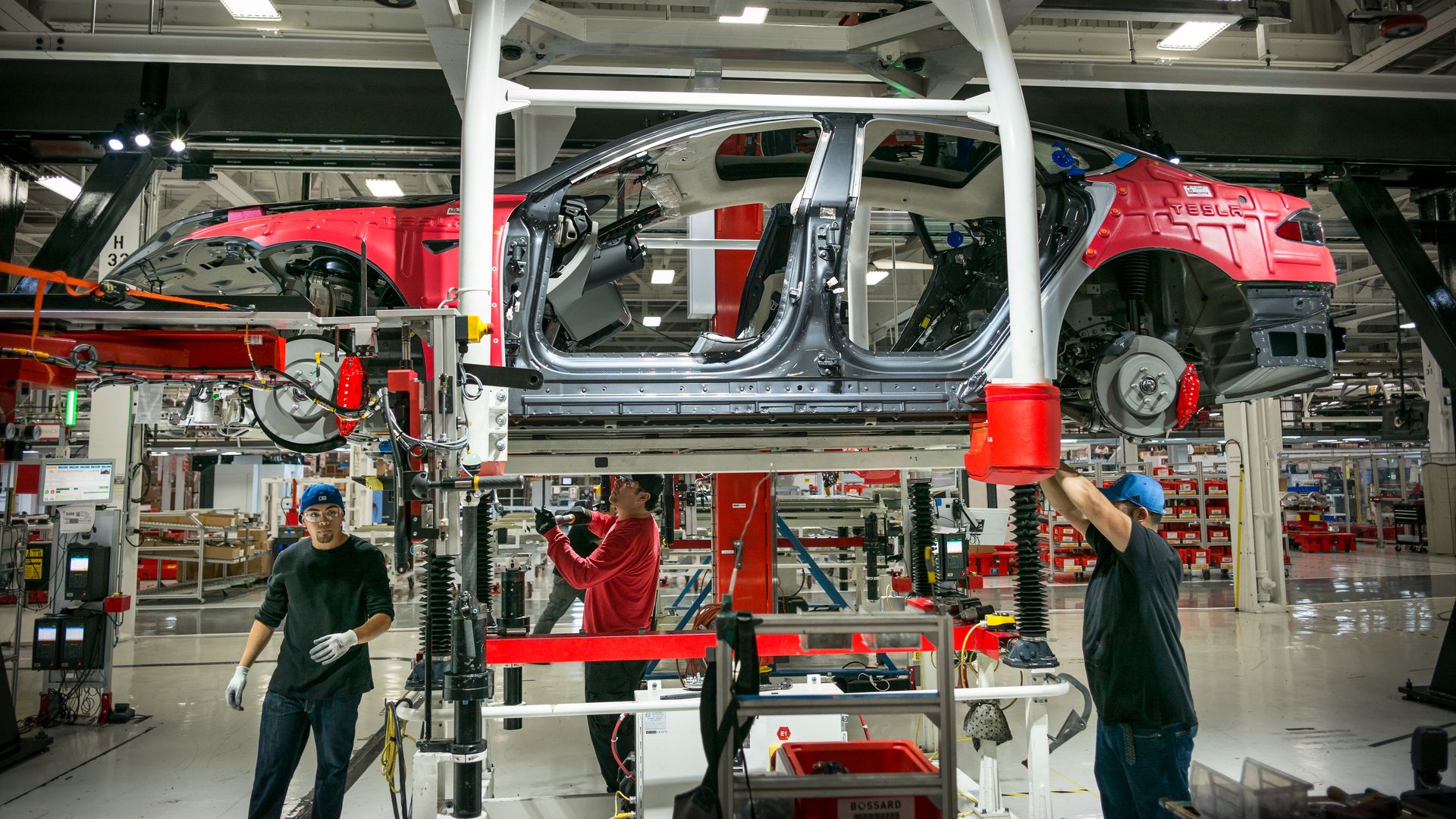 New hiccup: BuzzFeed broke the news last night that Tesla is temporarily shutting down production of its mass-market Model 3 sedan, a hiatus expected to last 4 to 5 days.
The Wall Street Journal writes on Tesla's latest headache: "A spokesman repeated the company's past statement that shutdowns are 'used to improve automation and systematically address bottlenecks in order to increase production rates.'"
Why this matters: Successful large-scale production of the sedan is critical to the future of the Silicon Valley automaker, which is churning them out more slowly then initially planned.
Tesla's current target is to be producing 5,000 per week by mid-year, up from slightly over 2,000 it made in the final week of the first quarter. Another missed goal could shake investor's confidence in the company.
Speaking of Tesla: The Harvard Business Review has an interesting piece that puts Tesla's recent struggles in the context of GM's rise, evolution and struggles a century ago.
https://www.axios.com/newsletters/axios-generate-bba8e4a4-e00a-44c7-bf97-3ec7222bc27b.html?chunk=2#story2
3. Petro notes: U.S. shale, China, oil sands
Up, up and away: New Energy Information Administration data projects that crude oil production from shale-heavy regions will grow by 125,000 barrels per day and come this close to 7 million next month.
Why it matters: The figure helps explain the scope of the shale boom, because almost exactly 5 years ago, 7 million bpd was roughly the total amount of U.S. crude production nationwide.
Once again, production in the Permian Basin region of Texas and New Mexico leads the way, with expected growth of 73,000 bpd.
China: A new report from the consultancy Wood Mackenzie projects that shale gas production in China will nearly double by 2020 to 17 billion cubic meters annually, but will still fall well short of the government's target of 30 bcm by that time.
Why it matters: Greater use of natural gas is a key part of China's strategy to help lessen terrible air pollution problems from heavy use of coal and curb its greenhouse gas emissions.
More: The Financial Times unpacks the report here.
Oil sands: Per Bloomberg, "Canada's inter-provincial fight over Kinder Morgan Inc.'s Trans Mountain pipeline escalated as oil-producing Alberta threatened to cut off fuel shipments to neighboring British Columbia."
https://www.axios.com/newsletters/axios-generate-bba8e4a4-e00a-44c7-bf97-3ec7222bc27b.html?chunk=3#story3
4. The past and future of EV and hybrid sales
My colleague Amy Harder reports...
The electric and hybrid share of U.S. vehicle sales has hovered around 3% for the past decade.
Why it matters: For all the hoopla surrounding electric cars, they're still only a sliver of America's auto industry. Fully electric cars are gaining market share, but the overall demand for electrics and hybrids has risen slowly. In part, this is because sustained low gasoline prices have revived Americans' traditional preference for larger vehicles, which are mainly gasoline-powered.
"We are definitely seeing consumers selecting more fuel-efficient versions of what they already want to buy, but they're still buying pickup trucks, SUVs and crossovers."
— Rebecca Lindland, analyst, automotive research firm Kelley Blue Book
What's on the horizon: Last year, fully electric cars made up about 0.6% of light-vehicle sales. They're set to grow significantly, though forecasts range widely about how much.
3%: That's the 2025 forecast from Wards Intelligence, an automotive research firm whose data auto companies use.
8.5%: That's the 2025 forecast from Bloomberg New Energy Finance, which is more bullish on these issues.
Go deeper: This trend is part of why the Trump administration should rewrite — but not repeal — his predecessor's fuel-efficiency standards, independent experts tell me in my latest Harder Line column this week.
https://www.axios.com/newsletters/axios-generate-bba8e4a4-e00a-44c7-bf97-3ec7222bc27b.html?chunk=4#story4
5. Two EPA things
Latest in policy: Amy reports that EPA has committed to rewriting a regulation banning certain uses of heat-trapping chemicals, a low-profile but nonetheless significant climate policy issued by then-President Obama.
In a document signed late Friday by EPA Administrator Scott Pruitt, the agency laid out compliance guidelines for affected industries, chiefly heating and cooling companies, in the wake of a court ruling last year rejecting the Obama-era rule. EPA also committed to rewriting the rule, the first official comment from the agency on the issue, according to experts following the issue.
Go deeper: Read the full story on the Axios stream.
Pruitt's hotseat: Per Politico, "Critics of Scott Pruitt got fresh ammunition against the embattled EPA administrator on Monday, with two federal reports revealing that EPA had broken the law in building him a secure phone booth and that the agency had granted previously undisclosed pay raises of more than 20 percent to his political appointees."
https://www.axios.com/newsletters/axios-generate-bba8e4a4-e00a-44c7-bf97-3ec7222bc27b.html?chunk=5#story5
6. Bad news and good news on climate change
Not even close: New commentary over at the Center for Strategic and International Studies takes stock of how little progress has been made in decarbonizing global energy production, even as renewables have been surging.
Why it matters: The piece by Philippe Benoit explores the immense challenge of seeking to lower emissions amid rising global energy demand.
"Based on estimates of emissions and energy demand recently released by the International Energy Agency (IEA), the carbon intensity of our energy use was 2.331 MtCO2/Mtoe in 2016 (the most recent full year for which there is adequate available data), exactly the same carbon intensity level as in 1990," he writes.
Carbon pricing: A new report from the Analysis Group consultancy finds that the Regional Greenhouse Gas Initiative — a nearly decade-old cap-and-trade program for power plant emissions among Northeast and mid-Atlantic states — has brought $1.4 billion in net economic benefits over the last three years.
Reuters has more on the report here.
https://www.axios.com/newsletters/axios-generate-bba8e4a4-e00a-44c7-bf97-3ec7222bc27b.html?chunk=6#story6
7. The energy-and-climate podcast world is growing
Your Generate host is a podcast fan, and I'm pretty sure some readers are too, so here are a couple of new ones in my feed you might enjoy...
Climate politics: The inaugural episode of Greentech Media's Political Climate — a bipartisan look at the politics of climate and energy — dropped late last week.
They cover lots of ground, including the latest Gallup polling on climate and how millennials approach these topics. And they travel back in time with an insider's view of how Capitol Hill Republicans sought to make political hay out of the Solyndra bankruptcy.
A new episode arrived yesterday that delves into Pruitt's woes, Paul Ryan's decision to retire and other topics.
All kinds of stuff: That encompasses the planned scope of the Breakthrough Dialogues, a new pod from the (sometimes contrarian) environmental and energy think tank The Breakthrough Institute.
It will offer interviews on topics including "food, conservation, energy, innovation, modernity, humanity, and more."
The inaugural episode is an interview with Charles Mann, author of the recent book "The Wizard and the Prophet: Two Remarkable Scientists and their Dueling Visions to Shape Tomorrow's World."
They delve into the potential — or maybe lack thereof — for human ingenuity to confront climate change and growing resource demands.