Good morning, our thoughts are with everyone affected by Hurricane Harvey and the ongoing catastrophic floods there.
My latest Harder Line column is the third and final in my series on the different sides of the climate change debate. This one looks at how both sides overplay their hands when it comes to the economic impacts of climate policies.
I'll share the top of that below, and then Ben will be bringing you the rest of the news.
https://www.axios.com/newsletters/axios-generate-b8b7bc4e-b9e5-455d-8722-1caecf452872.html?chunk=0#story0
What both sides are getting wrong about climate change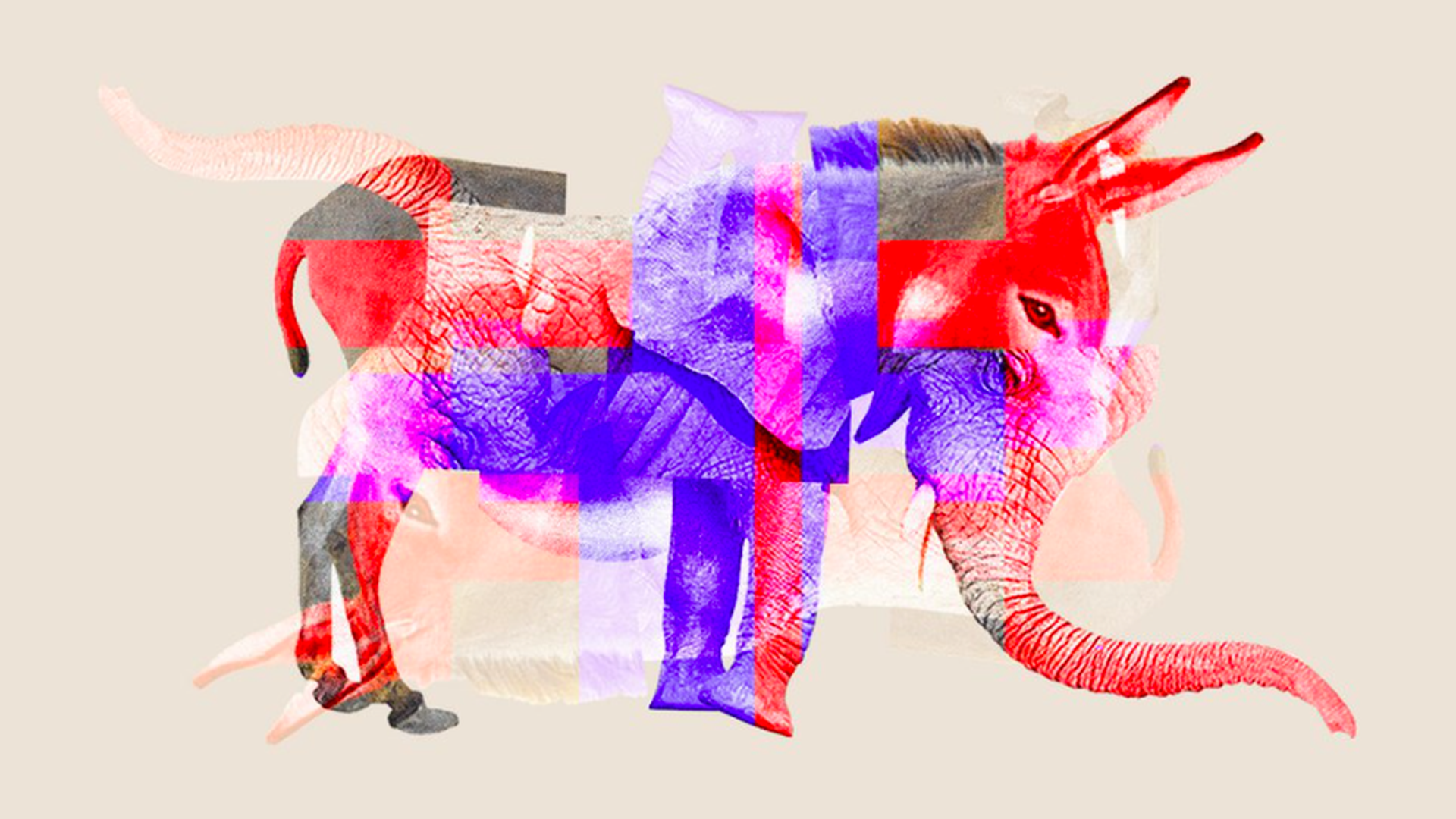 The right says action on climate change will wreck the economy. The left says the clean-energy revolution will be an economic boon. Both sides are overplaying their hands. Most policies Washington has considered to cut carbon emissions would have a relatively small impact on the broader economy, studies not pushed by one side or another have shown.
Why it matters: The economic arguments for and against action on climate change are what carry the most weight with Americans hyper-focused on their jobs. It's politically convenient to push misleading numbers that align with a desired policy outcome, but it's not accurate, and the narratives further polarize this divisive debate.
Read the rest of my column in the Axios stream.
https://www.axios.com/newsletters/axios-generate-b8b7bc4e-b9e5-455d-8722-1caecf452872.html?chunk=1#story1
Harvey's energy toll
Please keep checking the Axios stream for the latest on this unfolding disaster and its human toll. Here's a few snapshots of what it means for the energy sector in particular...
Direct hit: The devastating flooding is hitting a state and region that's a central hub for the energy sector. For instance, BP and Shell alone have roughly 11,000 employees in the Houston region combined.
The storm is closing down refineries, some crude oil production offshore in the Gulf of Mexico and onshore in the Eagle Ford shale region, pipelines, shipping, and other infrastructure networks.
Via a sobering Reuters story:
"Damage assessments could take days to weeks to complete, and the storm continues to drop unprecedented levels of rain as it lingers west of Houston, home to oil, gas, pipeline and chemical plants. And restarts are dangerous periods, as fires and explosions can occur."
Power loss: Over 300,000 people are without electricity, according to the Electric Reliability Council of Texas, which oversees the Texas power grid.
Gasoline: The disruption of Gulf Coast refining and pipeline networks will send prices upward nationwide, and gasoline futures are already trading higher.
On Sunday night, GasBuddy analyst Patrick DeHaan issued a forecast that prices in the Gulf region will rise by as much as 35 cents per gallon over the next two weeks. The midwest is due for a 10-25 cent rise, with smaller increases in other regions.
Gasoline futures were around 6% higher in Asian trading on early Monday, WSJ reports: "Energy markets could be in for a bumpy ride when they open Monday as investors try to gauge the impact of the disruption."
Refineries affected: The storm has forced the shutdown of multiple refineries, largely in Corpus Christi and the Houston region, including Exxon's huge Baytown facility near Houston that processes nearly 600,000 barrels of crude per day and Shell's big Houston-area refinery, which has a 340,000 barrel-per-day capacity.
Nearly three million barrels of refining capacity, or over 16% of the U.S. total, has been taken offline, according to a Goldman Sachs research note Monday morning.
"At this stage, most of the refining outages are reported as preventive, with only a few comments on minor flooding. However, the slow moving nature of the storm will likely lead to these shut-downs continuing in coming days and may generate persistent damage as well," Goldman said.
"Some of the issues around gasoline and refinery production are going to be a little bit enduring, at least for the next month," Wayne Gordon, a top analyst at UBS, told Bloomberg late last night.
Crude oil: The Interior Department said in a Sunday afternoon update that 105 Gulf of Mexico's platforms have been evacuated. Nearly 22% of Gulf of Mexico oil production has been halted.
Yes, but: Overall, the storm has been harder on the refining sector than on oil production, notes Goldman, stating that overall about 11% of total U.S. crude production is halted, including offshore and onshore. The heart of the Gulf of Mexico producing area was not in the storm's direct path, and the greater production impact has been onshore wells, they note.
Horrifying: Via Mashable, one meteorologist believes ongoing rainfall in Texas could eventually lead to a total of 25 trillion gallons dropped on the state, with 11 trillion having occurred already.
https://www.axios.com/newsletters/axios-generate-b8b7bc4e-b9e5-455d-8722-1caecf452872.html?chunk=2#story2
Harvey's impact amplified by climate change
Link to climate change: Penn State scientist Michael Mann has posted a short primer on Facebook that describes the connection between the devastating storm and global warming. While climate change didn't "cause" the storm, it's worsening the impact in several ways, he says.
A few key points from Mann...
Rising waters: Sea level rise attributable to climate change (some is due to coastal subsidence due to human disturbance, e.g. oil drilling) is more than half a foot over the past few decades. "That means that the storm surge was a half foot higher than it would have been just decades ago, meaning far more flooding and destruction."
Warmer waters: The rise in sea surface temperatures in the region by about a half-degree celsius in recent decades has led to a roughly 3% rise in atmospheric moisture content. "That large amount of moisture meant the potential for much greater rainfalls and greater flooding," Mann writes.
"Not only are the surface waters of the Gulf unusually warm right now, but there is a deep layer of warm water that Harvey was able to feed upon when it intensified at near record pace as it neared the coast."
https://www.axios.com/newsletters/axios-generate-b8b7bc4e-b9e5-455d-8722-1caecf452872.html?chunk=3#story3
On my screen: Solar trade, cap and trade, DOE's grid study fallout
Solar omens: "Bring me some tariffs!" My colleague Jonathan Swan has a fascinating look inside the Oval Office as President Trump pushes for hawkish trade policies.
Why it matters: While the story isn't directly about solar equipment, it's an ominous sign for the wide range of business interests battling a petition from two troubled solar panel makers for steep import penalties on cells and modules.
Taking stock: Robert Stavins, director of the Harvard Environmental Economics Program, has a new post on lessons learned from the history of cap-and-trade programs for carbon emissions and other pollutants (like the one the U.S. used for sulfur dioxide to cut acid rain).
Stavins is hopeful that the dismal political prospects for using cap-and-trade to attack U.S. carbon emissions can be changed.
"[I]n light of the generally positive experience with cap-and-trade, there is reason for optimism that the tarnishing of cap-and-trade in US political debates will itself turn out to be a temporary departure from a long-term trend of increasing reliance on market-based environmental policy instruments," he writes.
What's missing: A piece in Greentech Media points out that the Energy Department's high-profile grid study gives short shrift to certain technologies.
It notes that a close read of the 187-page study are references to projects that reveal the flexibility and "scalability" of resources like energy storage, solar, EVs, smart meters and more. But...
"[T]he only policy recommendation to emerge from this sea of potential solutions is a nod toward backing the kind of work that's happening today at a key DOE research program, ARPA-E, which the report's final authors declined to call out by its name."
Perry nixes trip due to Harvey: The U.S. embassy in Kazakhstan said Monday that Energy secretary Rick Perry has canceled his planned visit this week, Reuters reports. The embassy said:
"Due to Hurricane Harvey and the Department of Energy's duty to react to emergencies related to power supply and energy infrastructure, the planned visit by Energy Secretary Rick Perry to Astana is canceled."
https://www.axios.com/newsletters/axios-generate-b8b7bc4e-b9e5-455d-8722-1caecf452872.html?chunk=4#story4
One interesting market prediction
Inflection point: A newly available research note from the consulting and analysis firm PIRA Energy Group predicts that the U.S. will become a net oil exporter by 2023 (or 2019 if you exclude trade with Canada). Growing shale production is outpacing U.S demand growth, they note.
Why it matters: The forecast is another data point that highlights the seismic effect of the U.S. fracking boom on the global oil market. PIRA, a part of S&P Global Platts, lays out several implications...
"Lower oil import dependence will likely have political implications, including a growing temptation to use SPR sales to fund non-energy items."
There could be weakened political support for policies — including auto mileage standards, electric vehicle subsidies, and the biofuels mandate — that have been partly driven by concerns about import dependence.
"Calls for a reduced military presence in the Middle East could also grow louder."
Big picture: The U.S. is already an exporter of refined oil products but remains a major net importer of crude oil, even though dependence on foreign crude barrels has fallen a lot and crude exports have begun taking off.
PIRA, looking at crude and refined products together, predicts that the U.S. will become a net exporter in 2023 and that net exports will reach 3.3 million barrels per day by 2031.
https://www.axios.com/newsletters/axios-generate-b8b7bc4e-b9e5-455d-8722-1caecf452872.html?chunk=5#story5
Electric car battle: GM challenges Tesla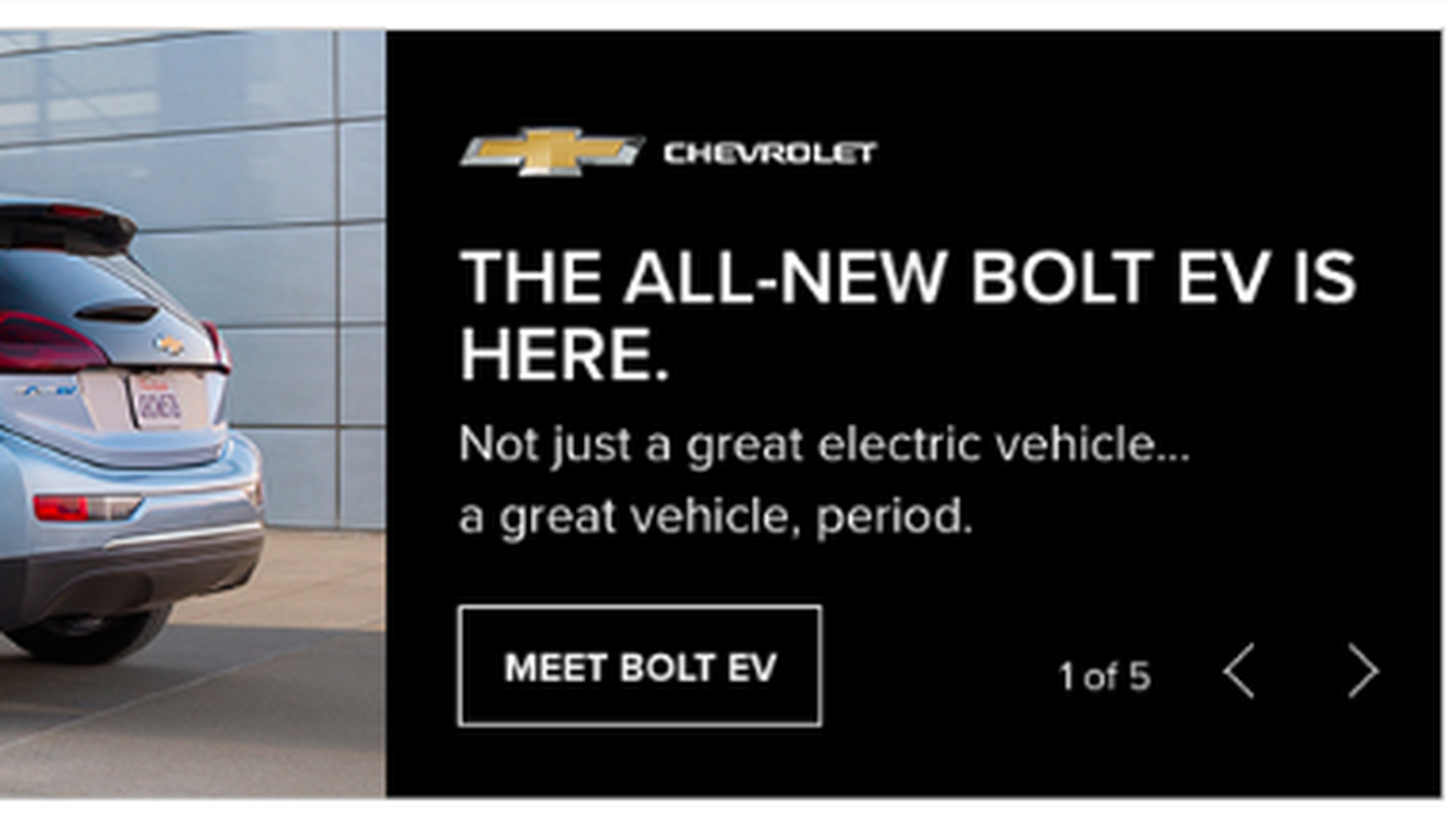 My Axios colleague Steve LeVine has an item in his Future of Work newsletter (which you can sign up for here) that looks at competition in the mass-market EV space. Take it away...
Can stodgy old GM capture some of Elon Musk's ultra-cool image? It's trying, with a top-of-the-page ad across the home page of the NYT on Aug. 22 (see above).
The contest is growing between the GM Bolt and the Tesla Model 3, both mainstream electrics costing roughly $35,000 and capable of more than 200 miles of driving range on a single charge.
Until now, GM's promotion of the Bolt had been decidedly low key. But perhaps the company has been awoken after the typically high-profile commercial rollout of Musk's Model 3 last month.
Tale of the tape: The Bolt had its best-selling month in July, delivering 1,971, for a total of 9,563 since the car launched last December. That sounds respectable, until you recall that Musk has orders for 485,000 Model 3s.